POV Holder:
Frank
Next POV:
Aug 18 (Saturday)
POV Used
NO
POV Ceremony
Aug 20 (Monday)
HOH Winner:
Frank
Next HOH:
Aug 16 (Thursday)
Original Nominations:
Wil / Joe
Current Nominations:
Wil / Joe
Have Nots Cod fish/Candy Canes
Joe, Shane, Danielle, Britney
Last Evicted Houseguest
Janelle
6:30pm Cam 3-4 HOH Dan, Frank and Boogie Watch with FlashBack FREE TRIAL!
Dan: "I don't think we've done a phenomenal job of covering things up" (Silent 6)
Boogie: "There hasn't really been a need.. people are isolated and If AShley losses Wil it'll be a scramble for them"
Dan: 'Did you build any bridges on your date night"
Frank: "Wil has been spinning his conspiracy theories about all of us teaming up"
They start tossing the idea around if Shane gets backdoored next.. Boogie thinks it might be a great thing because it's before right before Jury.
Frank: "We can always split the votes 4-3 so she cannot put her finger on it"
Dan: 'So if tomorrow is fast forward what.."
Boogie: "I was thinking about nominating Joe and Ashley… but if Joe won POV.. " (Hinting Shane goes up)
DAn: "Gangsters.. do you think it's a better to skullduggery someone now or later"
Boogie: "Now.. But do we have the votes.."
Frank: "Yes of course"
Talk goes to sports.. Tennis.. Football.. Water Skiing.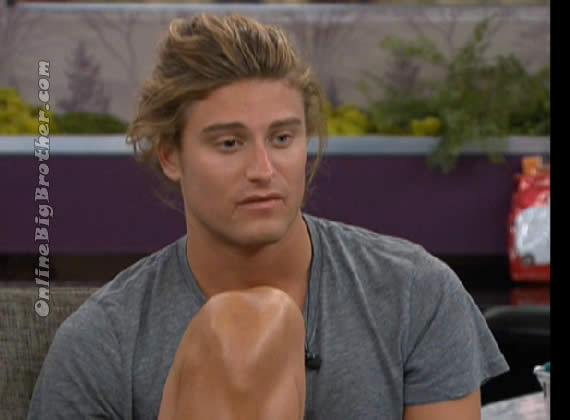 7:11pm Cam 3-4 Wil, Frank and Boogie

Wil is saying he wants to stay but he also wants to find people to work with. After lying previously in the game he wants to change his tactic he wants to play a clean game.. he wants to be himself.
Boogie says this is the first day in awhile that his ear isn't throbbing so he's finally able to talk to people and start to think about this decision. Wil continues to campaigning to Boogie.. Frank really doesn't say much.
Wil leaves..
Boogie and Frank talking about how the players this year are very weak.. Frank mentions that Ian has fungus on his feet. Boogie feels sorry for Wil because Wil is now understanding that he's made some major mistakes in this game and he'll be going home because of it. Boogie: "This is one eviction I won't be all HAHHA Get him OUT"
Boogie: "I'll never understand people that come on this f**king show and say ' never conduct myself like this in the business world".. What the F**k i never act like this outside the house either.. You just gotta let it rip"
Frank and Boogie very confident… Crazy (Danielle Crazy) confident. Frank goes on and on about AShley saying the people in the house are feeling sorry for him for the road he's travelled in this game. He thinks this will benefit him in the end. Boogie: "thats good keep that train rolling"
Boogie: "I don't think Dan or Danielle will make a move.. I don't think Shane or Britney will.. I don't think Jenn or Ian will.. and Ashley won't do sh!t.. I'm telling you we're in a great spot"
They both agree that Dan is super paranoid. Boogie says he always keeps an eye on Dan because he knows Dan's Sh!t. Boogie: "He won't make a move on us.. Don't get me wrong I'm all about going deep with Dan.. but not too deep" Frank chimes in that the way they have it set up they can sit back and watch each side whittle the numbers down a but. Frank: 'You know Ashley, Joe and Jenn are going to put up one of them"
(They congratulate each other for winning big brother 14 and head downstairs to mingle)
7:16pm Cam 1-2 Danielle and Dan. (Ian is with them some of the time)
I think they are playing 20 questions..
Danielle wants to know from Dan who would he rather have a "girl with a amazing body and a OK face or a girl with a Beautiful face and a OK body.. " Dan doesn't say.. he says he has both with his wife. Danielle doesn't accept that.. She wants him to answer
Danielle: "Baked lay's or regular lays… "
Watch what happens, AS it happens: Big Brother 14 Live Feeds!
7:41pm Cam 1-2 Arcade Room Wil and Jenn Watch with FlashBack FREE TRIAL!
Jenn is saying that Britney is gunning for him, she has no idea why. She brings up that Boogie and Frank are feeling a bit salty about Britney right now. Wil is certain that it was Britney spreading around that Wil was wanting to get Shane backdoored this week.
Jenn just hopes that Shane's mind hasn't been too poisoned because he used to really want Joe out.
Wil is sure that Ian will vote Joe to save.. "He told me Joe is weaker and I have 5 thousand bucks.." Wil adds that Shane told him he was 50/50 and Danielle promised him she won't make it 4/4.
Jenn says she's a bit nervous if it ends up 4/4 because she's not sure what Frank will do.
Wil: "Frank is just a lump on a log"
Jenn: 'Ya he's been like that today.. he's still very undecided "
Jenn is stumped about Britney she points out that at one point her and Wil really got along. Jenn congratulates him for going to everyone and campaigning. Wil thanks her says that shane Danielle told him how the vote will go down tomorrow morning so at least he'll find out before going into eviction. Jenn doesn't think all is lost cites that danielle and Shane can make up their own minds. Wil: "I get this feeling that Dan doesn't want me out"
Wil points out that Frank and Boogie are working on Ashley hard core. Jenn has seen that.. she assures him that Ashley will stick by Wil.
Wil: "A big part of people just wants to go.. I miss my family.. my life.. you open up the possibility of thinking of the your outside life.. Hmmm"
Jenn: "You open up that box and it keeps rushing in"
8:06pm Cam 1-2 Danielle and Britney
Britney asks her if she's talked to Dan about what he'll do on thursday. (she's talking about what Dan will do if he wins the next HOH and it's a double eviction)
Danielle: "What are you going to do"
Britney: 'it's got to be done"
Danielle: "Ok me to"
(I think they are talking about putting up Boogie/Frank)
Britney: "Ian is really upset about what was said earlier"
danielle: "What?"
Britney mentions something about "They" saying it was the worst season ever.
Britney: 'Frank is so annoying.. he's so douchey why does he have to say the F word every 5 seconds"
Danielle: "I know"
Britney: "sometimes he says it 3 times in a sentence.. He's very cocky.. get over yourself.. he dresses like a orphan he wears the weirdest stuff"
They decide to all go up and watch the poker game. Ashley is going to go as well. She's going with Ian on a Date to watch the poker game.
8:20pm Britney and Danielle wrestle before heading up to watch the poker game. (Danielle is going to play Britney is going to watch)
9:12pm Cam 3-4 Poker the last hour..
9:36pm Cam 1-2 Ian, Danielle, Britney and AShley
They are going to Nair his armpits.. Britney applies the lotion to his pits. Britney makes remarks that it's like a dead ferret are in his pits. They put zucchini on his eyes.. and a towel to relax him. Ian: "Where did you get this cucumber.. was if near a onion?" (LOL)
Britney goes in with the tweezers to test if the hairs are starting to come loose.. Britney: "You got roots like a southern magnolia tree.. Ashley "those roots are like tree trunks"
Ian proposes they play Big BRother 10 questions while they wait for the hair's to loosen up in his armpits.
Britney: "Are you a boy "
Ian: "Yes"
Britney: "Did you finish in the final 5 of your season
Ian: "No"
Britney: "are you from season 8.. 10.. 11"
Ian: "11 yes.. "
Britney: "do you have dark hair.. "
Ian: "yes "
Britney: "Were you portrayed as a bad character"
Ian: "Yes"
Britney: "Did you have big muscles"
Britney: "are you russell "
Ian: "Yes"
They rub the hair off
Ian: 'OH MY GOD IF BURNS SO BAD.. OH MY GOD.. will this burn for awhile"
Ashley: "Not after you shower"
Watch this scene on the Big Brother 14 Live Feeds!
9:59pm Poker Game Dan, Joe, Shane and Boogie still in it.
10:20pm Cam 1-2 Ian's arm pits are still burning a lot. Britney rereads the instructions.. "Do not leave on for longer than 1 minutes" Ian: "WHAT!" Britney: "no no do not leave longer than 10 minutes" Britney: "Does it still hurt?" Ian: "YA.. " Britney: 'Bad?" Ian: "It's burning really bad… now just wait tomorrow the competition ill be holding metal bars under your armpits"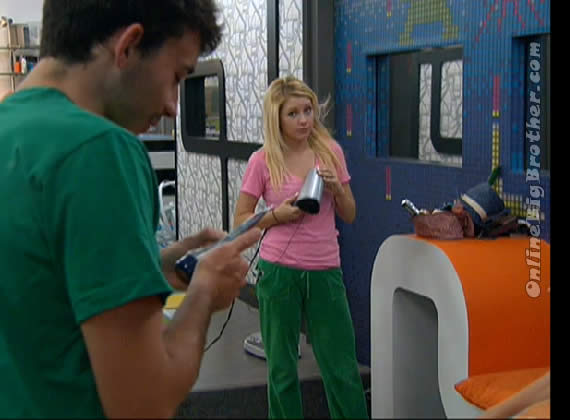 10:24pm Cam 1-2 Ian reads the instructions.. Britney: "I've used Nair a hundred times.. go stick ice packs under your arms"
10:25pm Bathroom Cam 1-2 Britney, Ashley and Danielle.
They saw Joe eat a spoonful out of the mayonnaise jar and stick the spoon back in the jar. They tell Wil about it and add that they saw him use the bathroom and not wash his hands after it. They are all thoroughly grossed out by this. Wil: "that is why I don't eat the food"
11:10pm cam 1-4 Everyone but Boogie they are playing some lame game.. (We need a grenade up in here)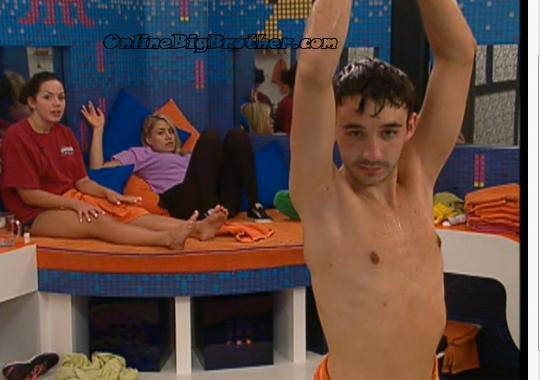 11:44pm Cam 3 Boogie sleeping cam 1-2, 4 Housegests playing a game
11:55pm Cam 1 and 4 are on Jenn ( I finally figured out who the rocker girl in the house was.. her name is Jenn apparently she's been on the show from day 1 )
12:08AM Cam 3-4 Boogie and Dan Dan says the only shot he has is up against Boogie in the final 2. Boogie says that everyone in the house is starting to get along so whoever they are up against is going to be a tough fight. Boogie doesn't have any intentions to take him with him but he feel that he would Beat JOE in the final 2. Boogie warns that there are a lot of newbies in the game that really need the money which means other people that really need the money will sympathizes with that. Boogie: "I'm super scared of wasting my entire summer and being away from family and business.. " Boogie is thinking the second half is going to go by very fast because there is so many people still in the house. Boogie will miss it when he gets out and long for the days of lying around.. Boogie: "I am a sucker for nostalgia.. I'll always go back to a season and romanticise about it.. forgetting it's a grind" Dan said he longed to come back into the game.
12:20AM CAm 1-2 Arcade Room Shane and Ashley
Ashley swearing that she would never ever ever throw his name out to get him backdoored. She Wonders how everyone thought her and Wil tried to get him backdoored. Shane doesn't know he thinks it was people just tossing around scenarios. Ashley wants to call a house meeting to find out what is going on. Shane doesn't think it's needed he knows Wil and ASHley never tried to get him backdoored. Shane tells her she's not his target.. the hug it out and leave.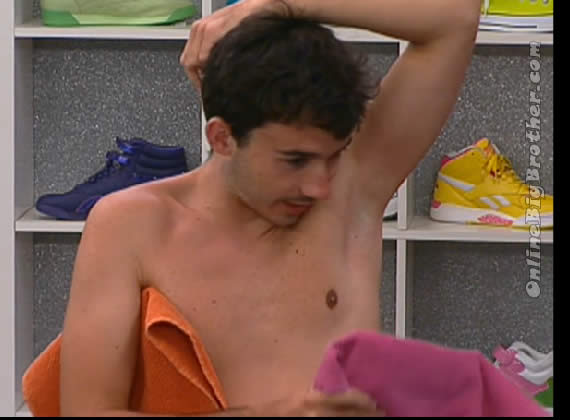 12:28AM Boogie, Ian and Dan Ian tells them he had to go see the medic because his armpits are burning so bad. They sprayed aloe vera on it. Ian jokes that tomorrow's comp will be a endurance and he'll have to hold to bars under his pits. (The funny thing is Ian is walking around with ice warped with towels under his arms )