POV Holder:
Frank
Next POV:
Aug 18 (Saturday)
POV Used
NO
POV Ceremony
Aug 20 (Monday)
HOH Winner:
Frank
Next HOH:
Aug 16 (Thursday)
Original Nominations:
Wil / Joe
Current Nominations:
Wil / Joe
Have Nots Cod fish/Candy Canes
Joe, Shane, Danielle, Britney
Last Evicted Houseguest
Janelle
12:30am Dan and Boogie continue to talk. Boogie says that he thinks they need to keep Shane around as a target for a few more weeks. They talk about how they can get one more HOH out of him. Boogie says that he wonders what Ashley would do if she won. Dan says that he isn't sure. Boogie says that he doesn't think anyone will be targeting Dan or Boogie. They talk about the banging coming from the HoH room and wonder if it's Pandora's box. Ian joins them. They ask him about the towels and ice packs under his armpits. Ian tells them that he had to go to see the medic because he got a chemical burn from the waxing. Ian asks about tomorrow. They talk about the possibility of a double eviction tomorrow and how it would work with the POV. Ian tells Boogie how it worked when Danielle and Jeff went in the same night. Ian says that he would be fine with that instead of an endurance competition. Boogie agrees and says that he isn't in the mood for another endurance competition. Ian talks about what happened with the Nair. Ian says that Britney did it wrong and says that you should not rub it off. Ian says that he is now pink with hives from it.
Watch what happens, AS it happens: Big Brother 14 Live Feeds!
12:50am Jenn, Ashley and Wil are talking in the stereo room. Wil tells them what they need to do. He tells them not to go after another girl, Joe or Ian. He tells them to go after a bigger target. Jenn says that she wonders why Frank and Mike can't give Wil a chance to prove he can be trusted. Wil tells Jenn of Ian's comment about the $5000. Jenn says that she thinks Frank and Boogie want to keep Joe around because Joe is easy to throw up on the block. Wil says that they messed up during the HOH competition with the people they put up against each other. Wil talks about how he and Ashley were put up against each other to get one out of the competition too. Wil talks about how it's a silly game and that he is looking forward to getting back to his real life.
Watch it ALL on FlashBack: Pick the Day, Time and Camera View!
Meanwhile, Joe tells Brittney, Shane, Frank and Danielle are talking in the bathroom. Shane talks about how he was requested to wax down to his shaft. Joe questions him getting his shaft waxed. Shane says no just down to it. Joe says okay because I don't have any hair on my shaft. Britney says this is too much information. Joe talks about how he was changing his pants in the have-not room. He says that he was checking himself out in the mirror; just making sure everything was okay and swinging his junk at the mirror. He says he totally forgot the cameras were there. They all laugh. Danielle says oh my god, what if there was a girl back there? Joe says talk about your sh*t on blast!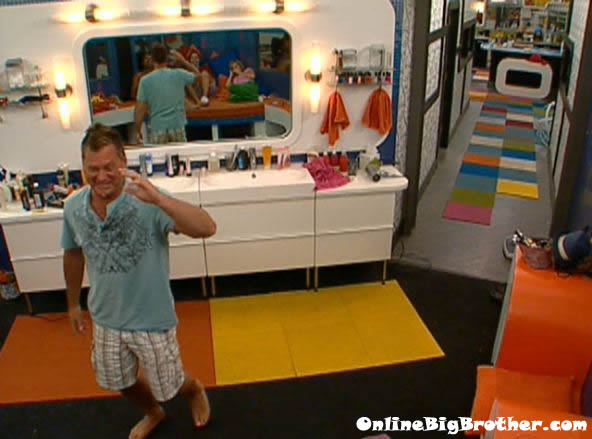 *** WARNING EXPLICIT CONVERSATION ***
1am Frank says that he thinks Wil has been getting it in on the reg. Shane says yeah a little trumpet action. Frank says yeah. Joe says not when he is bed with three people. Frank says not in bed, I think he does it in there. Shane asks if there is anything a girl can do to make them just go limp and fall asleep. Joe says makes me limp, yeah! Shane says no like if a girl scratches my back it makes me fall right asleep. Frank says you know what a girl does to make me fall right asleep, she goes the fu*k home. They all laugh. Britney says she actually likes that one. They talk about one night stands. Frank says that he doesn't like to have s*x with girls he would not want to have s*x with again. Danielle asks how does he know he would want to again? Frank says that he tells her to take off her clothes to see what she looks like naked. Frank laughs and says he's just joking. Ashley joins them. Frank starts talking about a move a girl can do to end a session the right way. Ashley says okay come on do it on me right now. They all laugh. Shane says WOW! Frank says its not a move I do it's a move she has to do. Ashley says oh, what is it? Frank says I like to finish on a girls stomach. They laugh. Danielle says whatever its better than her face. Frank says he likes it when the girl takes initiative and finishes for him. Britney says that she had never done that before she was married and that after she was married she wasn't on birth control anymore and used the pull out method. Frank says so before you let him come inside you? Damn Brit! Danielle says that she does that too. Shane says that he never has, even with a cond*m he pulls out. Danielle asks what?! Shane says just as a precaution, just in case. Britney says her husband thinks it's the worst punishment ever to have to pull out. Frank says its alright if them help finish it. Ashley asks with the hand or the mouth. Frank says hand; well the mouth would be nice too. Britney says that she was taking a poll, because the first time she didn't know who was like the responsible party, who should take initiative and finish it off. She says she was like what are you doing?! Am I supposed to touch it, but its got all that on it! Ashley says but its your stuff its okay.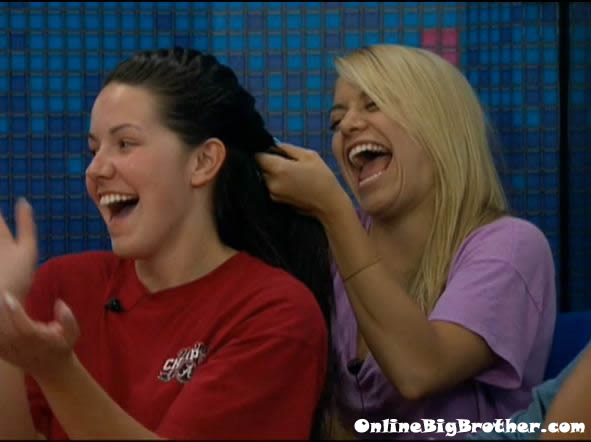 Frank talks about having to get the girl to roll over if they are doing it doggie because he doesn't want to clean it up off their backs. Ashley says yeah or you could just roll all over their sheets. Everyone laughs. Danielle says or you put on one of their shirts. Frank says or he goes to the shower and gets warm water on it uses that to get all the stickiness off. Danielle says that's sweet. Britney asks if it's the first time you're having s*x do you tell them or just yank it out and go all over their stomach. Danielle says yeah in the moment just pull out and go. Britney looks shocked. Shane asks what would you rather someone go inside you or on your stomach. Britney says oh my god don't ask me personal questions like that, ask those girls, I am married. Ashley says what if you are with someone that just has a working properly di*k and just pulls out and comes and you don't have to touch it or anything. Joe asks Britney why she brought us to this point in the conversation. Britney says its Danielle's fault. Danielle says no its not its Joe's fault. Britney says you're right, Joe brought up showing his junk. Danielle says that if we don't let you get off, you will just complain about blue balls for days. Frank says he would not complain he would just say get the fu*k out, I'll call someone else. Danielle is shocked. Frank says I am just joking.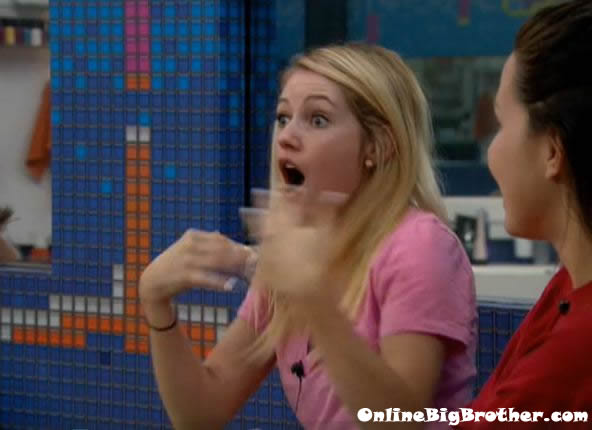 Big Brother Live Feeds FREE 3 Day TRIAL: Flashback!
Frank says what can guys do? Danielle says talk dirty. Ashley says pull my hair. Ian comes in, they ask him if he wants to join the conversation. Ian asks what is that conversation topic? Ashley says hardcore sex. Ian says I'll pass. Shane says you could learn a lot. Britney says that she like to be man handled, like throw me around the room a little. Britney says when I am on top, just pick me up and throw me on my back and then flip me over. Danielle agrees. Ashley say that she likes it soft and to get lost in the moment. Joe says that is where its at. Frank says boring. Joe says then you have never had real s*x.
1:20am The girls talk about I love you s*x. Britney and Danielle say that they love that and that they've cried. Frank says that he has had it and it's boring. Danielle talks about the guy getting off too quick that she takes it as a compliment but that 10-15 minutes we are going again. Frank says you got to heat it up before you beat it up. Danielle says that she love sweaty steamy s*x. Joe asks Danielle how many org*sms shes had in one session. Danielle says three. Joe explains to them that girls have two types of org*sms one is "clitorious" a more inner, there are two different buttons that can be touched, and a lot of guys just worry about the one, till you learn about the second one they you ain't working it out. Frank talks about his palm technique. Joe says that a clitoris is like a boner. They all laugh. Dan explains getting a girl to org*sm is like stepping on a land mine, you try and recreate it and you can't so you have to get down there and dig for the land mine and disassemble it. They all laugh and clap. Frank starts going into detail about what method he uses with a new girl. Britney says wait Ashley is all hot and sweaty right now, look at her. Frank continues saying he gives the girls half a log for several strokes and then the full log, he says the half log is slow and the full is quite abrupt, He says you would be surprises at how quick you can get a girl off with that.
This explicit conversation continues for another 25 minutes:
Watch it ALL on FlashBack: August 16, 2012 12:50am – 1:50am Camera 3 & 4
Use the FREE 3 day Trial to watch it!
2:30am – 3:20am Joe and Shane talking about if there is a double eviction what they would do. Joe says that he would think about putting up Jenn and Ashley. Britney and Shane tell Joe that if he wins HOH in a double eviction he should put up two people he wants out and not to put up pawns. Joe asks if he should put up Frank & Boogie or Ian & Frank or Ian & Boogie. Britney says that they won't tell him who he should nominate, that is his decision. Britney says as long as he doesn't put up one of them up they would back him. Britney heads into the have-not room and is talking to Danielle. Britney says holy crap, if Ian, Boogie, or Jenn win HOH then Joe will sell us out. Danielle says that is why we need to just deny, deny, deny and say its Eagle eye. She says that's why I told Shane in the bathroom not to give Joe too much information. Britney and Danielle agree to let Joe offer up names instead of giving him ideas of who to nominate. They are annoyed that Shane gave Joe too much information. Danielle says that she is especially annoyed that he told Joe that he would throw the competition to him. Danielle says that Shane is not good at the game except for the physical competitions. They talk about how they are scared that it might not be a double eviction and say that if Boogie wins HOH Joe will go upstairs and tell them everything. The talk about how Shane is a liability because he doesn't think about how things could come back to bite him and that he only thinks of the moment. Danielle wonders why Shane would not want to put up either Boogie or Frank if he won HOH. Britney says that she wonders if they should just vote out Joe now. Danielle says no, we can't do that. Britney says if he goes then no one can know about this conversation. Danielle says but with Joe, no one can trust his word. Shane and Joe come into the have-not room and they all go to sleep.
4:15am – 5am Joe and Shane aren't able to sleep. They leave the room and go to the arcade room and study the events of the competitions / house.
6:40am All the house guests are still sleeping..