POV Holder:
Frank
Next POV:
Aug 18 (Saturday)
POV Used
NO
POV Ceremony
Aug 20 (Monday)
HOH Winner:
Frank
Next HOH:
Aug 16 (Thursday)
Original Nominations:
Wil / Joe
Current Nominations:
Wil / Joe
Have Nots Cod fish/Candy Canes
Joe, Shane, Danielle, Britney
Last Evicted Houseguest
Janelle
3:00pm Dan and Britney bathroom
Dan is telling her she should write a ebook and if she get's 40 000 followers and 5% of those buy your book just because they like you. Dan: "thas 2000 copies you've sold"
Britney: "I'm like a anti motivational speaker.. what would my book be about"
Dan suggests a book about dating incidents with side her side quips.
3:03pm Flashback… Cam 1-2 Frank and Wil

Wil"So if it's a tie you know what you are going to do"
Frank: "I hope it's not a tie.. you know I haven't given it much thought i keep forgetting it's 8 votes"
Britney joins them asks him about his date with Ashley.
Frank: "A lady never asks an a gentleman never tells.. "
Britney: "You mean if you go on a date and your friend asks you never tell"
Frank: "THAT'S NONE of their business"
Frank: "It went good THAT'S all you get"
Britney is making a protein shake using the blender. Frank is looking for the shake cup to make protein.Asks britney if there is any.. She says no" she's is using the blender.
He can't find one so he's making a funnel to pour the protein powder in a water bottle. Frank spills protein powder all over: "This is F*CK!NG ridiculous.. this is the sh!t that gets me mad… When I see F*cking joe walking with a Protein Shaker With F*king ice tea.. that makes me Mad"
Joe comes in laughing "I think I walked into some Sh!t.." points out to Frank the celan protein Shakers in the dish drying rack.
Britney: "I know Frank is being rough today.. holy crap"
Frank: 'Thats what i F*cking get for asking Brit if there was any there"
Watch what happens, AS it happens: Big Brother 14 Live Feeds!
3:11pm Cam 3-4 Boogie and Ian
Ian asks who Jenn would put up if she won HOH. Boogie has no idea he never asked her. Ian thinks it's going to be Britney and Eagle Eye.. Ian: "We would just send eagle eye out…"
Ian: "I feel with the exception of endurance comps.. Eagle eye is a bigger threat than Britney anyways.." Boogie: "I don't know britney is pretty smart" Ian points out she's very small and doesn't do well under pressure. Boogie did notice she pretty much was useless in the have nots competition.
Boogie: "I won't be surprised if Jenn doesn't win a HOH"
Ian thinks the next couple weeks the HOH winner will probably be Boogie, Dane, Shane or himself. Boogie: "Joe and Jenn won't be winning any head of households"
3:42pm Cam 3-4 Backyard Dan, Ian, Ashley, Boogie
Ian is going through the entire Season 10 in detail. (It's incredible he's got the season and all the details memorized. It's very entertaining if you want to have a summary of Season 10)
Ian starts off on a tangent about the week 2-3 of ths season. Says that after Frank won the second HOH Joe ran up to Willie. Ian: " He said Someone's going home this week Willie.. Yes Joe that is how this game works.. someone goes home every week" They all laugh..
Ian: "Before the reset this house was power shift city"
Boogie asks to continue the season 10 recap..
They go back to talking about what was happening in Big BRother 10 after Jessie went home.
Dan: "Michelle told me I wasn't a teacher and she told me I should burn in hell"
Ian: "Jerry is running around calling Dan Judas.. going nuts" …
4:06pm cam 1-2 Bathroom Danielle, Shane and Britney
General Complaining about being a havenots.
Danielle: "Call me into DR Please"
(over the loudspeaker "DANielle please come to the Diary Room"
Shane: 'Wow That was quick"
Shane: "If we have to be have nots next week i'm going to f**king snap"
Britney: "I know Shane.. I hate this"
5:10pm Cam 3-4 Boogie, Frank, a rocker type character haven't seen them before on the feeds
Jenn is beating around the bush more or less telling them that there are more advantages to Keep Wil over JOe. She thinks that maybe keeping a target like Wil around is a good idea. She adds that Joe's major problem is he likes to talk.
Boogie: "He are not trying to work with him we're just keeping him around for votes.."
Boogie : "I like Wil infinitely better.. Joe is super annoying.. his behaviour this week has been kind of quizzical.. he's been acting like he's got a lot of quit in him.
Boogie: 'Joe isn't going to blue people together.. He might Glob on some people but he'll never rally people together"
Jenn: 'I'm not going to lie to you right now I would rather Wil stay in the game"
Boogie: "I'm shocked how well he's handled it"
Frank: "This is his second time on the block he's doing well"
Boogie: "I talked to Ian he's leaning towards getting rid of joe"
Boogie: "I'm 50/50 right now"
Jenn: "I think it will be a tie breaker"
Boogie talks about a fast forwards this week and they need to have a clear strategy. Boogie is thinking that Joe should go up during the fast forward.
Jenn: "I'm sure you guys are working with Shane or whatever.. but sooner or later.."
Boogie: 'He's gotta go soon.. I'm still trying to figure out his relationships.. I don't want to fire a shot too early"
Jenn wants Dan, Danielle, Shane and Britney gone.. Boogie says that Shane needs to go soon.
Jenn: "Britney is being pretty pessimistic"
Boogie: "She's in my top 3"
Jenn: "I would put up Shane and a question mark and Backdoor Shane"
Boogie: "britney is dangerous she's smart.. social butterfly"
Jenn says that Britney and Danielle are not as close as they think.. She had a conversation with Danielle and Danielle told her that Britney's negativity is getting on her nerves.
Jenn doesn't think danielle will put Shane up but she's sure she would vote him out.
Boogie tells her everything they have talked about in the HOH will stay in the HOH room. Jenn says that in her opinion it's going to be a tie vote.
Frank: "Going back to the Danielle and Britney thing… Danielle has to hate that Britney acts like she's 10 years older than her and there is really only a year apart"
Around 5:35-5:41pm Rocker girl whose new on the feeds really starts pushing that Ian cannot be trusted. She warns them all what they say to him because it goes around to other players.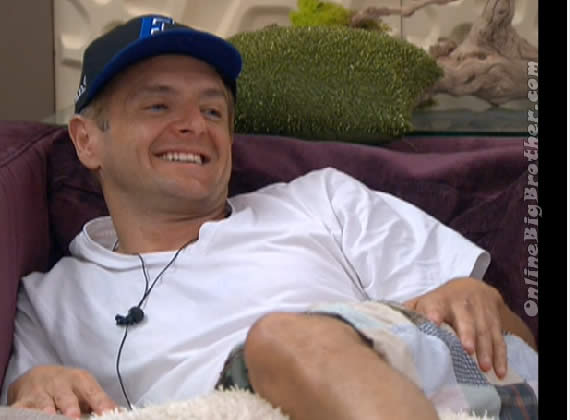 5:41pm Jenn Leaves Boogie: "I think we're real good with her.. the one thing I don't like is… Ahh F*ck " (Ian is around the chess table)
Dan and Ian etner the room. feeds cut to fish..
Feeds on and off… Boogie is talking about a power.. he thinks something is happening? Frank really wants them to get the power this week.
Boogie wants next week to take Joe out then the following one they will make the first shot. Frank wants them to have a clear plan of what to do when it's double eviction so they are not scrambling in a huddle.
Frank brings up a scenario where one of (Brit, Dan, Danielle, Shane) win HOH and Joe /Ashley get nominated then Joe wins the POV. Frank at first would say put up Jenn.
Boogie: "I don't think she'll make a move on us.. she got no one…"I kind of want to take out britney over Jenn"
Frank: 'Ys but if THEY win HOH they will not put up Britney"
Boogie agrees.. he adds if it's a regular week they might be able to pull it.
Frank and Boogie are getting pretty confident.. They think if it's Dan, Boogie and Frank no one can touch them. Boogie isn't worried about Shane as much as everyone else is he thinks someone else will nominate him.
Frank: "Poor ian.. thats why I didn't want anyone to know I kissed her to hurt the poor guy's feelings"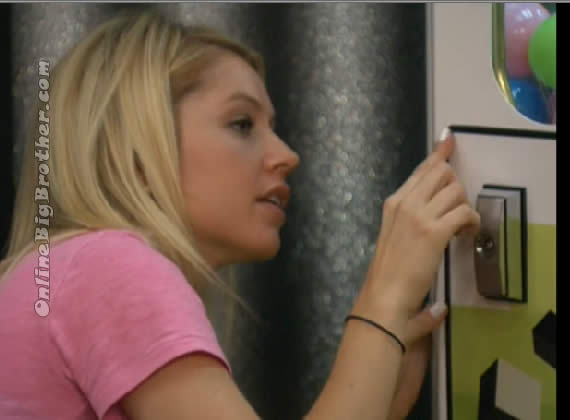 6:03pm Cam 1-2 Britney and Wil Arcade Room Britney inspecting the ball game.. She Notices that the lock on it doesn't really hold anything.
6:06pm Ashley and Wil in the Bathroom Wil tells her that it's a done deal he's going home tomorrow. Wil: "I don't know things can change but it comes down to whose the biggest threat"
6:23pm Cam 1-2 Wil and Danielle
Wil has campaigned to Britney and Dan.. now he's working on Danielle. Nothing important is being said between any of the participates.. Dan mists him.. Britney talks for every and steers the conversation away from game and Danielle spins the conversation onto her..