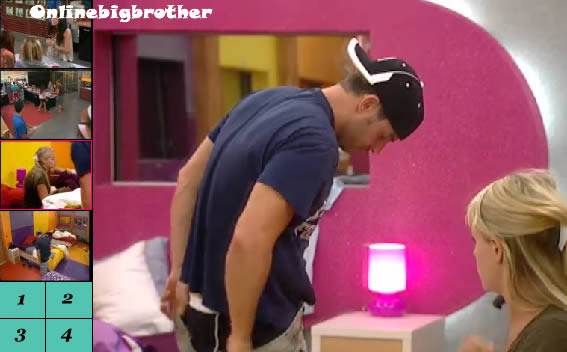 7:54pm Jeff and Jordan in the Bedroom There in lockdown.
Jordan: "I hope our names get called in the POV"
Jeff: "we're playing no matter what there's only six of us"
Jordan: "oh that's right there's only 6 of us"
8:00pm Kitchen Random conversations Rachel, Dani and Brendon are in crazy good moods.
8:06pm Bedroom Jordan and Kalia Kalia is saying that she hopes she doesn't get picked for the POV becuase if Lawon wins it and uses it then JJ will have to go up. Jordan asks if she thinks Lawon will use it. Kalia says probably not, Audrey ][ says that Lawon has gotten very paranoid and he's think that he's the target and their trying to backdoor him. (LOL both these 2 are telling each other Bullshit). Shelly joins them, Jordan says just for a day she would like to be in Paris hiltons shoes just to see what her life is like..
8:14pm HOH Boy George and Dani Rachel is saying that Jordan has been acting weird around her. Rachel suspects that someone is putting thoughts in Jrodan's head. Dani says she knows it's Shelly, "who were you thinking". rachel doesn't know. Dani coaches Rachel to go downstairs and smooth things over with Jordan. Rachel: "Why did I look pissed " Dani: "Umm ya" Rachel explains that she wasn't made at Jordan for not picking her in the luxury she's mad at Brendon for getting mad at her for telling POrtapotty the answer. Dani says it doesn't matter she looked pissed and thats why Jordan is acting funny.
Brendon joins them.. dani wonders why everyone is hanging around downstairs. Rachel thinks one of them should go down there it could be dangerous that they are all together like that. Brendon is wondering if they can trust Kalia. Dani tells them that Kalia is 100% with them it's shelly that's not. brendon knows. They start scannign the hose with the HOH cam. Rachel points out they all followed Jordan into the room. dani: "Don't worry Kalia isn't part of the Care Bear Alliance"
Dani is pushing for them to Backdoor Jeff before jury. Rachel wants to get both Jordan and Jeff out before Jury so they don't lose 2 votes. Dani doesn't think they have to worry about Jordan, she'll float through to near the end and won't do anything.
Brendon: "aren't we worried for Shelly and Jordan's jury vote"
Brenond says shelly is just a fan of this game thats the only reason she's here.
Dani says lawon is playing ultimate floater this year so we really don't need to worry about him. Brendon asks rachel if porsche will do whatever they want. Rachel confirms that for now Por can be trusted. Brendon thinks that Por is one of those stupid girl players that will try and make a big move 1/2 through the game and it will blow up in her face (everyonen is stupid in these 3 eyes) Rachel thinks Kalia is saying a bunch of things to Jeff and Jordan and is feeding them things to drive a wedge. Dani is confused wants to know if she knows theis for a fact or if this is what she thinks, "Do you think it's Kalia or are you thinking someone else" Rachel: "i'm thinking that someone is saying that we are thinking of Backdooring JJ.. I'm assuming that someone is playing both sides and JJ are thinking the same thing as me"..
Dani instructs them all to start beign nice to JJ and make them not suspect anything.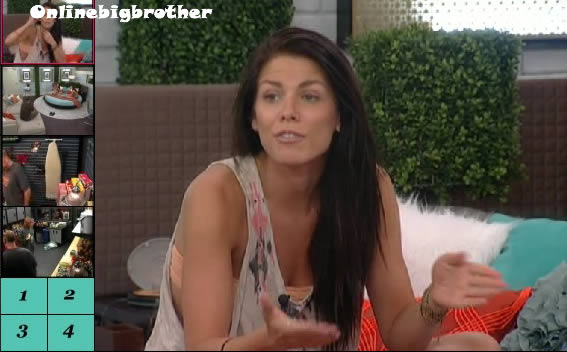 Brendon: "I just don't want them to think its Dani"
Dani: "JJ never talk game to me anymore"
Rachel: "I think it's becuase you're with Dom or becuase you can't play in any comp"
Dani thinks it's obvious that i'm closer to BR and JJ are extremely threaten by Dani, Rachel, Brendon and Dom.
Dani: "If we leave the shelly's, Lawons and Adam's in this house and we can't get them out that's embarrassing"
Rachel: "jordan has been making it obvious they're after us all week by calling me bitchy and telling me that we don't have to be in an alliance after the jury"
Brendon: "Jordan is stupid"
Dani: "so Stupid"
Brendon: "She is not a good game player she's not very complex.. she doesn't think.. she really her because it's summer camp"
8:40pm Storage room adam and Shelly Adam is saying that the one thing they have to worry about is Kalia and Lawon using the POV then JJ go up. Adam: "the only thing we have to look out for is if they don't play and they don't win… If they play for veto and win then they will pull up JJ" Shelly: "Don't worry they won't win" Adam: "Exactly"
8:55pm Purple Room JJ Jordan is worried that something is going on up in HOH. Jordan wonders if Dani is up there with them. Jeff: "Yes using the puppet strings" Dom joins them tells them they he doesn't know what is going on he thinks they are going to back door someone but he thinks it's Lawon. Dom asks them if their deal is still on because he knows that Adam is out there trying to get votes. Dom says he's not with BR their Social game so bad why would he "roll with that".
Jeff brings up that Rachel got mad when Jordan was friends with Cassi but Nobody has a problem with Rachel having Portapotty wrapped around her finger. Dom says if Rachel got that mad because of the Luxury comp then she's a time bomb just waiting to happen.
Jordan mentions that she only got to know Cassi the last week she was in the house and she found out cassi was a really cool girl. Jeff says they never talked game they just talked stupid stuff. Jeff: "Rachel wants everyone on her side.. why is Porsche here she's doesn't deserve to be here"
Dani walks in…Tells them there's alcohol
Share it YO!!
Tweet