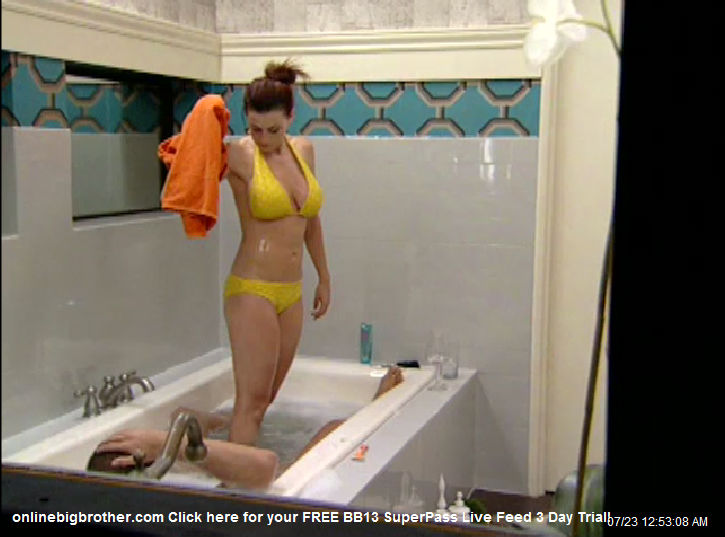 12:50am Rachel and Brendon are talking about how they are unsure about Dani because she always says hey best friend when she talks to Jeff. Brendon and Rachel say that they can't believe Dani isn't talking game with Jeff and Jordan too. They say that she could be manipulating them and that she is in the perfect position in the game. They talk about how Dani hasn't even had to play yet because of the golden key and that she is already controlling things to some extent. Rachel says that Dani could be playing the them against Jeff and Jordan. Brendon says that he wants to talk to Jeff and Jordan to ask them if Dani talks game with them because Dani told Brendon and Rachel she does not talk game with Jeff and Jordan. Rachel says that she thinks Dani is in a perfect situation no one is going after her and she doesn't even have to win any competitions. Rachel says that what Dani is doing is just like what Dr. Will did in big brother 7, by pulling every ones strings. Rachel tells Brendon to go down and get Jeff so that they can ask him about whats going on.
Daniele, Lawon, Jeff, Shelly, Kalia, and Jordan in the living room talking about how Porsche moans in her sleep. Jeff says that they put the sheets from Brendon and Rachel's bed in the washer on sanitize when they washed them, because they were so gross. All laugh. Meanwhile, back up in the HOH room, Brendon says that Dani has an advantage sticking with them because they are such a big target. Brendon says that Dani will skate to the end. Brendon says that he likes Dani a lot but that she's a game player. Rachel says that Dani knew they had to get Cassi out of there. Brendon says they will probably hang out with her out of the house. Rachel says if we have to. Brendon goes downstairs and joins the others in the living room. Dani says they are in the living room waiting for the TV screen to say POV today. Shelly says it would be awesome if they had the POV competition right now. Everyone agrees that would be great since they are all awake, except for Porsche who's asleep. They houseguests talk about the wake up calls from previous seasons where the houseguests would have to get up and dance all times of the day and night. They all laugh about how funny that would be..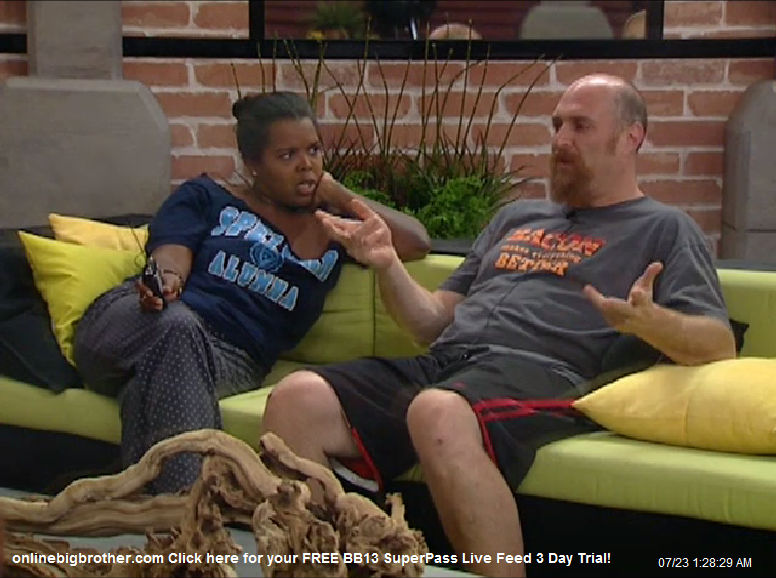 1:30am In the living room, Kalia, Adam, Rachel, Brendon, Jeff, Jordan, Dani, Lawon are talking. Adam is telling the other houseguests about the Big Brother websites that update hour by hour what happens on the live feeds. Adam tells the other houseguests about his favourite Big Brother website. He tells them about the websites that are updating everything the houseguests do and say all day long. Rachel ask him which website has the most detailed coverage of the live feeds and Adam says our website Onlinebigbrother.com and a couple other sites. Adam goes on about how some sites do round the clock Live Feed Updates they catch everything that goes on in the house. Kalia cannot believe people actually do something like that. Rachel and Brendon groan they say the worse thing you can do is google yourself after the show is over.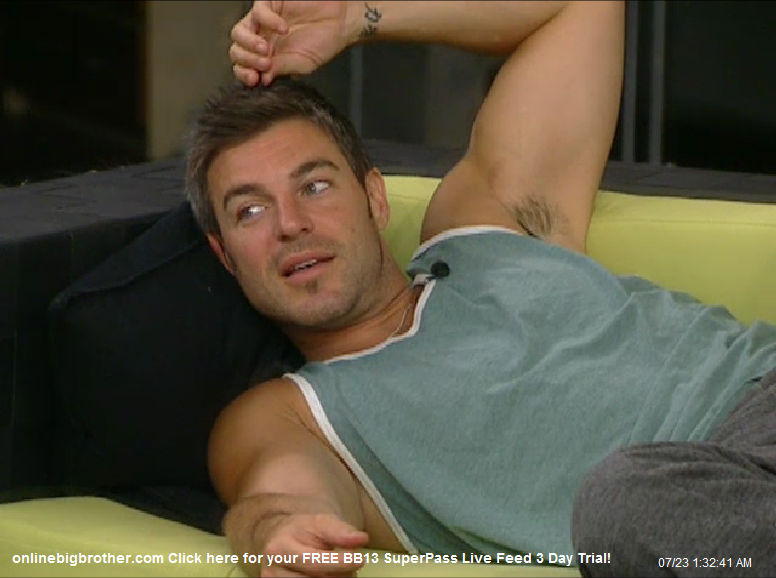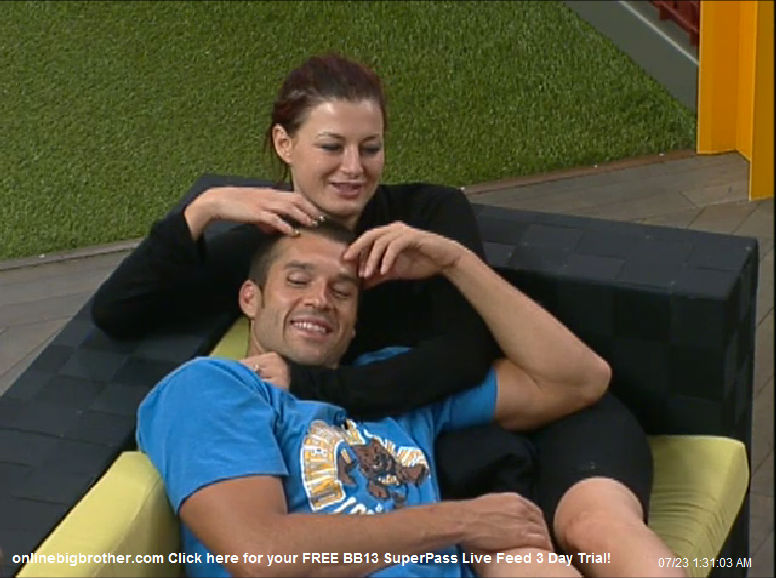 2am The houseguests are still sitting around talking about random stuff like farting and zits. The conversation changes to talking about the luxury competition they had today with David Hasselhoff as the celebrity guest. They are all talking and laughing about the questions they had and they answers they gave during the competition. Kalia says that she is going to bed because she thinks she might be playing in the power of veto competition tomorrow. Dani says maybe they should all go to bed. All the houseguests head off to bed.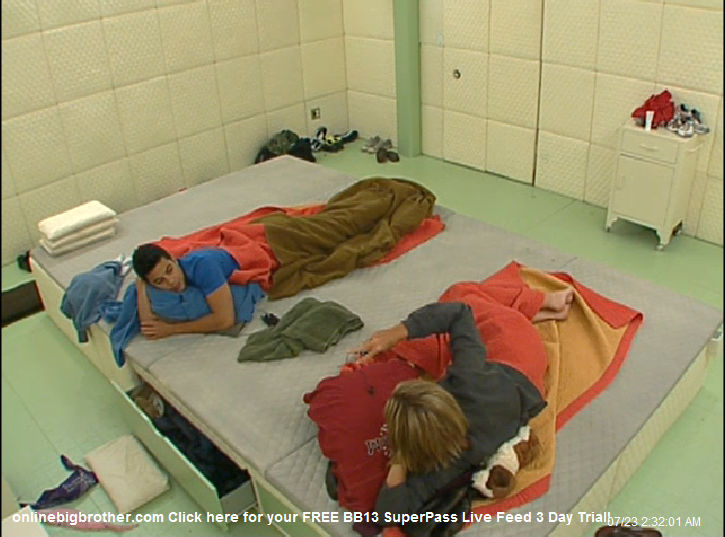 Dominic and Shelly are now talking in the HaveNot room. Dominic saying that the five vets have to turn on each other eventually. They talk about the chances of Lawon and Kalia playing in the veto tomorrow and winning and taking Dominic and Adam off the block. Shelly says that Brendon and Rachel would have no choice but to put up Jordan and Jeff. Dominic says that the vets game is based on winning and if they don't win they are screwed. Dominic says that as much as he likes Jeff and Jordan… Jordan is controlled by Jeff. Dominic says that if we could get Jeff out then you could potentially play with Jordan. Shelly says that both of the men have to go once they get through this week. Shelly says that the girls are weak without Brendon and Jeff. Dominic tells Shelly that she is the only newbie that he trusts. They talk about how they don't trust Lawon and Kalia because they think they have made some kind of deal with the vets. They says that is why Lawon and Kalia haven't been put up yet. They talk about how Lawon and Kalia have to have deals because they have done nothing and haven't even tried in the competitions. Dominic says that he doesn't trust Adam either. Dominic says that he just can't trust Adam and says that he has tried. Shelly says Adam made a deal with them not to use power of veto if he wins it. Dominic tells Shelly that Adam kept asking him if he was going to give Cassi a pity vote and he told him no. Dominic says that Cassi understood that he needed to vote with the house so that he doesn't put a target on his back. Dominic says that he was worried that Adam would vote for Cassi just to stir things up. Dominic says that he is sure that Adam will team up with the vets and come after the remaining newbies.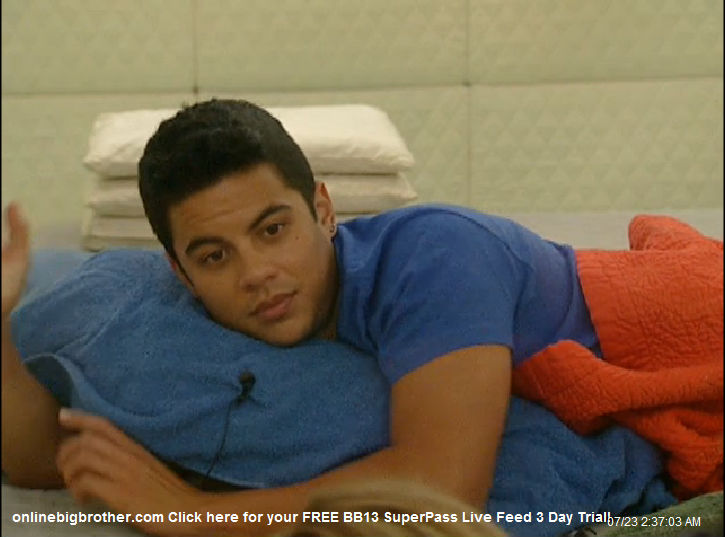 Dominic says that Adam a super fan thats obsessed. Shelly says as soon as they can do something on their own she is going to win. Shelly says that she wants to at least put Jeff and Jordan in the jury house together if they can. Shelly says that she wishes they could work with Dani but that she doesn't think Dani would separate from the vets yet. Dominic and Shelly talk about how they need to win HOH and get some power so that they could pull Dani over to their side. Dominic says that if you cut Jeff then Jordan would end up playing with you. Shelly says in a perfect world they should put Porsche and Rachel up against each other. Shelly says that she feels like she is dancing with the devil working with these people. Shelly says that she talked with Rachel about changing her image and says that Rachel just keeps acting herself and coming off bad. Shelly says that it was weird today not having Cassi in the house because she could talk to her without it having to be about the game.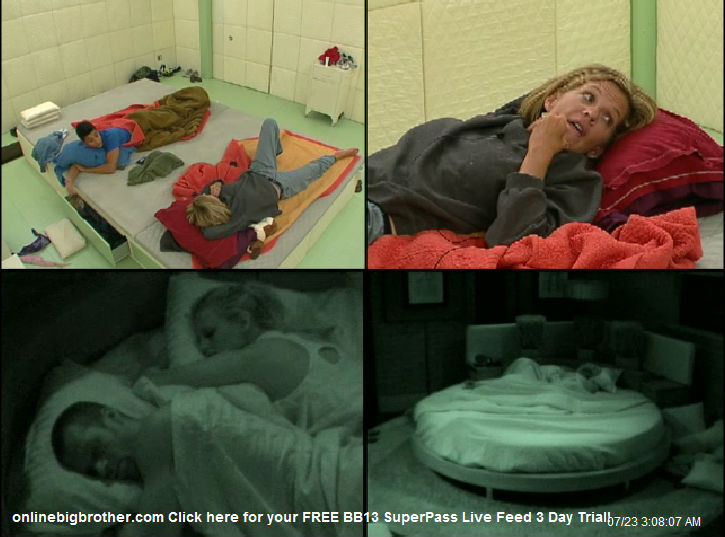 See What They Can't Show You On TV! SUPERPASS – 3 DAY Trial!
2:50am – 3:10am Dominic and Shelly continue to talk. Shelly asks Dominic what he wants to do when he leaves the Big Brother house. Dominic says that he wants to open up a gym and franchise it. They talk about how some of the houseguests think they will become famous after they leave. Dominic says that no one cares if you were on big brother. Shelly starts talking about Evel Dick and about how she was sad that he left because she really wanted to work with him. Shelly asks Dominic which couple he would rather work with Brendon/Rachel or Jeff/Jordan? Dominic tells her that he isn't sure which one. Dominic tells Shelly both couples want him to play for them. Dominic talks about Dani and he wonders how far she wants to take things in the game with him. Dominic asks Shelly what Dani was like during her season? Shelly says that Dani was a lot younger then and she was all wrapped up in falling for Nick. Shelly says that Evel Dick protected Dani a lot but that she also won lots of competitions. Shelly says that she thinks Dani is a loyal person. Shelly says that she thinks that Dani looks at Brendon and Rachel as expendable and that she thinks her and Jeff are close. Both Shelly and Dominic talk about how they can't be seen talking game. They decide to go to sleep. All the houseguests are now asleep.
5:40am All the houseguests are still sleeping…
Big Brother 13 Spoilers POLL CAST your VOTE!
BB13 Live Feed Screen Captures , These are being updated every 10 minutes all 4 Cams 24/7
Follow: @BigBspoilers and @Dawgsbigbrother on Twitter for recent crazed out spoilers. Theres also our Facebook page.
If you like this site and want to help us keep it running please consider donating, Your donations go directly to paying the server and bandwidth fees. Donate Link
Share it YO!!
Tweet