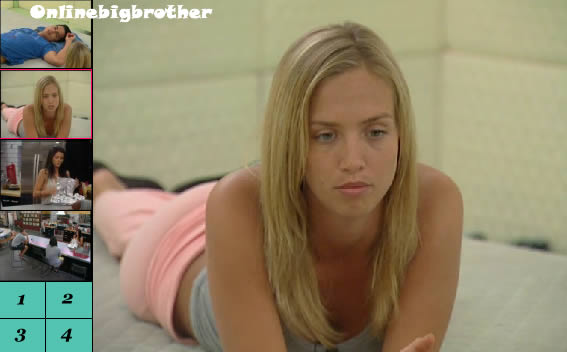 5:05pm Havenots Pacer and Dominic Dom asks her if she won HOH who she would put up, Pacer says she doesn't know. She thinks Kalia is a strong player and is really annoying, "She's always complaining but she's the one that never does the dishes". Por says that she doesn't have any one in this game and she's looking for someone to pair up with. She tells him that she's kinda with BR but knows she's the bottom of the totem poll and will be voted out when they go down to 6. Por adds that her and Rachel are not as close as everyone thinks they are. Por thinks Adam and Dom are going up and Adam is probably the target. Dom wonders if he has the votes. Por says he's got her vote she needs people to trust in the house. Pot warns Dom that she watched BB8 a lot and she knows how dani played she used Nick to further her alliance. Throughout the season she was always allied with her father and just kept Nick around to do what they needed to be done.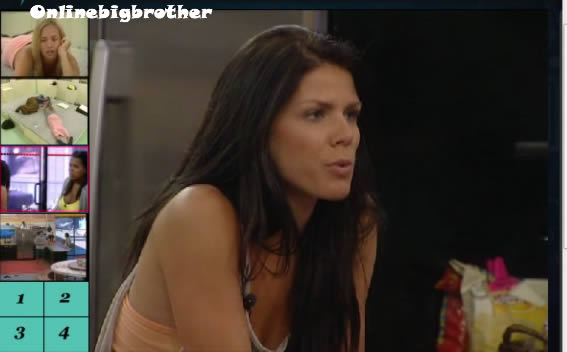 5:20pm Kitchen Brendon, kalia and Dani Kalia asks them where Rachel is if she's doign nominations. Dani: "Why you have a problem you worried… You want to go up… Yo want to go home.. You're acting a little paranoid" KAlia: "No i'm not paranoid I just want to talk to her… And STOP putting my key in Keiths" Dani: "It wasn't me" Kalia: "I knew it was you Stop it put it back Lawon told me this morning you were messing with my stuff" Dani: "Ohhh so you trust Lawon more than me" Kalia: "No just leave it alone put it back" DAni: "Ummho ououmonunm mo uh NO! you put it back".
5:32pm Fortune room Jeff and Jordan playing around with their feet.
Jordan UBBER whispering: "Kalia told me… " Jeff interrupts says he's going to check whose in the shower. Jeff comes back says He's (must be Brendon) is in the shower and can't hear anything.
Jordan says that Kalia is worried that Lawon is going to freak out if he goes up and campaign hard. Jeff isn't worried about Lawon campaigning either way Jeff doesn't think he has a chance to stay. Jordan shares that Kalia thinks Rachel is eliminating people that she doesn't want in the jury she's trying to stack the jury in her favor. Jeff doesn't think it really matters nobody will vote for Rachel to win. Jeff tells her they need to start studying their dates…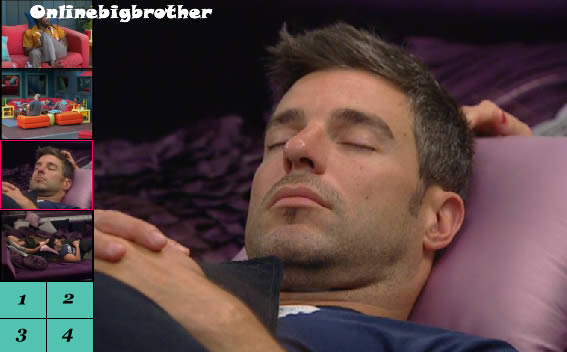 6:00pm Sleeping
6:05pm Bedroom dani and Boy George
Dani is telling her that even if Jeff and JOrdan win the veto they can always put up Lawon and Kalia and take out Kalia. Rachel doesn't understand why Jeff and Jordan would act like they are against Rachel it's week 3. Dani says that JJ think they have more game than they really have. Rachel says she's going to put up dom and Adam. Dani agrees says that's the best move they can do right now. Rachel: "No matter what we take out one of their people". Rachel wonders why are they picking shelly and kalia they are not going to win anything. Dani says it's time for us to make a big move if we win POV if we have the opportunity to backdoor JJ we should take it. Rachel says that Jordan thinks she's better then them. Dani: "Who cares" (This whispering SUCKS I can't hear shit production should give them a penalty nomination) Dani says something about JJ thinking they are stupid
dani leaves kalia comes in says she's getting worried becuase Lawon is telling people that he's going up and he's going to fliopp out. Rachel he's sinkling his own ship.
(I'm kinda getting the feeling that Rachel isn't buying all that Dani is selling.. hopefully tonight we learn more.. Power of Veto tomorrow is going to be important)
6:33pm Nominations
7:11pm Nominations
Rachel is the HOH and she's selected Adam and Dominic for eviction. The idea is if Jeff and Jordan win the Veto they will try and take Lawon out. Rachel isn't 100% convinced with everything Daniele is telling her but she's confident in what she's doing. Daniele is trying to seed the idea to backdoor Jeff Schroeder if Brendon, Rachel or Daniele win the Veto.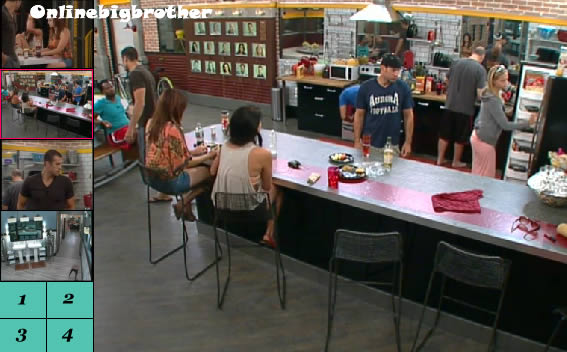 7:45pm Everyone milling around the kitchen Dom says I got to see the Hoff and get nominated in the same day.
Share it YO!!
Tweet