Get your complete Big Brother Spoilers straight from OBB sign up to our GOOGLE+ page
Big Brother Allstars – Dick Donato, Jeff Schroeder and Jordan Lloyd Interview
3 of the most popular Big Brother Players are interviewed in weeks edition of Reality Weekly. Its a great magazine for reality TV fans packed with information about JJ and ED get your edition today available at wallmart.
Dick briefly talks about his Web en-devours here is a excerpt
I have a website RTVZONE.com, where we recap reality shows and I host shows recapping Survivor and Big Brother. I'm also involved in a website that's about to launch called WhoStays.com, where people play along and predict which reality show contestants will be staying and which will be eliminated.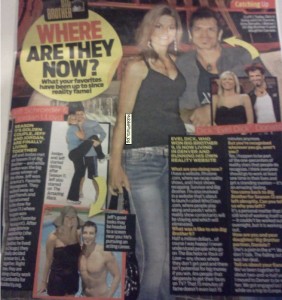 Of course the interviewer asks about Dick's abrupt departure from Big Brother 13. Dick is still keeping it a secret saying "It's a personal matter that's still kind of working itself out". A Dick interview is not complete without asking him about his Daughter Daniele Donato. He sticks to his story that he's not talking to her, "She's a pain in the A$$" and "the whole falling out was her deal"
Dick briefly mentions his fiancé and how they've been together for 32months and he proposed in England.
The Jeff and Jordan interview was short, they said they left Big Brother 11 as "best friends" and maintain a long distance relationship for 2 years but after Big Brother 13 ended they decided to make plans to move in together. Jeff mentions his charity work in Cambodia build a city and his efforts to become a actor.
Big Brother 14 Casting Starts Next Month
In case you haven't heard a ton of BB14 Casting news has been released.
A) Open Casting Calls start in March
B) Big Brother 14 Online Application Site is here
C) Read though the BB Application Eligibility rules
Its all about Porsche Briggs at OBB
Dawg and his crew have been busy digging up Porsche Briggs info, from Boobies rule, and modelling on the cover of sports illustrated to partying with friends.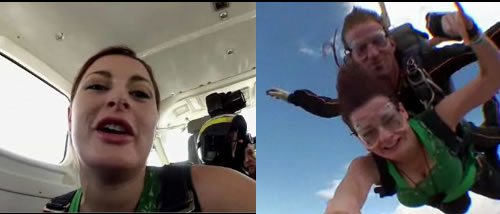 Big Brother Links
ca.eonline.com/ | https://eonli.ne/AnBsmq | Rachel & Brendon Dish "Dramatic" Amazing Race Season; Plus, Watch Sunday's Terrifying Challenge Now
youtube |https://bit.ly/xKwdNQ The Marvin SHow with special guest comedian Shawn D Smalls
realitytvmagazine.sheknows.com | https://bit.ly/yVfQve | Rachel Reilly And Brendon Villegas Chat About The Amazing Race
movieweb.com| https://bit.ly/wEraQw Leslie Moonves and Julie Chen Golden Globes Interview | riveting
metro.co.uk | https://bit.ly/xHHhkH | Big Brother to extend Channel Five run 'with two Celebrity editions per year' | WOW
tellymix.co.uk | https://bit.ly/xoj1Sp Channel 5 set to renew Big Brother contract for 'several more years'
Youtube| https://bit.ly/zkEWU8 | Jeri-MAX JeriMania II: The Quickening (Part 3/7) | WTF award of the month
tellymix.co.uk | https://bit.ly/z7gfzQ | Big Brother 2012 auditions hit London this weekend with Frankie Cocozza! | There's so much BBUK getting pumped out now.. Good or bad?
socialitelife.com | https://bit.ly/xe0Q22 Noelia Rios And Brother Jose's Uncomfortably Sexual Photoshoot | Argentina Celebrity Big Brother