POV Holder:
Gary
Next POV
March 9th
POV Used
YES
POV Ceremony
March 4th
HOH Winner:
Jillian
Next HOH:
March 7th
Original Nominations:
Gary and Aneal
Current Nominations:
Aneal and Danielle
Last Evicted Houseguest
Kat
Have Nots
Talla, Tom, Peter, Alec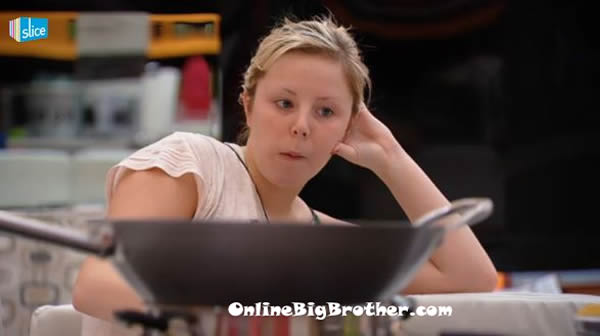 8:20pm
In the kitchen: Danielle tells Gary that tomorrow she is going to be a totally different person, no swearing. She says she is going to be a nice girl. Gary starts complaining about how he set up the backyard with all the stools for the fashion show and the guys moved them all back. He says that he spent a lot of time moving them out and putting pillows on each one. Gary says that it might just be stools but it more than that to me. Meanwhile out in the backyard Jillian, Liza and Tom are talking game. Liza comments on how she said in the diary room "Who's Aj, is he in this game or is he part of the furniture."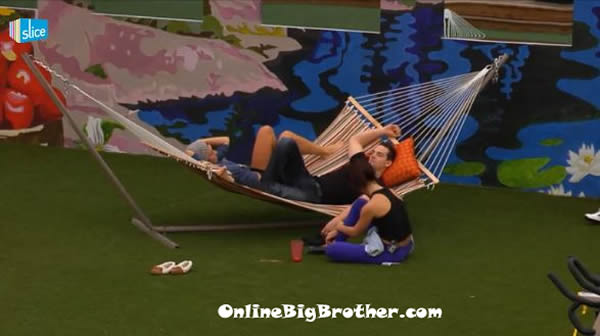 9pm Out in the hot tub: Andrew, Aneal, Alec, Topaz, Suzette and Emmett are talking about the house guests needing to stop swearing so much. Suzette agrees and says that she doesn't want to be seen like that by her family.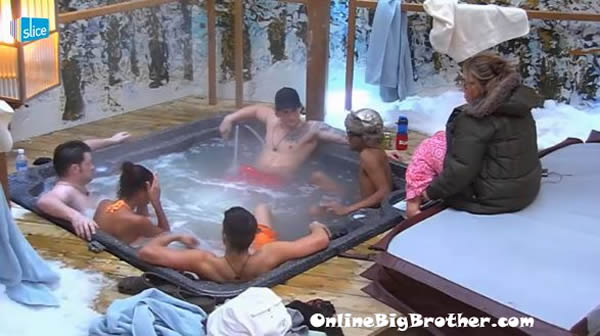 Everyone but Alec, Topaz and Andrew leave. Topaz starts talking about and showing Alec and Andrew her scab that has pancake batter in it. She dares Alec to lick it. Andrew brings up how Topaz sniffed a strippers a$$. Alec asks what?! Topaz starts telling Alec the story and Andrew says okay that's my cue to leave. Alec and Topaz cuddle in the hot tub and make out a bit.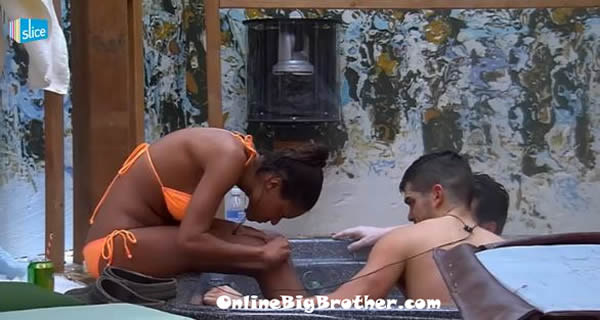 9:35pm A bunch of the house guests are sitting around the living room talking about the live show and other random things. Tom says that if he won a phone call from home he would give it to Suzette because she has a family and he doesn't need to talk to his parents. Suzette says that she probably wouldn't be able to handle it and would breakdown.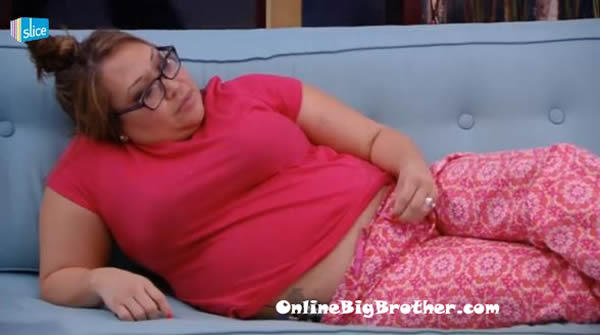 9:45pm Big Brother announces that the hot water valve has been turned back on. Immediately Liza, Talla and Tom go to the washroom to shower.
10:15pm Alec, Aj, Aneal, Jillian and Suzette are all in the kitchen cooking food and eating. Gary and Talla are in the bathroom putting on makeup. Tom, Emmett and Andrew are out on the backyard couches watching the others inside. Liza joins them. Tom comments on how he will go in and grab a big glass of milk and dump it down the sink.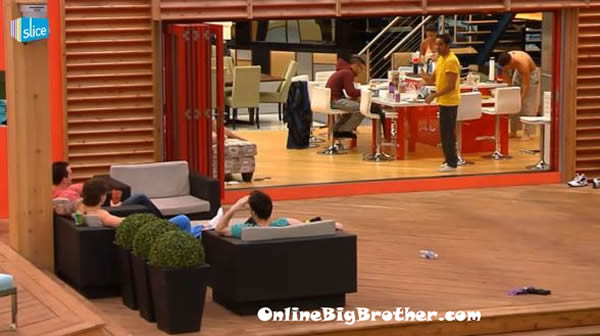 10:30pm Tom and Andrew are along on the backyard couches talking about Jillian. Tom tells Andrew that Jillian admitted to him that she was shaking up on the HOH challenge but that she passed it off like she was fine. Tom says its good to know that she isn't a super woman. Andrew agrees. Talla joins them after her smoke and she sits down in front of Andrew. Andrew starts running his fingers through her hair.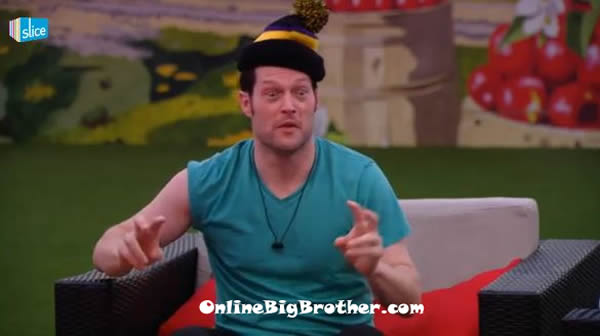 10:35pm – 11pm In the bedroom: Suzette, Gary and Danielle are talking about the votes. Danielle is really pissed and wants to go freak out. Gary talks her down and tells her to be calm. Danielle is pissed because Aneal is walking around like he is safe and doing a ton of sucking up. Gary comments on how Aneal is now up in the HOH room Nairing his legs. Why the fu*k does he need to Nair his legs up there?! Liza comes in and Danielle asks if she is still voting for her to stay. Liza says yes of course. Danielle says that she is just worried that Aneal is sucking up and cleaning and doesn't want one day to sway people because she has cleaned for the last 2 weeks. Liza says cleaning, whos cleaning.. no one saw him cleaning. Liza leaves. Danielle and Gary call Liza a rat. Liza then comes back in to tell them the salmon is ready. Gary gets some of the salmon and then starts complaining how Jillian didn't make him a side for his dinner. Gary says where's my side bit*h, some rice, some broccoli, some thing?! Jillian says she didn't make rice because she doesn't like rice. Jillian heads upstairs.

11:05pm Out on the backyard couch: Talla, Tom, Andrew, and Emmett are talking and laughing. Talla is complaining about her nickname the "butt whisperer". She wants a new nickname and says that she doesn't want to be remembered as the butt whisperer. Talla asks will people really remember me as that?! Tom says yes, if you keep talking about it, you will be forever remembered as the butt whisperer. Tom gives her a new nickname and calls her the fire cracker.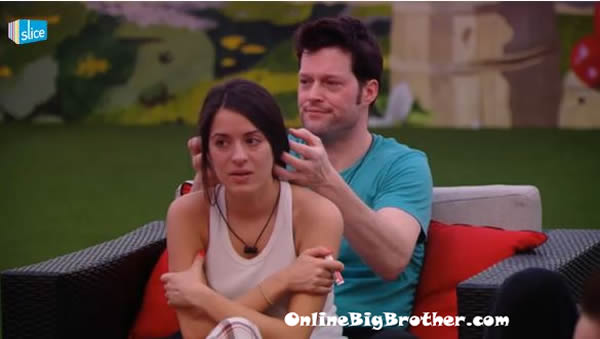 11:20pm – 11:30pm Liza and Aneal are in the bedroom talking game about how he is safe. Emmett joins them and Liza leaves. Emmett and Aneal talk about how Aneal is safe and he just needs to stay calm. Emmett reassures Aneal that he has the 6 votes to stay. Peter joins them. Emmett tells Aneal to just look out for Danielle's face on Thursday night when she is blindsided.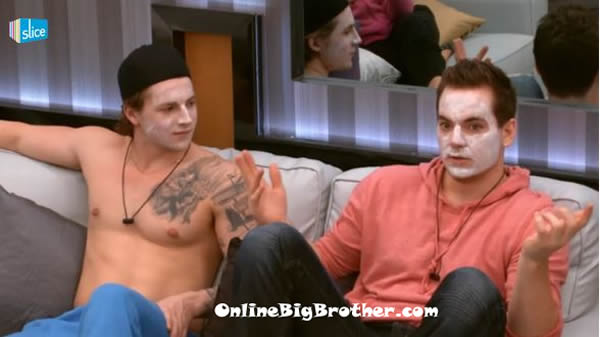 11:35pm – 11:50pm Tom, Jillian, Emmett and Liza are up in the HOH room putting on face masks. Tom says that they should call the other house guests different names when they talk about them so no one but them knows who they are talking about. Big Brother tells them to stop talking in code. The conversation turns to talking about Pandors's Box and whether or not any of them would open it if they got it. They all says that they would open it for the chance to get a reward and that the possibility of a punishment wouldn't stop them. They start talking about their plan and how they don't want Gary, Aneal, Suzette or Aj in the jury house.
(Video of the HOH conversation will be posted here.)

[polldaddy poll=6941218]
Stay connected and interact with other Big Brother Fans on our Facebook page.
And Follow: @BigBspoilers and @Dawgsbigbrother on Twitter for the most up to date spoilers.
Share it YO!!
Tweet