Another week down and a very busy one at that. I remember during Big Brother US season 14 when Willie had Head of Household it felt like an entire season of game talk in one week. That's what this week felt like, An entire season of Big Brother Canada game talk in one week. Very exciting and revealing of where the House alliances are currently standing.
The first of Five is still strong but the cracks are already starting to show. Arlie is actively talking about getting Andrew out and starting to set up a backup plan. Sarah and Kenny are also aware that Andrew will have to go sooner than later. They are nervous about how close he is with Allison and Sabrina. On the flip side Kenny thinks if Andrew goes the perceived primary physical threats will be him and Jon.
The Girls alliance is toast; Rachelle, IKA and NEDA are really the only members that are true to it and even then IKA and Neda have side deals. Ika is also well aware that she is at the bottom of the totem pole and knows if she goes up on the block against another girl then she would be the one going home.
Arlie is slowly forming a new team that he calls his backup plan which will be born out of the ashes of the First of Five and Girls Alliance. Arlie has asked Jon, Adel and Sarah to join him. With perhaps Kenny/Allison as a distant 5th member.
Neda and Jon are closer than previously thought. Jon is keeping this from Arlie who is his second closest person other than Neda. Both Jon and Neda want Andrew gone soon, they have also talked about getting Sabrina out in the hopes it would push the girls into disarray.
Sabrina is playing all sides of the house and playing very hard, too hard. The other house guests have started noticing her spreading poison and lies. IKA, Adel, Neda, Jon, and Arlie have all said they wouldn't mind seeing Sabrina gone. Right now her social game is good but every week she becomes more and more exposed and annoying. It won't be long until she has only a hand full of people protecting her.
Andrew and Kenny, specifically Andrew have become massive targets which requires their team to win the upcoming HOH competitions or they will be nominated.
Allison is in a tough spot being dropped into the game 2 weeks after everyone else which has put her in is a VERY dangerous position. Half of the house guests don't even know her name and if it wasn't for immunity she would have probably been nominated this last week. With that said she has started a showmance with Andrew and is now BFF with Sabrina. This is something most live feed fans are finding revolting. Allison coming into the picture really hasn't done anything to the game except for giving Andrew someone to kiss and Sabrina another person to gossip about.
Heather… A favourite, sweet, smart girl that likes cookies and ice cream and is always in a good mood. She's not as clueless as everyone thinks but unfortunately for her she has been marked with a Scarlett letter, however, I've noticed a few house guests that are starting to give her a chance. Jon and Allison are both putting in time to get to know her just in case she stays so that they'll reap the rewards.
Adel… AKA "Deli" is a lot of fun to watch but him winning the veto ticket and making deals with IKA has gone to his head. He is loyal, has a good heart and will say what has to be said. He's not one to sugar coat anything he'll call bullsh*t when bullsh!t needs to be called. With that said his talks of winning the game for Kyle and Paul are a bit premature.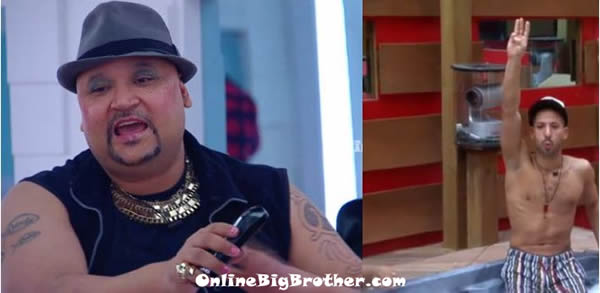 If you live in America and want to watch the Big Brother Canada Live Feeds check out a VPN starting at $11 a month it lets you watch without problems.

My predication
PAul goes home 6-4 or 9-1
Adel wins HOH
Tweet leaks
(From the audience watching the show)
Paul goes home 6-4 – RIP Paulina
HOH competition is endurance:

The house guests have to hold down a panel on a stand, while being pulled away on a pulley.
Heather was out first
Sabrina, Andrew and Adel out
Head of Household competition was endurance
Spoiler source:@hamsterwatch
Official results
Paul is evicted (6 to 4)
(Arlie, Kenny, Andrew, Sarah, Allison and Jon vote to evict Paul)
(Rachelle, Neda, Adel and Sabrina vote to evict Heather)
HOH Winner is Rachelle
*** Adel's power allows him to replace a POwer of Veto player with himself. So if Andrew, Jon, Neda, IKA, Sabrina and Kenny are the POV players and Ika/NEda are nominated Adel can take remove Kenny as a player and move into his place to play in the POV.
[polldaddy poll=7898587]