POV Holder:
IKA
Next POV
?
POV Used
No
POV Ceremony
March 17
HOH Winner:
IKA
Next HOH:
March 20
Original Nominations:
Paul & Heather
Current Nominations:
Paul & Heather
Last Evicted Houseguest
Kyle, Anick
Have Nots
Jon, Allison, Paul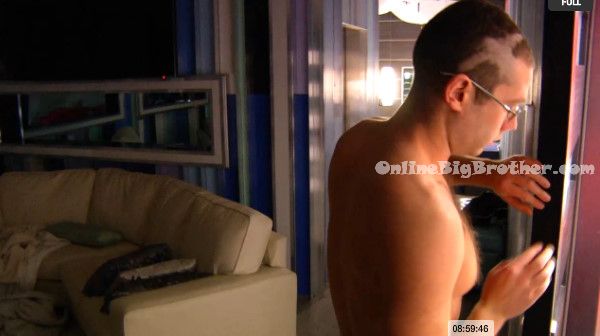 Want to watch the Big Brother Canada 2 live feeds? Bypass the geoblocking with HideMyAss VPN and be Canadian Anywhere: For ONLY $11.00 A month Sign up here



9am – 9:40am Big Brother wakes up the house guests. The house guests slowly wake up and start getting ready for the live eviction day. In the kitchen – Kenny, Arlie and Andrew are taking. Arlie talks about how sleeping up in the HOH room he was kept up late with the late night comedy show of Sabrina and Ika. Andrew asks if Ika was trying to convince him. Arlie says she's just convinced its a tie. Andrew says and it's 100% not! Correct? Kenny gives Andrew and Arlie a thumbs up. Arlie says I can't wait to see the look on her face. Sarah joins them and says that they were talking and the girls were saying that if I was going to flip I should tell them. But no right?! Sabrina joins them and wonders if Sarah should tell them. Sarah says no because then this would be exposing me, we want to expose them. Sarah says I am just going to say it was a last minute decision ..which it was.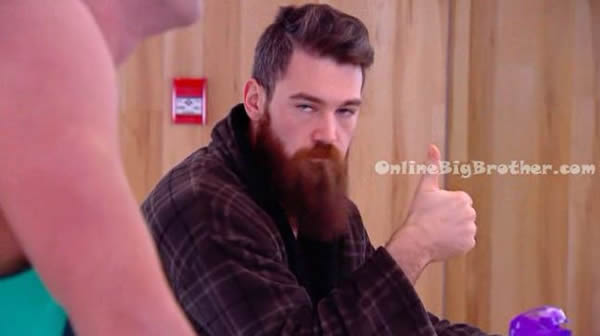 In the bedroom – Ika tells Arlie that she just want's Sarah to tell me how she's voting. She said she would tell me. I just want to know. I want to know now, not two hours from now. Arlie says I would assume that she would tell you if she said she would. Ika says this is so stressful. Arlie leaves.
10am – 10:15am IN the bathroom – Allison comments on how its weird that Big Brother told them they couldn't dress up for the live eviction tonight. The other girls agree. Big Brother blocks cams 3 and 4. The house guests continue getting ready in the bathroom on cams 1 and 2. Then Big Brother blocks those cams as well.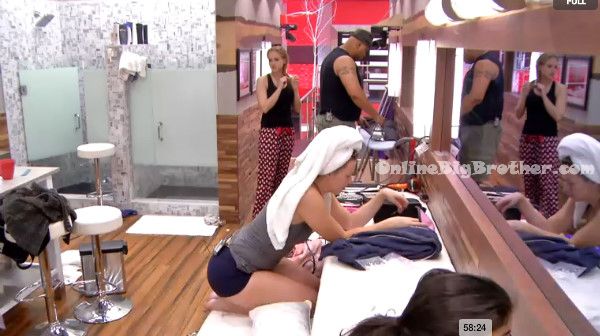 10:25am IN the bathroom – Ika asks Allison if she knows how she is voting? You know righ? You have to know now? Because I need to prepare myself. Allison says knows how she's voting and that she will talk to her after she done her makeup. Ika comment on how they aren't allowed to wear skirts or dresses. Neda says they didn't say we couldn't dress up, they just said no skirts or dresses so maybe we're standing on a platform where they need to film up us. That's such a wild guess though. Jon comes in and says so it's eviction, HOH, POV and HOH again tonight? Rachelle asks you guys think its a double eviction tonight? Sabrina says yeah.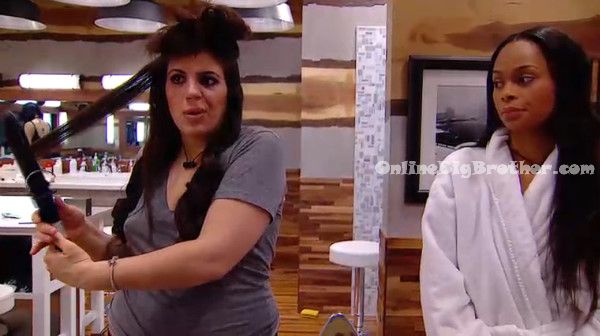 10:40am IN the bedroom – Sarah and Sabrina are talking. Sarah says that Heather will understand. I feel like you're trying to take the exposure off you and its not fair. Sabrina says no, I don't care. I told you since day 1. Sabrina says that she swears to god she didn't know it was to expose them. God! I told you since day 1 I didn't care! I thought expose them? What do you mean? Sarah says we need to expose them to Heather to get as many people on our side. So its only the three of them. Sabrina says oh okay, I didn't know. Sabrina leaves. Sarah says to herself – F**k she's such a fucking liar!!! I hate his game!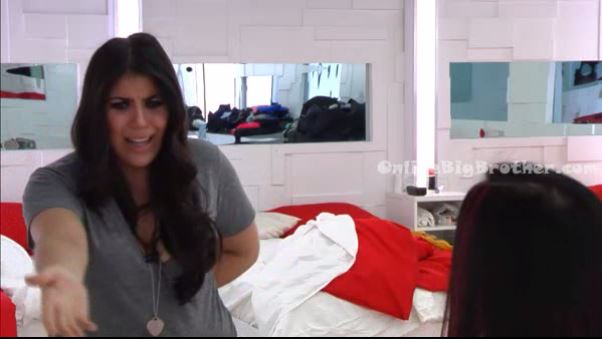 10:45am – 11:10am Paul and Adel are in the havenot room talking about South Africa. Meanwhile in the living room – Kenny, Sarah, Jon, Arlie and Andrew are laughing and joking around about random things.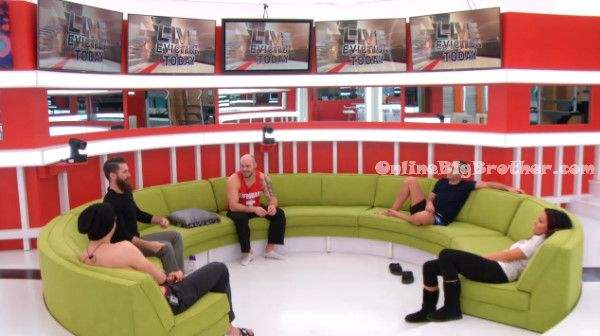 In the living Kenny pulls down his pants.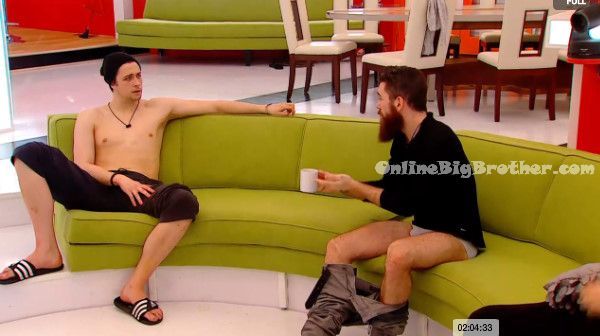 Jon asks them if they want to see his rabbit? He then gets up and pulls his pants down and say oh, it must have gone back in its hole.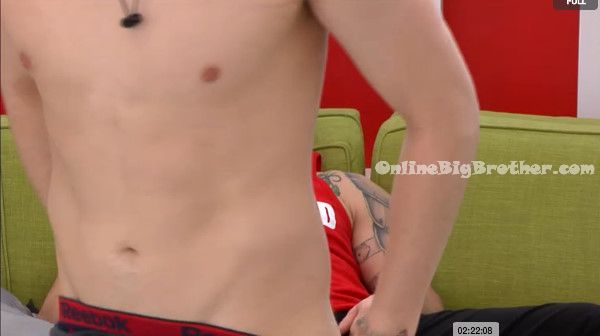 11:10am Up in the HOH room – Allison is telling Ika that she is voting with the guys. Allison says I've made a connection with the guys and I am not ready to break that bond yet. Allison says I do like you and don't want you to think I don't want to work with you in the future. Allison says I do want Heather gone. Ika says that she isn't mad because Allison isn't the deciding vote. Ika tells her that if she told the girls this they might be mad but I can tell them that I told you to vote this way. Ika says this week, next week or the week after you are not my target. Ika says If I was up on the block against another girl I would probably be going home. Ika swears to god/her kids that Allison isn't her target. Ika says I am so happy you came and told me. They hug and leave the HOH room.
11:25am Ika brings Rachelle up to the HOH room to tell her that Allison isn't voting with them. Sabrina joins them. They talk about who they would put up if they won HOH. Sabrina says Allison and Paul. Ika says that she wouldn't put up Allison. Ika asks Sabrina if she is voting out Heather. Sabrina says yeah she said she's voting with us. Ika keeps asking and Sabrina says unless she's a really good liar. Sabrina says that Sarah did tell me that she was going to tell the guys whatever they needed to hear. Ika says oh so that's why they are acting so comfortable. Sabrina leaves. Rachelle and Ika continue to talk. Rachelle asks who Ika would put up if she was HOH? Ika says I would put up Andrew and Kenny. I want to watch them battle it out.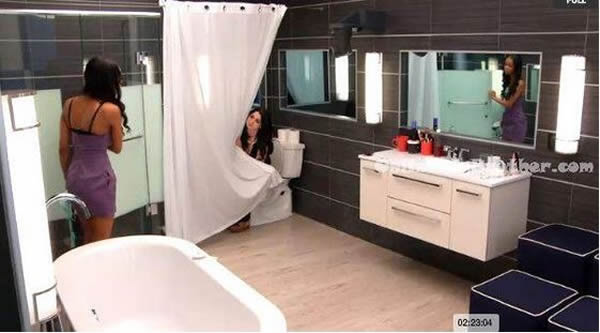 11:40am In the storage room – Sabrina talks to Kenny and asks who should go up if they win a double eviction.. Kenny says Ika and Adel to flush out his power.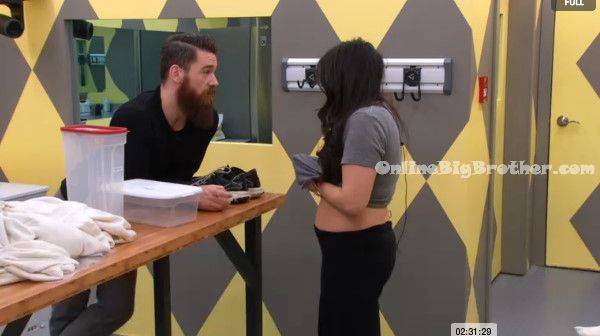 11:55am IN the living room – Arlie comments to Allison that she's never even seen a live eviction. Arlie says that last week there were 45 minutes of malfunctions. He says that Arisa kept trying to talk to them and they couldn't hear her. Sarah comments that they had to change the clicker. Arlie says and then it worked. At 12pm Big Brother tells them that there are 4 hours till the live eviction.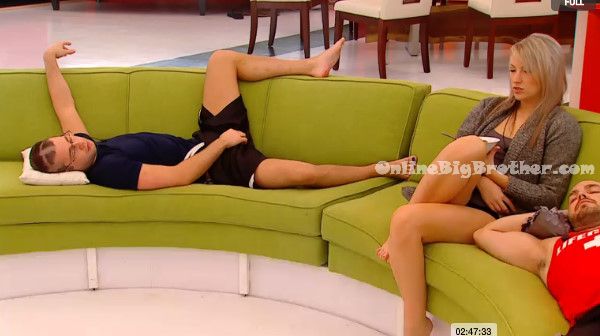 11:50am – 12:20pm Meanwhile in the bathroom – Ika, Sabrina and Rachelle are talking. Ika says that she can't believe they guys told her (allison) not to tell me. Ika asks Sabrina again if Sarah is voting with us. Sabrina says yes, why don't you go talk to her. Ika says because she is down there up their a$$es! If it happens organically then I will talk to her. Ika says I hope to god Paul or Adel win HOH. They head to the bedroom to pick out their outfits. Ika tells them that Sarah is always sitting with them, she is up Kenny's a$$! They talk to Adel about whether or not it will be a double eviction. Adel says that when he talks to other people they always say that the double eviction happens week 4 or 5. What week is it now? They tell him week 3. Adel says yeah its too early. They talk about how they were told to wear comfy shoes too.
12:30pm – 12:40pm In the bathroom – Ika tells Paul that she is the tie breaker and that she's voting to keep him. Ika says the guys are all voting to keep Heather. Ika tells Paul that he needs to fight for the HOH. If we don't win HOH then they'll be putting me up and probably you or Adel. I need you to fight! Ika tells Paul that he is not going home. Paul says I appreciate it.
12:55pm Most of the house guests are sitting around the living room couch talking about random things like kids and pets.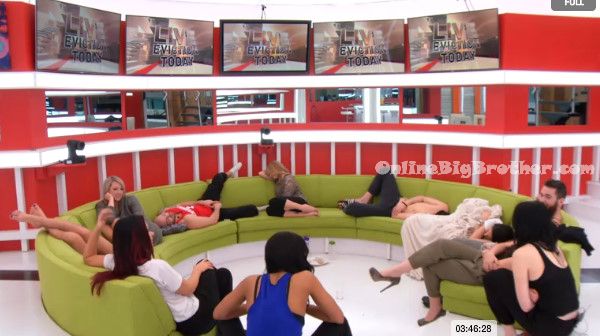 Big Brother asks all the house guests to gather in the living room..
2pm The live feeds are still blocked while the house guests do a rehearsal of what will happen for the live eviction tonight.
3:50pm The live feeds are still blocked..
4:30pm Still blocked…
5:05pm – 6:20pm No Live Feed leaks yet..
Stay connected and interact with other Big Brother Fans on our Facebook page.
And Follow: @BigBspoilers and @Dawgsbigbrother on Twitter for the most up to date spoilers.