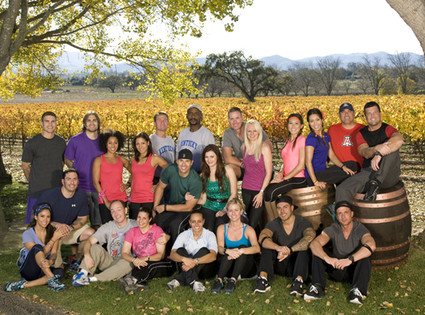 The Amazing Race Season 20 starts FEB 19th at 8pm on CBS and surprise surprise our favorite BIG BROTHER couple is one it. Leaked photos emerged last month showing Brendon and Rachel competing in The Amazing Race competitions. Now it's official hurray ;)
In case you forget this isn't the first time a Big Brother Couple has crossed over onto The Amazing Race. Big Brother 11 winner Jordan Lloyd and her man Jeff Schroeder appeared and was eliminated on the 7th leg.
There are 11 teams competing for million-dollar prize. Does Rachel and Brendon stand a chance? I'm betting they do. This is going to be a great season.
Here is the complete list of the cast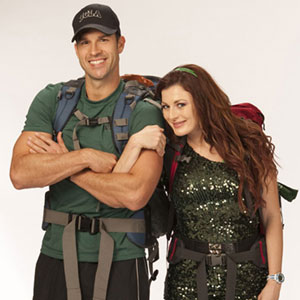 Brendon Villegas, 31; Westwood, Calif.; Ph.D. student
Rachel Reilly, 27; Westwood, Calif.; event hostess (engaged)
Dave Gregg, 44; New Port Richey, Fla.; "Ambassador of; Laughter"
Cherie Gregg, 44; New Port Richey, Fla.; "Ambassador of; Laughter" (married clowns)
Art Velez, 43; Temecula, Calif.; border patrol agent
J.J. Carrell, 42; Carlsbad, Calif.; border patrol agent (friends)
Nary Ebeid, 32; Los Angeles; federal agent;
Jamie Graetz, 33; Los Angeles; federal agent (friends)
Vanessa Macias, 31; San Antonio; freelance writer; Ralph Kelley, 36; San Antonio; bar owner (dating divorcees)
Misa Tanaka, 27; San Diego; car buyer;
Maiya Tanaka, 25; San Diego; professional golfer (sisters)
Dave Brown Jr., 33; Madison, Wis.; U.S. Army Officer
Rachel Brown, 30; Madison, Wis.; project manager (married)
William "Bopper" Minton, 41; Manchester, KY.; motorcycle mechanic
Mark Jackson, 45; Manchester, Ky.; former state inspector (best friends)
Joey "Fitness" Lasalla, 29; Whitestone, N.Y.; trainer/supplement; company owner
Danny Horal, 27; Holbrook, N.Y.; nightclub promoter (friends)
Elliot Weber, 28; Scottsdale, Ariz.; musician
Andrew Weber, 28; Menlo Park, Calif.; professional soccer player (twins)
Kerri Paul, 30; Gulfport, Miss.; program coordinator
Stacy Bowers, 30; Gulfport, Miss.; self-employed/"basketball" wife (cousins)