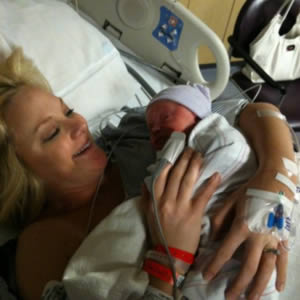 I know it's been a long time since we've last heard anything about April Downling or anyone else from Big Brother 10. Last I heard April had broken up with the preachers son Ollie who once said this lovely thing about his then girlfriend April "I usually don't go for girls like that… I usually like a classier girl"…LOL what a nice thing to say. Well April has moved on found a man (Ryan Cruise) and they've had a little boy. His name Easton Mitchell Cruise, weighed in at 6 pounds 10 ounces.
Usually I wouldn't give a rats ass about players of this calibre from 2 years ago but April and Ollie share a special place in the Big Brother history books.

A) sexual exploits while in the house that had everyone going nuts.



B) Ollie spazzes out and attempts to ransack as much around the house as he can without getting kicked out



C) Old man Jerry (is he still alive?) fondles April's "real" chest


Ahh the BB memories…
Key Dates:
• Season Premiere: July 8th
• First Live Show: July 15th
• Weekly broadcasts: Sunday, Wednesday, Thursday

Share it YO!!
Tweet