POV Holder:
Next POV
March 9th
POV Used
POV Ceremony
March 11th
HOH Winner:
TOM
Next HOH:
March 14th
Original Nominations:
Current Nominations:
Last Evicted Houseguest
Danielle
Have Nots
Talla, Tom, Peter, Alec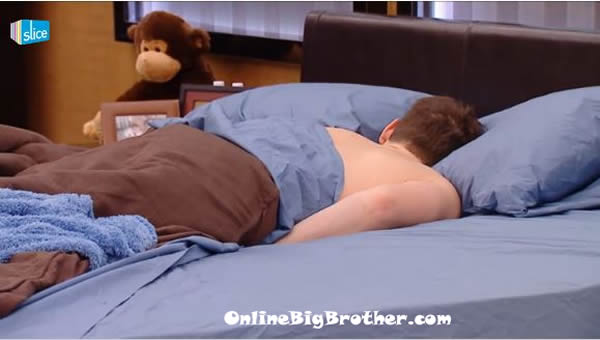 8am – 8:50am Big Brother turns on the lights in the house to wake up the house guests. In the havenot room Topaz comments on how there is a havenot competition in one hour. Talla complains about having cramps. She stumbles getting up and Alec calls her a sloppy mess as she leaves the room. They all get up and head to the kitchen and bathroom to make breakfast and get ready. Liza talks to Andrew in the kitchen about how they need to have a havenot competition so that those on slop can get off it. Emmett and Peter are talking out on the backyard couches. Peter says that they are probably still 4 hours away from the havenot competition. He says that they still have to lock us out of the backyard, set up the challenge, then call us into the living room. Liza and Alec join them outside. Peter says that he is so nervous he could puke. Alec says he hopes if they do lose today that at lease when they come back inside they have something for us.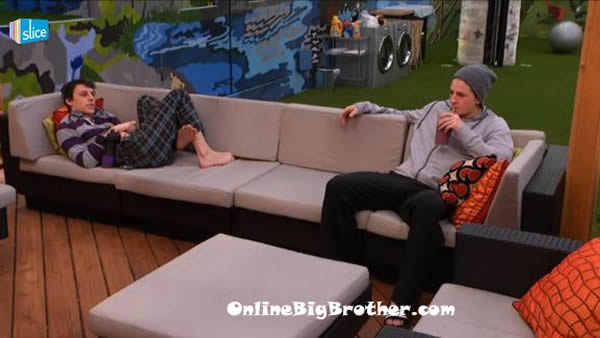 8:55am – 9:10am Alec says, Andrew you're a wise old man. Do you think they would cock-a-doodle-do me if I go back to sleep now. Andrew says he thinks you have to stay up for a certain amount of time before you can go back to bed, that or paint eyes on your eye lids. In the kitchen, Emmett, Jillian, Topaz, Andrew waking up. Jillian dares Andrew to put the slop bucket on his head so Andrew does it and starts a strip tease.
9:25am – 9:45am Out in the backyard: Andrew, Alec, Topaz, Peter and Talla are talking. Talla talks about how she doesn't trust Aneal and why she voted to keep Danielle. Talla says that she talked to someone (Tom) and they said that it didn't matter if I voted against the house. Alec asks but what if someone else did that too. She says that she never got a chance to tell Aneal she doesn't trust him. Alec asks if Talla did it because Danielle is better for her game. She says that neither Danielle nor Aneal are better for her game.
9:50am – 10am Aneal tried to go back to sleep but Big Brother woke him up and told him to make all the beds. When he's finished he comes into the kitchen and says that he completed his task and cleaned the bathroom but he wasn't told he was rewarded with $10,000. Meanwhile up in the HOH room: Tom and Liza are up in the HOH room. Tom asks Liza to tell him a joke. She starts but forgets it and stops, then starts again in a baby voice. Tom gets annoyed that she's talking in a baby voice. He tells her he is going to listen to music until she acts her age.
10:10am The live feeds switch to the "hush, hush" screen..
10:35am – 11:10am
Gary and Topaz are lying on the hammock talking. Gary says that he thinks Aneal is a liar. He says that Aneal says that smoking and smokers are disgusting but I saw 3 packs of smokes in the bottom of his suitcase. Topaz asks how did you see them? Gary says he was walking by when Aneal was emptying his suitcase and I asked him what it was and he said don't worry about it. Gary says that doesn't trust Aneal. Gary and Topaz start talking game. Topaz tells Gary about how Liza wants the guys out. Topaz says that she is willing to take out the guys: Emmett, Tom, Aj, Aneal. Gary thinks Tom will get Suzette out next week and that he will try to take out Aneal or me. Topaz says its crazy you don't know who to trust. Gary says don't trust anyone but me and Alec. They agree that they need to start getting the guys out because they are getting all the girls out. Gary says guys love pu$$y but they will choose di*k over pu$$y. Gary says that Talla is as fake as fu*k. Gary and Topaz call their alliance the "secret wedding alliance". They talk about not trusting Liza and decide to feed stuff to Liza to see if it gets back to Tom. Topaz thinks Liza and Peter have been hanging out a lot lately. Gary says that Peter has a deal with everyone. Gary says that he will tell Tom that if Suzette is really the target, I am down with that. Topaz tells Gary to make a deal tighter than that. Gary says that he will tell Tom I will do your dirty work and get rid of the people you can't get rid of and have the dirt on my hands. Big Brother tells the house guests they are on an indoor lock down.
Video of Gary and Topaz's conversation:

11:10am – 11:30am Tom, Aj and Talla are up in the HOH room talking about Aneal and how they don't trust him. Emmett joins them. Emmett sits for a minute then leaves. Tom asks both Talla and Aj who they want nominated. Both Talla and Aj want Gary and Suzette up on the block. Tom says that two more weeks in the house with people ignoring Suzette she will either eat herself or walk out the door. Tom says that he wants Gary out first and to be able to say I got him out. Tom tells Aj and Talla to break Suzette down. Tom says that day 3 Suzette tried to make a deal with Emmett and I, first of all my back isn't strong enough to carry her.
Video of the HOH conversation:

11:30am – 12pm Alec and Topaz are in the havenot room talking. Topaz is worried about Alec telling everything she tells him to Peter. Alec says that he won't tell Peter anything. Topaz brings up how Liza has been talking about how its guys against girls. The feeds switch to the hush hush screen. When they come back Topaz is telling Alec she wouldn't trust a girls alliance. Alec tells Topaz that its her, him and Peter final three. Alec tells Topaz they will try and keep Gary around. Alec admits he threw the HOH competition because once Gary and Suzette were out there was no point in winning it. Alec says once Liza was out I threw it, plus I didn't want people to catch on that everyone was selecting A, A, A. Alec tells Topaz to no push too hard for Gary to stay until after the POV. Alec says that Gary is a smart player but he is an emotional player.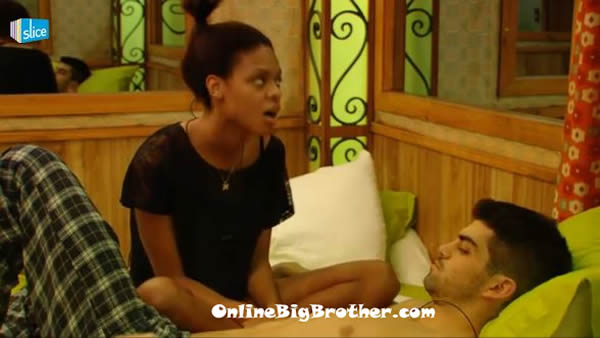 12:15pm – 12:25pm Jillian, Liza, Tom and Emmett are up in the HOH room talking about the Gary and Suzette nominations. They all agree that getting Danielle out was a good decision. Jillian and Liza leave the HOH room. Tom talks to Emmett about how Liza dated one of the Backstreet Boys. Tom says she is hot but she isn't that hot.
12:40pm Big Brother switches the live feeds to the hush hush screen..
1:45pm Live Feeds are still blocked..
2:50pm More Hush Hush…
3:35pm Blocked feeds continue..
4:35pm Just about 4 hours of blocked feeds for the Havenot competition..
5:15pm No end in sight.. hopefully soon the feeds will be turned back on..
5:50pm HUSH HUSH Continues..
6:10pm The producers in the big brother Canada Control room wake up from their nap.. The live feeds are back!
Stay connected and interact with other Big Brother Fans on our Facebook page.
And Follow: @BigBspoilers and @Dawgsbigbrother on Twitter for the most up to date spoilers.
Share it YO!!
Tweet