POV Holder:
Peter
Next POV
April 6th
POV Used
?
POV Ceremony
April 8th
HOH Winner:
JILLIAN
Next HOH:
April 11th
Original Nominations:
ALEC & PETER
Current Nominations:
?
Last Evicted Houseguest
GARY
Have Nots
No havenots this week
1:30am When the Big Brother Canada Live Feeds return we learn that as head of household Jillian has done what she said she was going to do and nominated ALEC & PETER. She and Emmett had a discussion with Peter this morning about him going on the block with Alec. Jillian's ultimate target this week is Alec because he threatened her to not put him up on the block. It will be interesting to see how the week plays out as Jillian promised Topaz during the HOH competition that she wouldn't nominate her or Alec.
The Power of Veto Winner is: Peter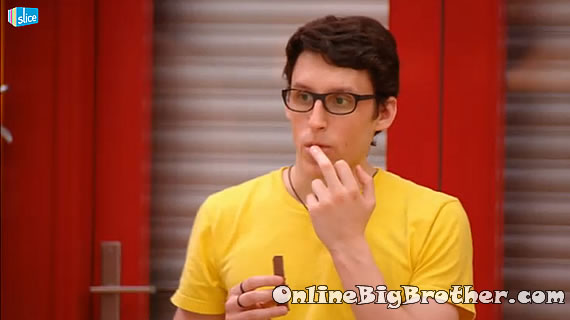 Confirmed Peter won the POV.
FYI No gary in the house..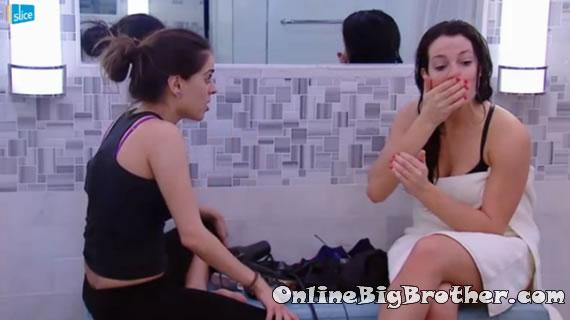 HOH Jillian and Talla Jillian says she is going to go back on her word and put up Topaz. She's not happy about it though, 'It sucks Talla.. these people are both going to jury house and they are not going to vote for me" Talla tells her that she's made smart big moves people will consider that when voting for the winner. Talla: "The thing to remember what did they do.. What did they do.. Last week they threw it all out the window.. I really feel like I cannot trust Topaz"
Jillian tells her she cannot talk to Talla right now.. she doesn't have her microphone on, "I don't want this to be ON TV I feel like I want to Die.. I'll talk to you in a second when I'm ready"
(Video uploading.. )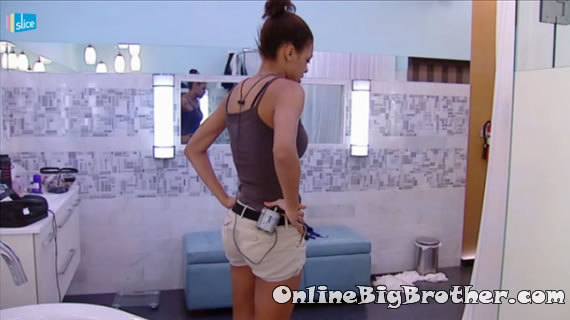 1:40pm HOH Jillian and Topaz
Topaz: "Peter is obviously coming off the block"
Topaz: 'But we're still good with our deal right.. "
Jillian: 'the problem is you've told people you cannot trust me anymore"
Topaz: "I told people I cannot trust you any more.. cause you put Alec up? .. whaaat Who would I talk to to say that.. "
Jillian: 'You never told anybody this week that you cannot trust me anymore?"
Topaz: "Umm no"
Jillian: "That stresses me out because if she doesn't trust me"
Topaz: "That pisses me off"
Topaz says that Alec and Peter would never have said that so it must of been Talla or Andrew and they are just trying to save their own skin.
Jillian: "Whoever goes up with Alec.. They are safe .. Alec is the target.. I still need to figure out who is going up and it's stressing me the F*** out"

(Video uploading.. )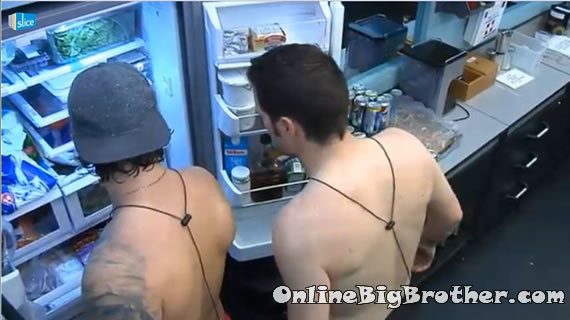 1:40pm Andrew and Emmett in the storage room
They are digging around the fridge looking for food.
Andrew: "I was the first one out"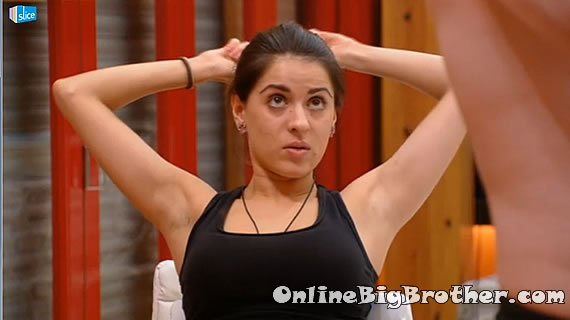 1:42pm Kitchen Emmett, Andrew, Talla They are chating about the competition. Sound like Andrew did alright (Not sure what Andrew was referring to when he was in the storage room with Emmett)
Talla tells Jillian she is not talking to her tonight.. "You just keep your head straight" Jillian heads up to the HOH.
Andrew: "Talla you gotta chill"
Talla: "I know.. I feel bad.. I know it's hard and it's not going to be easy (For her to decide who the replacement nominee is)
Andrew: "Chill"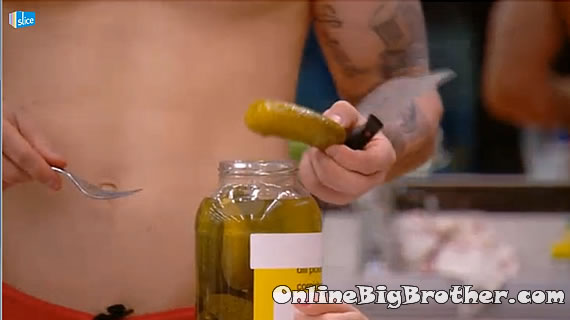 Emmett asks Talla if she wants "This big Fatty"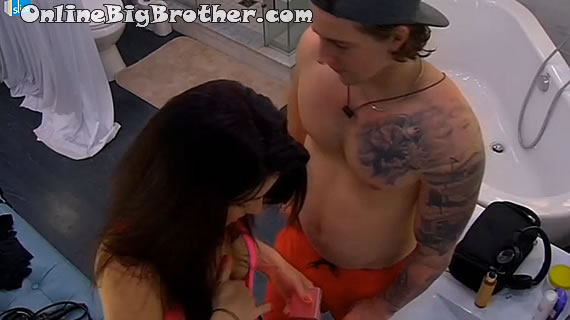 2:10am Jillian and Emmett
Jillian is super stressed.. tells Emmett that Topaz and Talla are all over her about who the replacement nominee is.
Jillian felt like freaking out on Topaz..
Emmett: "Give me some kisses"
Jillian: 'No.. i'm sweating.. I just got out of the shower and i'm sweating again.. Poor Alec he's defeated he's going home.. he's going to the jury house he lost the game"
Emmett: "When Alec quit I kinda and he said.. he didn't want to win Anyway he wanted Pete.. I felt bad for him.. But if Topaz had won HOH he would have had her put us up and one of us would be going home.. Alec would have had her do his dirty work " (Apparently Alec gave up during the POV Comp)
Emmett: "You understand.. YOU UNDERSTAND"
Jillian: "Ya.. I gotta keep remembering that he was after us.. "
Jillian: "What should I do with Topaz.. She had a chance to fight for veto and she lost it that was not part of our promise and now it like to the world that I'm a backstabbing bitch. Cause fricken what's his face won. I can't go back on my word with Talla.. She the only option I do make promises I cannot Keep"
Jillian asks if she put Topaz up it's not called backdooring.
Emmett: 'She's not going home.. we control the vote.. it's not backdooring"
Emmett: "Jillian no matter what you do if Topaz wins next week we are going up.. doesn't matter what we do"
Jillian: "She's the pawn doesn't matter doesn't she know we control the votes.. "
Emmett: "this is a game"
Jillian: 'You are suppose to play honestly and good"
Emmett: "What the hell no you are not this id f***ing big brother do you know what game you are in.. people fuc***ng lie all the time .. everyone lies.. not a single person in this house isn't lying."
Jillian mentions how she brought up to Topaz that someone in the house told her that topaz is going around telling people she doesn't trust Jillian anymore. Jillian cannot remember who even told her in the first place. Emmett says it may have been peter.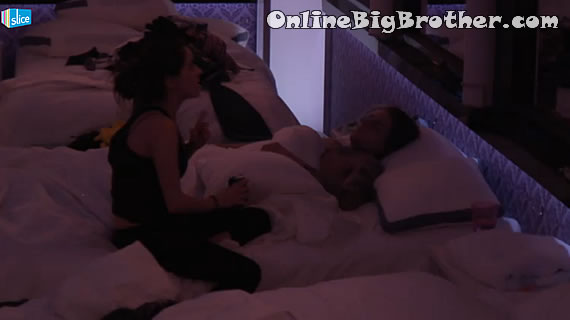 2:36AM Jillian and Emmett
They are in the main bedroom because the HOH room is too hot.. Jillian says that the only reason why Topaz made a deal was she couldn't handle the HOH Competition. Jillian: "I didn't put her up I did my duty she had the chance to win the POV"
Emmett: "She should Have won the POV"
(They are talking about Topaz)
Talla joins them tell them that the Diary room wants Jillian
Jillian: "Come here Talla I want to give you a hug because I felt like I kicked you out of the room"
Talla: "You know you are not evil and you are in a position"
Jillian reassures her that her and Andrew are safe this week. Jillian: "you and Andrew are not even in my head" Talla: 'I know we're in an alliance together… I do feel bad"
Talla: "Pull evil Jill out and own it"
Jillian: "She (Topaz) came up and asked me if I was Still 100% with our deal.. Our Deal is over.. "
Talla: "I know"
Jillian heads to the Diary room
Andrew rolls in.. Asks them how Jillian is doing. Emmett says Jill is a little worked up about having to put up a replacement nominee. Emmett: "I don't give a sh1t f** it I'll go tell her" (Topaz that she's going up)
Talla mentions how Topaz has a confrontational side to her.. she could confront Jillian. Andrew: "What's the worst that can happen she'll tear a strip off her.. she's a yeller but.. "
Talla: "If she says anything to Jillian I will get in that in a second.. I WILL WIN AN ARGUMENT THAT IS FOR SURE"
Andrew: "The thing is.. what does she expect it's a game"
Talla understands that Jillian is in a tough spot.
Andrew understands to mentions that he was sitting up in the HOH room with Topaz and Gary and tell them both they are going up.
Emmett jokes that Talla better start winning shit
Talla: "I know I will i'm a power player in waiting" (lol)
Andrew heads out looking for a jar
Talla explains that she thought Topaz and her were friends.
Emmett informs her that Topaz wants her to go up.. "You are obviously not that good of friends"
Talla: 'all she did was sleep and hasn't done anything to earn my trust. "
Andrew joins them.. They have a conversation about the POV competition. Andrew says when he first saw what it was he thought it was right up Alec's alley. Talla: "I thought it was up my Alley" Andrew: "You know what is up your alley.. I saw it in the toilet 10 minutes ago"
3:05AM Bedroom Emmett, Alec, Andrew and Peter
Peter: "4 of the 6 people quit.. one of them being on the block"
Alec comes in "I was going to Die"
Andrew and Peter were the only two POV players that finished the rest quit.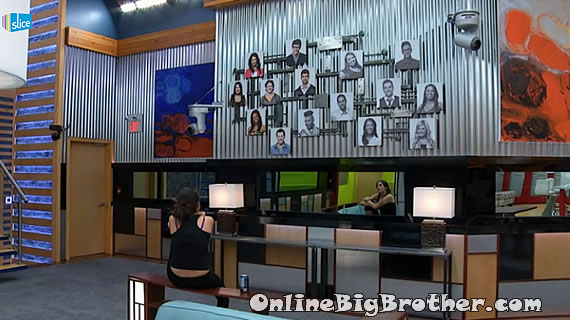 3:10AM Talla checking out the memory wall "I miss Gary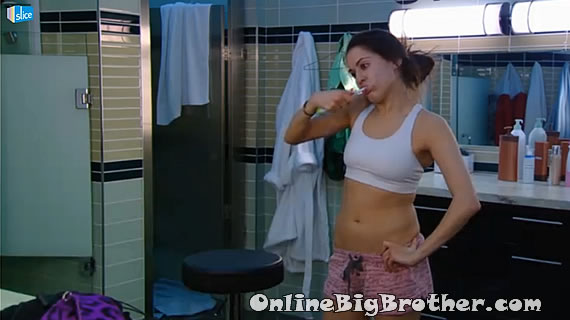 3:30AM Talla getting ready for bed. Topaz in the Diary room everyone else sleeping.
Stay connected and interact with other Big Brother Fans on our Facebook page.
And Follow: @BigBspoilers and @Dawgsbigbrother on Twitter