POV Holder:
Peter
Next POV
April 6th
POV Used
?
POV Ceremony
April 8th
HOH Winner:
JILLIAN
Next HOH:
April 11th
Original Nominations:
ALEC & PETER
Current Nominations:
?
Last Evicted Houseguest
GARY
Have Nots
No havenots this week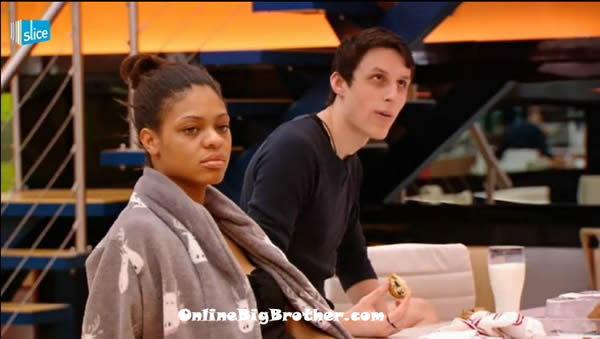 10am – 10:40am Big Brother let the house guests sleep in an extra hour this morning as they are usually woken up at 9am. Andrew and Alec are in the kitchen. Alec comments on how his chipped tooth is annoying. They talk about how expensive it is going to the dentist and how not everything is covered by insurance. Alec gets called to the diary room. Andrew says 46 days of not sleeping in. Alec come back out and says they just wanted to know what was up with my tooth. Alec and Andrew comment on their road to being here in the house. Andrew says besides Liza lying to him his road has been pretty standard since then. Andrew says that this has been like an exchange program from hell. Topaz joins them. Andrew and Alec start talking about Les Stroud the survivor man. Andrew asks if anyone else's bodies are sore from that challenge? Emmett says that he is. Andrew asks from what hanging out under the bridge. They comment on how the bridge to veto was really cool. Peter comments on how surreal it was to be up on the block and then an hour later they were out there for the veto competition.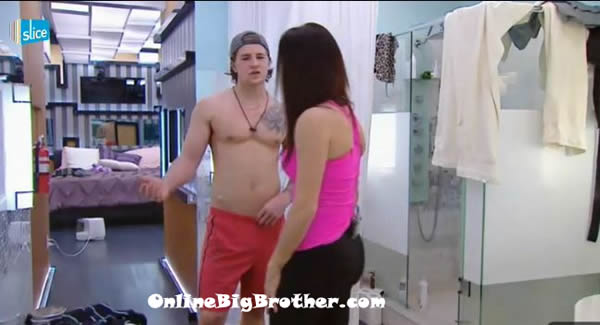 10:40am – 11:30am Emmett and Jillian are up in the HOH room. Jillian wonders what she should say to Topaz. Jillian goes down to ask Topaz to come up to the HOH room to talk. Jillian tells Topaz that she has thought about this all night and I know I promised you that you wouldn't go up but .. Topaz starts talking about how Jillian promised her she wouldn't go up on the block. Jillian says you wont be able to change my mind, I didn't put you up initially like I promised. Jillian tells Topaz that she can't risk it… If it is Talla up on the block you will vote for her to go and I need Alec gone. Jillian says I don't know if Canada will get to vote for me to break a tie and I can't risk it, I don't know if that will be a twist. There are so few people left in the house and there aren't many options. Jillian tells Topaz that Alec has been throwing you under the bus ..I won't even tell you all the things he was saying about you but you will see when you watch it. Topaz says that when Jillian put Alec up she understood and says that it was bitter sweet. She says that she and him talked and realized that they needed to part because we didn't trust each other. Topaz says that she will vote to keep Talla and vote out Alec if she wanted because she knows Alec is going this week. Jillian says that being HOH is hell, this week and the other week she had HOH have been the worst weeks in the house. Jillian says that she was happy for Peter that she won the veto but why does this happen to me. I could try and convince him to not use it but I know he is going to use it. Jillian asks if you had won the veto would you have used it on Alec. Topaz says that it would have been 50/50 .. I would have sat down with you and asked you as a girl about Alec. Topaz asks does Alec ever throw Peter under the bus? Jillian says no, he has never thrown Peter under the bus .. Peter is always in his scenarios. Topaz says that's what I have heard. I think he would drop me like a dime and he would fight for Peter. He would not throw himself on a sword for me. Topaz says I will not give Alec a pity vote especially since he is getting one from Peter. She says that Alec told her last week Alec told her he wouldn't give her a pity vote because he didn't want to be targeted the next week. She says really you don't even give two sh!ts about me. Jillian starts to tell Topaz how Alec has been throwing her under the bus. Topaz says she doesn't even want to know until after because she doesn't want to get into it with Alec.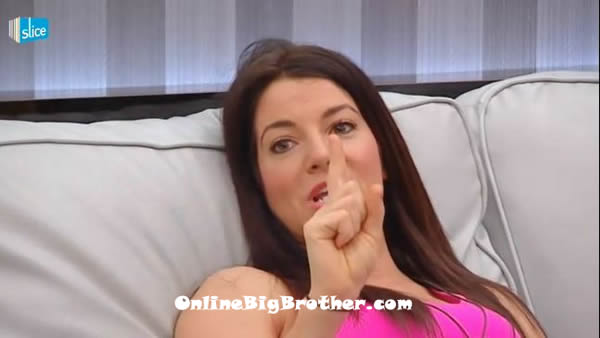 Jillian says I need Alec out 100% and this is the best way to ensure that happens. There is no reason for Talla to vote to keep Alec. Topaz says that she wouldn't have DQ'd if she knew she was going to go back on her word. Topaz talks about how she can't trust Alec and how she can't tell what's genuine and what's not. I am being played left right and center. Jillian worries Alec could talk people into voting out Talla instead of him. Topaz keeps pushing for Talla to go up because she hasn't done anything spectacular. Jillian says that she will talk to Talla but if she isn't comfortable with it then I won't do it. Jillian says that she will talk to Talla and then call you both up and we will talk.
Video is uploading: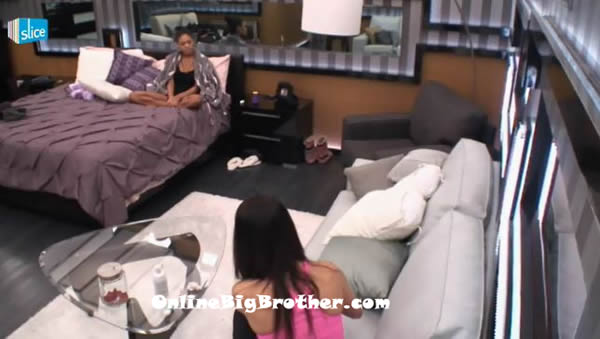 11:40am – 11:56am Jillian and Topaz heads down to the kitchen to eat breakfast. Andrew is freaking out and keeps saying open the god damn door! Emmett and Andrew talk briefly in the storage room. He asks if Jillian told Topaz she is going up. Andrew says that Alec had that Veto competition in the bag. Andrew and Emmett leave the storage room. Andrew sits under the stairs and puts a bag over his head and starts breathing deeply. Big Brother tells him to STOP THAT!
ANDREW wants to kill himself because #BBCAN won't let him outside OPEN THE DOOR goo.gl/jRLgk @bigbspoilers twitter.com/DawgsBigBrothe…

— Dawg (@DawgsBigBrother) April 7, 2013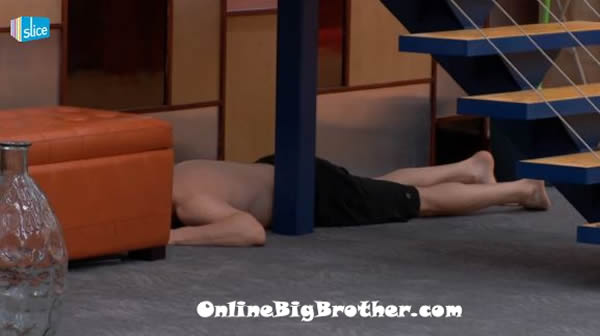 12pm – 12:50pm Topaz and Alec have a conversation in the bathroom. Topaz tells Alec the entire conversation she had with Jillian. Topaz tells Alec about how Jillian said you were throwing me under the bus all last week. Alec says yeah I told you I did that. Topaz says yeah I know, we were in a nomance showmance last week. Topaz talks about how she knows Alec is more aligned with Peter than her. Alec says that's not true I don't really know who I am more aligned with. Alec wants to go talk to Jillian because he wants to hear it from her why she wants me out. Topaz tells him not to right now she will know I told you everything. Alec wants to tell Jillian that he won't come after her. Topaz says that she thinks she can talk Jillian into putting up Talla instead of me. Topaz tells Alec that Jillian doesn't trust you ..even if you told her you would give her a million dollars .. or even $5 after the show, she wouldn't believe you. Alec says I just feel like you are believing her and I don't even have your support. Topaz says I am on your side honestly. Alec tells Topaz to just give him her vote anyway. Topaz says that she will no matter what she says to Jillian. Alec says you can choose to believe whatever you want to believe I just don't understand why you don't trust me. Topaz says I trust you more than anyone else and I won't screw you over. Alec talks about regretting voting out Aj and keeping Andrew. He says it all backfired on me and my alliance turned on me. Emmett didn't even try and keep me safe. Alec says I was just waiting for them to turn on me and now its me, you and Peter against them and we can try and get Andrew and go after Emmett & Jillian. Alec says that the house looks for an enemy. I am looking forward to the exclusion. Alec says this is the week that I now fully trust you. Topaz says that she can't disconnect herself from the people who are on the block ..like oh they have an STD. Alec says I haven't done any real lying .. keeping Jillian not caught up with the final four was my downfall. Topaz says no having more than one alliance was your downfall.
Video is uploading:
OnlineBigBrother.com
Stay connected and interact with other Big Brother Fans on our Facebook page.
And Follow: @BigBspoilers and @Dawgsbigbrother on Twitter for the most up to date spoilers.