POV Holder:
?
Next POV
April 6th
POV Used
?
POV Ceremony
April 8th
HOH Winner:
JILLIAN
Next HOH:
April 11th
Original Nominations:
?
Current Nominations:
?
Last Evicted Houseguest
GARY
Have Nots
No havenots this week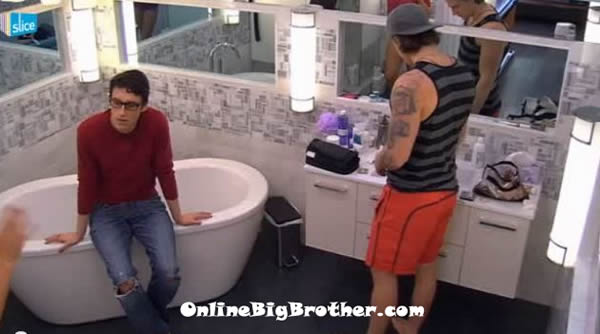 8:45am Up in the HOH bathroom: Jillian and Emmett are talking to Peter. Jillian tells Peter that he is going up on the block. She says that he is not the target and that if Emmett wins the Veto he will take him off the block. Jillian says that her best case scenario is to put Peter up next to him. She says no one is going to vote you out, you are not a target. If Alec gets the veto someone else will be going in his place and that person will be going home. Jillian tells Peter "You will never be going home, no matter what! You are not my target, I don't want to get you out of this game at all, at all. Peter asks so who are you putting up beside me? Jillian says Alec. Peter says okay, ah that's weird to me… That he's your target now?! Jillian says yes. Peter says okay so … Jillian says I trust Talla right now, more than I trust Alec. I have to go with my gut, I have to. Peter says okay. Jillian says at this point in the game I don't trust him (Alec). Peter says right, I understand that! Jillian says that he wants me in the final four, I don't trust that. Jillian says I wanted to tell you before I put you up, but they literally gave me 45 minutes to get ready ..and they are calling me in there in 5 minutes and I am not even ready. Peter says I trust you and I will trust this move but as you have seen in this game pawns go home and… Jillian says you will NOT be going home. Peter says if Alec takes himself off the block, which he is very capable of doing …then Talla will go up and I will be seen as more of a threat.. and I will go home. Jillian says Talla will not go up. Emmett tells Peter if he gets house guest choice, pick me. Peter says he will. Emmett says and I will make sure he does not win. Like honestly man, like I said last night.. Peter asks will I come off? Jillian and Emmett both say yes. Jillian says I will let that happen, you don't know how bad I don't want you to go home.. but this is my best option to send out Alec. Peter says I do trust you. Emmett says its gotten to the point where I just don't know what he (Alec) is doing, we kicked Tom out for this.. Peter says right. Emmett says because he (Alec) is bullying around. Jillian says that he is bullying me … and why am I kicking someone out that I trust more than the other person. Peter says right, I certainly understand your perspective. That makes complete sense.. so I will then put my complete trust in you.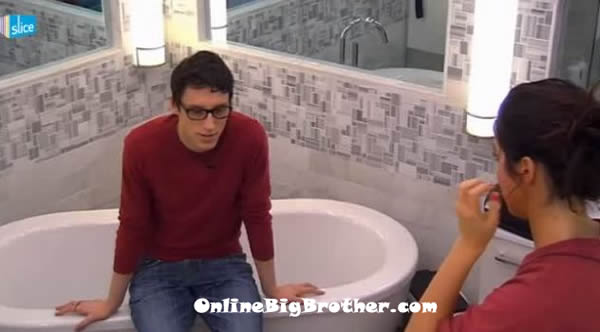 Jillian says I don't want to seem so cold while I am doing this… Peter says I understand .. if that is your objective ..I can see your rationalization. Obviously I am not totally comfortable with it but as a sign of trust to you two, I will put my faith in you. Jillian says and we will discuss the veto if you win it because .. Emmett says that he hasn't talked to Alec yet .. but I don't know what the heck he is thinking. Peter says right. Emmett says he (Alec) went from never talking to Jill to straight up threatening her and stuff ..its just sketchy because I don't trust him any more with the whole thing that happened between him and Topaz I know that it was a secret but then it wasn't any more .. then lets bring Jill in. Emmett says when Jillian was up there with Topaz (during the HOH competition) he was scared sh!tless. And then this whole time he knew Topaz was coming after me but then he is with Topaz. Its just weird man. Jillian says that she knows Peter will take Alec off if you won the veto. Jillian says and I am NOT backdooring anyone, I am giving him a chance to fight for it, he is a good competitor and if he gets himself off the block I will make sure someone else goes up but I will make sure its in your favour. Peter says Okay cool. I appreciate you letting me know. Emmett says I don't know what you want me to tell him (Alec), I don't know if you want to talk to him. Peter says ah no that's you're guy's decision to make but certainly if you win veto then I would certainly appreciate you taking me off. Jillian says at the same time when I had to put one person on the block…. Emmett says he was almost okay with you going up. Peter says oh really?! Emmett says and now he is making out with Topaz and stuff. Peter says so you don't think his allegiance isn't as close as you think it is.. Jillian and Emmett both say I don't know, I don't want to say that. Peter says but that's what you are considering. Emmett says just keep in the back of your mind. Jillian says or the same ..that he (Alec) couldn't decide between the two (Topaz or Peter) of you if his life depended on it. Peter says right… but then maybe his going back to Topaz was the decision. Emmett and Jillian say I don't know. Peter says okay I trust you guys, I have trusted you all along and we will just see what happens with the veto but if he takes himself off it will be Talla that goes up. Emmett says probably I assume. Jillian says no that's not 100%. Peter asks ah then it might be Topaz.. because then you get into a situation where he has to choose between Topaz and I and he will evidently choose Topaz. Emmett says but he only has one vote. Jillian laughs. Emmett says it will be me, Andrew and Talla still voting. Jillian says and I know we have the votes 100%. Emmett says and she is a tough competitor when it comes to endurance.. Big Brother cuts the live feeds..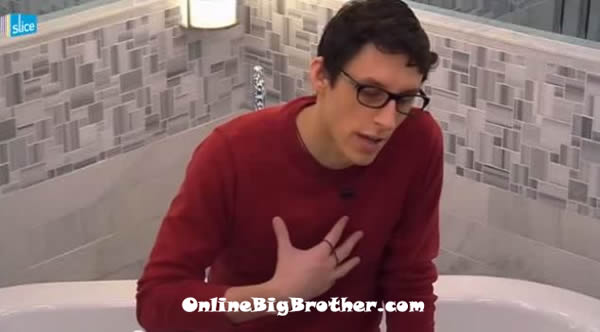 9am – 10:15am Big Brother switches the live feeds to the hush hush screen..
10:36am The live feeds are still showing the hush hush screen.. The nomination ceremony is happening right now!
11:11am Still showing the hush, hush screen..
12:20pm Still showing the hush, hush screen.. Below is a Big Brother announcement: (Looks like after the nomination ceremony the house guests will soon after compete in the Power Of Veto Competition.)

1:06pm Still Hush Hush..
2pm Still Hush Hush..
3pm Still Hush Hush..
4:10pm Still Hush Hush..
5pm Still Hush Hush..
6:10pm Still Hush Hush.. While we wait for the live feeds to return here are a couple videos to watch!
6:52pm Still Hush Hush..
8:08pm Still Hush Hush..
9:35pm Hush Hush..
10:20pm Hush Hush..
11:00pm Hush hush if you flip cams you'll see the Ramada Guy he's doing alright
11:50pm Hush Hush ..
12:28pm It's going all night yo HUSH HUSH
12:43 Recent tweet from Big Brother Canada Says Feeds are coming back soon.. Grab a JAr
1:10 Feeds still cut .. no sleep till Brooklyn
1:30 Feeds back
(@simononlineBB <-0- Follow me -0-> )
Place your bets #BBCAN twitter.com/bigbspoilers/s…

— OnlineBigBrother.com (@bigbspoilers) April 7, 2013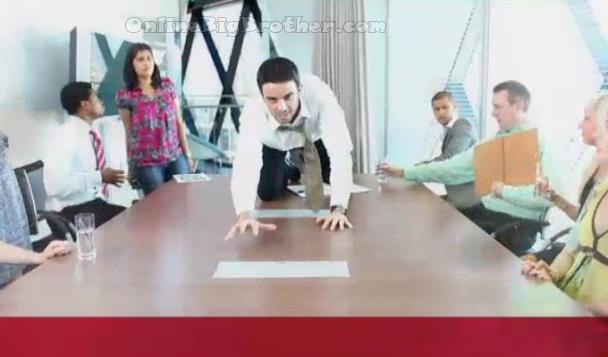 Facebook FAN Question & Answer WITH the HOUSE GUESTS:
EVICTED – Gary's Goodbye:

OnlineBigBrother.com
Stay connected and interact with other Big Brother Fans on our Facebook page.
And Follow: @BigBspoilers and @Dawgsbigbrother on Twitter for the most up to date spoilers.
[polldaddy poll=7012892]
[polldaddy poll=7018392]