POV Holder:
?
Next POV
April 6th
POV Used
?
POV Ceremony
April 8th
HOH Winner:
JILIAN
Next HOH:
April 11th
Original Nominations:
?
Current Nominations:
?
Last Evicted Houseguest
GARY
Have Nots
Gary, Peter, Topaz, Emmett (used Slop Pass)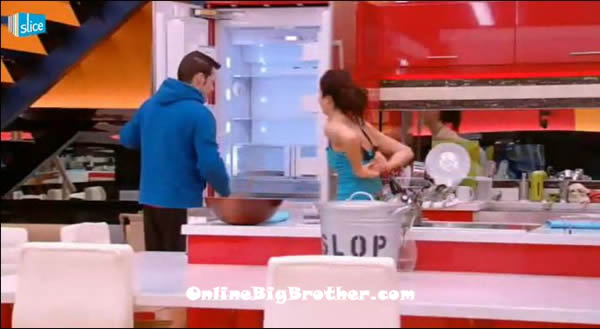 9am – 10:05am Big Brother wakes up the house guests. Andrew and Alec head into the kitchen. They complain about how hard it was to get up and how little sleep they got. Andrew realizes that there is no food in the fridge or in the cupboards. He goes to tell the others in the bathroom that there is only slop in the kitchen. Alec mentions that the have/havenot competition will probably be the one where you win foods like bread, fruit, etc. Andrew heads back to the kitchen to make a slop shake. He drinks it and says I don't know what the deal is. Emmett and Andrew go into the storage room and find that ALL of the food has been removed. Peter realizes that the grill is gone and asks where its gone. Andrew and Alec tell him they took it away. Peter says ah now I can't eat anything! A slop cake is all he will eat. Alec says that they took the garbage too, like we would dig through it for food. Andrew says we probably would. Jillian figures out that she will be competing too even though she is the HOH. She goes to check if she still has HOH food and finds that she doesn't. They discuss how they need to make sure they go for the essentials like meats, fruits, veggies first before we go for sweats and stuff. Jillian starts cleaning the fridge now that it's empty.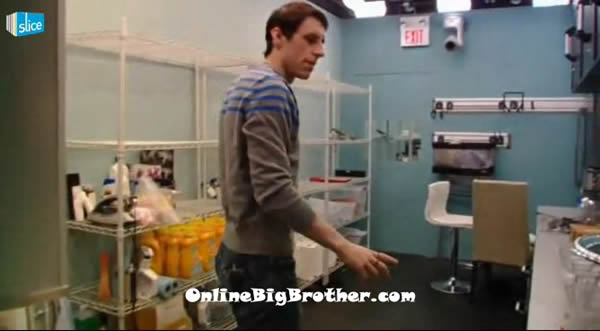 10:15am Peter looks for food but refuses to eat anything since he can't make his slop cake.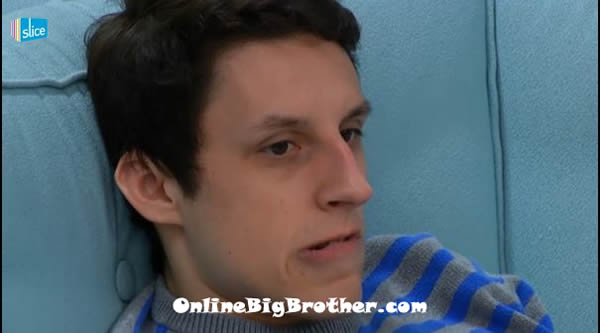 10:30am – 10:40am Alec talks to Peter in the living room. Alec says if either one of us go up on the block. Peter says that it would have to be either one of us and Talla. Alec says then we will just go at her full force next week. Alec says if she is putting either one of us up, then I will just take that as a sign she is not committed to the final four. Peter completely agrees. Peter says we have a final four deal with them and there is not reason to not put him (Andrew) up, period. Alec says and I don't mind keeping Andrew around for another week. He will put me and Topaz up against each other. Alec heads to the bathroom and then into the havenot room. He talks to Emmett about the papers he has written. Alec leaves and goes to the kitchen. In the kitchen Andrew, Talla and Alec talk about how Gary's task wasn't real. The instance where Gary told everyone they had to come up to his HOH room with a glass. Talla still thinks it was real. Alec bets Talla he is right and she is wrong.

11am – 11:20am Big Brother opens the back door. Talla gets all excited but realizes that there is nothing out there. They wonder if they are all just on slop for the week. Talla thinks they are punished. Andrew says that he is looking forward to being on slop because I can do it no problems. Alec heads back inside. Andrew and Talla comment on how Peter won't make it. Jillian comes out and says that they already tried talking to her. She says that she told them to give her some time. Andrew says that the nominations might not be for a while since there's nothing out here for a havenot comp.

11:30am – 12pm Up in the HOH room: Emmett and Jillian are talking. Emmett tells Jillian not to tell Talla anything because at this point all the votes count. Jillian tells Emmett about her conversation with Topaz last night. She says that she wouldn't put up Andrew because she made a deal with him while he was HOH. She says that she is thinking about putting up Peter and Talla. Jillian says she wonders what she should say to Alec. They decide that Jillian should tell him that she will keep her deal with Topaz but that Alec isn't safe. Jillian comments on how Alec and Peter were sh!tting their pants when she won. Jillian thinks that Topaz will fly off the handle if Alec goes up. Emmett doesn't think so since she could still go up if Alec or Peter win the POV. Jillian says if we get out Alec this week we are in a good situation next week. He is in a showmance and a bromance and we can break that up. Emmett tells her to tell Alec that yesterday was the first time he has talked game with her ..and that she has a better relationship with Peter than him. Alec comes up and joins them. Alec asks if she knows what she is doing with nominations. Jillian asks Emmett to leave. Jillian tells Alec that she might not keep her word to keep him safe. Alec says I don't think that a good way to run your HOH. Alec says Peter, Emmett and I have been working to keep you safe. They both agree that Talla is a threat and needs to go up. Alec is pushing for her to put up Andrew. Jillian says that she doesn't think she can put up Andrew. Alec says so that leaves me or Peter. Alec says that he is a human being and needs to know if he is safe.. the longer you take to tell me the more time I have to twist and plot and I have a lot of other options. Alec tells Jillian to trust Emmett and if he doesn't have faith in our final four then put us up and we will battle it out. Jillian asks so you don't think you have a fighting chance against Talla. Alec says no. Alec says if you put up Andrew then we have to votes to keep him. Alec says that if Peter goes up and he goes home …then I no longer trust you or Emmett and I would most likely work with Talla and Topaz. Alec says that next week if he wins HOH he will put Andrew and Topaz on the block and if Andrew wins the POV then I will put up Emmett and not you. They shake on him not nominating her at all next week if he wins. Jillian says that she still needs to talk to Peter and Topaz but will let him know what she is going to do before she does it.

12:15pm – 12:50pm Emmett and Jillian talk up in the HOH room. Jillian tells Emmett the conversation she just had with Alec. Emmett tells her fine throw him and Peter up. Emmett says all you need to tell him is that he was up here threatening you with different scenarios. Jillian says she doesn't trust him. Emmett says throw them both up. Say that you didn't even want to put up Peter ..and that you wanted to talk with him but he threatened you. Emmett says that if Alec asks me about I will just tell him you are pissed that you threatened her. Jillian says he is going to make it hard on me this week. He is a social psychologist and he doesn't even know when to stop, he doesn't shut up. Jillian and Emmett start making out. Jillian thinks they can trust Talla. Emmett tells Jillian to talk to Talla and tell her that they (Alec/Peter) keep throwing her under the bus and how they are threatening you. Jillian says if Topaz or Peter win next week then we are screwed. Emmett comments on how this week might be another double eviction. Emmett asks would you rather take Peter to the final four than Talla. Jillian says yeah. Emmett says he would too. Jillian and Emmett head down to the havenot room so they can nap. Emmett gets up and head out to the backyard to play catch with Andrew.

Peter tries to drink slop..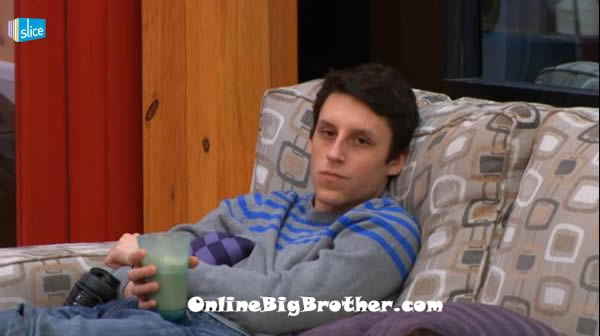 [polldaddy poll=7012892]
OnlineBigBrother.com
Stay connected and interact with other Big Brother Fans on our Facebook page.
And Follow: @BigBspoilers and @Dawgsbigbrother on Twitter for the most up to date spoilers.