POV Holder:
Next POV
March 3rd
POV Used
POV Ceremony
?
HOH Winner:
Jillian
Next HOH:
March 7th
Original Nominations:
Aneal & Gary
Current Nominations:
Last Evicted Houseguest
Kat
11:45am The Live Feeds are blocked for the Nominations..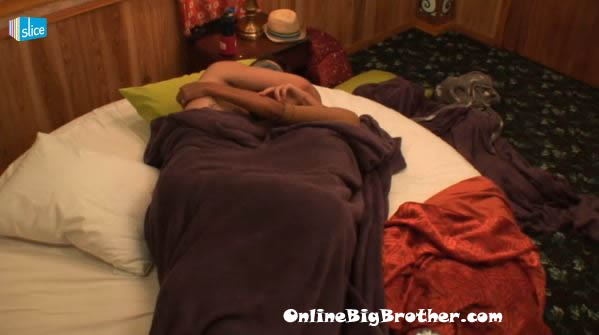 4:35pm After having the feeds blocked for almost 5 hours, they finally get turned back on. (Either one of the nominees shanked someone or production is trying to build suspense so that viewers will tune into the TV episode to find out what happened after the nominations.) We find out that Jillian did exactly what she had talked about prior to the ceremony and nominated Aneal and Gary for eviction. This was a difficult decision for Jillian as she had promised Aneal several times that he wasn't going to be nominated.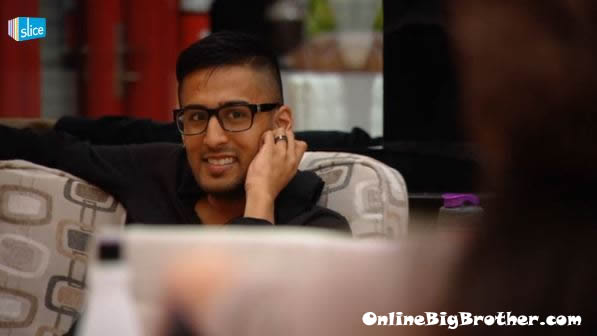 Alec and Topaz are cuddling in the havenot bed. Topaz is talking about how she does not want to be caught on camera sneaking away with the condoms. Alec says but I so want too. Topaz says I know.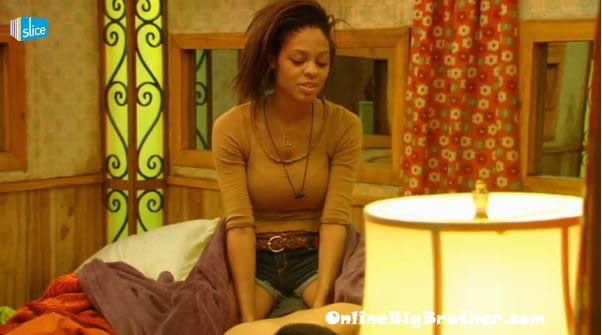 Meanwhile, Liza Talla, Peter, Aneal and Suzette are in the kitchen chatting about random stuff. They are wondering when the Power of Veto will start and if it will be in a few hours. They discuss how they will be warned.
4:50pm In the bathroom Gary and Aneal are talking about how Jillian hasn't even been comforting or anything. Gary says when you're Head of Household, you need to do what's best for your alliance, but Jillian only did what was best for herself. Aneal agrees with Gary. Gary says he spend time with her and helped her out. Aneal doesn't know what to do. Aneal says that he can't even process that there is a competition set up outside right now. Gary tells him to get his sh*t together for it. Meanwhile in the bedroom Tom and Emmett discuss getting Aneal out this week because if they don't they won't be able to get him out. If Aneal wins POV they will get out Gary but really want to get out Aneal. Emmett is annoyed that he doesn't get to play in the Veto competition tonight.
Video of Tom and Emmett talking about getting Aneal out this week and of Alec and Topaz talking and making out: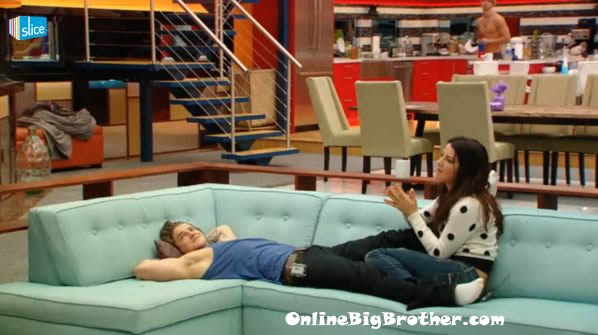 5:10pm In the bathroom, Gary talks to Aneal. Gary says that he wonders what Danielle is doing. Aneal says that she is hanging out with Jillian and the other girls now. Gary asks are you serious? Aneal says that he thought she was going to be nominated but says that before the nomination he says that he saw her up in the HOH talking to Jillian. Aneal asks if Danielle would save one of us if she wins POV? Gary says that he isn't sure. Meanwhile, Jillian gets called to the diary room. The others say here we go… Danielle asks this won't be endurance will it?! The others say no. Talla then starts doing an "erot*c slop dance"
Video of Talla's er0tic slop dance will be uploaded here soon:

5:15pm – 5:25pm Big Brother switches the live feeds to the "Hush Hush screen again..
5:40pm The live feeds are back .. All the guest are hanging out chatting about random stuff. Gary has his war paint on for the competition.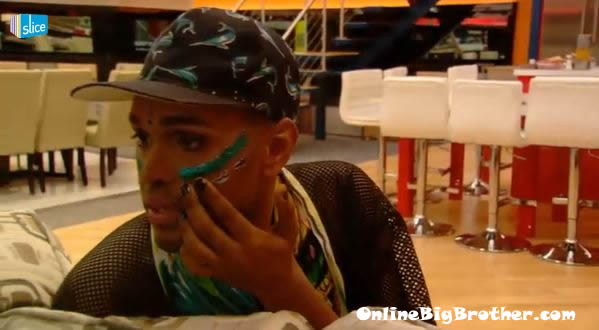 Jillian talks to Gary and tells him that it wasn't only her decision. She tells Gary that he is pawn and Aneal is the real target. Jillian tells Gary that the others don't want him to go home. Gary says that he will try to win the Power Of Veto and then she will have another hard decision. Jillian jokes with him and says that he really shouldn't try for it then. Jillian goes back to the HOH room and talks to Aneal. Aneal says that he was shocked the she nominated him because she had promised not to put him up three times. Aneal says that he won't talk bad about her even if he wins the POV. Jillian tells Aneal that she would be happy if either of them won the POV. Aneal tells her that he is sorry for walking away from her earlier after the nominations. Jillian tells him that she understands. Aneal asks Jillian if Emmett was the one who wanted him to be put up. Jillian says no. Aneal says that he knows that both Tom and Emmett want me out so I don't want them controlling your Head of Household…
5:45pm – 6:20pm Tom starts telling jokes. Liza gets called to the diary room. The others say oh its on! (Sounds like Liza might be the POV host.) Talla doesn't understand any of the jokes. Talla then asks Tom who he wants to win the POV? Tom says anyone but the people nominated. Tom says we need to get rid of Aneal. Talla agrees. Tom tells Talla the 9 members of their alliance. Gary comes into the kitchen and Tom starts telling jokes again. Talla tries to tell a couple of jokes but they are all juvenile. Talla asks Tom if he thinks Emmett and Jillian made out yet. Tom says oh yeah. Talla asks if he is nervous about their relationship. Tom says yes! Tom says that sooner or later she (Jillian) needs to go. I would rather see her go than you or Liza. Talla asks if Tom will make out with Liza. Tom says nope. He says that he won't make out with her, it decreases the value of this whole thing.
Video of the last 22 minutes before the POV competition, Joke time / Tom wants Jillian evicted / Tom says he won't make out with Liza.
(Video will be posted here once its uploaded)

6:20pm Big Brother switches the feeds to the "Hush Hush" Screen for the Power of Veto Competition..
7:17pm Big Brother Canada Live Feeds on HUSH HUSH Power of Veto competition being played
8:04pm Power of Veto competition being played
Stay connected and interact with other Big Brother Fans on our 
Facebook page
.
And Follow: 
@BigBspoilers
 and 
@Dawgsbigbrother
 on 
Twitter
 for the most up to date spoilers.
Share it YO!!
Tweet