POV Holder:
Andrew
Next POV
?
POV Used
POV Ceremony
April 1
HOH Winner:
ANDREW
Next HOH:
April 4th
Original Nominations:
Gary and Topaz
Current Nominations:
Last Evicted Houseguest
Aj
Have Nots
Gary, Peter, Topaz, Emmett (used Slop Pass)
11:20pm Living room Topaz, Gary and Jillian (Gary and topaz walk into many rooms during this conversation)
Jillian is talking about how well Gary is handling the slop.. Topaz and GAry head into the storage room, Gary says Jillian must really feel stupid.. she complains everyday and I haven't complained yet. (About being on slop)
Gary lists off the reason why he is the bigger threat, he's good at quizes, he's physical and Slop doesn't phase him, Gary adds that his Social game is off the hook.,
Topaz says she thought her game was good.. Gary: "Your game is still good.. if they were smart they would get me out of the house.. I'm too physical.. I'm too good.. I can win smart competitions.."
Topaz: "Alec doesn't want me out of here"
Gary keeps saying that it comes down to Emmett and Jillian and Emmett would be dumb to keep him in the house. Topaz says how horrible being in the house without Gary.
Topaz it's easier to be fake with Jillian and Talla.. but faking a showmance is so hard.. in the beginning I actually liked him there was a friendship.. there was this… "
(Gary says "They would be stupid not to get rid of me" About 20 times.)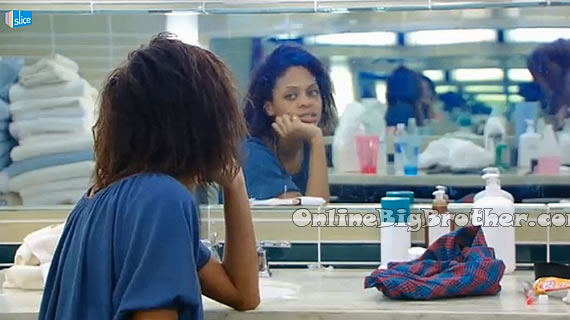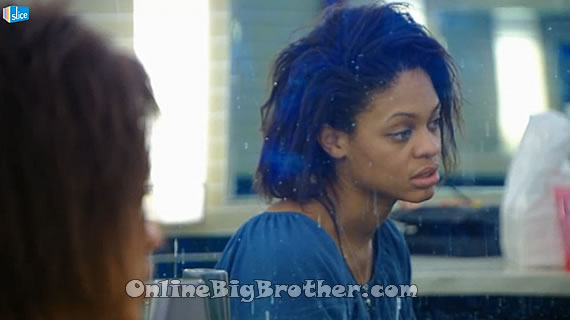 11:40pm Kitchen Couch Talla and Jillian
Talla is freaking out about hearing Topaz and Gary screaming "I can't believe this is happening" Talla thinks it's going to be a twist. Talla thinks it could be that everyone is safe for the week and next week is a double eviction. Talla: "It could be a whole game reset"
Jillian: "Could be anything.. "
Jillian thinks when Topaz and Gary were screaming it didn't sound like they tel;ling a story sounded like they were excited.
Talla: "I'm scared to go to bed"
Jillian says she has a headache is going to have a yogurt and head to bed
Talla: "i'm not worried about it.. No point.. "
Talla: "I just really need to win a HOH.. i'm the second place goddess.."
Talla: 'Peter is playing a social game.. but I wouldn't be very mad if he left either.. "
Jillian: "I agree with that"
Talla: "It comes down to me you and Emmett winning.. Talla says Alec will not turn against Peter.. he would turn against any one of us"
Jillian: "Soon we'll have to pick people… I already have my decision made"
Talla: "Talk about pressure.. all they've done it physical and trivia.." Talla thinks that the next Competition is going to be endurance and her and Jillian will win it. Jillian is worried that Peter may be good that that type of competition.. Talla warns that Peter is playing a really good social game.
Talla: "I got butterflies.. that means something.. "
Talla tells Jillian if she wins HOH Emmett, Andrew and her will be safe, adds that Alec and Peter are on the bottom of the list.
Jillian says Talla, Andrew, Emmett are safe and Alec/Peter are at the bottom. It looks like they are both expecting Gary to go home and want to keep Topaz one more week. Sounds like Talla and Andrew are teaming up with Emmett and Jillian..
Talla says if Peter won HOH he would put up Andrew and one of the girls. perhaps Emmett..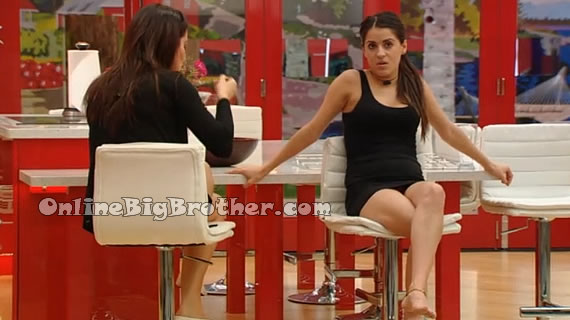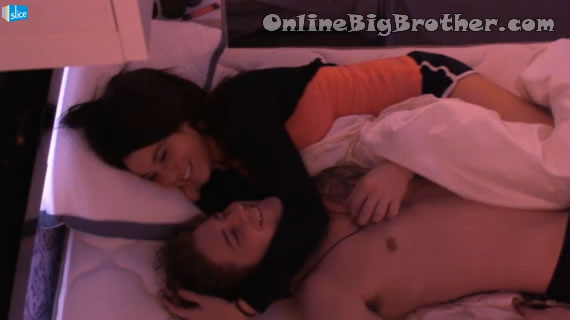 12:00AM Bedroom Gary and Emmett in bed
Jillian says that Tall isn't stupid she see's that Alec and Peter are a couple, she also knows that Alec/PEter or Emmett/Jillian will not pick their pair over her. Talla is trying to make a final 2 commitment with Andrew because it's her only way to survive in the game. Talla comes in for a bit.. they chit chat..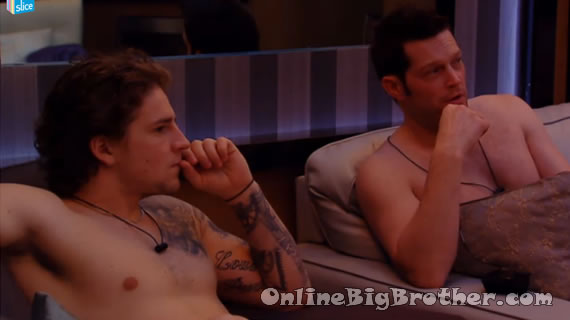 12:16AM HOH Andrew and Ememtt
Emmett told Andrew not to drink the water in the fridge because he dumped a whole lot of salt into it
Andrew: "So what is happening..
Emmett: "Nothing you just have to be really careful with Talla.. Alec and Peter think that they can get Talla and control her and Tall will got with whoever she feels most safe with "
Andrew: "She also feels very safe with Jillian and me"
Emmett adds that the only way they can control the Alec and Peter situation is if it's only the 2 of them.
Andrew: "Is there something I've done or are you just reiterating things"
Emmett tells him they just have have to be careful. Emmet: "I think Talla wants final 4 to be us"
Andrew: "I got the Veto i'm not going to use it.."
Andrew says him, Aj and Talla were the 3 stooges and they would chat all the time. He's confident his relationship with Talla is good..
Andrew can already see that Alec and Peter are swarming on Talla trying to control her.
Emmett: "You have to be careful that they are going to see you as a threat.. they might want to drop you and bring Talla.."
Emmett says that Alec is sleeping in Talla's bed right now but only because she "Got Scared"
Andrew says that he would be a bit worried if Talla wins HOH but just a little bit. Emmett and Andrew agree that it's best Emmett wins it.
Jillian joins them
Tells them about her game talk with Talla..
Jillian to Andrew: "You're her person.."
Andrew: 'Did she say that"
Jillian: "YA"
(Looks like the stooges have joined up with the milkmance)
Andrew says he would almost want Alec out first over Peter because Alec can win stuff and Peter really hasn't done anything.
They start speculating about some twist because they head Topaz and Gary laughing earlier in the day. (There's been so many twists the players all think another one is coming up this week)
Andrew: "Heres the thing I need to let you guys know.. If this twist happens i'm going to throw Peter up there". Emmett: "what if both Gary and Topaz got pulled off the block"
Andrew: "I would slap Alec and Peter up.. whats the options.. i'm not putting you guys up"
Andrew points out that Peter hasn't done anything in the game it's a safe person to nominate if a twist happens. There seems to be concern with Andrew that Canada likes Gary so much that he'll be saved before eviction.
Emmett says right before eviction he should pull Topaz aside and tell her she was not his target last week and that there is still trust between him and her, He should . When the vote happens Topaz will think Andrew was protecting her. This may benefit them the following week especially if she wins HOH.
Andrew really wants to get Gary out because he's a strong player. The following week Emmett, Talla or JIllian have to win HOH and take out either Alec or Peter. They all agree that Talla is hungry to win the HOH.
Emmett warns them they have to stop hanging out so much.. They want PEter and Alec to still trust Emmett and tell him stuff. They also want to avoid Gary and Topaz going to Alec and Peter and make some type of deal.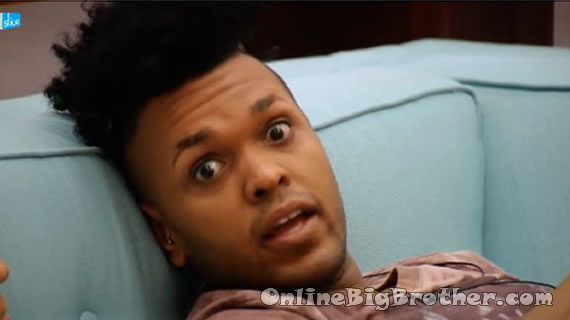 Bedroom Topaz Freaks out that Talla and Alec are in the same bed. Topaz confronts Talla.. She says that Alec scared the sh!t out of her. Topaz: "really Alec i'm not even out of the house" Talla: "HE scared teh Sh1t out of me" Topaz: "DO NOT RAISE YOUR VOICE WITH ME.. There are 7 beds in this house.. This is so disrespectful"
Talla defends her and ALec says that nothing happened Jillian and Emmett were in the room.
Topaz: "Fine Talla keep being the slut that you are… that's fine" Talla" Don't call me a s*ut"
Topaz raises her voice "Keep being the s*ut that you are and maybe you should take up the offer to take up stripping when you're out of here" You can hear Gary says "OK OK that's enough.. "
Topaz: "Alec you are disgusting.. I was in a showmance f or 30 something days I go up on the block and he disowns me"
(The argument.. keeps going.. worth a watch)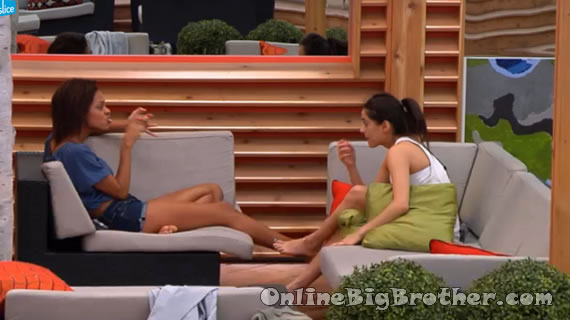 1:06AM Topaz and Talla
Apologizing about the fight and bonding. Talla does tell Topaz she is safe this week.
1:30AM Hot Tub Room
Topaz telling her that it's going to be Gary, Topaz then Talla.
Topaz thinks that there is a "bro" alliance and the girls are not involved. Talla says it doesn't make sense that the guys would want to keep all the strong players in the game.
Topaz tells her if she stays in the game they have to team up. Topaz: "We are not going to make it to final 2 unless we win HOH"
Talla: "Andrew leaving the noms the same is a good thing.. "
Topaz: "Ya but now is the time to Backdoor Emmett"
Topaz says that they are screwed unless they backdoor Emmett now because after this week everyone gets to play for the POV and Emmett is going to keep winning them.
Topaz: "Getting rid of Gary is not a bad thing because he's physical" Topaz really starts campaigning to get Emmett out. Topaz spews out all the advantages there is for Andrew to take out Emmett this week.
Talla tells her to hand the HOH to her. Topaz: "Can I trust you" Talla: "YES I know the guys are a threat"
Gary joins them.. They tell him they are not fighting anymore. Topaz says she doesn't think Talla is a sl*t the sl*t has already left the game. (Implying Liza) Gary tells her she should go apologize to Alec and give him a hug.
Gary: "I think Alec has real feelings for Topaz… he's really hurt"
Talla: "Didn't he say I love you a little while ago"

(Video Uploading)
While Talla and Topaz make up Gary and Alec are talking.. Alec tells Gary how much he cares for Topaz.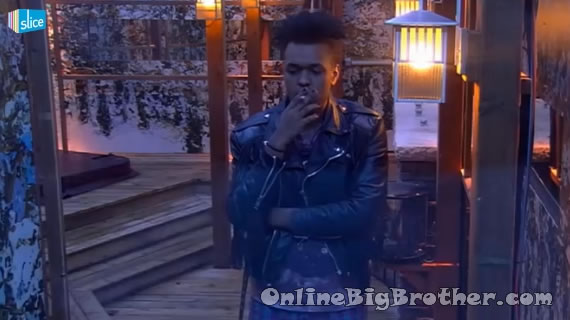 2:00AM Hot Tub Room Gary and Topaz
Gary tells her that Alec loves her.. She starts feeling bad… (UGH.. watch the video of you want to see Topaz feel sorry for how she treated Alec)
Gary: "At the end of the day he's still a good guy.. and he's playing the game and you can't knock him"
Gary: "Topaz I'm going home.. trust me I'm going home and you and Alec have a chance to make things right.. "
Gary: 'I'm going after Jillian and Emmett.. Liza was right maybe we were wrong after all it was Jillian and Emmett.. they are running this house"
Topaz says that her and Talla are close again.. Gary: "even when you guys are fighting I was sticking up for Talla.. "
Topaz: "Maybe this will benefit us"
Gary: "We need to get Andrew to put up Emmett.. "
They are convinced that they can stay in this game and will start working Andrew tomorrow.
(Looks like Alec and Topaz could get back together.. LOL)
(Video Uploading)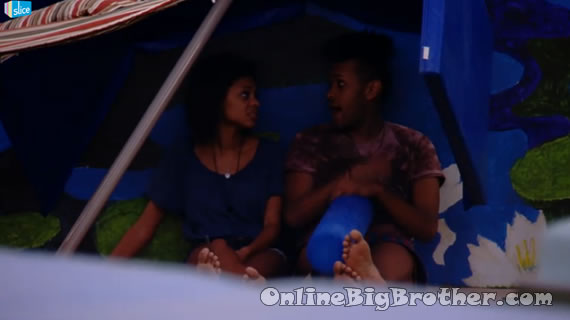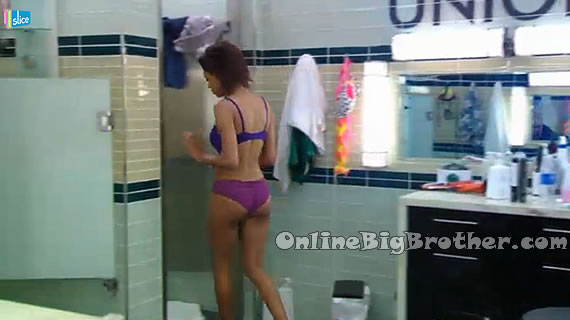 2:52AM Everyone in bed except for Topaz
[polldaddy poll=7002638]
Stay connected and interact with other Big Brother Fans on our Facebook page.
And Follow: @BigBspoilers and @Dawgsbigbrother on Twitter for the most up to date spoilers.