POV Holder:
Peter
Next POV
April 13th
POV Used
YES
POV Ceremony
April 8th
HOH Winner:
JILLIAN
Next HOH:
April 11th
Original Nominations:
ALEC & PETER
Current Nominations:
ALEC & TOPAZ
Last Evicted Houseguest
GARY
Have Nots
No havenots this week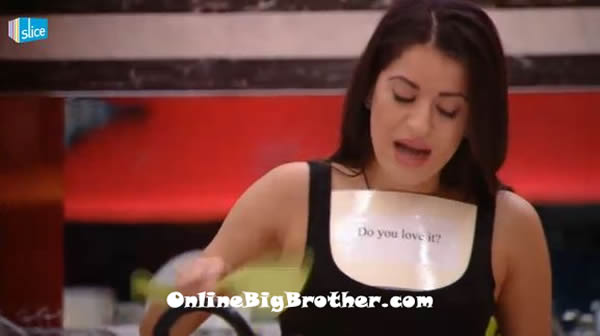 6:45pm – 7pm When the Big Brother Canada live feeds return we learn that during the Power of Veto Ceremony Peter used the Veto to remove himself from the block and as head of household Jillian nominated TOPAZ as her replacement nominee.
The house guests are on an indoor lock down. Alec, Jillian, Talla, Andrew, and Emmett are in the kitchen snacking while they wait for their reward food. Andrew says lets think about what they are giving us, lobster. They wonder if Big Brother is making the food for them or if they have to make it. Talla and Andrew wonder how much alcohol they will receive. Talla says that she is "on watch" and going to redeem herself tonight. She isn't drink so much and get wasted. Talla is wearing a card on her chest that says "Do you love it?" She says that it was in the room on the food. Isn't that so cute! Jillian comes out and says house meeting. Andrew wants to go hog wild and eat it all. Jillian says that there are like 20 lobsters, sushi, tenderloin steaks, ribs, etc. Jillian wants to conserve it for other days. They talk about eating the sushi for sure because it wont last. They start eating the sushi. Alec says they really just pampered us on this one. They talk about cooking up some of the lobsters and tenderloins. Jillian asks Emmett don't you feel bad for these lobster.. their fate is in your hands. Emmett asks what am I supposed to do put them in the pool? They'll die!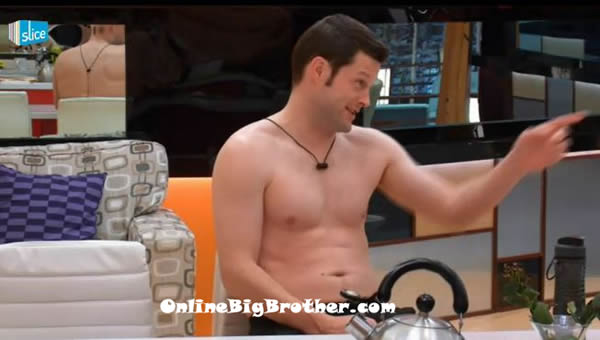 In the storage room Talla is talking to Jillian about what she will say to Topaz. Talla says that she will tell Topaz that she is not the target. I am going to try and keep it civil. Talla says that she will leave herself out of the conversation like why did you want me up there. Jillian tells Talla to tell Topaz what else was Jillian supposed to do. Talla says that she will tell Topaz she is not going home this week and just remember there are only so many girls left. Talla says I will pitch that! Talla says I will talk to her and then eventually we will do it all together. Talla says that after her, Topaz and Jillian will talk about working together.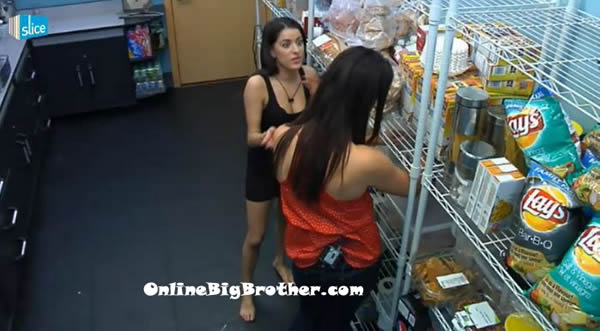 7:20pm – 7:50pm Emmett, Topaz, Talla and Andrew are in the kitchen making the lobster and tenderloin. Big Brother switches the live feeds to the hush hush screen.
7:50pm Emmett tells Jillian that he still thinks getting rid of Alec this week is the best option. He says potentially we go into next week with no enemies. Jillian asks what? Emmett says if we get rid of Topaz this week, then potentially we go into next week with no enemies. If we do get rid of Alec ..we go into next week with two people (Topaz & Peter) we cant trust. Jillian asks do you think we can trust them though, now that I did that? Emmett says I don't know.
HERE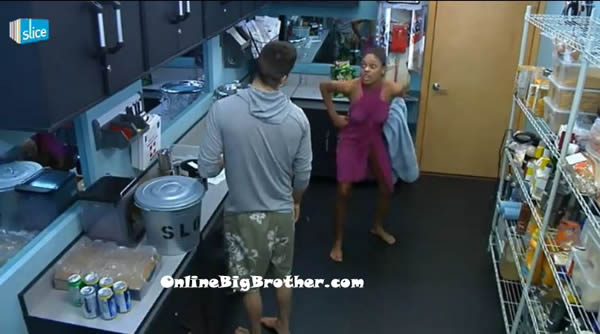 8pm – 8:25pm Talla is in the kitchen rubbing ingredients on the tenderloin. She says "OH MY GOD I'm kind of nervous to drink!" (The last time Talla drank alcohol is is what happened. View the post: HERE) Meanwhile in the storage room: Alec asks Topaz how she is doing? Topaz says she feels like shit. Alec says yeah this is the worst possible situation. Topaz says that Jillian is a lying fu*king b!tch and her promises mean sh!t! Alec asks so what did she exactly promise you? Topaz says she said that she wouldn't nominate me and that I was safe this week. Alec says well she just nominated you. Alec tells her that she is fine because I am going home. Topaz and Alec talk about who Andrew and Talla will vote for. Topaz and Alec end their conversation and leave the storage room. Topaz goes out to the hot tub for a dip.
8:30pm – 8:45pm Talla talks to Topaz in the hot tub room. Talla tells don't worry you have my vote. Talla says that Alec hasn't talked to her yet but that she will tell him she will vote for him but that she really won't. She tells Topaz not to listen to what he says. Talla says you have my vote, don't think about it, don't stress about it, don't talk about it! This conversation is between us. Going into next week there will be us three girls. Topaz says that she is worried about Andrew voting for Alec. Topaz says that Alec has one vote – Peter and I have one vote you. She says that Emmett will vote however Jillian wants. Talla reiterates that Topaz is good. Talla says I love you. Topaz says okay I love you too. Talla leaves. She heads over to Emmett and Jillian by the weights. They talk about making a salad. Emmett says that he is a carnivore, he could eat just meat. Talla asks "What's a carnivore?" They tell her its when you predominately eat meat.
8:50pm – 9pm Talla runs up to talk to Jillian. Talla tells Jillian her conversation with Topaz. (She talks a mile a minute.) Jillian says tell her she better get on my good side .. no don't tell her that. Jillian tells Talla to tell Topaz that Alec is campaigning hard to stay. Talla tells Jillian how we need to do a girls thing. Jillian says yeah we need a girls thing. Talla says that she could have done the same thing to me but get over it. Talla says okay good talk and heads downstairs. Talla says to herself good acting Talla, good acting. Andrew comes into the kitchen and Talla tells him Alec is too much of a threat no matter what. Andrew says I know that, you don't have to tell me! Andrew finds a barnacle on one of the lobsters. Talla asks what's a barnacle? Andrew tells her its a creature that attaches itself to things.


9pm Alec talks to Peter while he is in the shower. Alec tells Peter that the problem is ..is that Jillian promised Topaz that she wouldn't be nominated or back doored. Alec and Peter say that they will see what they can do. Alec tells Peter my life is in his hands, so whatever you can do! Peter says I will do my best!
OnlineBigBrother.com
Stay connected and interact with other Big Brother Fans on our Facebook page.
And Follow: @BigBspoilers and @Dawgsbigbrother on Twitter for the most up to date spoilers.