POV Holder:
Peter
Next POV
April 13th
POV Used
YES
POV Ceremony
April 8th
HOH Winner:
JILLIAN
Next HOH:
April 11th
Original Nominations:
ALEC & PETER
Current Nominations:
ALEC & TOPAZ
Last Evicted Houseguest
GARY
Have Nots
No havenots this week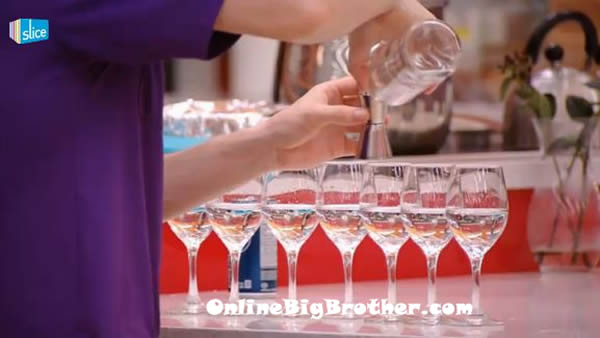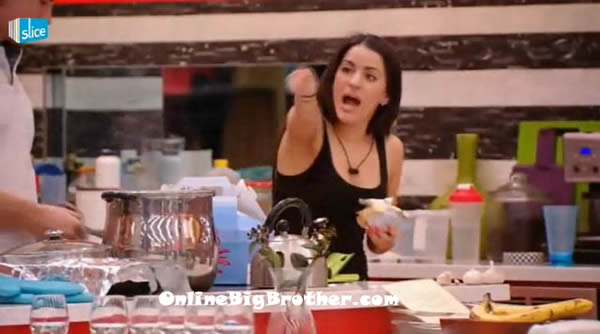 9:20pm – 9:50pm The house guests get their 26'er of Vodka. Andrew portions it out evenly for each house guest. When he finishes Talla is the first to say I am grabbing mine. Andrew asks did you grab the biggest one? They continue to finish making dinner. Talla leaves the kitchen. Andrew says lets start making bets, that is more than what she had the other night. Talla comes back and starts flipping out that they are talking about her drinking too much. Talla starts yelling telling them that she isn't going to drink all that now. You think I want to embarrass myself again like that? She tells them that they can drink her alcohol, I am not going to drink it. You can eat the dinner too, I am not eating with you! Talla storms off. Andrew is annoyed that she made such a big deal about it.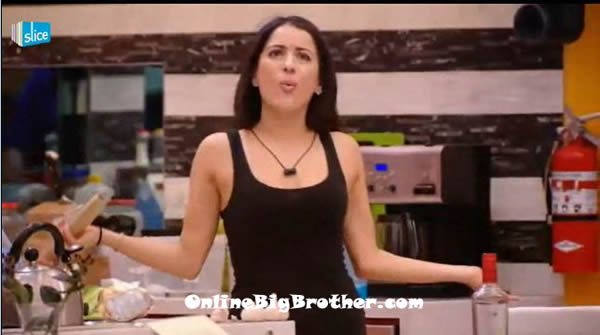 9:55pm Talla talks to Jillian in the storage room about how the others were making fun of her. She talks about how embarrassed she was for getting drunk on TV and how she has to live with her family seeing that. Andrew comes in after and talks to Talla and tells her that everyone wants her to come out and eat with them. Andrew tells her that you should show everyone this side of you that you are embarrassed.. we are all a big family and we care about you.

10pm – 10:50pm All the house guests sit down to their lobster dinner. Jillian shows them again how to open up and eat the lobster. Talla gives a toast to the others and she calls herself the "stain". Andrew says happy birthday to my dad, it actually is his birthday today. Big Brother keeps zooming in on Peter's meal of Wings and Fries. (After a half hour it still looks like he hasn't touched it because he eats so slow.) Andrew comments on how Topaz's Mountain Dew drink doesn't look very dewy (because it has so much vodka in it.) Topaz says yeah because last time when Talla was dead weight I didn't get very drunk. I can hold my liquor.

11:05pm – 11:40pm The house guests discuss asking for more alcohol. Jillian was going to ask but Talla says I think I should because they will give it to me. Talla says she is fine and that usually like last week I would be out by now. Emmett tells her that they won't give her any more and that she doesn't need any more. The conversation turns to talking about how Jillian will probably get her HOH camera tomorrow. Talla asks how's tired is everyone? Andrew asks how's tired? Talla says my English is so good! Topaz tells Talla that she will go into the diary room with her to ask for more alcohol for the rest of us just not for Talla. Talla says I am allowed to drink! I am just on watch. Topaz & Talla go into the diary room to ask for more liquor. Emmett and Jillian come out of the storage room with milk and cookies. Emmett has the litre of milk in his crotch. Andrew says and that's what it looks like cold. The conversation turns to talking about how Talla was embarrassed and that's why she flipped out. Emmett and Alec comment on how they would just not drink then. Topaz and Talla come out and say that they will get back to us about getting more liquor. Peter says and that means we won't get any more. Jillian says no, they said that before and we got more. They talk about getting drunk. Talla says that her episode the other night reminded her of being drunk and passing out when she was in junior high.
12:10am They continue to talk about their drunken stories. Talla asks Andrew to come into the diary room to ask for more alcohol. Jillian thinks the guys should go asks for more. Topaz tells Emmett to go ask, they like you. Talla asks why do they want us to slow it down, lets have fun!! The conversation turns to talking about the big brother live feeds.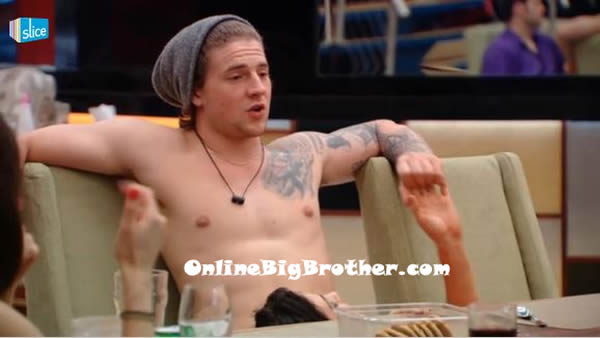 OnlineBigBrother.com
Stay connected and interact with other Big Brother Fans on our Facebook page.
And Follow: @BigBspoilers and @Dawgsbigbrother on Twitter for the most up to date spoilers.