POV Holder:
Andrew
Next POV
April 6th
POV Used
No
POV Ceremony
April 1st
HOH Winner:
ANDREW
Next HOH:
April 4th
Original Nominations:
Gary & Topaz
Current Nominations:
Gary & Topaz
Last Evicted Houseguest
Aj
Have Nots
Gary, Peter, Topaz, Emmett (used Slop Pass)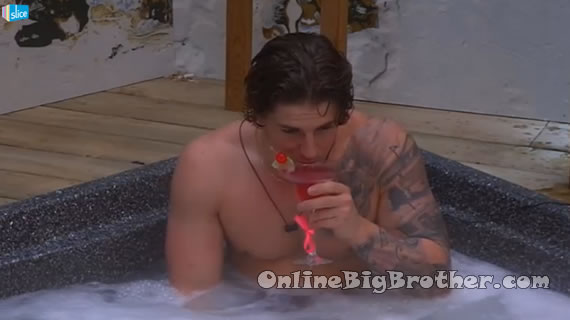 7:06pm Hot tub Andrew and Emmett
Sounds like they were awarded drinks tonight "Girly Drinks" Andrew says it is obvious who they like in the house… otherwise they would have given them a Keg of Beer. Andrew suspects that they would get a Dance show from Talla tonight because of all the drinks they have.
Andrew brings up that Andrew mentions that Alec is already working on Topaz saying he wants to give Topaz a vote so that it'll save him next week. Andrew says he was straight up with his nominations he gave them both a chance to win POV. Andrew points that Only him, Topaz and Gary actually tried for the Power of Veto. Alec and Peter said "F*** it" adds that Talla didn't do well but she's just not good at those types of competitions. Emmett Agrees
Andrew says that Jillian has a name fore their alliance but she hasn't told them yet.. Apparently she suggested "Nova Scotia Pride" which has been nixed by Emmett and Andrwe. Emmett suggests they call it "Halifornia" (Really hard to hear if that is what he said.. doesn't make sense to me.. It's in the video attached to this post if anyone wants to give it a try)
Andrew has been calling Peter and Alec the "Vancouverites"
Emmett says it's come down to Country against City..
Emmett at one point thinks someone was sneaking up on them and he runs out of the hot tub to check.. "Can you imagine if we saw someone there.. " Alec and Jillian join them. Not long until Peter and Gary roll in..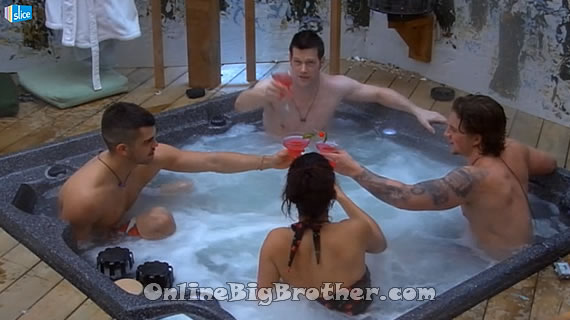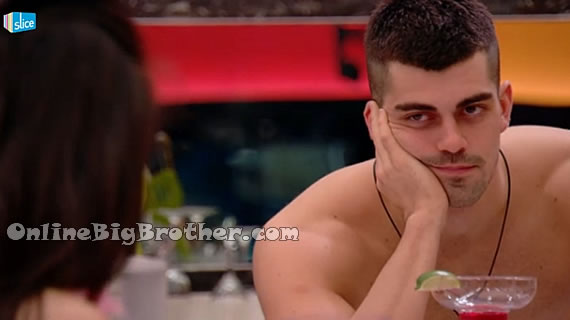 7:10pm Kitchen Talla, Gary, Alec and Peter Looks like they got a 26 of vodka and a 26 of triple sec to make martinis. Talla is trying to calculate what amount of Alcohol they each get. Peter has chosen not to drink any of the alcohol. Talla: "We want them strong to get it on" Topaz joins them. They also got pink Boa's to wear. listening to Talla trying to calculate the alcohol per drink per person is tough…
Everyone except for Talla and Topaz Eventually leave with their drink to hit the hot tub.
Talla: "I have something to tell you.. When you stay this week there is a good chance I'll be joining someone on the block next week" (Talla is tipsy basically saying her and topaz are being nominated next week)
Topaz: "I know"
Talla says that if they are both on the block she won't campaign against Topaz she doesn't mind heading to jury to "hang out with AJ"
Topaz: "If you go on teh block you'll have one day that you won't want o see anybody.. "
Topaz instructs her if there is a twist and Gary or Topaz is taken off the block Talla has to vote whoever the replacement nominee is. Topaz says Talla needs to stick with Gary and her. Talla asks if there is a chance Gary will be safe this week. Topaz doesn't know she's just been praying for it. Topaz: "Trust me Gary has your back.. we know you cannot trust people.. " Talla starts talking about the guys being in an alliance. She's certain they will take her out Asap because they know an Endurance HOH is coming up and she'll win it.
Talla and Topaz proceed to steal some of the alcohol.. Talla pours a 1/3 a glass of triple sec for each while Topaz keeps watch. Topaz is a bit nervous about drinking so much asks Talla "What percentage is it" talla doesn't know.. Talla toasts "cheers to us in the game and out side the game"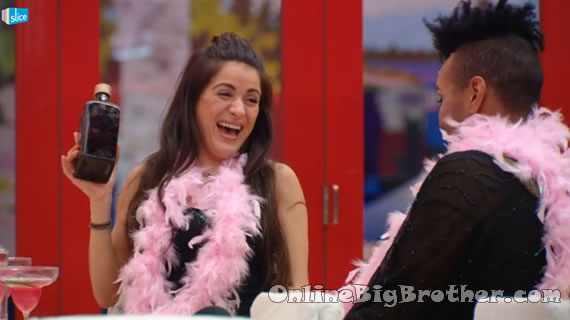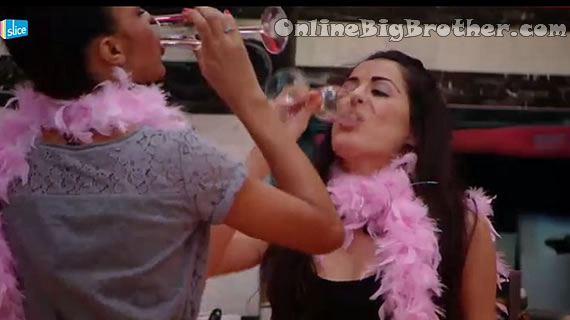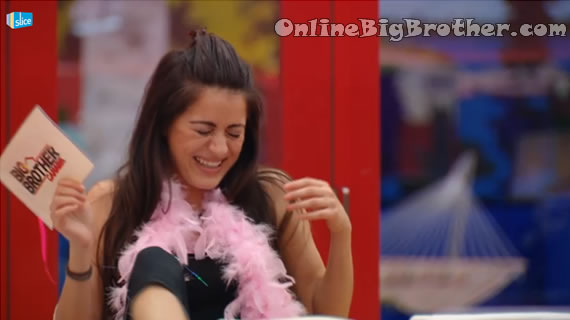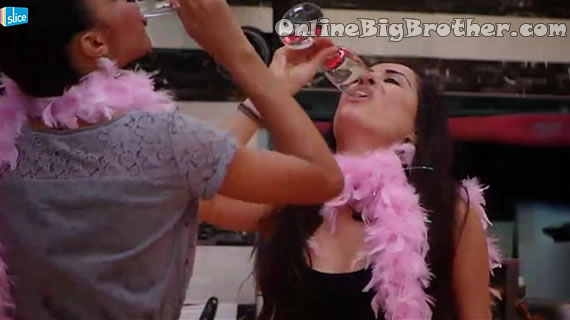 (Video Uploading)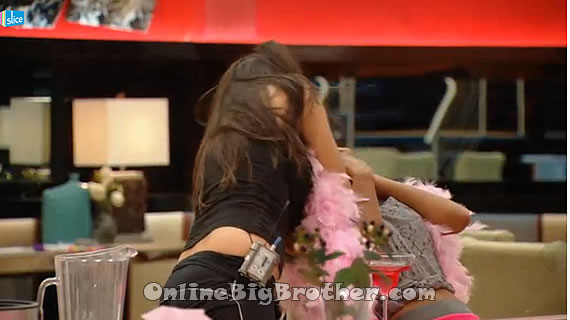 7:50pm Drunk Talla, Topaz, Gary Andrew and Jillian are also in the kitchen with them.
Topaz tells them that Talla is cut off. Talla says she's only had 2 glasses and wants her third.. Talla goes berserk starts kissing Topaz.. Jumps on her lap and starts gyrating.. Talla grabs Topaz' chest.. jumps on the ground and starts booty shaking.. Talla keeps screaming "BAM BAM BAM BAM" in a drunken rampage.
Andrew laughing Talla have you ever drunk Alcohol before..
Gary comes back from the Diary room says that they caught Topaz drinking some of Andrew's drink and there was Pop in it. Topaz: "Sorry Big Brother" Gary says it's OK they just don't want it to happen again.
Talla's voice is so slurred you cannot really understand what she is saying..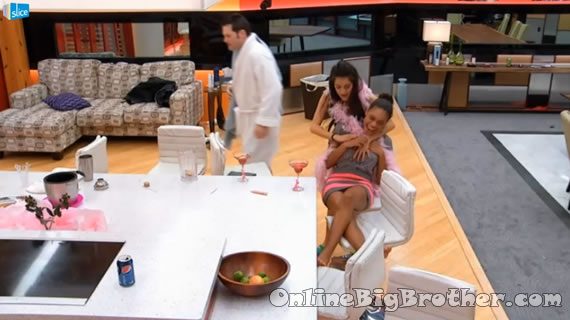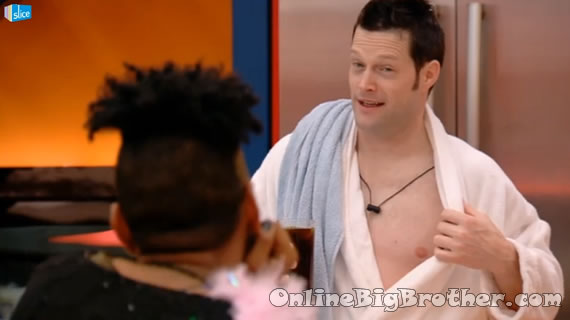 8:10pm Talla is called into the Diary room.. Topaz follows to make sure she doesn't fall.. Andrew makes a joke that Gary now can look at "Uncle Andrew" exposes his nipple. Gary tells him they never talk anymore.. Jillian, Andrew and Gary starts chit chatting.
Topaz comes back and says she was trying to calm Talla down reminding her that her mom is going to watch this so she should keep it a bit PG. They decide to make Talla a virgin drink they doubt she'll notice..
8:25pm Andrew in the kitchen Making another drink while everyone else heads into the hot tub room. Looks like they got another bottle of vodka.. so the total is a 26 vodka, Mickey vodka, and a 26 of Triple sec..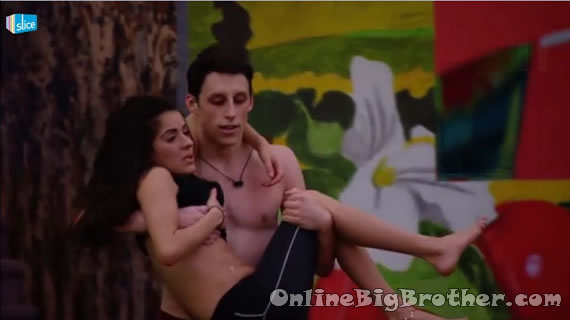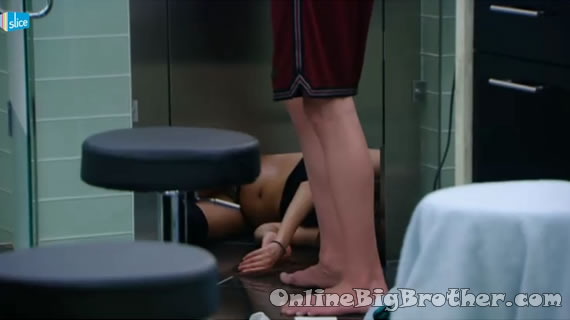 8:50pm Talla WASTED Andrew has to carry her into the washroom or she'll puke..
Talla pukes and pees her pants.. video shows the 20 minute rampage..
(Video uploading)
9:11pm Feeds cut
9:35pm Feeds cut
10pm Feeds cut
[polldaddy poll=7007427]
Stay connected and interact with other Big Brother Fans on our Facebook page.
And Follow: @BigBspoilers and @Dawgsbigbrother on Twitter for the most up to date spoilers.