POV Holder:
Gary
Next POV
March 9th
POV Used
YES
POV Ceremony
March 4th
HOH Winner:
Jillian
Next HOH:
March 7th
Original Nominations:
Gary and Aneal
Current Nominations:
Aneal and Danielle
Last Evicted Houseguest
Kat
Have Nots
Talla, Tom, Peter, Alec

8:50pm All the girls are still getting ready in the bathroom for the fashion show. Liza comments on how she doesn't want to go after Jillian. Danielle is complaining about how she wants to zip up the leather jacket she is wearing because she is embarrassed about her belly is sticking out. Danielle says "And my thighs look like sh*t!" She says that she is so self conscious right now. Gary comes into the bedroom and says "I have a pu$$y now!!" Danielle keeps practicing her runway walk. Big Brother turns on music over the house letting the house guests know that they will have music during the fashion show. All the girls are super excited. Meanwhile all the guys are patiently waiting at the runway Gary created with the stools. The guys beg Big Brother for music and alcohol otherwise it will be really bad television for them to sit there in silence.
9:15pm
The girls talk about the order they will be walking out in the fashion show: Talla, Danielle, Suzette, Topaz, Jillian, Liza and Gary last. Talla tells the other girls to stay focused ..we are Canada's Big Brother Models. Danielle is freaking out about her breasts, she says if my nips come out I am going to be so embarrassed. Big Brother asks them if they are ready? They say yes. Big Brother tells them to please being the fashion show in 30 seconds. The fashion show begins and Talla starts it. When it's Suzette's turn she trips and falls. The final of the fashion show is Gary walking in drag. When Gary finishes his walk all the girls do one final walk together. On the girls final pose before entering the house the guys get down on the ground and bow. Big Brother tells the house guests to stay in their costumes for their diary room sessions. And BB tells them that since they did such a great job they get as a reward: To sleep in an extra hour tomorrow morning. Tom says great, but food or alcohol would have been better.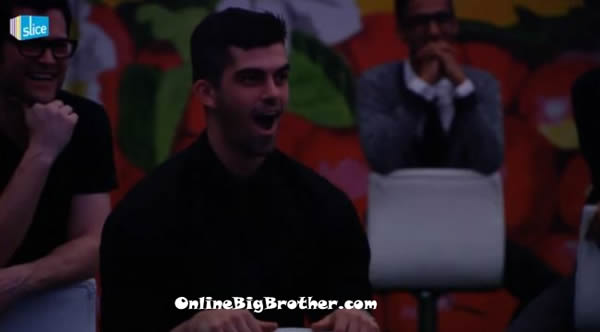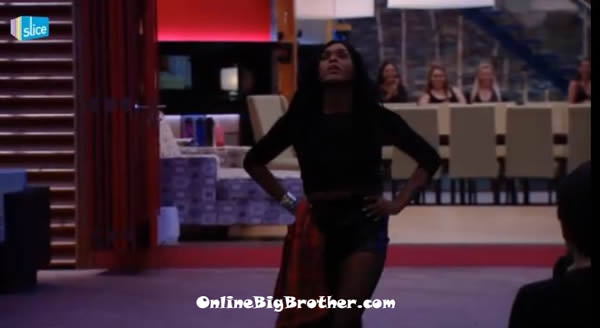 Video of the Fashion show will be posted here:

9:40pm – 9:55pm All the house guests are sitting around talking about the fashion show. Tom confronts Talla about the bet they had about her not smoking for two days. He tells her that he saw her smoke so she has to voluntarily go on slop for two days. Tom tells her that she couldn't even last a day without smoking. Talla asks you didn't even think I could do it? Tom says well you didn't do it. Tom tells her that people that smoke are disgusting. She says that she thinks he is being mean. Tom says that he has seen a lot of friends die from smoking so he tries to get people he cares about to stop. Gary is parading around. Andrew says now's my time for a showmance. He goes over and grabs Gary.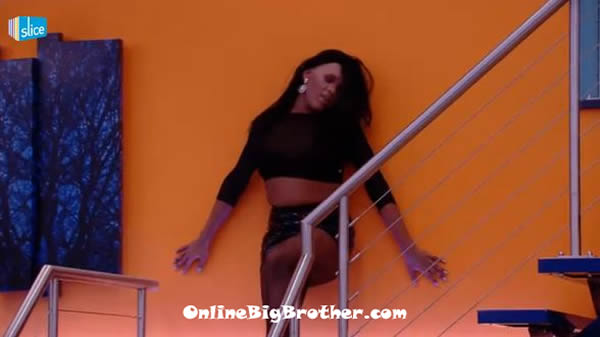 10pm – 10:15pm Out in the backyard: Suzette confronts the house guests and tells then that if she had followed through with their ultimatum to get rid of Gary ..then none of this (the fashion show) would have happened. Suzette says it twice to make sure they heard her and then leaves the backyard. Andrew and Aj both discuss how they can't believe Suzette just said that and brought it up out of no where. Talla joins them and Aj explains what just happened. Meanwhile in the havenot room Topaz and Alec are talking about the fashion show and other events of the house.

10:30pm – 10:45pm Andrew, Jillian, Emmett, Liza, Tom and Peter are hanging out in the kitchen talking about random things. In the bedroom Danielle, Suzette and Gary are talking about how the others want Aj out but they like him and want him to stay. Danielle says who would you rather be up against final two, Aj right! Gary says that Aj is annoying as sh*t but I like him and he can stay as long as he wants. Meanwhile Alec and Topaz are cuddling and chatting in the havenot room.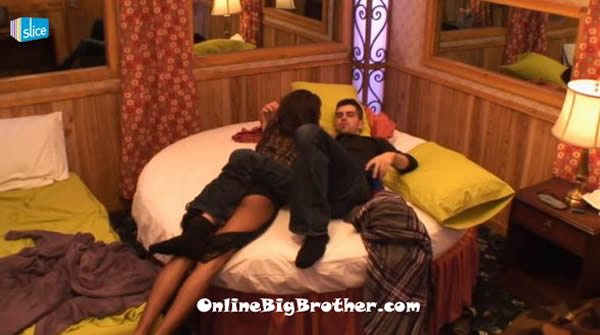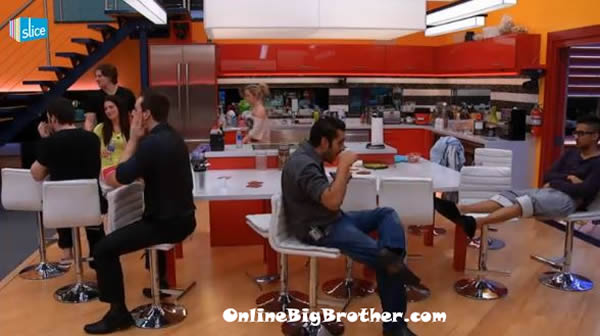 10:50pm Liza says goodnight and goes to get ready for bed. Suzette and Liza are in the bathroom taking off their makeup. In the kitchen Andrew, Talla, Peter and Alec are talking about random stuff.
11:10pm Gary heads up to the HOH room to talk to Jillian and Emmett about the votes tomorrow to make sure Danielle is still safe. Gary says everyone better watch out if Aj wins HOH ..he will put up Emmett and Talla. He has no clue what is going on in this house. Gary says that he isn't as close to Suzette as people think we are .. it's not like I am licking her pu$$y. Gary says that he just wanted to come up and clear the air because he saw Tom being best friends with Aneal. Emmett comments on how he and Peter have been keeping track of the time its 3am now and Big Brother will be waking us up in 3 hours. Gary heads down stairs. Jillian tells Emmett that she hates lying straight to someones face. Emmett says don't worry about it if you said anything it would create a sh*t storm tonight. He says besides the heat will be on me.

11:35pm – 11:50pm Jillian & Emmett Hot Tub make out session on cams 1 & 3.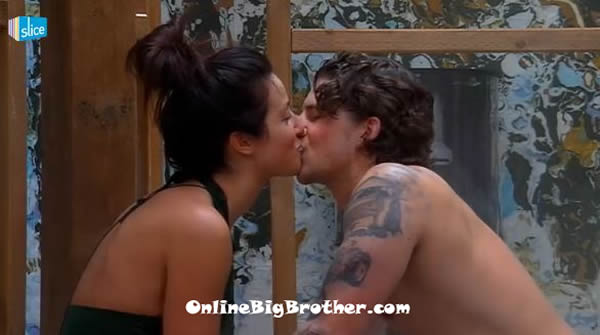 11:50pm – 12am Meanwhile Alec, Aj, Andrew and Peter are hanging out in the living room. In the havenot room Tom is talking to Talla. Talla keeps asking if she can vote to keep Danielle. She wonders if the others will be mad at her. She says that she doesn't trust Aneal and doesn't understand why the rest of the house does. Tom asks her why she doesn't trust the house. Tom tells Talla that she can vote for Aneal to go home. Peter joins them. The conversation turns to talking about getting Gary out next week. Even after Talla gets approval from Tom that its okay if she votes against the house, she continues to bring it up and ask again and again. Tom tells her to stop second guessing it. He says it's not like I am going to tell the house to vote you out because you voted against us. Talla says okay good, you better not.
Stay connected and interact with other Big Brother Fans on our Facebook page.
And Follow: @BigBspoilers and @Dawgsbigbrother on Twitter for the most up to date spoilers.
Share it YO!!
Tweet