POV Holder:
Gary
Next POV
March 9th
POV Used
YES
POV Ceremony
March 4th
HOH Winner:
Jillian
Next HOH:
March 7th
Original Nominations:
Gary and Aneal
Current Nominations:
Aneal and Danielle
Last Evicted Houseguest
Kat
Have Nots
Talla, Tom, Peter, Alec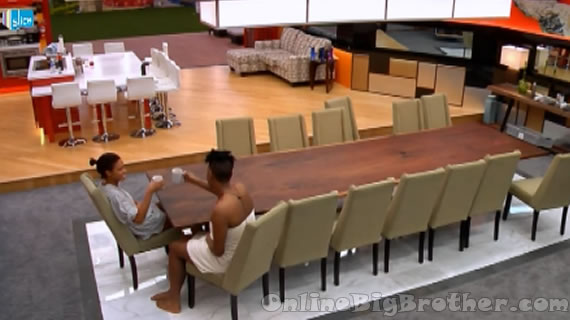 12:38am Topaz and Garry Kitchen table
They are chatting about how excited they are to be in the Big Brother House. Topaz says she's been watching this show for years and now she's finally in the game.
Topaz: "The only person that was yapping their mouth today was suzette"
Garry: "I know she needs to stop… "
Topaz mentions Suzette is talking a lot about the showmances it's making her a target. Garry is proud of Suzette for participating but feel sorry for her falling. Garry: "It was all about empowering women"
Topaz: "I love how the guys were into it.. I'm really proud of you.. getting it all ready, doing everyone's makeup"
Garry: "When the music started I felt like OH my God even Big Brother is onboard"
They start chatting about how surprised they are that Big Brother encouraged them to do the fashion show..
Big Brother: "HOUSEGUESTS STOP TALKING ABOUT PRODUCTION"
Topaz tells him she's extremely happy for Garry "you were fighting for it.. and i'm happy that we all were able to participate in one way"
Garry: "I just hope theres a little boy watching it and be like oh my god look at garry he's extroverted"
Topaz: "You are the star of the show"
Garry: "as long as I touch one person"
Topaz: "You're going to touch more than just one person.. You're the star"
Garry: "You and Alec are getting heated eh.. making out with tongue.. It's hot.. it's hot"
Topaz explains that Alec is very vague about his past, apparently he moved out when he was 17. Topaz is also reluctant to dig into her past as well so she's cool with it. Topaz says she feels like they are always making out and knows that everyone in sees it.
Topaz: "The Mike boogie and Erika thing has traumatized me.. " She goes on to explain what boogie did to Erika during Big Brother 7. Topaz remember watching it and thinking something like that will never happen to her.
Garry: "I'm sorry my mind is just racing today.. something happened.. something special happened today.. I just want to run outside and see what's happening… Even Alec was really into it today.."
They talk about Suzette motorboating the guys and how it's not a bit deal. Topaz says a motorboat isn't huge deal anymore. Garry: "A motor boat is nothing.. it's when you motor in that's something"
Garry asks her if Aneal is leaving
Topaz: "I don't know man.. "
Garry : "I think he cut some deals.. because he's not sad anymore"
Topaz: "Maybe he's over it"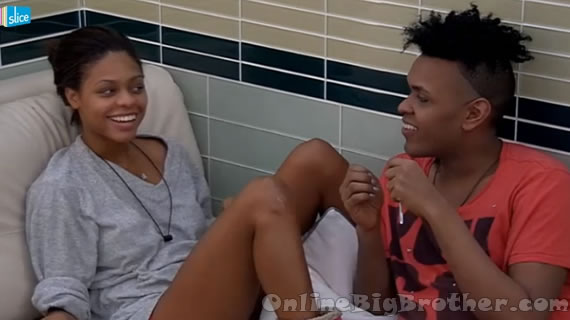 They move over to the bathroom to clean off Garry's nail polish. They are talking more about Alec and a bit about Peter.
Topaz says there's a couple guys back home that may be waiting for her. Guys that she's been on a date with etc. Garry asks her a bunch of questions about one particular guy back home that she likes a lot. He says she's her calling relationship with Alec a "cuddlemance" and not a "Showmance" because she still wants to get with that one special guy back home.. they both start laughing Garry: "I cracked the code.. I cracked the code" they both start laughing.
Garry warns Topaz that Jillian is going to be a tough person to beat. Topaz agrees says she's started working out again in the backyard. Garry: thinking back was voting Kat out the right idea". Topaz thinks it is because if Kat was still in the game she would be rallying the boys because she was always outside playing sport with the guys.
Garry and Topaz both catch Tom in so many lies. Garry says that Danielle lives in the oil patches and she was saying things don't add up about Tom's oil rig fire fighter story. Topaz says he just makes up shit like once he told her that Alec was thinking about hooking up with Liza.
They think AJ acts like cocky rich guy.
Garry says Tom is his number one target, "If they were smart they would get me out now.. cause i'm going to keep winning and winning"
Topaz tells him to play ball with the guys if he wins HOH. She thinks he needs to stop talking about going after Tom and acting like you are someone that will deal with the other side. Garry: "I want Tom gone so bad.. can I put Tom up if I win HOH" Topaz: "Are you crazy!" She explains if he wins HOH Suzette and AJ would be the best nominees. Garry questions that says why would he get rid of Suzette who is potentially someone on his side.
Topaz: "If I tell you Something can you promise not to say something.. Danielle is going home. " Garry does emmett and Jillian know. Topaz: "No" Garry says he's so upset that Danielle is going. Garry knows he's next after this week. Topaz claims that Danielle is a physical threat that is why she is going home. Topaz says Suzette, Aneal, Jillian, and Emmett do not know Danielle is leaving.
2:05AM bathroom Garry and Topaz are still chatting int the kitchen. Topaz and Garry compare notes, Topaz obviously wants to keep Garry safe but she also wants him to play nice with the showmances.
2:24AM Garry suspects Emmett and Andrew have a thing because they've been working out a lot lately.
Garry: "Tom's ruthless he's not going to do shit for a girl a B1Tch is a B1tch to Tom"
Topaz says Alec and her trust AJ. Garry doesn't really.
9:31AM Waking up
[polldaddy poll=6941218]