POV Holder:
IKA
Next POV
?
POV Used
No
POV Ceremony
March 17
HOH Winner:
IKA
Next HOH:
March 20
Original Nominations:
Paul & Heather
Current Nominations:
Paul & Heather
Last Evicted Houseguest
Kyle, Anick
Have Nots
Jon, Allison, Paul

Want to watch the Big Brother Canada 2 live feeds? Bypass the geoblocking with HideMyAss VPN and be Canadian Anywhere: For ONLY $11.00 A month Sign up here

12:20pm Arlie, Andrew and Kenny head out to the hot tub room to soak in the hot tub. Andrew comments that all the girls are in the bedroom having a POW. Kenny says good, I like it when they all get together because then they come back with more information. Kenny says that Ika did literally nothing with her HOH. You say that you're all about big moves and you made a neutral move. Arlie says that with Sarah going against the girls for the vote it will lose some trust with them. Kenny says its all about deny, deny, deny! They talk about Allison and how they will have to wait and see if they can trust her because this week she has immunity. Andrew says that she convinced me that she is voting with us. Heather joins them and the conversation ends.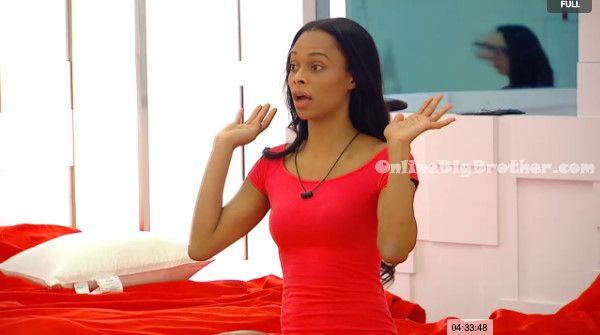 In the main bedroom – Ika tells the girls about how she was in the HOH bathroom and Andrew & Kenny were whispering in the HOH room. Ika says that she doesn't know what the new girl (allison) is going to do. The last time I talked to her she said she was undecided. They wonder if Canada tells her how to vote. Sarah and Sabrina talk in the kitchen about how they feel like they're playing the game for the guys. Sarah says I am the bottom of everyone's list. I am at the bottom of the guys list and the girls list. Sabrina says I think you're pretty high up on the first five list. Sarah and Sabrina talk about Adel's power. Sabrina says that she doesn't believe its for 2 weeks. Sarah says I do care about Kenny more than I care about Andrew. Sarah says I think I need to be the sacrificial lamb. Sabrina says you don't need to do that. Sabrina asks Sarah – are you 100% on board with being final 2 with me? I don't want to be in the final two with them. Sarah says YES! I only want to be in the final two with you! The hot tub crew come into the kitchen and the conversation ends. Kenny and Andrew talk to Sabrina about how Adel showed them his power. Sabrina tells them that she thinks Adels power isn't for two weeks. His goal is to make it to jury and thats when it supposedly ends. He's trying to trick you guys. Kenny says I think we need to try and flush it out now.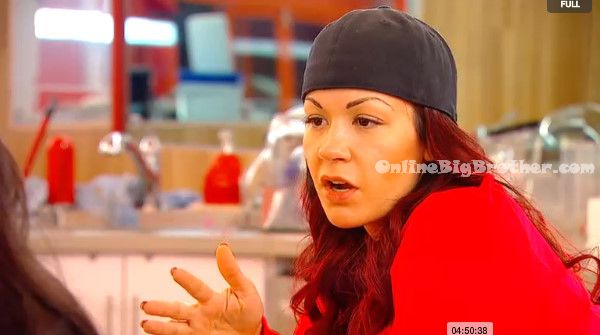 12:45pm – 12:55pm Meanwhile Up in the HOH room – Neda and Jon talk game. They talk about what's been happening in the house, what information they have and Adel's power. The end their conversation high five and Neda heads downstairs.
1pm In the bedroom – Allison tells Arlie that for me to stay in the game longer and have a bit more life.. I am thinking its best to vote out Paul. I would like to get rid of Heather because I know she doesn't trust me but.. Allison leaves and talks to Sarah. Sarah talks to her about her plan but says that she is so confused and not sure what to do. She tells Allison to think about it for a couple hours and if she does want her to go ahead with it ..then she will start planting seeds. Sarah says throw me a pen!$, I can't handle this v@gin@ sh*t anymore! They talk about Adels Power and how they think its best to flush it out. Sarah decides to tell the girls right before the vote that she is voting out Paul instead voting with them and voting out Heather.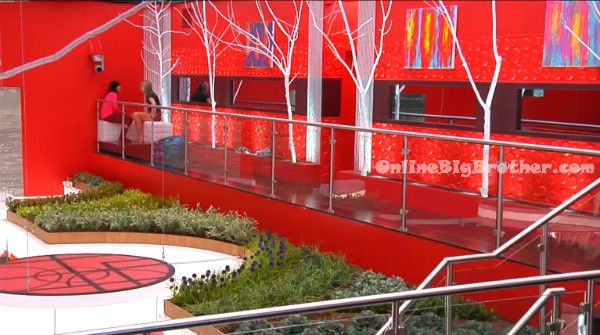 1:10pm – 1:30pm Up in the HOH room – Heather asks Ika if the plans have changed or is everything still okay? Ika tells her everything is still okay. Heather says that the new girl is actually nice. Ika asks do you think she is with the boys? Heather says no I don't think so. Ika tells her that Sabrina told her that Allison and Andrew have been making out since day 1. Heather says oh I did not know that. That's gross. Ika says her (allison) coming in here just strengthened their alliance (bros) and weakened ours (girls). They talk about Arlie down playing his game and how he really playing the game. Heather tells Ika that Rachelle is more of a target than you and I are. Ika says okay good! Ika laughs. Ika tells Heather about how she told Rachelle that she doesn't like her and is just with her because of the numbers. Heather laughs. Ika tells her that Sabrina is the one that has come up to me saying bad things about you.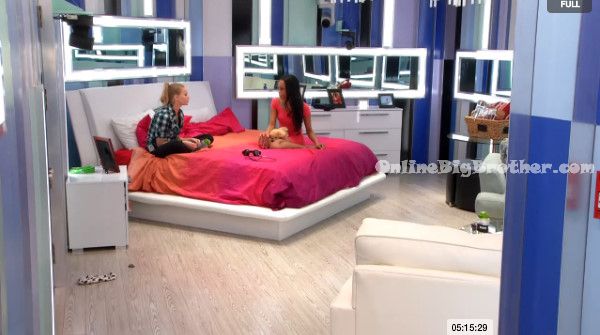 1:45pm Andrew is sitting in the living room talking about the diary room. Andrew says that he is loud. Andrew says I am not quite as loud as PETER "I AM IN THE SHEYLD AND I AM GOING TO YELL AS LOUD AS I CAN!"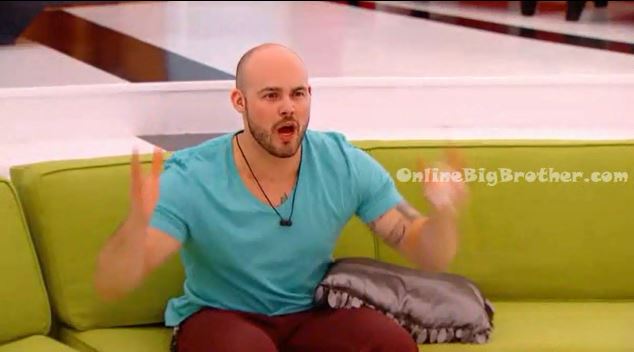 1:55pm Out in the hot tub room – Sarah talks to Kenny about a plan that she just thought up about what to do about the votes.


Up in the HOH room Adel talks to Ika:

2pm – 2:20pm In the bathroom – Ika, Rachelle and Sabrina are talking in the bathroom. Ika says I dont get why everyone thinks Adel and I are working together. Sabrina asks them to swear that Adel didn't tell them about his power. Rachelle says that she swears he didn't. Sabrina then asks Ika to swear on her kids that he didn't. Ika gets mad and says that he didn't but that she isn't going to swear on her kids! Ika says I am sorry for getting mad but I hate when people do that to me. Sabrina says well then no one can do that to me! Ika gets called to the diary room. Sabrina talks to Rachelle about what just happened with IKa. Sabrina says she just lied to my face!
Stay connected and interact with other Big Brother Fans on our Facebook page.
And Follow: @BigBspoilers and @Dawgsbigbrother on Twitter for the most up to date spoilers.