POV Holder:
IKA
Next POV
?
POV Used
No
POV Ceremony
March 17
HOH Winner:
IKA
Next HOH:
March 20
Original Nominations:
Paul & Heather
Current Nominations:
Paul & Heather
Last Evicted Houseguest
Kyle, Anick
Have Nots
Jon, Allison, Paul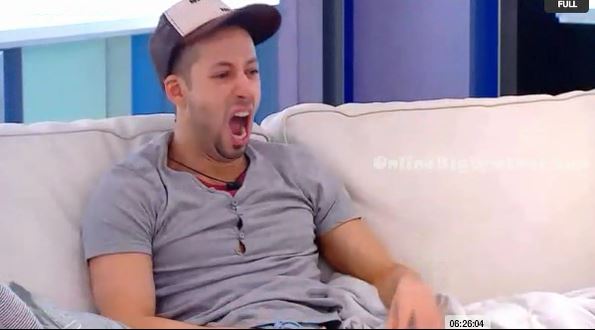 Want to watch the Big Brother Canada 2 live feeds? Bypass the geoblocking with HideMyAss VPN and be Canadian Anywhere: For ONLY $11.00 A month Sign up here


2:20pm UP in the HOH room – Adel asks Jon what's going on? Jon says what do you mean. Adel says I am not even worried. If anyone attacks me I am just gong to use it. Jon says I don't think anyone is going to attack you. I think you are going to get a chance to use it how you want to use it. To your advantage no matter how you want to use it the second week you know what I mean. Adel says I just literally want to stay off the block and not use it. I want to see where the house divides. Adel says I don't know if it's 50/50 if Paul is going home or not. Jon says he thinks the house is undecided at this point.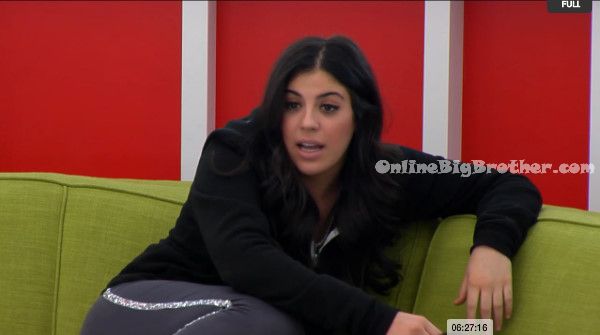 Meanwhile in the living room – Andrew and Sabrina get into an argument about a comment he made about her being emotional and that women are good for nothing. He says that women are only good for giving birth and nothing else. She asks him to check on the chicken. She says about 15 – 20 minutes. He asks are you sure. Sabrina says oh why because I am a woman and only good for birth so I can't tell time! Andrew says there's another thing you girls are so emotional. She tells him that it pisses her off that he keeps saying it. Andrew says that it was a joke! I won't say it around you. Sabrina says oh so you'll say it behind my back! Andrew says I am sorry, I will refrain from saying it! Sabrina says I want to go HOME!


2:35pm IN the bedroom – Kenny is talking to Allison. He asks her about what she is doing for her vote. He says that everything that we told you last night is all I can tell you to help you make your decision. What I can tell you is that if you do vote with us it will be a huge vote of confidence for you on our side. Allison says so you want Paul out this week. Kenny says yes and then Heather out next week. Allison asks so what about Ika. Kenny says that he knows that Ika is coming after him but that since she didn't put me up I swore that I wouldn't go after her this next week. Kenny says but I can't say what other people are going to do.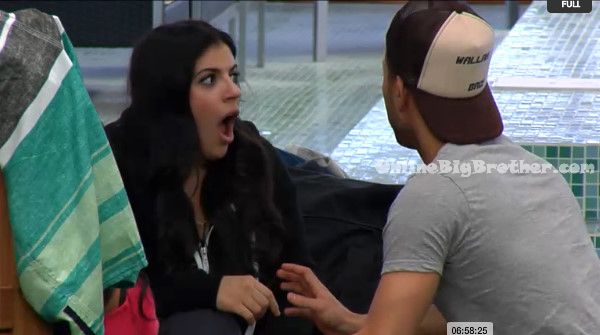 3pm – 3:15pm Out in the backyard – Sabrina tells Ika about what Andrew said inside to upset her. Adel comes out and tells them about his Veto Power. It's called Canada's Veto.. they're calling it the ultimate back door. The girls ask who else Adel has told. Adel says that he's told a few people but that he doesn't want to throw anyone under the bus if they didn't tell you. Adel tells them about how he can use it. Then he tells them that he told Sarah about it. He says that he is going to go tell her that he told them. Sabrina tells him that this proves a lot to her and that she appreciates it. He is a stand up guy. Andrew comes out and Sabrina and him have a conversation about what happened. She tells him that ever since Allison came into the house he has been acting different with her. Andrew talks to her and explains how he feels about her. She repeats that everything has changed since she came in the house. Andrew says well lets get rid of her next week then. Andrew says if I win HOH and the decision of the first 5 is that she needs to go then she goes. If its for the game purpose then she will be the one to go. Andrew says finding a person like you is very rare! I think you're amazing. Sabrina says you're going to make me cry. They talk about him cooking for everyone. I f**king hate cooking for Ika when she's being such a dumb b***h! Andrew tells her that he doesn't want to be looked as a sex!st a$$hole because I have already been made out to look like that when I am not. Sabrina asks if he really said that? Andrew says it was a joke. And anyone who believes one s*x is better than the other is an idiot. Sabrina asks who Allison is voting for? Andrew says she's said she is voting out Paul. Sabrina brings up how many times she's been called into the diary room. She asks if she is the saboteur.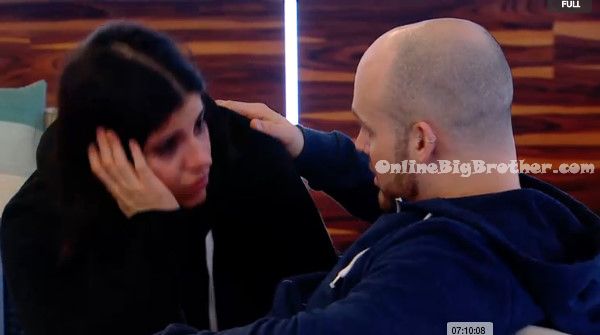 3:40pm Part 2 of their conversation: Andrew tells Sabrina "I love you, you know that right?!"

3:50pm Allison joins them and Sabrina gets up to leave. All the others are huddled around the hammock talking and joking around. Andrew and Allison join them.

Stay connected and interact with other Big Brother Fans on our Facebook page.
And Follow: @BigBspoilers and @Dawgsbigbrother on Twitter for the most up to date spoilers.