POV Holder:
?
Next POV
?
POV Used
?
POV Ceremony
March 17
HOH Winner:
IKA
Next HOH:
March 20
Original Nominations:
?
Current Nominations:
?
Last Evicted Houseguest
Kyle, Anick
Have Nots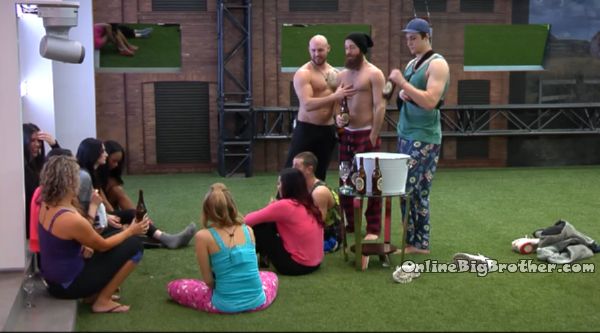 11:14pm Backyard Drinking and random chit chat. Andrew is being extra loud. Kenny and him pop their shirts off and start pounding beers.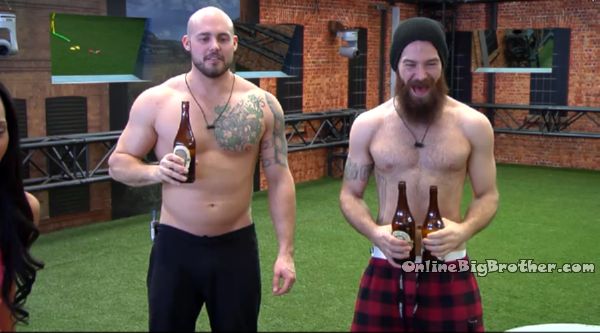 These bros are having tons of fun.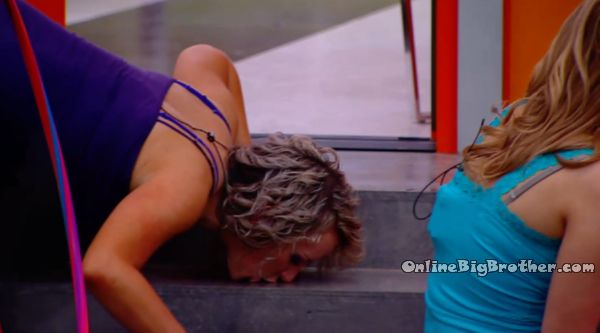 A drink is spilled and Allison licks it up. After she does that Andrew kneels beside her and jokes purposes.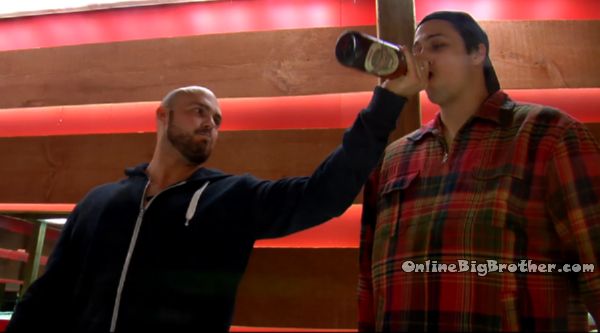 11:26pm Hot tub Jon, Andrew and Kenny Talking about the girls getting out of hand tonight. Kenny says Rachelle told him when she drinks she gets naked.
Andrew – "Lets get her naked"
Andrew – "I love cigarettes and Beer"
Kenny – "I love beer and… "
Jon – "Pu$$y "
Kenny says that Sabrina is getting loaded, He also thinks the new girl and NEda are going to be tanked.
Andrew says that Sabrina is getting jealous because he's flirting with the new girl.
(Random buzzed "Bro" talk)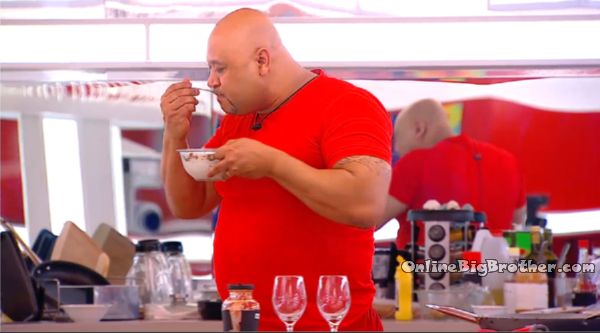 11:44pm Kitchen Paul, Neda and IKA
Paul says he's Canada biggest fan he's seen every episode. He wonders how he will be portrayed and how people will act when he gets out of the house. Paul is happy that IKA won HOH because now there might be music he likes to listen to. She says she picked upbeat tunes.
IKA says she knew how Paul felt yesterday when everyone alienated her. Arlie joins them says that everyone shares a bed except for one person. Arlie proposes Paul get his own bed because she's the biggest and snores.
Paul – "You don't hear me snore because of my machine"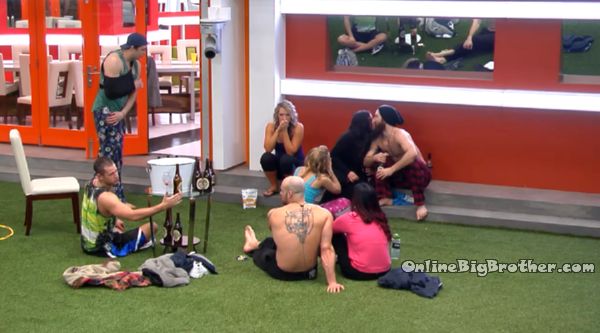 11:50pm Bathroom Alison and Sabrina
Sabrina says that Kenny kissed her . She adds that she loves Kenny but he doesn't like her because she's fat "I'm a cow"
Allison doesn't think she is gives her a kiss.
Allison goes to the bathroom when she's done she goes to wash her hands. Sabrina tells her she doesn't have to Alison says she's a nurse she needs to. (Thanks Johhny (the European one!))
Sabrina warns Alison not to talk to Heather because she is a liar and he talks to everyone. They scamper off to the bedroom.
Rachelle says she loves Kenny but she has a boyfriend. Sabrina says she loves Kenny to.
Heather joins them.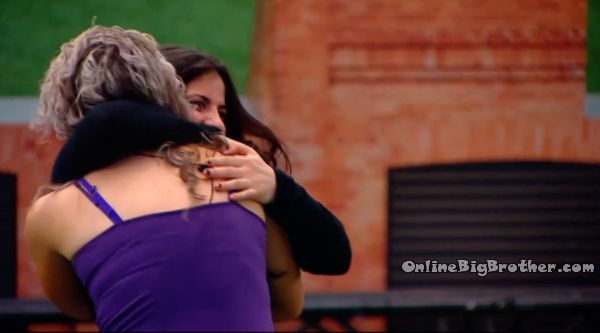 12:10AM playing lawn games drunk
12:23AM Kitchen Jon and IKA Jon says he wants her to do whatever helps her game out and he'll support whatever decision she makes. Ika thanks him for his support.
12:27am Poolside Andrew has been talking to Alison for the last 10 minutes how bad Adel and PAul are. He adds that the plan is for them to take those two out first. Heather joins them poolside wearing her bikini. Doesn't take long for Racehlle to leave and cover up.
12:29AM backyard in private IKA and Sabrina
Sabrina calls the new girl "Newzilla" IKA points out that Andrew is talking game with Alison and She knows Kenny. IKA is certain that the new girl will join the guys.
IKA suggests to Sabrina they take out Kenny or Andrew this week.
IKA – "Don;'t you think it's wise if the girls and the misfits team up and take out the strong guys"
Sabrina says Adel will put them up. IKA sys he won't he's sworn on the Koran. They go to Adel to talk to him.
Sabrina – I have a questions you would be me and IKA up right
Adel – no
Production calls the houseguests to go to the backyard and Allison to the Diary Room. Alison comes back with an arm full of Beer.
12:50AM Sabrina tells Adel she is not a b1tch
12:54am Kitchen Adel, IKA, Neda, Paul
Adel "we sold out the boys we're not getting back with the boys until the end of the world"
IKA says she cannot trust Adel and Paul because they sold out their alliance.
Paul reminds her that Andrew sold them out to.
1:00AM Adel and Paul Adel tells him to start filling the girls heads that the Kenny and Andrew are too strong to keep in the house. Adel – "I'm telling you if you get into Sabrina's head she'll get into Ika's head" Adel adds that they are weak they have to let the girls see that. Adel thinks tonight is the night to do it while they are all drunk .
Adel points out that that the girls have two votes with them they would be stupid to send those votes out the door. Adel adds that the new girl is with the guys she knows Kenny and will side with the newfy alliance.
Adel go spill your guts say your a old man you have three kids you can't beat these young kids.
Adel mention that the girls are coming to him the's not bringing this stuff to them.
Paul asks about the conversation that Kyle heard last night between Rachelle, Sabrina and Sarah. Adel says she's already used it.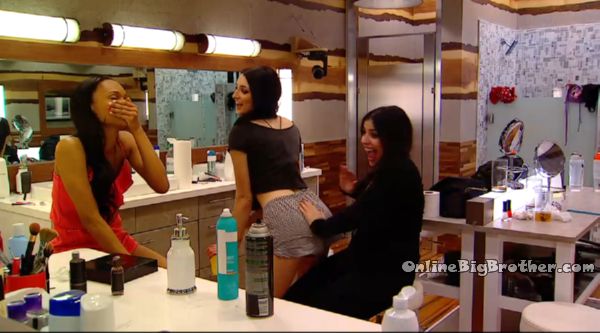 Cam switch to the bath room where Rachelle, Sarah, Neda and IKA are talking about the new girl joining the guys alliance.
Sabrina and IKA go off to the corner where they both agree they don't trust Adel and Paul.
1:16AM Kenny and Jon
Kenny says that Sabrina just told him that IKA has an allaince with Paul and Adel and Kenny/Andrew are going up. Jon is going to talk to IKA right now and clear this up, he says IKA told him that was not going to happen. Kenny says for him not to talk to anyone yet he needs to wait til tomorrow warns that Alcohol is involved right now and he doesn't want something to slip.
1:22AM Kenny and Rachelle Storage room
Kenny says that he's going to be nominated for sure. Rachelle doesn't think that is going to happen. Kenny adds that if he goes this coming week the entire house will be shocked at IKA. IKA joins them and tells them she doesn't trust Paul one bit. IKA tells them that PAul was apologizing to Sabrina and saying he never called her a cow. When Sabrina and IKA got up to Leave Paul told them that Adel calls Sabrina a cow. IKa uses this as an example at how Adel and Apul are not even loyal to each other.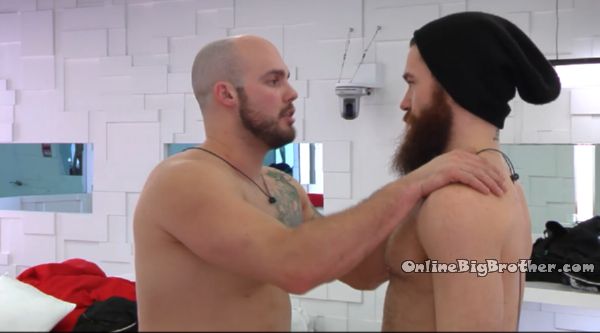 1:30AM Kenny and Andrew are panicking. Kenny is talking all the guys down as they are getting heated because rumor has it IKA isn't going to do what they want.
1:43AM Andrew, Kenny and JOn Hot tub Andrew tells them he's gotten them another with Allison. they guys all laugh they start smoking while talking a mile a minute. The guys are in full panic they decide to have a second smoke, Jon calls this second smoke a "Party Dart"
Sarah joins them they ask her what is going on with the girls side. Sarah says IKA isn't telling her sh1t since the spazz last night. Andrew is certain they are going up. Sarah – "I just heard her telling IKA Don't tell me how to do my HOH"
Andrew and Kenny want to both be put up so they can compete in the Power of Veto.
Sarah says the new girl is going to realize how crazy the girls are and join them. Andrew says he's working the new girls hard.
1:54AM IKA and Adel IKA tells him that PAul threw him under the bus after Adel was telling Sabrina that he never called her a cow. Adel shrugs his shoulders (jeepers creepers PAul WTF)
2:00AM Pool Arlie, Adel and Jon. Adel hopes they have his back. Arlie promises him they will talk tomorrow in a safe spot. Jon tells Adel to keep his mouth shut. Adel leaves. Jon and Arlie agree Adel is good for them to keep around.
Jon says it will be smart for IKA to "Throw a .. you know what I mean.. throw a" (I think Jon is implying a hail marry) Arlie is worried that Andrew and Kenny go up and one of them win POV because he'll go up as the replacement nominee. Jon doesn't see that happening. Arlie tells him that after IKa won she hugged Andrew and told him he is safe. JOn thinks IKA will throw Sarah or Heather up as a replacement.
Jon says IKA isn't a dummy he doubts she'll be going against the entire house it's too early. They both agree they have each other 100% for the entire game.
2:12AM Kenny is getting sick from drinking and smoking too much Image link
2:27AM Neda, Sabrina and Rachelle talking about IKA's Nominations. Sabrina doesn't think now is the time. Image here (It's a bum shot of Racehlle image for the boys)
2:37AM Adel Explains the Sabrina and IKA why they have to take out the strong guys first.
3:07AM Andrew and Allison
Andrew goes on and on about how bad of a person Paul is. Says that Paul called him some of the most unimaginable things, "Some of the worst things you can in life on TV".
Andrew- "And I'm being the bigger man and acting like I should I'm acting like most people would not be able to… you know what I mean "
Allison- "Ya'
Allison says she hasn't spoken much with Paul.
Want to watch the Big Brother Canada 2 live feeds? Bypass the geoblocking with HideMyAss VPN and be Canadian Anywhere:

(It'stough to watch Big Brother Canada from the US. Circumvent the Geo Blocking and watch the Show and the Live feeds straight off Slice's website. Using a pay VPN is very easy and free of malware, I do not recommend using a free service as these are notoriously trouble. I live in Canada but last year the US feeds were blocked for me so I used both hidemyass and strongVPN and I never had a problem. Hidemyass VPN is cheaper so give it a try your'll get your show/feeds https://hidemyass.com/vpn/r16399/
[polldaddy poll=7877882]