We were fortunate to get to watch the week one Live feeds this season which is always fun seeing how the houseguests interact for the first time. We got to learn that POOCH sucks toes, The dosage of Meds given to Paloma was WAY wrong and that the more things change in Big Brother the more Houseguests and us fans stay the same.
Lock your ranks in before midnight
Week Summary
The week started off with POOCH winning the Backstage pass and being able to pick three other Backstagers. He chose, Paloma, Alyssa and Brittany. The rules of the backstage twist were a bit vague but we know none of the them were eligible to be nominated but the three girls were not necessarily safe. POOCHIE was the only one safe and none of them could vote. America got to vote for one of the girls to be safe but the other two who knows? Going by the OBB poll it's looking like Brittany will win that vote. Daniel won the first Head of Household and immediately started vibing and if you didn't vibe back you found yourself on the block. Those two non-vibers were Terrance and Michael. The Power of Veto was played and Michael pulls out a win.
At some point before the veto ceremony Taylor tells Monte something to the effect that Paloma is rallying the girls to get out a strong guy. Monte doesn't believe Taylor and instead takes Paloma's word that she never said anything like this. Monte and Paloma pull off a successful effort to label Taylor as the house target, accusing her of stirring up sh1t, lying, etc. At some points it got mean girl catty. From what I can tell Jasmine made up a story that Taylor commented on her weight adding more fuel for the hate fire. Paloma made a lot of alliances one of hers was called the girl's girl containing of course all girls. I know two instances where she told the girls about getting the guys out, one time with Taylor in the room.  Paloma's other main alliance was MAMBA which contained many of those strong guys. From what I can tell the entire house was onboard with nominating Taylor and Evicting her.  Fast forward to Monday during the Veto Ceremony and Daniel puts Taylor up. As the week progressed Taylor and Terrance started making inroads with people and building relationships. They started to vibe with the other houseguests… dope
Paloma losses her mind
Starting Tuesday Houseguests started commenting on how Paloma was losing her marbles and they were worried about her. Wednesday morning she went into the Diary room. Wednesday evening the feeds cut and haven't been on since. There's speculation that she had metal breakdown of some sort and left the game. We'll find out tonight.
Controversy
As with every year there is controversy in the Big Brother house especially with Taylor being on the block. Accusation of Bullying, Micro aggressions, Racism and more were leveled mainly onto Paloma. Somehow Monte escaped the bulk of the controversy though you can tell from the collapse in their ranking that a huge swatch of the house is not liked based on how they ostracized Taylor.
In a well cited article US Magazine said
Social media users have pointed out several moments from the live feeds that show the other houseguests seemingly ganging up on Taylor. At one point, Monte told Terrance, 47, that it was a "real struggle" for him to "point out that a Black woman in this house isn't acting right"
Source https://www.usmagazine.com/entertainment/news/big-brothers-daniel-cries-amid-taylor-racism-controversy/
Winner of Big Brother 23 Xavier said
"Members of the black community (especially black women) and other people of color stand no chance in the Big Brother House due to perpetuation of micro-aggressions and unconscious biases which plague our society."
Big Brother production likely wants this type of controversy to juice up viewership.
Julie Chen interview
Julie Chen did a interview this morning and had something to say to the fans.
When asked:
This week has prompted a large amount of controversy over actions and comments against Taylor by her fellow houseguests, which have produced an understandable outcry from fans and alumni alike. What are your thoughts on the way the season 24 houseguests have treated Taylor this past week?
Her answer:
What I think has been a little bit surprising is how Twitter and the internet has exploded in really jumping on someone. Which I never like. I don't think any of us are in any position to judge any other human being. What you have to remember is that yes, microaggressions are real and they happen every day. When you're playing the Big Brother house, it's a pressure cooker in there. And you might say or do things that you think is going to advance your position in the house. But you won't always do it in a way that makes yourself look your best.

What I think Taylor has experienced in the house and what we've seen on the live feeds are separate from each other. A lot of it has been classic Big Brother trash talk behind someone's back because you feel threatened by them. In many ways, Big Brother is like high school on steroids. And if you were to ask Taylor, you know, prior to becoming a replacement nominee, she simply was not aware of how much jealousy there was.
Source Mike Bloom interview – https://parade.com/entertainment/big-brother-24-week-1-julie-chen-moonves-interview
Results from the Big Brother live show
"The unexpected exit of one houseguests stuns the house and leads to a change in the game"
Paloma leaves the game
Daniel gives them the news.
"Due to a personal matter Paloma will no longer be continuing in the Big Brother Game she wanted to pass along she loves you all and wishes you all the best"
They all hold hands and Monte leads them in Prayer "We ask you to give America the grace to not Judge"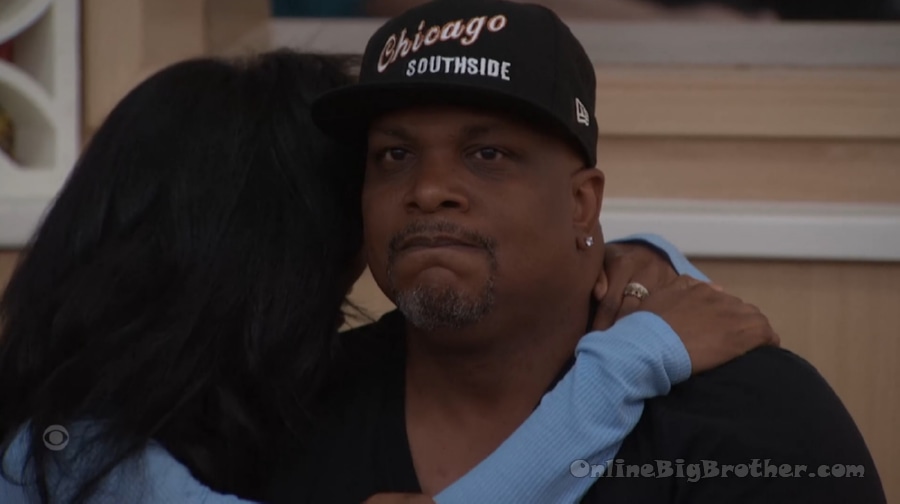 Backstage Vote results
Brittany wins the backstage vote
Julie says that today there would have been a battle between one of the backstager
"The original plan would not have culminated in a vote and eviction but instead a battle of one of the two nominees chosen by the house and one of the backstage pass holders. The loser would have gone home immediately" There would have not been a vote. Since the twist was going to send home One houseguest they will not have an eviction this week. Therefore Taylor and Terrance are not safe
Head of Household Competition
7 Head to head races. Win the race and you get the chance to be the head of household. Lose a race and you are out. Competition is called Bye Bye Backstage
1) POOCH and Michael. Michael wins
2) Taylor and Alyssa. Taylor wins
3) Indy and Joe. Joe Wins
4) Brittnay and Ameerah. Ameerah wins
5) Jasmine and Terrance. Jasmine wins
Jasmine appears to have twisted her ankle. All the guys race off to help her. Jasmine lays there wounded.
6) Turner and Kyle. Kyle wins.
7) Monte and Nicole. Monte wins.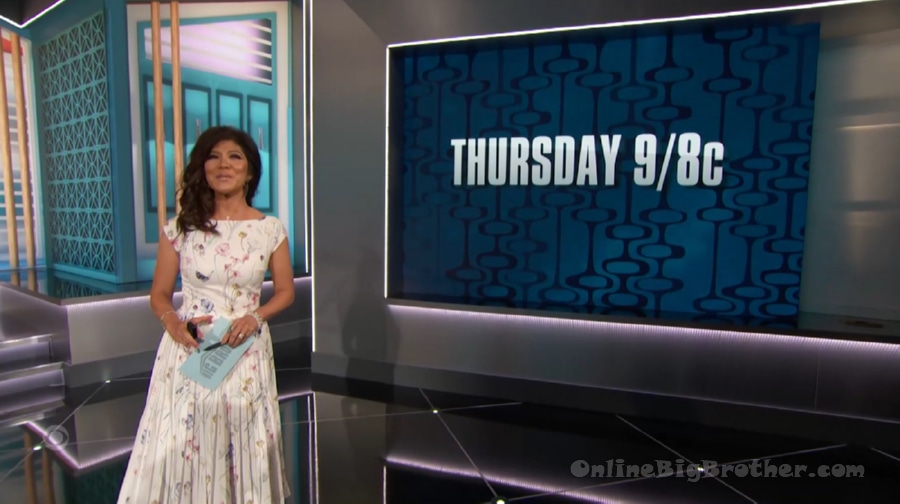 We will find out who one the Head of household when the feeds return. This will likely be after the wests coast airing.
"Next Thursday I have a huge announcement hat will turn the house upside down. The game is about to change find out Thursday. "