Quick Big Brother Spoilers
Head of Household: Jasmine
Nominees:
POV Players:
POV Winner:
Veto Ceremony:
Evicted:
Havenots: Terrance, Nicole, Pooch, Daniel
Lock your ranks in before midnight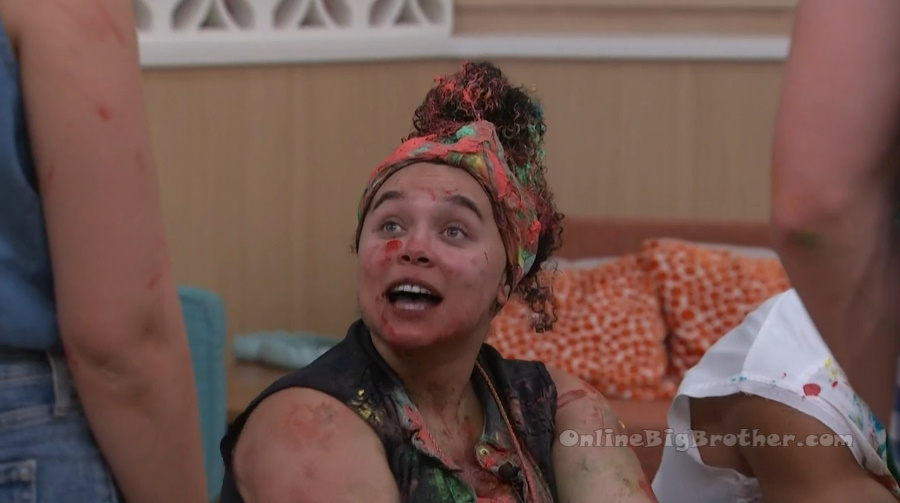 8:42pm Wednesday Night – 12:07am Friday Night Big Brother blocked the feeds due to Paloma exiting the game.
In the living room. Jasmine – I am going to let people volun.. I am going to open it up and if nobody .. then.. Are you telling me I get a bathtub!? Who is taking a bath with me?! Ameerah – ME! If you like sleeping next to someone, just let me know. Jasmine – oh no I am not sleeping up there by myself! Absolutely not! That is not happening! This is crazy. Ameerah – oh yeah this is f**king crazy! Like …LOOK AT YOUR FOOT! EXPECT THE UNEXPECTED! Joe – you're a big brother legend to roll your ankle and then win HOH! Jasmine – I think people have done that before.. They say no. Indy – if you guys are going to do havenots .. I should cook something. Jasmine – I did not want Taylor to get it. Ameerah – that was by biggest fear! Jasmine – get her up outta here! You thought you just got off the block! You thought you were off the block baby.. you're going right back! Week two lets go. I am sorry, I want her out!!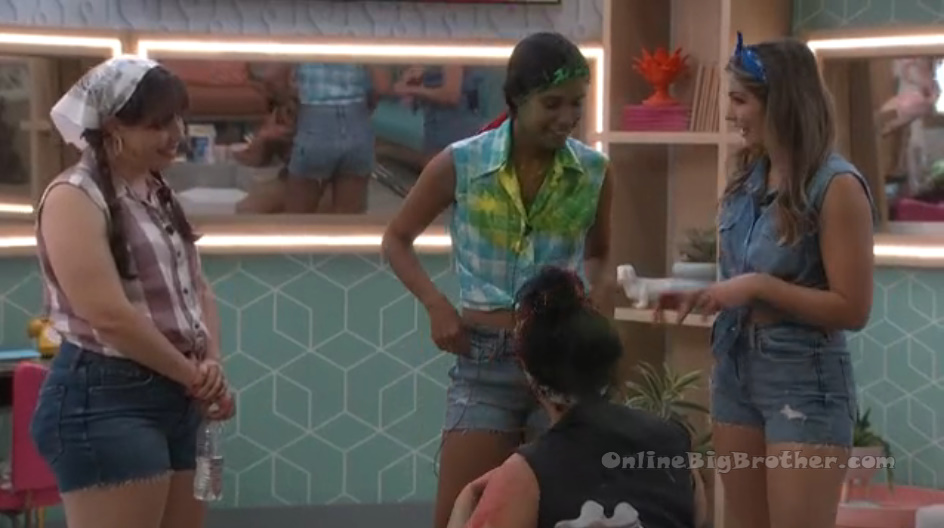 12:12am Bedroom. Alyssa and Pooch.
Pooch – Jasmine has to put someone else up so that when one of us win it (veto) we don't even give her (Taylor) a chance to play unless she gets picked (HG choice). Because whoever else gets pulled I feel good and if she does (Taylor does get picked to play and wins the veto).. now we send Brittany's a$$ home. Alyssa – yeah. Pooch – why even put up Taylor and giver her a chance to win the veto. Alyssa – yeah because if she comes off she is going to come after Jasmine. Pooch – for sure. Yeah we don't want that. No one is going to pick her .. unless her name comes out of basket (HG choice). She could put up me and Brittany. So it would be me, Brittany and Jasmine picking (veto players). Don't even give Taylor a shot to F**King save herself.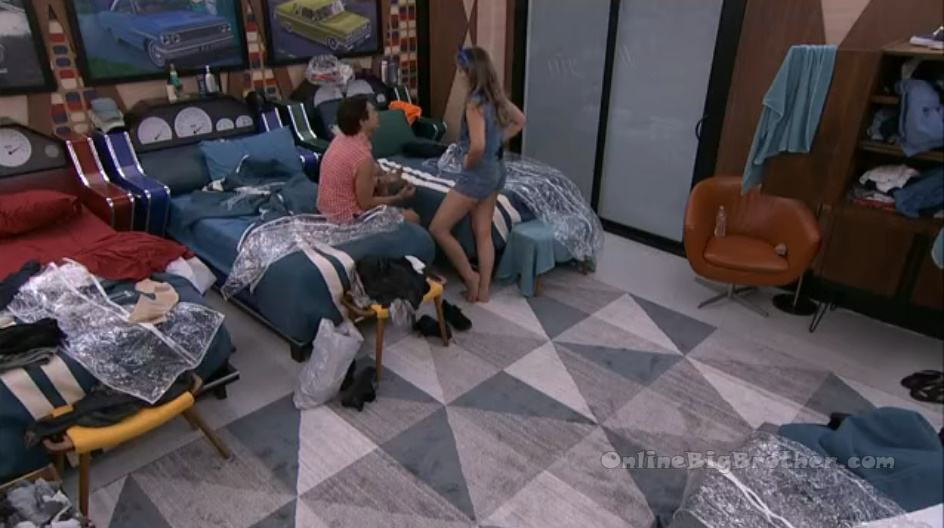 12:20am Bathroom. Ameerah and Pooch.
Pooch – how do you feel about Brittany? Ameerah – I still don't .. wildcard! I mean she says she wants to work with me but.. Pooch – how do you feel about it? Ameerah shakes her head no. No not solid! Pooch – do you think she is someone she would go after this week. Ameerah – I have no idea. Give it like 24 hours.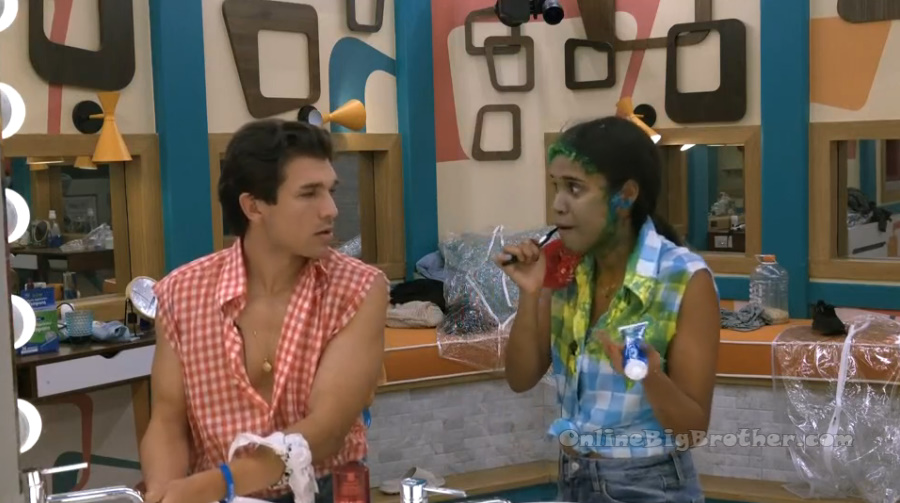 12:26am Bathroom. Brittany and Michael
Brittany – oh my god we're here! We're both here! Its week one. Michael – what a crazy crazy day! Brittany – what a day! Taylor joins them. Taylor – oh my god you guys! Michael – I bet that was just an incredible feeling when Julie said that. Taylor – like I just know how brutal this game still is and like I watched Celebrity (BB) where they still evicted someone after someone self evicted and I was just like Phhhh WOW! Did not expect it! Second chance! Second life! Michael – not that you needed it, we saw you out there.
12:37pm The house guests are eating.. each hoping they're not going to be have nots.
12:42am Bathroom. Taylor and Ameerah.
Taylor – am I still going up as a pawn with Jasmine? Ameerah – no, I don't think so. No, No, No.. I don't know what she is doing to be honest.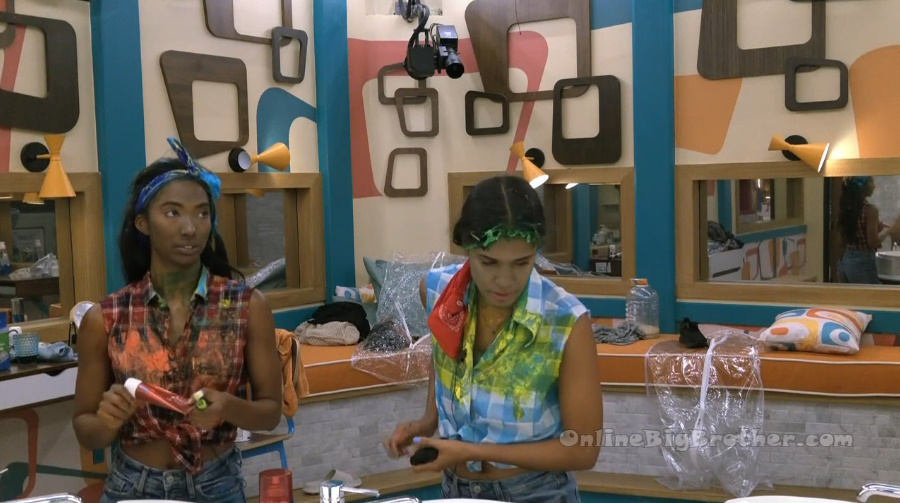 12:50am Jasmine comes out of the diary room – Jasmine reads a BB card – Monte, Joe, Michael, Kyle you all suffered for a week eating slop. Taking cold showers and sleeping in the BB Hotel now you get to pass the pain on to someone new by choosing this weeks Havenots! As HOH I cannot be a havenot and you cannot pick each other.
Monte's turn to pick. Pooch puts up his hand to volunteer.
Joe picks / Nicole volunteers.
Michael – Terrance puts up his hand. Michael – I will go with Terrance, thanks Terrance.
Kyle – any volunteers? Daniel – I'll do it.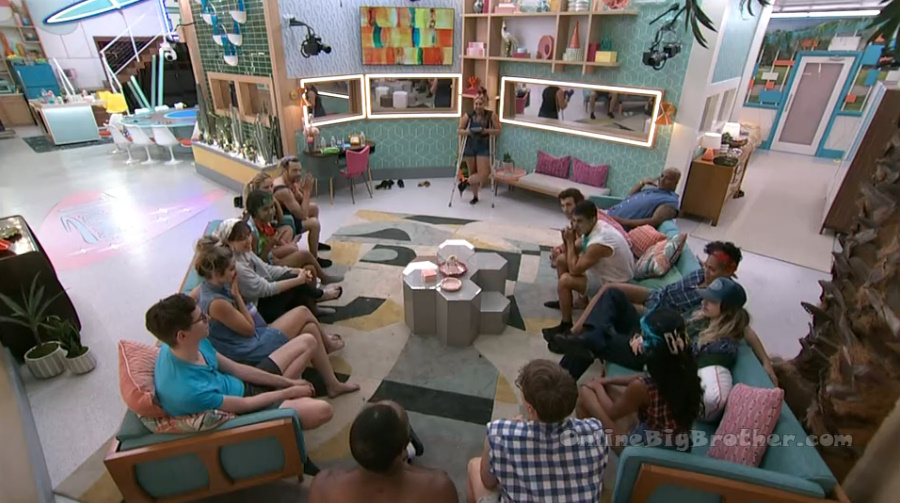 12:57am Havenot room. The havenots check out their room for the week. They all agree they won't b***h and complain.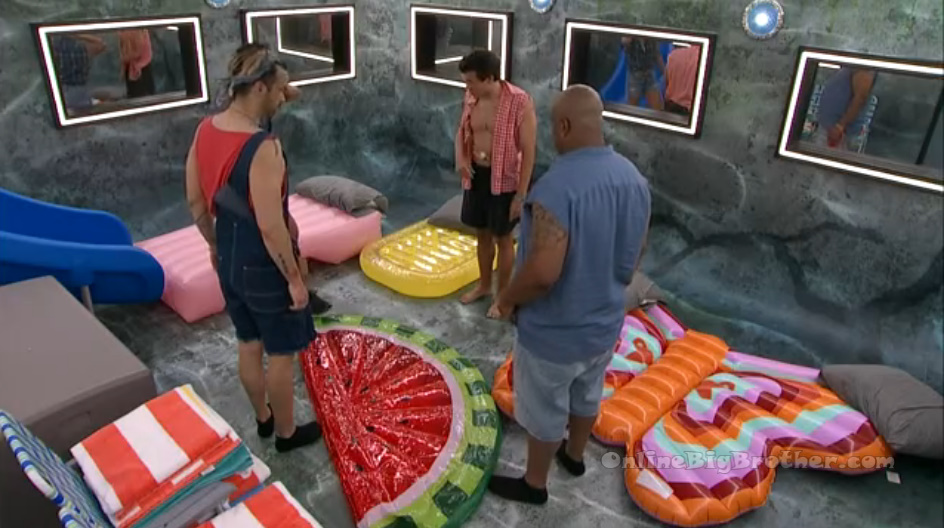 Girl's Girls (Paloma, Jasmine, Alyssa, Ameerah, Indy, Brittany)
Motley Crew (POOCH, Turner, Daniel)
The Oasis (POOCH, Turner, Daniel, Kyle, Monte, Joe)
MAMBA (Paloma, ALyssa, Ameerah, Monte, Kyle, Michael)
Burner (Turner, Brittany)
TOOCH (Turner and Pooch)
PSL (Paloma, ALyssa)
Rouge Rats (Nicole, Daniel)
Smurfs (Jasmine, Paloma, Kyle, Monte)