Quick Big Brother Spoilers
Head of Household: Daniel
Nominees: Michael Taylor & Terrance
POV Players: Daniel, Michael, Terrance, Indy, Ameerah and Turner. Kyle is hosting
POV Winner: Michael
Veto Ceremony: Veto used. Taylor nominated
Evicted:
Havenots: Joe, Michael, Monte and Kyle
Michael used the Power of Veto on himself. Daniel nominated Taylor in his place.
Lock your ranks in before midnight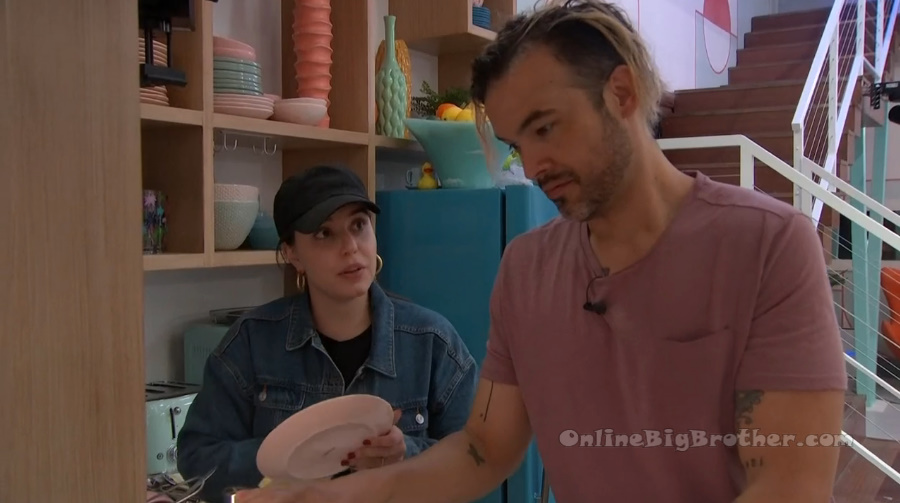 7:10pm Kitchen – Daniel and Brittany.
Brittany – I don't know what this next week holds but you're good in my book. Daniel – oh my god thank you. Brittany – it kind of goes without saying but I wanted to say it. Daniel – I appreciate that leaving power, I don't know who is going to come after me. Everyone says we're chill and you never know. I am in the same boat where like we've got to stop thinking about it… whatever is going to happen will happen. Brittany – my perspective is that I am going to a select few people and telling them if I am here, you're safe. Daniel – yeah definitely do it before someone gets power. Brittany – It meant a lot to me that you put a bigger threat on the block here because I feel like if I am up against Taylor, I would stay. Daniel – I think any of you (Brittany, Paloma, Alyssa) are going to be safe against her (Taylor). Brittany – against Taylor, okay. They speculate on how the backstage twist will work. Brittany – how does someone come back from this (backstage). Daniel – winning HOH. Prove yourself immediately. Brittany – I just have to win.
7:50pm – 8:05pm Storage room. Pooch and Taylor.
Taylor – couple options.. if this boss situation ends up someone from the three have to go up. Would you put Brittany up? And take me down? Pooch – Yes, yes yes. Pooch – because I believe Brittany going up doesn't rattle the house .. because I think its going to be her next week. Give people another week of chilling… na I don't want to say that there's things going on. Taylor – if its a third nom situation, you'd still put her up? Pooch yeah. Pooch – because I think it will be hard to beat Brittany and easy to beat Terrance. That's what you have to sell. I think you're smart and you have a mind of your own. I could see everyone how is on the block stays this week.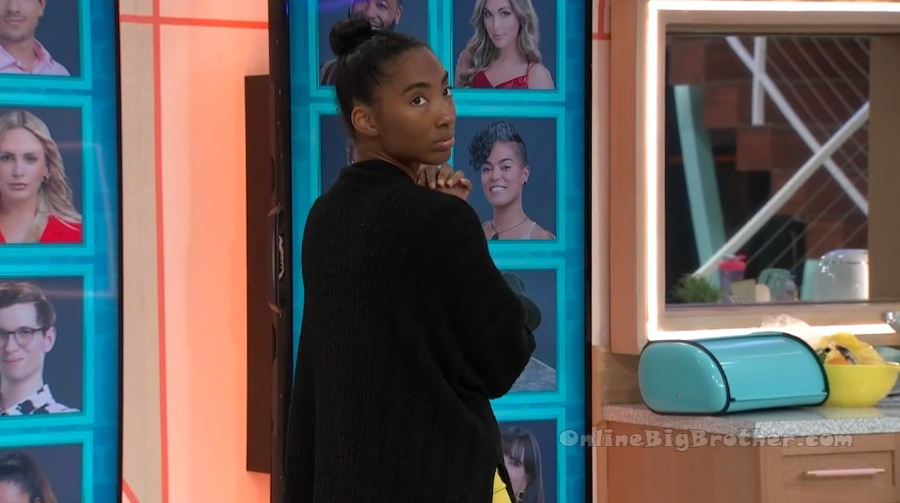 8:10pm Bedroom. Jasmine, Joe, Daniel, Turner, Indy.
They're sitting around chatting and doing their nails. Joe fell asleep and then wakes up and asks when they painted his nails. Joe – I just got backdoored! I am in shock that someone painted my nails.
8:15pm Storage room. Taylor and Michael.
Taylor – I think there is a shot if I can either compete in some sort of people on the block and people in the backstage situation. I could come down and someone else could go up. I am hoping for it. Michael – MMmmmmhmmm yeah. Have you talked to any of the backstage people.. Big Brother switches the feeds.. Taylor – If Brittany won some type of power I feel like she would protect me. Michael – because you're in the same room right? Taylor – Mmmmhmm.. The only way I am f**ked is if I am up there next to Terrance. Like I have to come down. There is no way .. I have you and I have Turner but there is no way I get three more votes. Michael – have you talked to Monte at all? Taylor – Monte is with Terrance which like I get it. And everyone else is like I am going with the house.. I am going with the house. You're just a really big threat and its easy for us to all get you out now… which I can respect. I could ask Indy .. I think there might be something were I could ask her for one more week. But almost everyone is just going with the house which sucks. I don't think there would be backlash for you if you give me a sympathy vote. Michael – Mmmhhmmmm.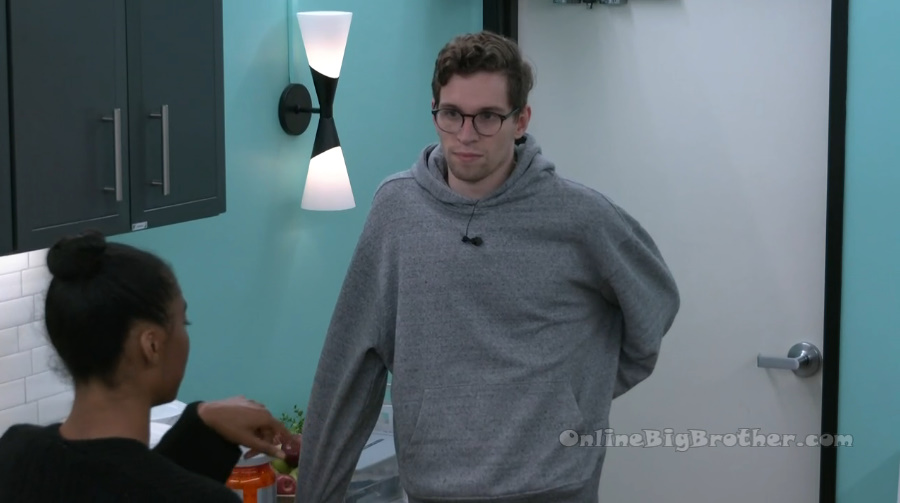 8:42pm The live feeds switch to the kitten cams.
9:13pm Still blocked..
10:05pm Still nothing..
10:43pm Nothing but kittens.. p
3:26am The feeds are still blocked showing the kitten cams.. The live feeds will likely be blocked until after Thursdays Live Eviction episode.
** Rumor has it that Paloma has self-evicted / quit Big Brother – She's left the house.. **
Girl's Girls (Paloma, Jasmine, Alyssa, Ameerah, Indy, Brittany)
Motley Crew (POOCH, Turner, Daniel)
The Oasis (POOCH, Turner, Daniel, Kyle, Monte, Joe)
MAMBA (Paloma, ALyssa, Ameerah, Monte, Kyle, Michael)
Burner (Turner, Brittany)
TOOCH (Turner and Pooch)
PSL (Paloma, ALyssa)
Rouge Rats (Nicole, Daniel)
Smurfs (Jasmine, Paloma, Kyle, Monte)