Big Brother Spoilers – Bayleigh won the Week 5 Head of Household Competition and it went straight to her head. Her target is Brett her alliance HIVE thinks he's going home but what happens almost every week to the HIVE/FOUTTE? Lucky for them they can win competitions.
Part 1 Catch Up From the previous Week + any new powers
Kaitlyn was evicted last week by a vote of 9-1, She was given a 6 piece 3D puzzle to complete to re-enter the house but failed. Kaitlyn is now gone from Big Brother 20 and posting madness on Instagram. Bayleigh and Tyler still have their powers and nothing new was introduced into the game (thank god). Tyler has kept his quiet but Bayleigh told hers to Fes/Rachel. As of writing this Angela, fez, Kaycee, Tyler and JC now know about the power.
Part 2 Nominations
Bayleigh makes it clear to the remnants of the FOUTTE alliance that her target is Brett.  Her pawn selection comes down to JC and Rachel. If Veto is played she keeps it a mystery who would go up but makes it clear that she's solid with Scottie, Rocks, Haleigh and Fes.
To the Level5 alliance she makes it no surprise that Brett is the target and pawns are a choice between JC/Rachel. Bayleigh makes it sound like Scottie is a potential renomination and to most people is sounds like she's leaning towards JC but is worried he'll freak out. Level 5 thinking they have the votes as long as only 1 of them stays nominated. Bayleigh and Rachel talk forever about going up as a pawn eventually Rachel is "fine/not fine" with it. Bayleigh tells her about her power app to seal the deal, Says she'll consider putting Scottie up if Veto is used, says she'll use the veto on Rachel is she wins it and offers deals working together moving forward.
Part 3 Power of Veto
Tyler wins the Power of Veto. Bayleigh doesn't want it used obviously. The Level 5 alliance has essentially decided to keep Brett over Rachel. Tyler tells Rachel he can't use the veto because Bayleigh will put up Angela.
Part 4 Power of Veto Ceremony
During the power of veto ceremony Tyler chooses not to use the Veto . Nominations stay at Brett and Rachel. FOUTTE is disbanded and a new alliance arises out of the ashes. Harnessing the power of BB6 friendship THE HIVE is formed. a brain child of Scottie, The hive is composed of ROCKS, Haleigh, Bayleigh, Fes and Scottie. They can never be on the right side of the vote but they can win HOH's and POV's like nobodies business.
Brett tries to pull Haleigh in with 5 hour hammock talks and massages but It doesn't work. All it does it drive the final wedge in between teh Haleigh/Fes showmance. (there was also a revealing never have I ever that turned Fes off a bit)
Part 5 Pre eviction
Level 4 + Sam + JC  is going to evict Rachel. She has no clue about her eviction neither does the HIVE. the Day prior  to the eviction show was spent locking in the votes it was pretty calm. Angela, KAycee and Tyler do some mental gymnastics to justify cutting Rachel over Brett. Angela showed a cold side that surprised Simon. The bottom line is Brett is better for Tyler/JC to stay so that's going to happen   They houseguests were shown video clips of various gifs from the season.
Where does this leave us?
Rachel is getting evicted. the question on everyone's mind is will the HIVE think it was the wounded baby bird and JC that flipped  or will they stick to their standard model and think it was 2 of their own? My money will be option 2.. LOL .. Tonight's show is going to be another glorious eviction.
This Weeks #BB20 Twitter Outrage
Sunday July 29 cam 3  11:45pm – Bayleigh – Fes has a crush on you that's why he was annoyed.. he wants his girl to be a good girl he wants his girl to be a wife he doesn't want his girl to be out here running around doing anything so.. Fes can suck it because that is unrealistic. 11:46:11 – Bay "Unless you want to go find yourself a virgin .. which he probably does.. go to Pakistan and go get you one.. that is what THEY do I'm not down with that shit"
You can hear ROCKS laughing in the background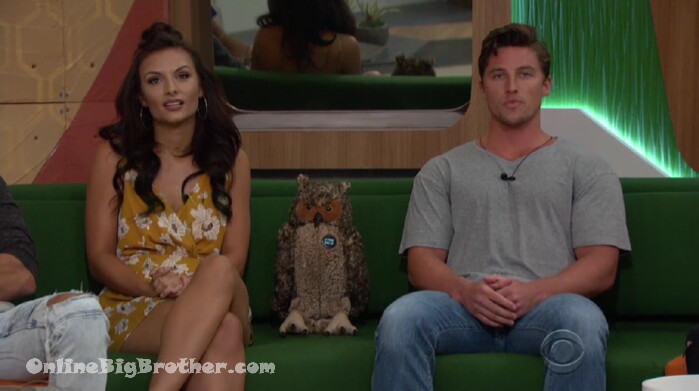 Head of Household and Eviction results
Rachel thanks Jesus Christ hates being on the block next to Brett.. she loves them all.
Brett – I want to call out the elephant in the room.. Rachel is the pawn.. Rachel also told me Bayleigh has the power app.. Rachel is the leader of the maneaters and Sam is in that alliance.
Faces during Brett's speech
Rocks votes to evict Brett
Angela votes to evict Rachel
Kaycee votes to evict Rachel
Scottie votes to evict Brett
Tyler votes to evict Rachel
Sam votes to evict Rachel
Fes votes to evict Brett
JC votes to evict Rachel
Haleigh votes to evict Brett
Rachel evicted … (she doesn't take it well )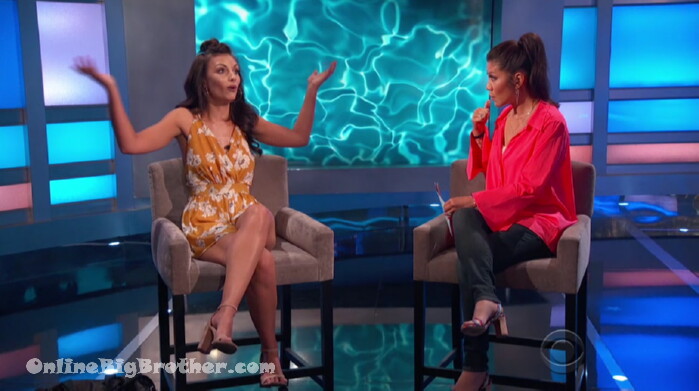 Rachel is fully blindsided and is speechless.. She's really devastated.
Rachel is shocked about Angela double crossing her.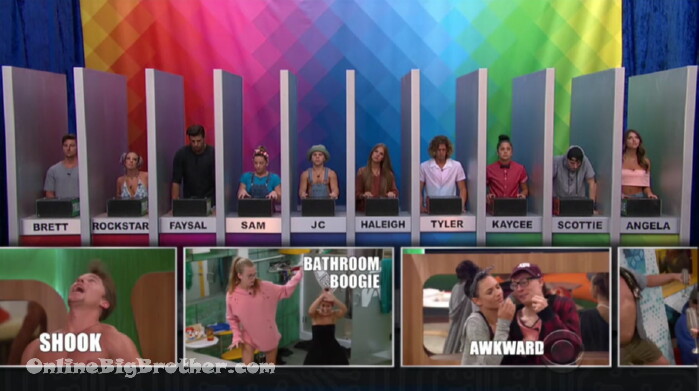 Gif that keeps on giving …
Q1
Kaycee out
Q2
nobody
Q3
JC is out
Q4
Sam is out
Q5
Tyler, FEs, Scottie out
Q6
Haleigh out
Q7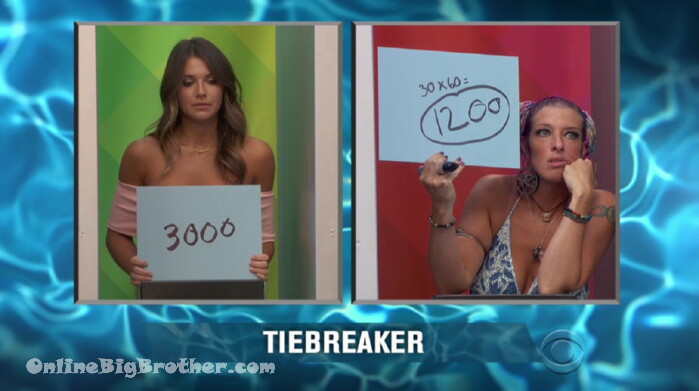 in seconds what was the total time of the out on the limb endurance competition from the offical start to when Tyler hit the ground.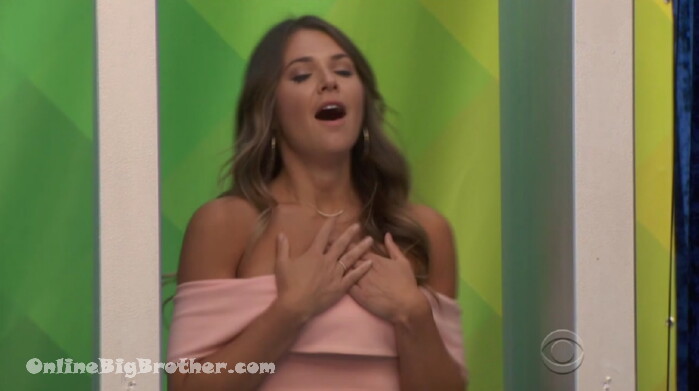 Angela wins HOH.. OHMYGOD this is going to be savage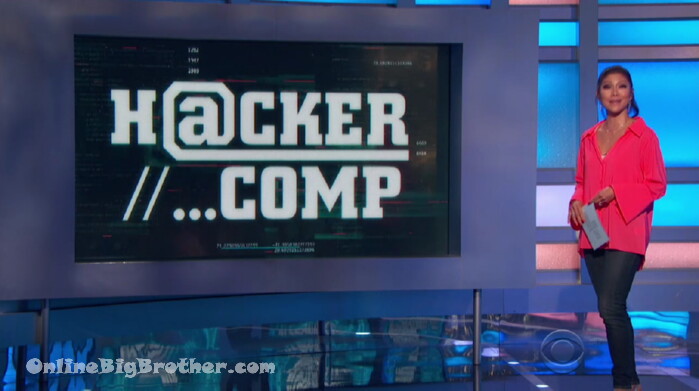 Each week a player will get a power to ruin opps I mean Hack the game.. we'll find out more on Sunday.
A real easy way to support the site if you are an amazon shopper is to make your purchases through our link. You pay the exact same thing but we get a small % commission. It doesn't cost you anything and helps us out.
Amazon Canada
Amazon USA
Rank the houseguests!
Easiest way to Rank the house guests use link below