| | | | |
| --- | --- | --- | --- |
| POV: | FES | Next POV: | July 21st |
| POV Used | Yes | POV Ceremony | July 23rd |
| HOH: | Sam | Next HOH: | July 26th |
| Noms: | Kaitlyn and Haleigh Rockstar | Have Nots | Scottie, Rachel, Bayeligh, Kaycee |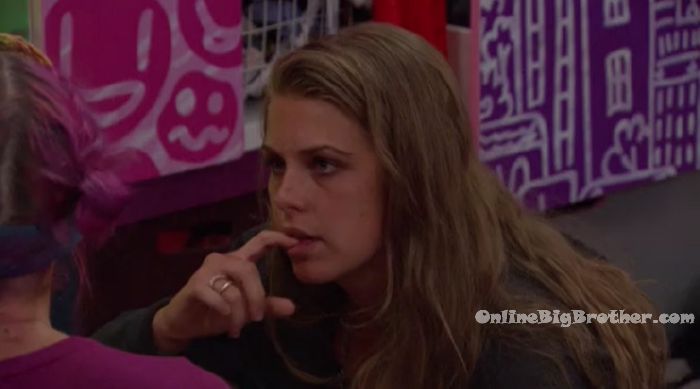 8pm Bedroom. Rockstar and Haleigh. Rockstar – Fes and I had a talk and I knew he was going to use it on you. Haleigh – I know, I assumed. Rockstar – and I told him that even if I got put up there it was the right thing to do because that's what he set out to do, that's what he promised to, that's what he wanted to do and you got house guest choice. I was like even if I go up there, maybe I will be talking to Julie about how stupid that was. But I don't think you should speak something like that into the air and not do it. And that's why he was like I did not forget what you said. And you are a real motherf**ker. Like you are real! And no matter what happens you have my vote. Haleigh – I really want to focus the next few days not so much on campaigning for you but why Kaitlyn needs to go. Its not even campaigning for you, its campaigning against her. Rockstar – worst case scenario I just go back to real life and get a job. Haleigh – that's not going to happen. we're going to be fine. We need to figure out who has the f**king power .. because that would be dope! But she (Kaitlyn) for sure doesn't have it. Rockstar – yeah I don't have it either.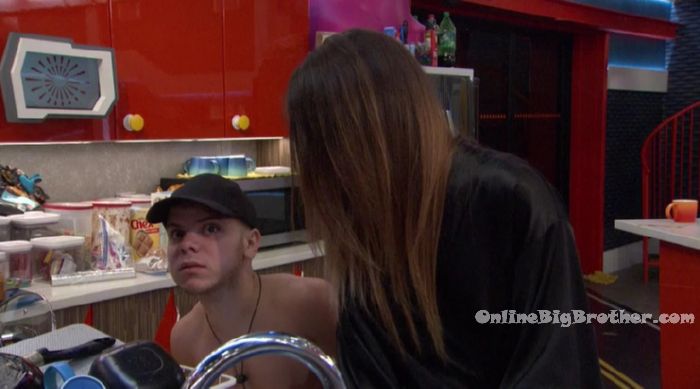 Kitchen – JC and Angela. JC – Rachel is going around the whole house saying that she is going to keep Kaitlyn so that's not a problem. I am thinking of something and we will talk more later about it because we can't talk now.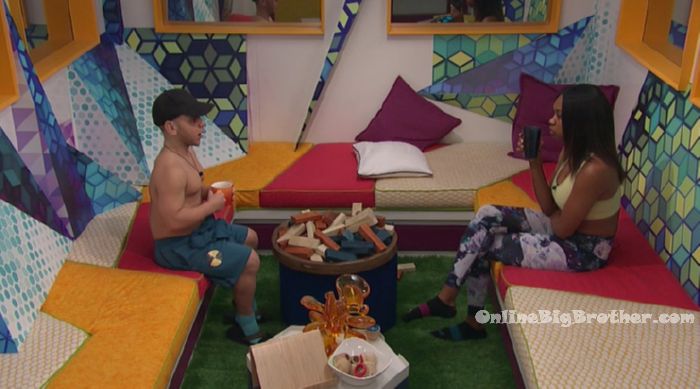 Lounge room – JC and Bayleigh. JC – I am not even going to go around the circle with you .. I am 100% on board with voting Kaitlyn out. My purpose right now is to get any last vote just to make sure. I am not going to trust Fes telling me I've got this… I would kick him in the balls. I feel like this is the first time you're going to vote and do something. Bay – I want it to be right so I agree with you. I need you to let me know. JC – don't worry I was just talking to her right now.. Rachel is going around the house which is perfect ..letting everyone know that she is voting for Kaitlyn. Its going to be very beneficial for us to get kaitlyn out. The only thing I need from you is to keep quite and don't flip your vote. The only thing we need to do is to let Rockstar know that Rachel is voting her out. She's voting you out B***H. Bay – just tell Haleigh to tell her.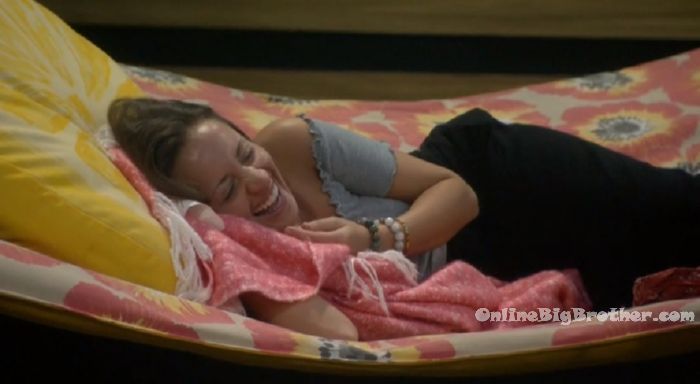 8:10pm Backyard Hammock. Kaitlyn and Brett. Kaitlyn – Brett tell me something that will make me laugh. Brett – when I was a sophomore in high school I did this mr montville talent show and I came in dead last. I will tell you this the judges were f**king a$$holes and I told them that after. I did a group dance to thriller.
Kaitlyn – Joe is bugging out right now. He is bugging out! Knowing him he has booked a flight from LA, he is waiting outside the CBS lot waiting to f**k someone up. Brett – I have a feeling he is a lot more peaceful in person than that.
Brett showing off his Thriller dance moves..#BB20 @bigbspoilers pic.twitter.com/IIIhM810xH

— Dawg (@DawgsBigBrother) July 24, 2018
Try the Live Feeds FREE for 7 DAYS! Click here for your: FREE Trial

8:20pm Storage room. Sam is alone in the storage room crying. I want to go home. JC joins her. Sam – I just had a moment. JC – I need to know where your head is at so I can help you. Sam – I just go back and forth today.. I was okay and proud of what I did and then I wasn't. What if everything backfires and the other power is .. and I end up going home. JC – you're not going home. I was just really surprised. I fought so hard the first week to get you votes and keep you here.. And then I hear my name. Sam – everyone knows how much I love you. Everyone knows you're my best friend. This nomination is not final, the person evicted gets a second chance to get back into the house. So I offered it to someone I really care about. I was never actually going to put you up there. It was to soften the blow. It was more like a gift. I would never put you up or put you in a bad position. I tell the truth and Julie is going to back me up on Thursday when this actually happens what I said. I am 100% honest every day. JC – what if there is a tie who would you vote out? Sam – what do you mean a tie? JC – it could be a tie. Sam – who do you want out? JC – I want Kaitlyn out. Sam – Okay to repay you for surprising you and freaking you out.. If it is a tie, I will break it and send out Kaitlyn. JC – I don't know where Tylers head is at .. I spoke with him and it sounds like he might keep Kaitlyn. Sam – You have my word if it comes to a tie, I will break it and send Kaitlyn out.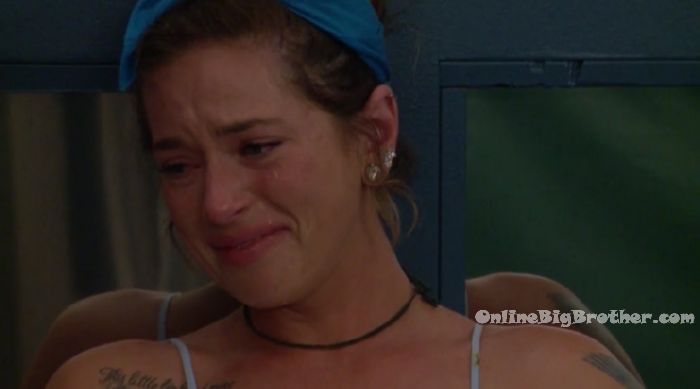 8:20pm Hammock. Kaitlyn and Rockstar. Kaitlyn – Haleigh and Bay are obviously going to vote to keep you. He made it very clear what he did. Like why would he get me to throw him the veto and then him not use it to save me. It was disgusting. I would have expected it from anyone but him. It just goes to show you that we don't know jack sh*t about this game or people's intentions. And the part that sucks is .. I am sad because I thought we had a special connection. I thought he was my best friend that I've ever had. That's what's hard when the game becomes so personal. It brings up things from my past like the fear of not being worthy enough. It feels like I wasn't worthy enough to be saved. That's what hurts me, none of this other sh*t matters. None of it. Kaitlyn – if we both stay in the house can we just power through to the end. Rockstar – ummm yeah if you want? Kaitlyn – yeah I just asked.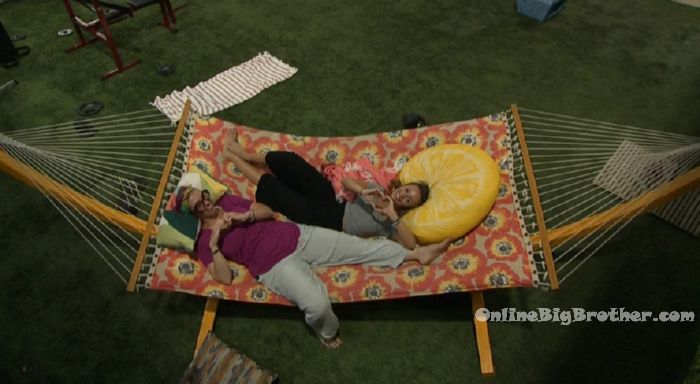 8:53pm Bathroom. Tyler and Kaycee. Tyler – I just want to be on the same page but JC won't f**king budge. He wants Kaitlyn gone. Sam wants Kaitlyn gone. And I don't want to be pissing them off you know what I mean. Kaycee – yeah. Tyler – but I feel like we could control Kaitlyn more than we could control Rockstar. Kaycee – yeah true.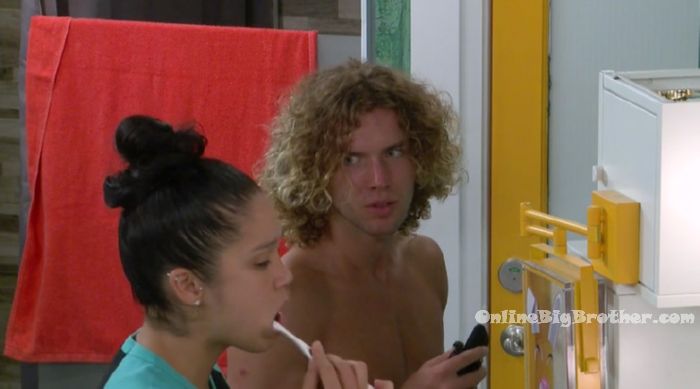 Havenot room. Bay and Scottie. Bay – either way I don't care. I just want to know where to place things. I don't know how close you are with Kaitlyn.. Scottie – I don't trust her. Bay – regardless of what she says.. she said that you told Tyler that you flipped on Swaggy. Scottie – I didn't tell her that. He asked me and I said no comment. Bay – okay. That's fair. But at this point in time and moving forward I have decided who I trust and lean on. Scottie – lean on what? Bay – you. We trust each other right!? Scottie – yes. Bay – I don't know if someone is going to come back or not but I know some people want to keep her (Kaitlyn) around because she is a target. Scottie – that is stupid. Bay – I agree. But before I go into the vote I just want to know where everyone's head is at. So when you decide tell me so I can figure out where I will vote. Scottie – given the choice I would rather have Rockstar here. Bay – ok. I am on the same page. They talk about how Kaitlyn lied about the power being used last week and about the details of Sam's power. Kaycee joins them.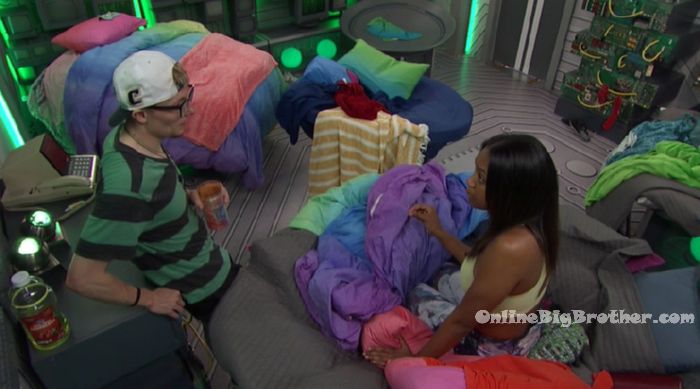 9:22pm Hammock. JC, Rachel and Angela. Rachel – who do you think Fes would put up if he wins? Angela – I think Brett and Tyler. Rachel – or do you think he would put up Kaycee? The only people I am honestly worried about are Scottie and Fes. Angela – I am really scared about Scottie. He is watching everyone's moves. Rachel – if he hadn't won that HOH, I would have won and he would have been out the door. Do you talk game with him. Next week the people that cannot be in power are Fes and Scottie.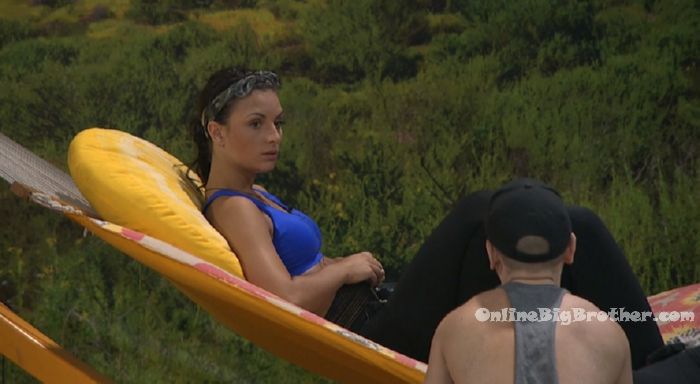 9:37pm Bathroom. Kaitlyn, Haleigh and Rockstar. Haleigh – If I win HOH next week I am putting Sam up and my speech will be you did this! I was never once personally coming for you in this game and this is me reacting to you're.. Kaitlyn – this whole game is us reacting. She is silly for doing this..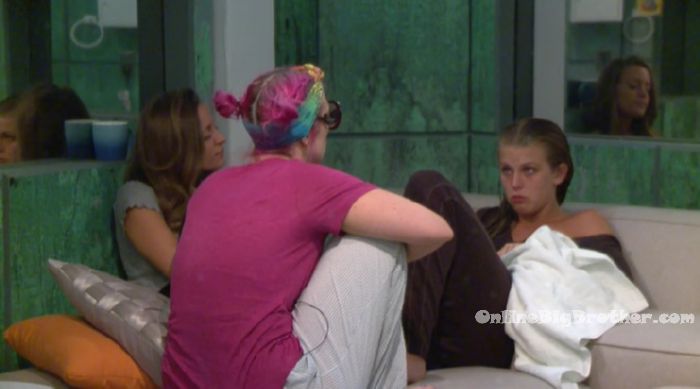 10:20pm Havenot room. Brett, Bay, Kaycee and Rachel. Brett – Rockstar said the other day in the kitchen .. this sh*t just isn't worth it. I want to go home. Bay – let me throw this out there.. we are all single with no attachments except the two people on the block. Rachel – now we can all have an o*gy. I'm on your side (she points at Brett). Just kidding its a joke.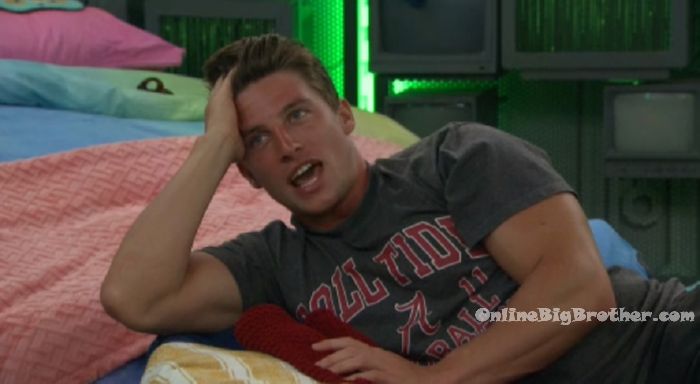 10:20pm Bathroom. Fes and Scottie. Fes – What's better for your game? Rockstar or Kaitlyn? Scottie – its a tough call. Fes – do you think Kaitlyn is more on your side? Scottie – I feel like they're both on my side. But I am leaning towards Rockstar. Fes – because she is more loyal? Scottie – yes. Fes – that makes sense because Kaitlyn goes off the deep end some times and does sh*t. Scottie – she also the one saying the power got used every week. Every week she describes a power getting used. And what we learned today is that no power has been used. So where are these theories coming from? And why are they coming out. Not just that but her connection with Tyler is scary. Fes – the only reason to keep Kaitlyn is she is good at comps and if she is on our side. Rockstar isn't going to win comps and she is on our side.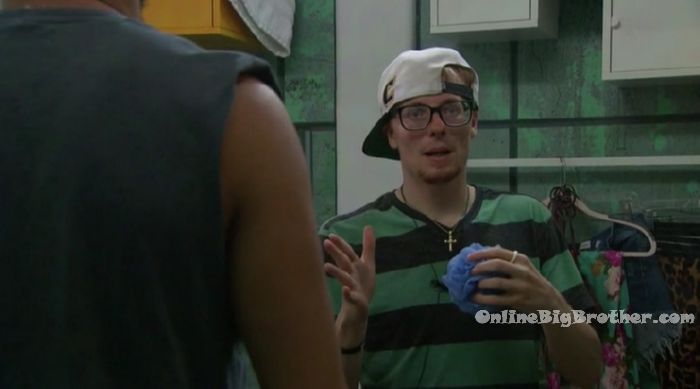 10:50pm – 11:05pm Backyard Rachel and Kaitlyn are goofing around doing a "little fartlets" routin for Angela and Haleigh. "It wasn't me!"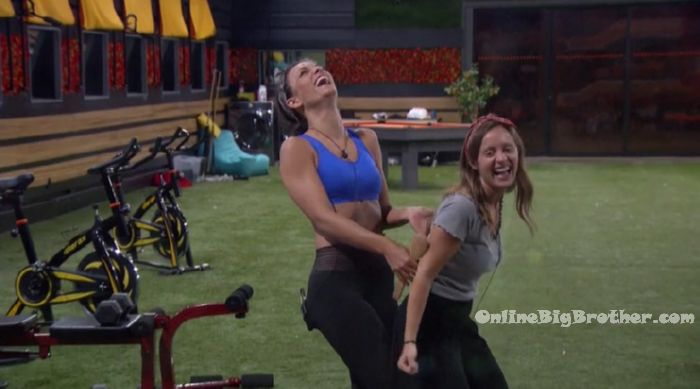 HELP keep the spoilers coming! Show your support by making a donation. ANY amount is greatly appreciated! Your donations go directly to paying the fees required to run this site.
For all you folks that need a VPN I use this one
Rank the houseguests!
Easiest way to Rank the house guests use link below