Last night was part one of the 2 part Big Brother 20 Premiere. We were introduced to the new cast and watch them scramble into the house. The house guests were separated into 2 groups based on the groups they entered the house as. These two groups than competed in separate competitions. The 2 winners competed in a final competition with the winner of that one getting to select 2 groups to be safe for the week. The two losers of the first competitions were given costumes to wear until the live eviction next week.
Spoiler Summary of Last nights premiere
Swaggy-P won the power to keep two groups safe.
Rachel, Chris, Brett, ROCKSTAR, Haleigh, Scottie, Faysal, Kaycee
Sam's punishment is she can only communicate with them through a robot. She is stuck as a robot until the first eviction. robot offline she has to go to the diary room and has to return as a human when she hears robot online she returns as a robot
Kaycee is in a pinwheel unitard. If the pinwheel around her next spins she has to stay in the room she's in until it stops.
Just a reminder the feeds start tonight!
Get them through this link
For all you folks that need a VPN I use this one
Episode 2 Spoilers

Sam is still a robot
Swaggy-p over hears Kaitlyn and Angela talking sh1t about him.. (Rockstar and ROCKSTAR are also there))
Sawggy-p – you know swaggy -p is around here creeping around..
Kaitlyn now has changed her mind and isn't mad at Swaggy-P (LOL)
Bros checking out the girls.
Bros being bros.
Bros being dinosaurs.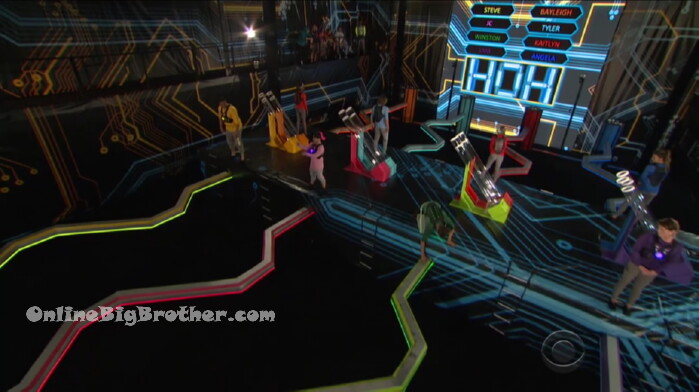 First Head of House Hold competition
Steve, Winston, Bayleigh, Steve, Tyler, Kaitlyn, Angela, Sam, JC get to play. The players are supposed to run across grab balls and place them in other house guests tubes. Once you reach the line the house guest is "deleted" from the competition.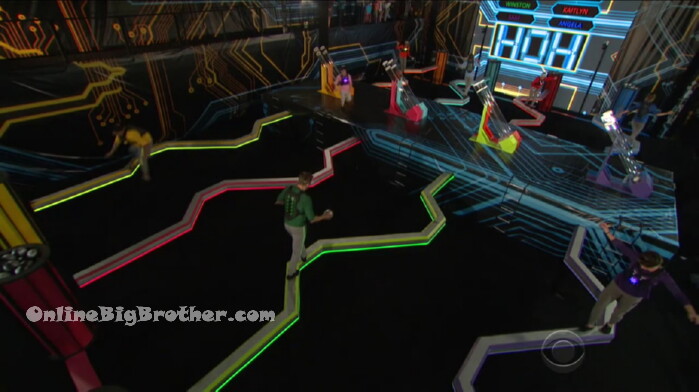 Steve has some major sack destroying wipe outs.
Sam is the first player deleted..
Steve gets eliminated next "now I gotta start working deals.."
Kaitlyn goes out
Winston is deleted
Angela .. deleted..
JC, Tyler and Bayleigh are the last three.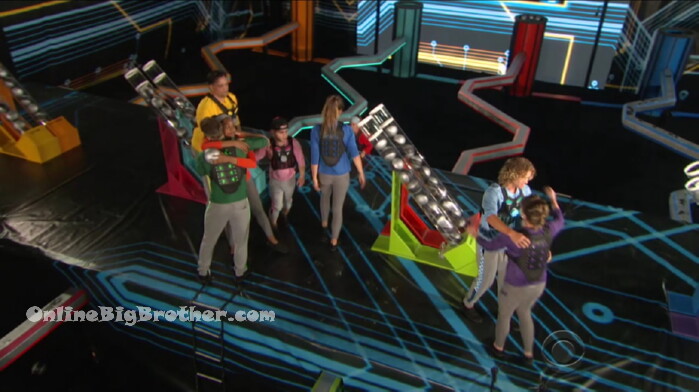 Tyler wins the Head of Household. He has 7 people to choose from for nomiantion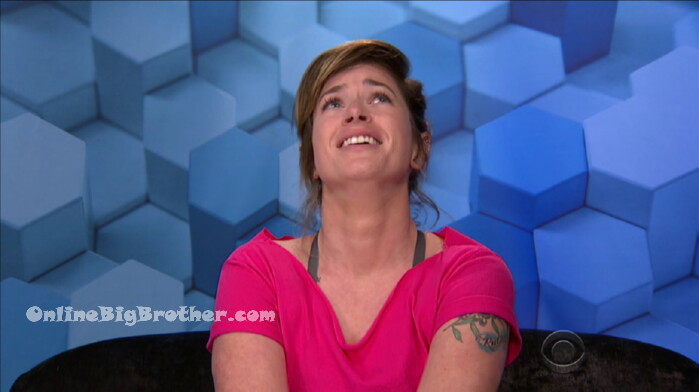 Sam is worried she's going to be nominated.
(If they don't show us on tonights show we'll We'll know who is nominated tonight.)
Winston proposes a "power alliance" including: Brett, Anglea, Rachel, Kaycee,
Tyler says it's going to probably be Sam and Steve up and if POV is played Bayleigh goes up.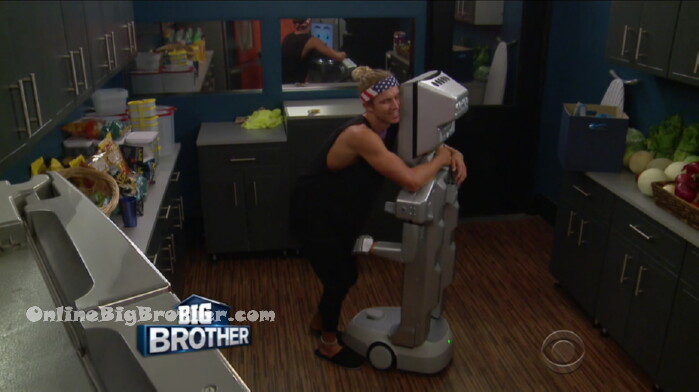 Sam Campaigns as the robot/ She starts to cry says she feels like a outcast. Tyler tells her she is safe this week.
Faysal and Kaitlyn come in to campaign to Tyler.. Kaitlyn wants to hold hands while they talk because"that is how we roll". ROCKSTAR comes in..
ROCKSTAR says the worst move would be to put up Sam and Steve because they are not threatening. They recommend Winston and Angela.
Swaggy-P comes in and says Sam and Steve going home is the same as a nobody going home. Starts to push for Angela and and Winston.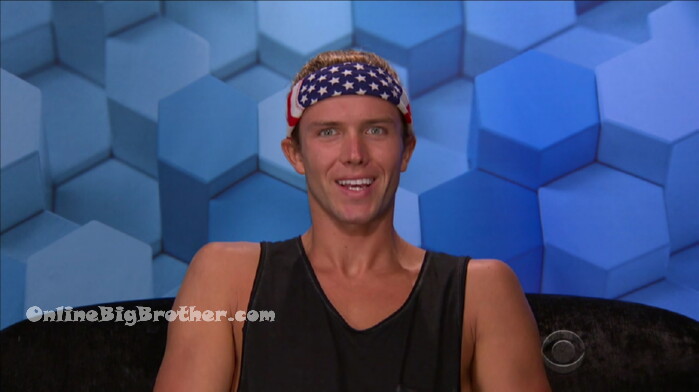 Tyler tells the DR that he's onto Swaggy-p's plan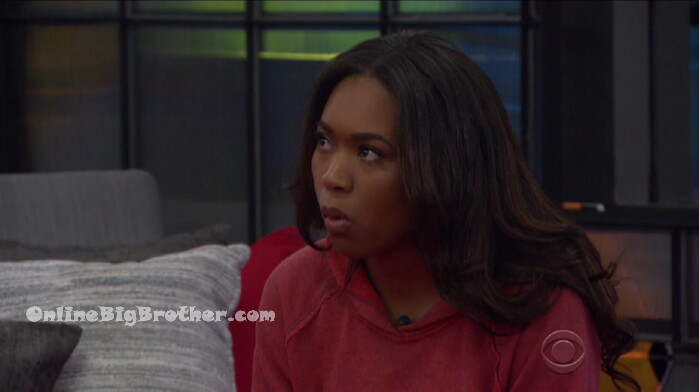 Bayleigh talks to Tyler tells him he's the sweetest person alive. Bayleigh recommends nominating the first 2 people out in the HOH competition. Get the least blood on your hands. Bayleigh slips up and says her and Swaggy-P are close like family. Tyler is now thinking about taking a shot at swaggy-P's crew and putting up Bayleigh.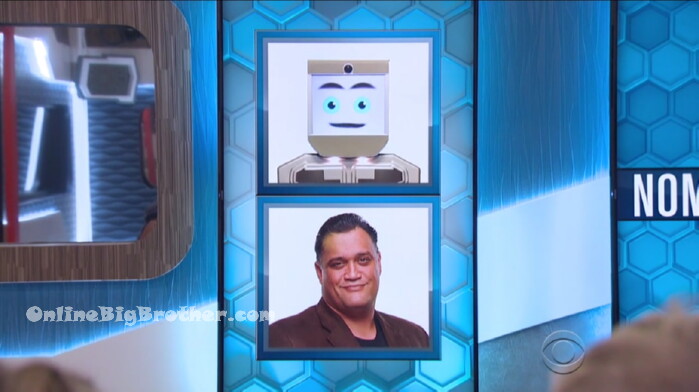 Tyler nominates – Sam and Steve
Rank the houseguests!
Easiest way to Rank the house guests use link below
Share it YO!!
Tweet