Julie tells us this season of Big Brother is 99 days long.
House guests from every season of Big Brother in the audience..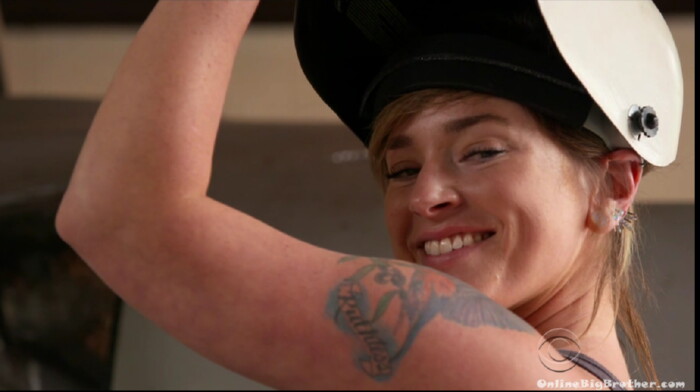 First 8 Houseguests Home segment
Tyler (Like to look at cute girls in bikinis)
Bayleigh (Ms Missouri USA .. Came in 10th at Ms America)
Sam (lives in a camper)
Winston (Big Believer in the 2nd amendment feels "more safe going in a movie theatre with a gun on my hip" )
Steve ("Buying drugs.. Buying Guns")
Kaitlyn("90% love and light 10 % go screw yourself")
Angela("I have to tone it down so I don't emasculate guys")
JC ("I do power lifting.. I'm small but I'm very strong.. very mighty")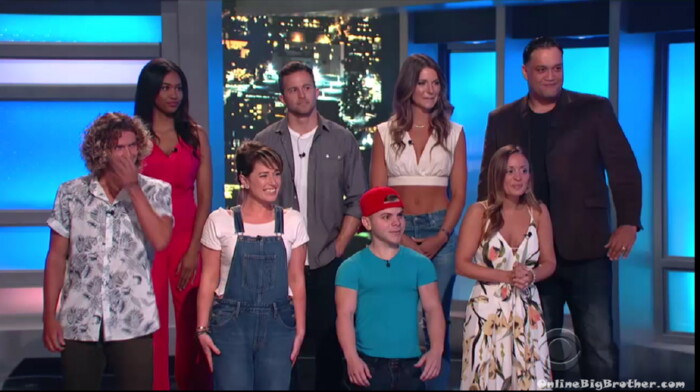 First Four Houseguests to enter the House
Tyler, Bayleigh, Sam, Winston
Second Four Houseguests to enter the House
Steve, Kaitlyn, Angela, JC
Second 8 Houseguests home segments
Rachel (I know a lot about the show.. I know the show.. I know how to flirt really well )
Chris (Swaggy-c .. I gotta look fly no matter what)
Rockstar (Rockstar .. rockstar.. rockstar.. peace through partying )
Brett (I consider myself a bro.. doing bro stuff.. being a manly man.. I'm an american patriot)
Kaycee (I play Women professional football)
Scottie ("I'm a huge gamer .. I like everything with elves in it")
Hayleigh ("I had to clean the stalls")
Faysal (when he walks into a class to teach kids they look up from their phones and say… "Oh my gosh would you look at him")

First four House guests to enter the house
Hayleigh, Scottie, Faysal, Kaycee
Last four to enter the Big Brother house
Rachel, Chris, Brett, ROCKSTAR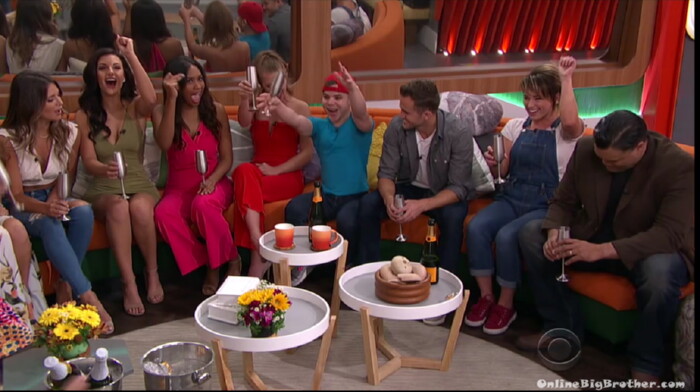 Everyone scrambling to find a bed.. Champagne and introductions.
First competition -*- BB super computer -*-
Houseguests compete in 2 groups of 8. Power to "reprogram first week of the game" the winner has the ability to keep 8 houseguests safe including themselves
First 8 land in the bb computers "trash folder". It's total darkness and covered in green goop. They have to find a hidden folder and return them to the reveal room. 6 folders are marked escape one is marked escape and Play. Find the special folder and win. the house guest that does not find a folder gets a punishment that will impact their game.
Tyler finds the escape folder. He decides to go back into the house and not try to get the escape and play folder.
Bayleigh finds an escape folder. Goes back into the house.
Brett finds an escape folder, Goes back into the house
Angela find the escape and play folder
Rachel finds an escape folder
JC finds an escape folder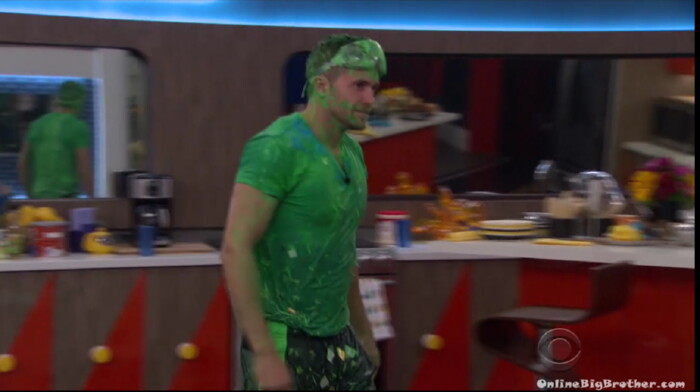 Winston finds the final folder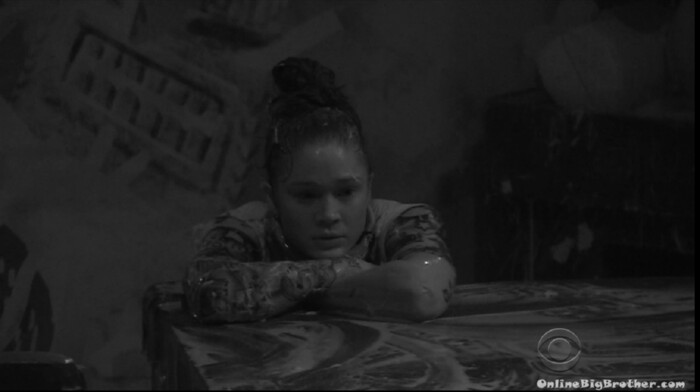 Kaycee gets a punishment
The next 8 house guests compete. They have to spell "Houseguest". Chris did it the fastest. He will now move on to face Angela. Sam lost.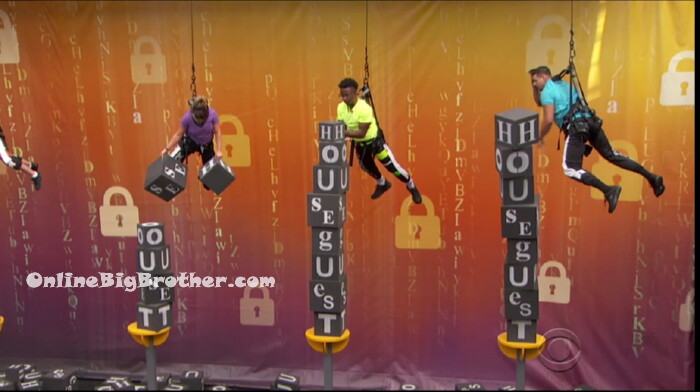 They have to prove they are not a robot. They have to search the letter blocks below and spell Houseguest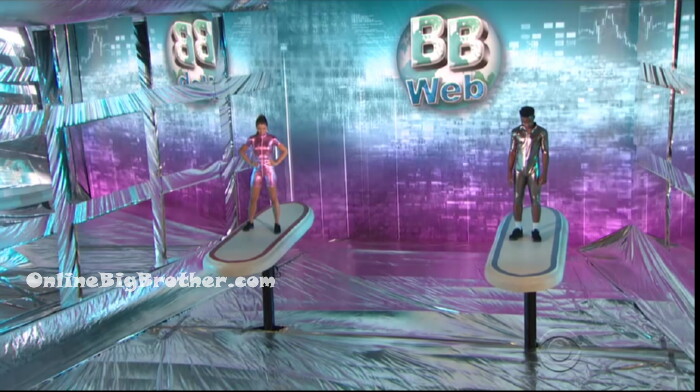 Surfing the BBweb
Angela and Swaggy-C get to compete for the power to reprogram the first week in the game.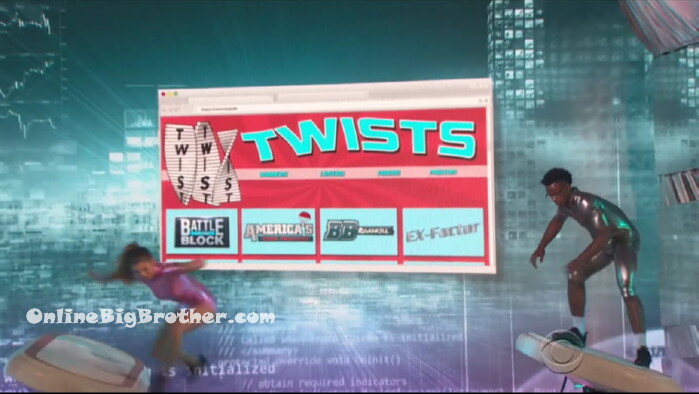 Angela drops.. Saggy-C gets to choose 2 of the four move in groups to keep safe from eviction.
Kaycee has to wear a uniform as her punishment called the pinwheel of doom.  She hates it especially the shoes. JC and ROCKSTAR are devastated.
She has to wear it until the live eviction. when the pinwheel spins she has to stay in the room she is in until it stops.
Sam's punishment is she can only communicate with them through a robot. She is stuck as a robot until the first eviction.
robot offline she has to go to the diary room and has to return as a human when she hears robot online she returns as a robot
Swaggy-P picks the 2 groups for safety
Group 1 safe – Rachel, Chris, Brett, ROCKSTAR
Group 2 safe – Hayleigh, Scottie, Faysal, Kaycee
To get a look at how the first impressions ranks are shaping up
Easiest way to Rank the house guests
Share it YO!!
Tweet