| | | | |
| --- | --- | --- | --- |
| POV: | ? | Next POV: | July 28th |
| POV Used | ? | POV Ceremony | July 30th |
| HOH: | Bayleigh | Next HOH: | August 2nd |
| Noms: | ? | Have Nots | ? |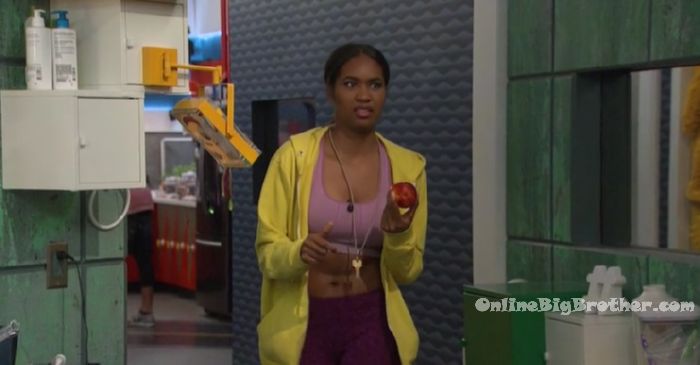 HOH WINNNER: BAYLEIGH
9:48pm The live feeds return – Bayleigh has the HOH key around her neck. In the bathroom – Rachel tells Tyler – its not the worst case scenario. JC – what do you think she is going to do? Kaycee – I don't know but Fes, Rockstar and Scottie were in the storage room cheering.
In the bedroom. Tyler tells Rockstar that he voted to keep her. He says that if Kaitlyn had stayed in the house or came back he would have told her that he voted her out.
Bathroom – Fes – people back home and friends are going to stop watching the show. Five times I haven't won HOH. They talk about the competition was an Out Back Steak House competition. Tomorrow a bunch of them will get an Out Back Steak House dinner. Rockstar does "I'm still here B***hes" Dance.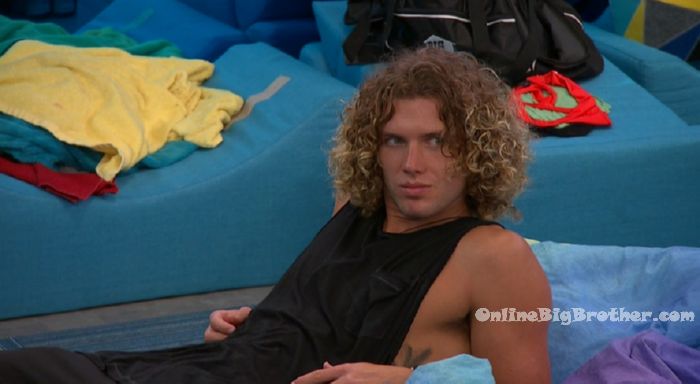 Fes to Bayleigh – I threw it so that maybe I could compete and win the next one.

FLASHBACK and watch everything you missed: Live Feed 7 day FREE Trial!
10:10pm Lounge room – Tyler to Bayleigh – I'm proud of you! You deserve this! Bayleigh – thank you. Now I have to figure out this HOH thing. You're going to love it. Bay – really? Tyler – no. Bay – one on one's are going to be awkward. Tyler – are you going to do them all day tomorrow? Bay – no, noms are tomorrow. Bay – I don't think you were the one to flip .. I think someone tried to frame you. Whoever did that I think did it with malicious intent. I want that person to be exposed. I know Fes didn't vote for her and you didn't. I know a lot more than you think. Your loyalty has put you in a bad spot which makes people look at you differently. This week will just be a reset week for you. Tyler – I was just trying to be a good person and to not screw up someones life. Bay – everyone thinks that we were trying to be loyal and not malicious. Tyler – I was just trying to protect her. Bay – I am interested to see what the motive was because you're an awesome guy. And Fes is an awesome guy. Why would she put you guys in that situation. Tyler – maybe she genuinely felt that way about both of us. Bay – that's fine but if you genuinely have a boyfriend you know camera's are watching. If it was just Fes .. fine but the fact that it was both of you in such a short amount of time.. I just doesn't make sense.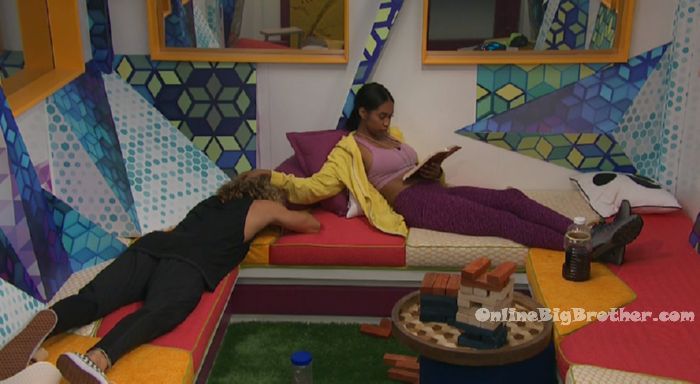 Havenot room. Brett – Kaycee is real close with her so I hope she has enough influence in her ear. Rachel – I am hoping that .. I am just going to try and get him out. (She points to the other havenot room saucer) Brett – him and a girl. Like you should really push that make it a guy and a girl.
Lounge room. Bay and Tyler. Bay – the worst thing is when people look you in the eye and lie to you. People have done this to me the whole game. Tyler – I feel like I am a lone wolf. Bay – I think you should really sit back and think about who Tyler is in the game. Tyler – I just need to get over that hump now. Bay – its been two weeks since Swaggy left and its still hard. Bay – you don't look like an idiot, she (Kaitlyn) does. Tyler – I had to warn her so many times. Bay – I warned her but she still continued to do it. Tyler – with Fes? Bay – yes. I pray to god that Joe and her are as solid as she says they are… but after all this I don't know what she has waiting for her. I am terrified for her. Tyler – I'm scared for her too. Bay – you tried. Tyler – you let me know what you need this week. If you need to put me up you can. Bay shakes her head no. I need loyalty from you. Tyler – this week will be a proving ground. I would rather you on my team. Bay – I just need to make sure you have my back because this game is about to get crazy! I know you have a thing with Sam and I won't touch that. I do want to know what is going on with you and Scottie. Tyler – Scottie and I have been drifting a bit. Bay – if I do something crazy .. I might need you to play in that veto. Tyler – if you need me to gun for it I will. Bay – when I won (HOH) there were a few people that reacted and weren't happy.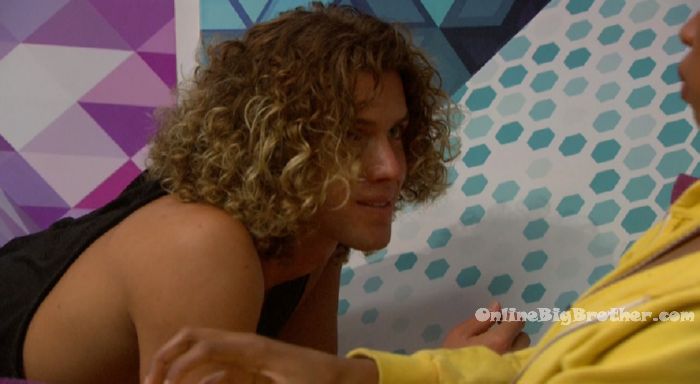 10:50pm Bathroom. Haleigh, Bay and Rockstar. Haleigh – the weight that is off my chest now that she is out of this house .. like I can breath. Did you see her (Kaitlyn) face when she realized? It was SHOCKED!!! She told Fes before that he didn't do enough to keep her but that she was still going to stay. She still thought she had the votes. She just thought it was going to be 6-4. Did you hear how quiet they were when she exited. It was silent and then they started to clap. Bay – because they were cued to. Haleigh – do you know what they (Fes and Tyler) both said in their GBM (good by messages) .. they each started with Kaitlyn, Kaitlyn, Kaitlyn. IF she did have a Joe, she don't no more! She said that Fes and her were "sole mates" and she has been in a relationship for 5 years and never said that. And she said that to Tyler and Fes. Bay – she probably regrets it.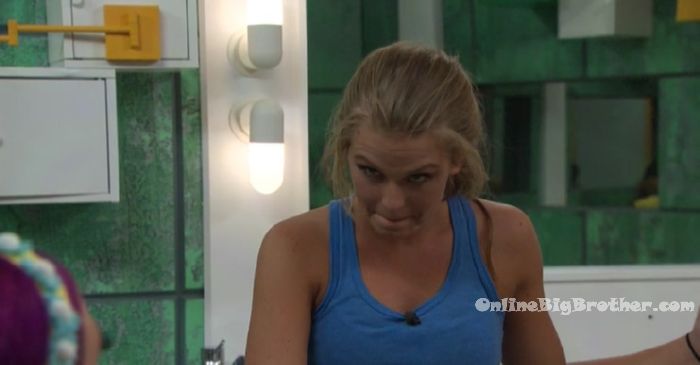 11:15pm Lounge room. JC – I guess she isn't going to put Scottie up. Rachel – why? Rachel – he also told Winston that she voted to keep him. Scottie also told Brett that he voted to keep Winston. Rachel – don't speak of what I've juse to anyone.
11:30pm Bedroom – Haleigh to Rockstar Haleigh I want Sam out of of here. Apparently Tyler told Fes. Tyler and Fes had a conversation last night and compared notes. They were both pissed and so they went into the diary room to change their goodbye messages. They were both like "Kaitlyn, Kaitlyn, Kaitlyn, you can't run around this house saying we're your sole mate when you have a five year relationship so JOE if you're watching this.. she's got to go!! BOOM!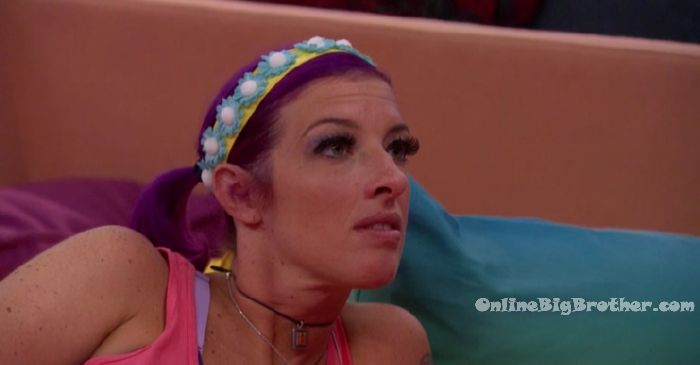 11:50pm Tyler tells Kaycee – I think Bay might put up Brett and JC. Rachel joins them. Tyler leaves. Rachel tells Kaycee – we need to push for Scottie to go up. He was the rogue vote. He is a triple threat. Kaycee – we don't want to be too pushy. Rachel – I just don't want Haleigh and Rockstar to push Brett and Tyler to go up.
HELP keep the spoilers coming! Show your support by making a donation. ANY amount is greatly appreciated! Your donations go directly to paying the fees required to run this site.
For all you folks that need a VPN I use this one
Rank the houseguests!
Easiest way to Rank the house guests use link below