| | | | |
| --- | --- | --- | --- |
| POV: | ? | Next POV: | July 28th |
| POV Used | ? | POV Ceremony | July 30th |
| HOH: | Bayleigh | Next HOH: | August 2nd |
| Noms: | ? | Have Nots | ? |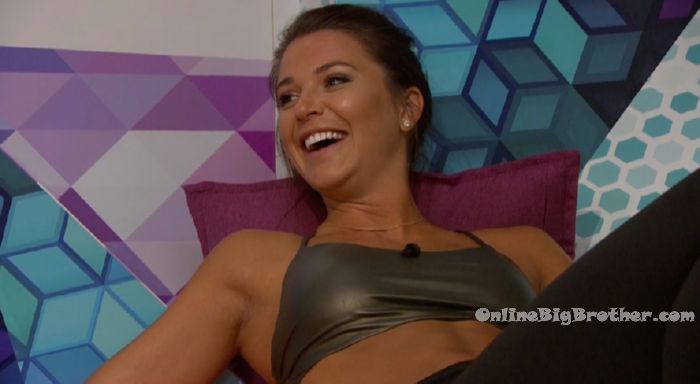 12am Lounge room. JC – Brett did she (Kaitlyn) ever tell you that she was in love with you? Brett smiled and says he isn't saying anything. Rachel – what did she tell you? FES – come on!! Brett – I'm not saying a word. Angela – she had feelings for you and you were her sole mate. Brett – they weren't feelings. There were other words exchanged. Nothing to do with feelings. Rachel – what sexual feelings? Brett – no no NOPE NOPE NOPE! Angela – Brett you have to tell us! JC – you have to open your mouth. Fes – let the live feeders know. JC – they're going to love you if you just come out.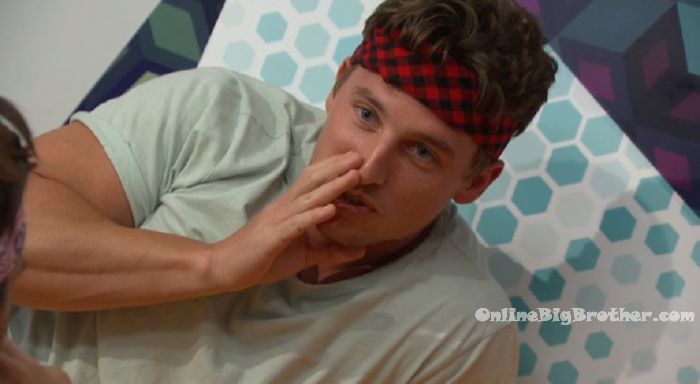 Brett – DAY 2! Fes – you're f**King lying!!! Everyone moves in closer. Brett – DAY 2 I wake up. I am sleeping under the things. She crawls in my bed in the morning and drops the mic. Pulls the covers over and goes "if I didn't have a boyfriend I would totally f**k you." All the house guests in the lounge room scream. JC – DAY 2 B***H!! Brett – That was it, I hadn't even woken up! I wish I did't just say that.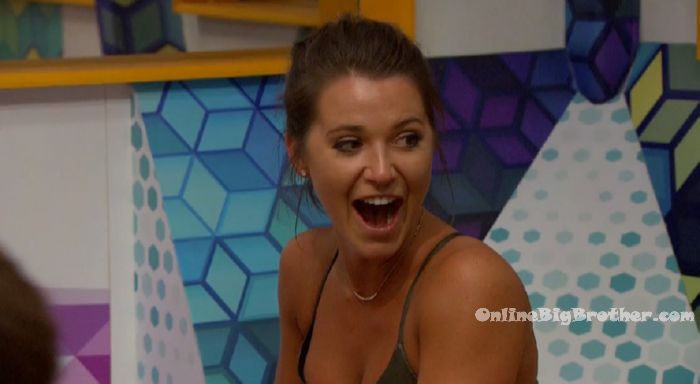 Fes – she was HOH and the week before she was HOH she was grabbing my hand and trying to put it on her.. Rachel – boob? Fes – MMMhhhmm. and then she gets up to go lock the HOH room door. And I was like no do not lock that door. I asked her what were you planning to do? Fes to Brett – did she ever try to touch your junk? Brett – I was just very careful with my positioning. Like ..(Brett curls up in the fetal position lol) JC – are you f**King kidding me. Brett – she kept pushing into me and I just kept pulling away. Fes – when I was in the HOH room showering she would always try to look and ask if I needed anything. Rachel – why is she throwing herself at men? Was this a strategy or is this how she is in real life. Angela – I don't think Joe exists. Fes – if he does, he doesn't anymore! He doesn't anymore .. he's booked a flight out of the country. Rachel – who is JOE??? WHO IS JOE!!!??? Big Brother switches the feeds. Rachel – to preach women empowerment and how she and then she is laying in bed with him and rubbing her butt up against his ding dong. Angela – no respect for herself. Rachel – but remember the talent show story she told us. Angela – remember the first story she told us about her v@gina? Fes – how it was too tight. Angela – and how she had surgery. That is the last v@gina he (Fes) wants to put him d**k into. Fes – this the longest I have gone without having the urge.. 31 days plus sequester. Fes – she was saying she was always crying about him. Rachel – she could turn on the tears like that!
FLASHBACK and watch everything you missed: Live Feed 7 day FREE Trial!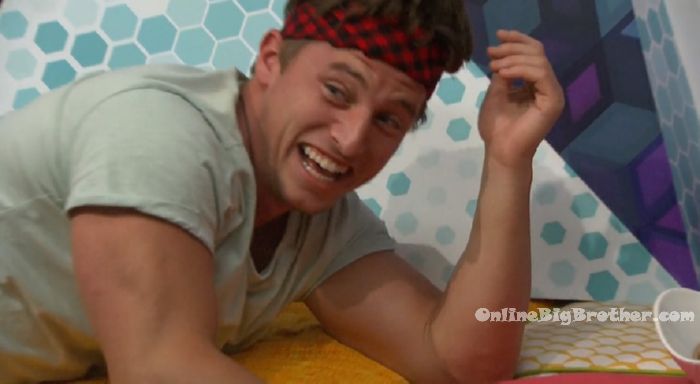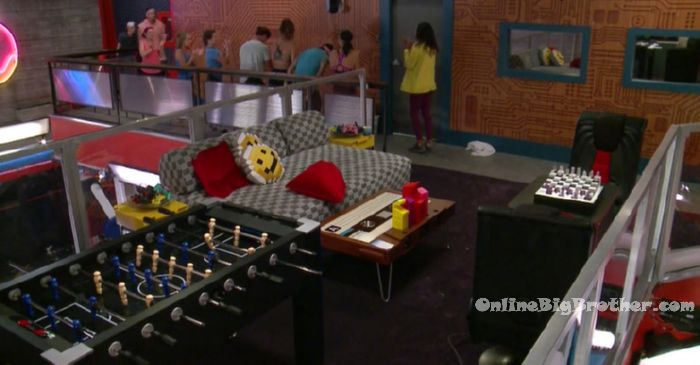 12:18pm Bayleigh HOH room is ready. They all head up to the HOH room cheering. Bay tells everyone – you want to win HOH until you win HOH because then you realize you have to put people up. Real talk I feel like I've connected with everyone in the house. When I do put people on the block if you want to turn it into a personal thing, that's on you. That's not what this is, it is completely game related. But know that I literally love every person in this house. I just don't want it to be a dramatic, crazy messy week. I don't know who I am going to put up yet and I don't want people freaking out. Like please just don't. We're going to have one on one's. I want everyone to come talk to me because I want everyone to feel like they have a chance to be heard. And I am not … we have had some really nice HOH's but I am not them. People can come in my room and stuff but the first two weeks this was cyclone.. people had razors, there was toilet paper and cereal all over.. and that's not going to be my room. And don't feel like you can't come in my room or feel like you can't ask me something. I know I'm scary but I'm not that scary. Okay that's it.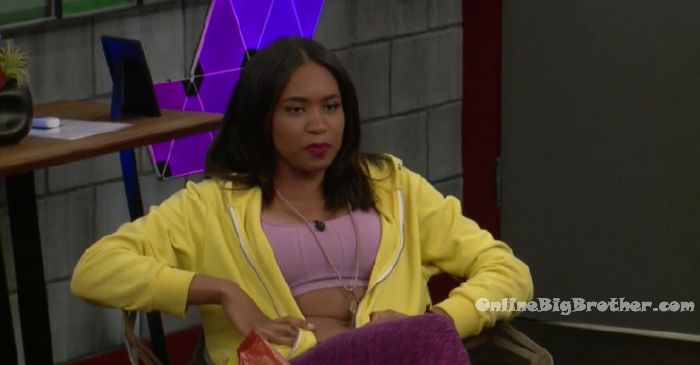 12:50am HOH room Haleigh is listening to Bay's Cardi B music. Haleigh talks to Bay – first of all I respect your decisions. I am here as a confidant and council for you. I have no preference. I think anyone that is not with us is against us. Sam is a threat to me going forward because in the event that she does win HOH again .. Rockstar and I will go back up. In the event it doesn't worry me too much. I don't want us to out ourselves and the girl thing. In the event you put up two guys and if the replacement was a guy. We're outing ourselves. Scottie was talking saying I don't think she will eliminate that girls. Other than that you know we got rid of the problem. Bay – I think that we don't want to out the girl thing but the only people that are threats to me are the guys. The only two people that I think would put me up if they won would be. Who do you think they are. Haleigh – Brett? And Tyler? Bay – Brett and JC. I will say this Scottie has been acting real shaddy. He wore a tshirt (Swaggy C shirt). And after Tyler came to me crying today, I definitely think it was malicious. I know that Scottie is not trustworthy. Haleigh – my goal this week is to get closer with Angela and Rachel. Bay – don't get too close because I don't trust them. Haleigh – be careful with your one on ones. Bay – I will. I want you to be out there letting me know what's going on Haleigh – I will work on Tyler too. Haleigh leaves.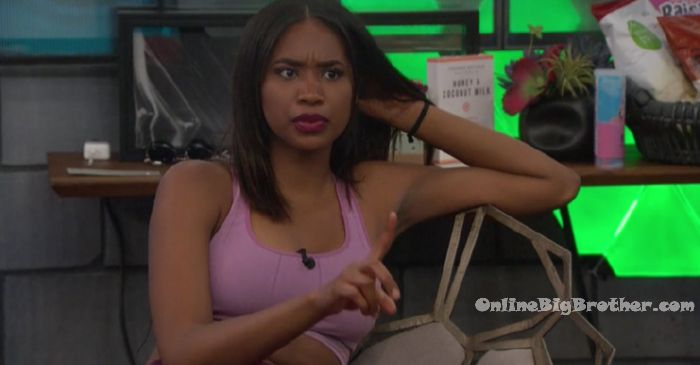 1:15am Kaycee to Sam – I am very confident that she will not put you up. Sam tells Kaycee that she (Kaycee)'s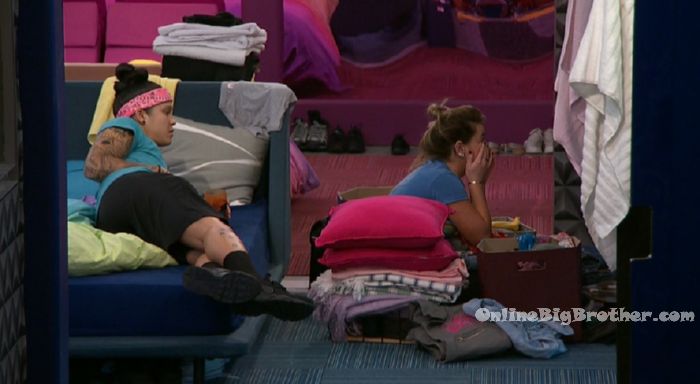 1:20am HOH room. Bay and Angela talk. Angela – congratulations. They talk about Kaitlyn and how she spread rumors and lies. Bay – your chill and lay low. Obviously you are not going up. I love you to death. Angela – when I give my word I stick to it. Bay – I came up with a name for us. We're the "Amazon Alliance". Angela – we're going to have an amazing summer .. we got rid of all the bullsHh*t. Bay – I do want to stick to the all girls alliance. Angela – I think the all girls alliance is genius. If its between a guy and a girl I will choose a girl every time. Bay – I need to figure out how to do these one on ones.
1:26am Bathroom. Tyler, JC and Brett. Fes – I don't think America thinks I'm a dumbass because if this girl is saying all this stuff about me. Why would I not keep her around!? I was like she is never going to put me up. Tyler – that's what I thought too. JC – the fact that she knew that about your dad. It hit me .. and then she would make it about the game. That is just very low and dirty. Tyler – she (Kaitlyn) didn't specifically say your Dad knows I should stay. Your dad knows what to do. Fes – that's bad bro! Tyler – it doesn't matter to me because I see right through it.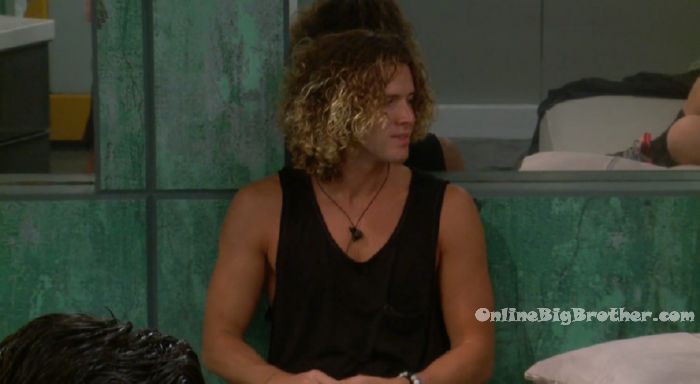 1:25am Rachel comes walking into the bathroom. Wearing Katilyn's grandmothers blanket and other clothes. What you think you can escape me!? Brett – I can't! I can't! Tyler grabs for the blanket and says they shouldn't.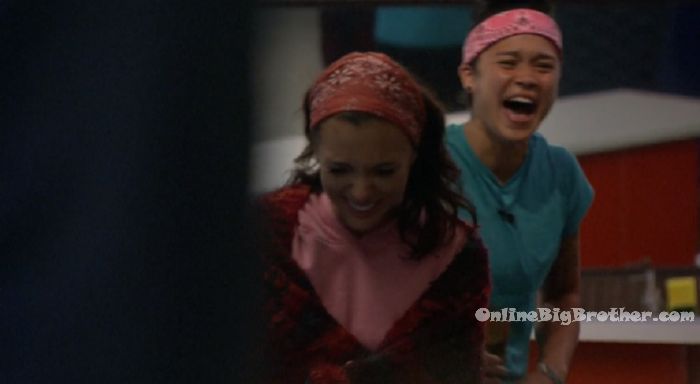 1:50am Lounge room. Tyler and JC. JC – I think Fes is trusting me more now. Tyler – Bay told me that I'm a physical threat and that she wants me on her team.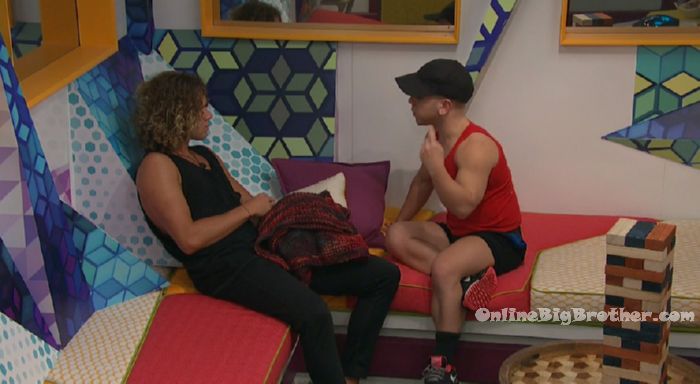 1:50am – 2am HOH room. Fes talks to Bay. Fes – who are you going to put up? Bay – I'm going to put up Brett and.. Fes – and Tyler? Bay – I don't think so, if there is a replacement then I think I will. I think Tyler deserves a week to recover. He got his pretty hard this week. I think Tyler is a free agent now. We still have the power app in our back pocket and could throw Tyler up there. Fes – that's true. What did Haleigh say? Bay – she said put up Brett and she is worried about Sam. Fes – I know you like the 3 girls are you thinking of putting one of them up next to him? Bay – here is the problem I just spent havenot week with them. The only one I would consider is Rachel but she would lose it! Rachel would lose it!! The only three people I was considering were JC, Rachel and Brett. Fes – JC's plan was to get Kaitlyn out that way she is out of Tylers ear. I wouldn't put JC up. Bay – the only time JC votes with us was when it was unanimous. JC has never said he's cool with me. Fes – talk with both of them. (Brett and JC) Bay – Rachel acts like she is scared of me and I hate that. Fes – those three have skated on by.. Bay – they haven't done anything. If I do put up Rachel instead of JC .. then I need absolute loyalty from JC. He is an asset and will vote the way we do (LOL not likely). Bay – you need to make sure you never pick JC over me. Fes – f**K no!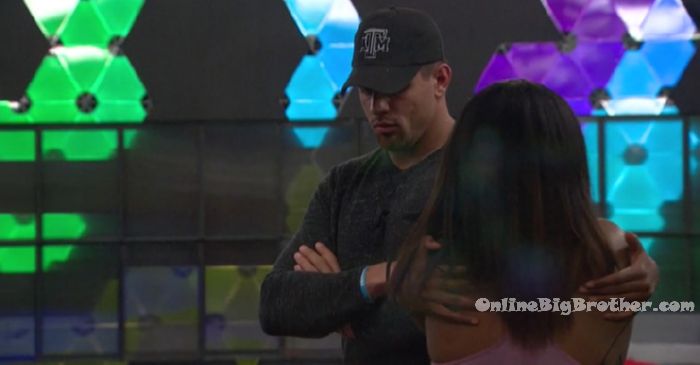 HELP keep the spoilers coming! Show your support by making a donation. ANY amount is greatly appreciated! Your donations go directly to paying the fees required to run this site.
For all you folks that need a VPN I use this one
Rank the houseguests!
Easiest way to Rank the house guests use link below