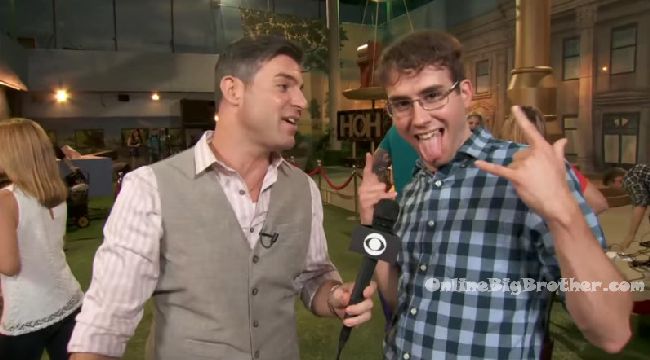 Last night the finale of Big Brother 17 aired and Steve Moses was crowned the winner by a vote of 6 – 3 taking home the 500,000 grand prize. Steve had said numerous times through out the season that it wasn't about the money, it was about the experience and if he left without a dime he would still be happy. He never thought he had a chance to win because he knew he didn't have the social skills. His decision to evict Vanessa in the final 3 was the huge move he needed to seal the decision by many of the jurors. In addition to Liz's lack of being prepared with a finale speech and her inability to give compelling reasons why she deserved to win over Steve. Liz won the runner up prize of $50,000. The America's Favourite house guest vote came down to the top 3 where Johnny Mac, Jason and James and received the majority of the votes. James ultimately won with the most votes and walked away with the $25,000 prize.
We will add to this post as more news, interviews and information is revealed in coming days.
Check out the last live feed post here
A special thank you from Simon and Dawg for all the support from the readers, Here
Below are a few of the Backyard Interviews with Jeff Schroeder:
Winner of Big Brother 17 – Steve Moses:

Runner Up – Liz Nolan:


America's Favourite – James Huling:

Vanessa Rousso:

Johnny Mac:

The rest of the backyard interview can be viewed on CBS's YouTube Channel
Jeff gives Vanessa TISSUE BEANIES @bigbspoilers #bb17 pic.twitter.com/hrt78oxONi

— Dawg (@DawgsBigBrother) September 24, 2015
#BB17's #AmericasFavoriteHouseguest has a special message for you! https://t.co/5YzLo2UKnp https://t.co/jRrS3fwuSt

— Big Brother on CBS! (@CBSBigBrother) September 24, 2015
Liz Nolan's interview with The Hollywood Reporter
*** UPDATED ***
Big Brother 17 Stars Sound Off on Winner, Vanessa's Bloodless Hands and What You Didn't See on TV
TV GUIDE Article
Vanessa and Mel are now engaged after a surprise proposal after the finale:
"The last 48 hours have been insane…the best part, for me, was today when in my hotel room my beautiful, amazing girlfriend surprised me"
If you've enjoyed the spoilers please consider a donation using the drop down box below. Simon and I work 24/7 all season long to keep you updated on everything that happens inside the Big Brother house. This website wouldn't be possible without your support.