POV Holder:
?
Next POV
?
POV Used
?
POV Ceremony
?
HOH Winner 1:
Amber
HOH Winner 2:
Devin
Battle of the Block Winner
Hayden & Nicole
Next HOH/ Next BOB
July 10/July 4
Original Nominations:
Devin's Noms (Pow Pow & Brittany) Amber's Noms (Hayden & Nicole)
Final Nominations:
?
Have Nots
?
POV Players
?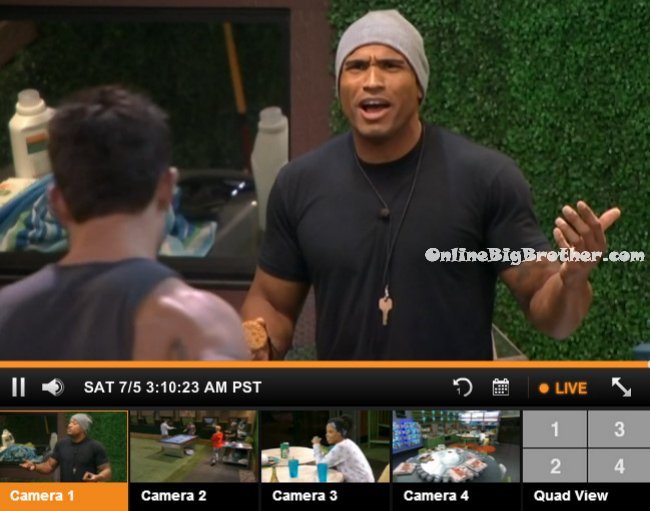 Big Brother 16 Live Feed FREE TRIAL – Use the FLASHBACK feature to watch everything you've missed!
3:05am Out in the backyard – Caleb, Frankie and Derrick are talking. Devin comes out and Caleb tells him I think you're trying to get Brittany out for personal reasons. Devin says I did do it for personal reasons. Caleb says you said it wasn't personal and then when nominating Brittany you told her this is personal. So what is it? Is it game or is it personal?! Devin says okay fine its 50/50! 50% game and 50% personal! Devin says I think you're only saying this because you're talking to Amber. Devin starts getting excited and questioning them all and what they want. Caleb says Amber and Christine who are part of our alliance don't think getting Brittany out is a good idea. Caleb tells Devin that Christine and Amber are scared to talk to you. Devin says I just talked to Christine up stairs and she didn't say anything about it. Caleb says yeah and I talk to her after and she said she was scared the whole time up there with you. Devin says the cameras will show. I just talked to her and she's fine! Devin calls Christine outside and questions her if she was scared when talking to him. Christine says I am scared when anyone asks me to talk. He asks her if she thinks its good to get out Brittany. Christine says I'm still on the fence. Devin says see, you're making things up. Devin heads inside.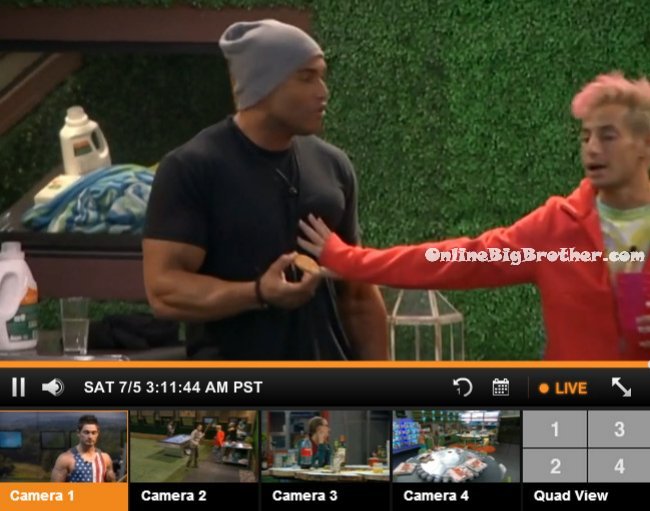 Deivn heads upstairs and talks to Frankie for a quick minute about the confrontation outside. Devin says that he's been there for Caleb and had his back and now he does this! Devin is furious. Devin says I am just going to stay up here the rest of the week and not come down. Devin then comes back down and pulls Caleb out into the middle of the backyard. Caleb asks if everything is okay now? Devin says No, no its not dude! Devin tells Caleb that the alliance is over its done dude! Caleb says that's fine. If our alliance is done, then you're going home next week! Devin goes back inside and up to the HOH room. Caleb tells the others that he isn't going to let Devin talk to him like how he talks to the girls. Derrick talks to Caleb about how Devin said that the alliance was done with the door open and that's why the girls came out here. Caleb says and I told him he is going home next week. Derrick says I know we're not allowed to talk about our diary room sessions but I call him (Devin) the dictator. Frankie comes out and tells Caleb you blew up your alliance with just him. Frankie says I just talked to Devin and he doesn't want to blow up the Bomb Squad … but if you keep antagonizing him he will BLOW UP! Frankie says Devin said he knows he is going home next week if he doesn't win the POV. Frankie says we just need to let Devin cool down. I know you're not scared of him but EVERYONE ELSE in this house is scared of him! Caleb goes inside. Cody says I am more scared of Caleb than Devin.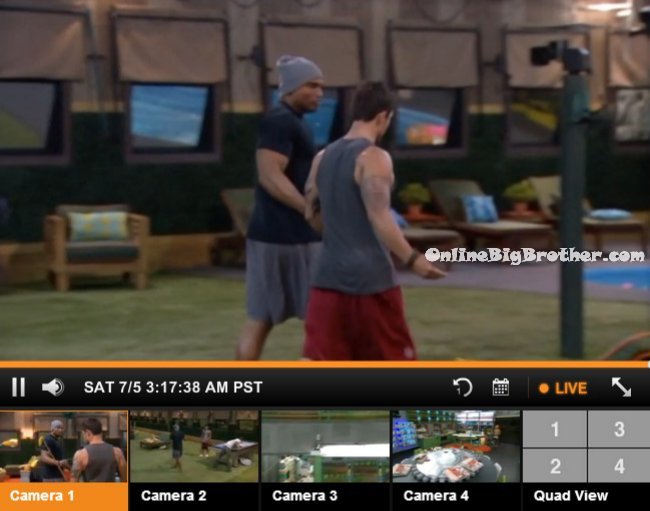 3:40am Caleb goes inside and comes back out with Amber's baby blanket and says "I'm going to go lie on the hammock with my blankie!" Caleb heads over to the hammock and Frankie joins him. Frankie talks to Caleb about how we are only losing one member of the alliance. Frankie says we have Donny. Caleb says Donny won't vote out Devin. Frankie says yes he will he just told Derrick earlier that he would. Caleb says if he is going to act like that he can go home. Frankie tells Caleb if he gets physical with you just put your hands to your side. Caleb laughs and says I will not do that. Frankie says if you attack back you will be ejected from the game with him. Just act offensively not defensively. Frankie says I will throw myself between you two if I have to. Frankie tells Caleb that we don't know what his condition is and he could snap at any moment. We don't know what he's capable of… Frankie says that every weird thing is comes back to it being about Amber.
FREE 2 Day TRIAL – Then only $26.99 to watch the ENTIRE season of Big Brother!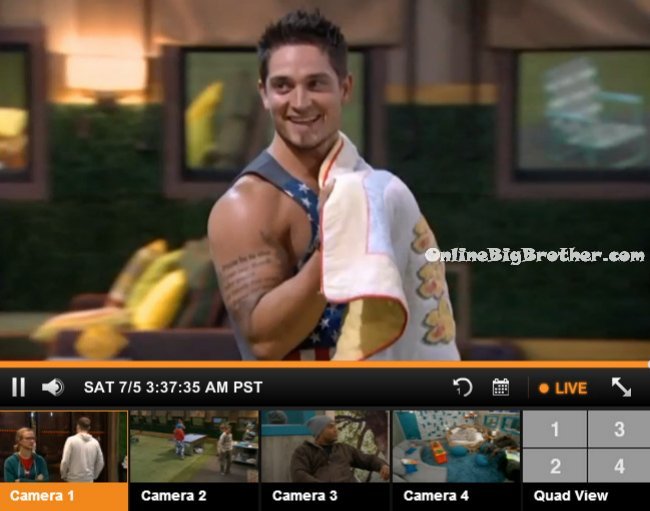 3:45am Frankie heads to the hive room to talk with Jocasta. Frankie tries to smooth things over and remove suspicion about the bomb squad alliance. Frankie tells her that it's text book… Jocasta asks what do you mean? Frankie says its about a girl, Amber. Frankie says they … Caleb and Devin were in an alliance with each other. ..Did you hear that? Everyone ones seen it. Frankie says that Devin and Caleb are fighting over Amber.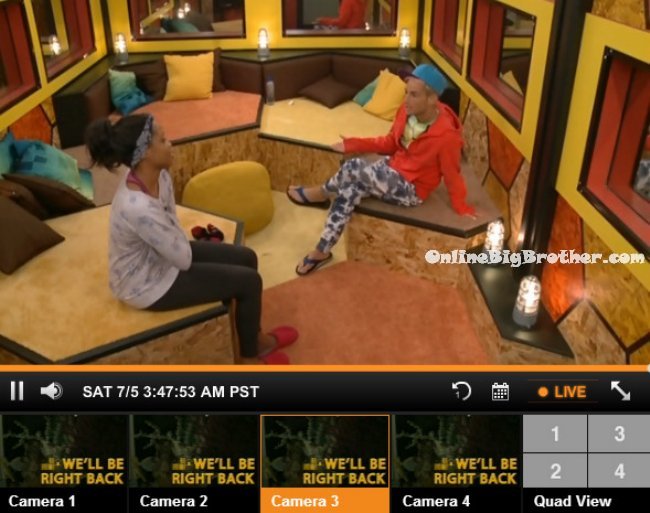 4am Amber joins Caleb by the hammock and he tells her about what just happened between him and Devin. She tells him that my and Devin's friendship is over! I am not going to let him talk to me like that or the girls. Amber tells Caleb thank you for sticking up for for the girls. I appreciate that! Caleb and Amber high five and lock hands.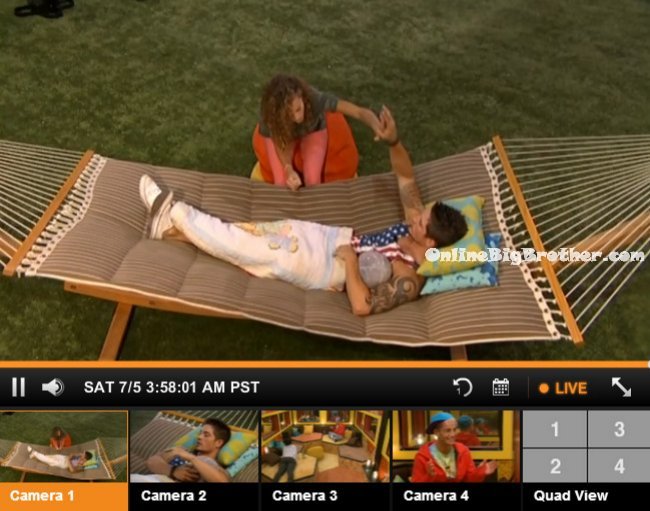 4m Amber heads to the havenot room to tell Brittany that she's been talking with Caleb and we're trying to figure out a way to keep you. Derrick joins them. He tells Brittany its good that this happened because now people are going to vote how they want to vote. Brittany says I just don't want to go home! Its not my time. Frankie joins them. Brittany says that Devin uses the parent card a lot and I don't like it. Amber says just know that these guys have your back.

4:15am – 4:30am Cody, Christine and Zach are by the pool table talking. They talk about how will work to keep Brittany. Cody says we're going to talk to Hayden because we're tight with him. Cody tells Christine to talk to Nicole. Cody says I am so glad this happened and everything blew up. Zach says that Devin's daughter isn't going to respect him. Cody tells Zach not to go there. Cody says that Devin apologized for getting personal with Donny and told everyone that he wasn't going to do that… and then at the nomination ceremony he told Brittany this is personal. Cody says and he called Brittany a cow. Jocasta and Frankie join them. Cody asks Frankie so are you going to sleep upstairs? He laughs. Frankie says I think he (Devin) needs his space.
4:45am – 5am Brittany heads out to the backyard and tells Zach and Cody that she owes them everything if they keep her here. She says I will make you breakfast, lunch and dinner everyday I'm here. Zach runs over and shakes her hand telling her deal! She then tells him she'll do all his laundry too. Zach starts jumping around. Cody asks what do I get? Brittany says all the same for you too! Derrick & Brittany head to the hammock to talk. Derrick says that he might go up and talk to Devin to see how he's doing. Just let me do my thing. He says I stuck up for you but lets just keep that between me and you. Caleb joins and tells Brittany about the confrontation with Devin.
In the hive room – Christine talks to Frankie. Christine says that he threw me under the bus with Devin. Frankie tells her that he already smoothed things over with. Chirstine says thank you. Chrinstine says I'm so scared that Devin is going to blow everything up. Frankie says it will be okay, we have each other. Frankie and Christine start laughing and joking around. Frankie holds up his mic and says America please help us!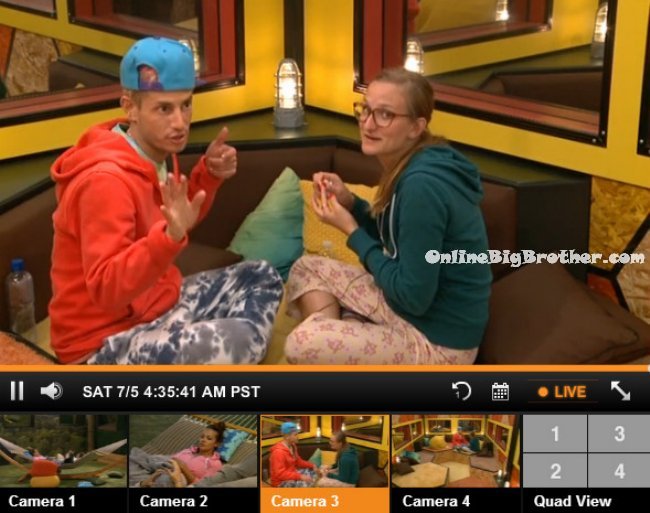 5am – 5:15am In the kitchen – Cody, Zach, Jocasta, Christine, Amber and Frankie are hanging out talking. Cody and Zach realize they both know the same girl, Lindsey Schneider. Cody says we met at a retreat and hooked up. Zach says he went to a high school near her.
5:30am In the backyard – Caleb tells Frankie, Amber, Derrick and Brittany that he won't put up Devin but I will send him home. I promised him in the beginning I wouldn't put him up. Frankie says well don't win HOH. Amber says I'll put him up. They talk about how during the battle of the block Devin said a lot of mean things about Brittany. They suggest that Caleb go sleep in the bed with Deivn tonight it might help smooth things over. Amber says I would do that if my boyfriend.. Caleb says he's not my boyfriend. Amber comments we're all sort of playing an individual game.. Amber says you (Frankie) have your bromance with Zach. Frankie looks down and says I think he likes Cody now. Jocasta joins them. They continue to talk and joke about random things.. Frankie runs over and joins Cody, Derrick and Zach on the backyard couch. They agree that even if Devin wins the veto and puts Caleb up with Brittany … then we keep him and get rid of Brittany. Frankie tells them that Devin said he's going to lock himself in his HOH room. Frankie and Zach head inside. Derrick says we can get rid of Devin next week and then Calen after …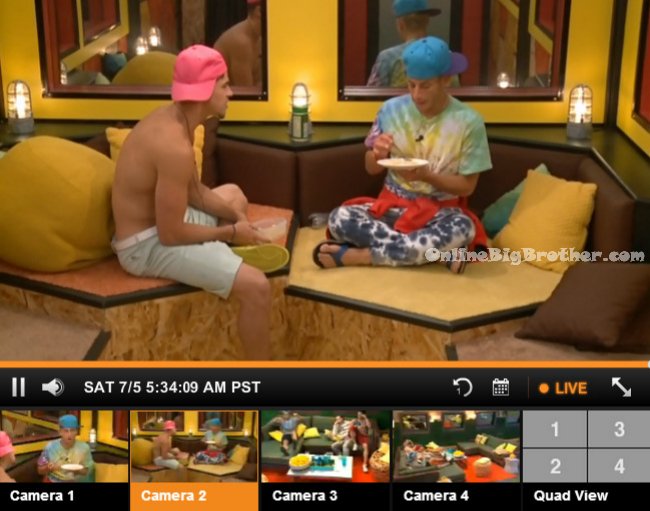 In the hive room – Frankie and Zach are talking. Frankie says that all the events that happened tonight are crazy. Zach says dude I love you, we're always on the same page with everything! Zach asks Frankie to run through the events of what happened. Frankie says it was all Caleb starting it all. Frankie says that it all stems from Amber and Derrick stirring things up with Caleb. Frankie says it all happened too early.
5:45am – 6am
Out in the backyard – Brittany comments that when Devin leaves he'll be in a straight jacket. Brittany tells Jocasta about the things Devin did during the Battle of the Block. She says he said look there's Brittany on TV when he saw the cow on the tv. I've never been called a cow before. She says that Devin also made his hand into a gun and pretended to shoot it at me. They head over to the backyard couches with Frankie, Zach, Caleb, and Derrick. Brittany says that she's scared to go to sleep because she fears Devin will put a pillow over your face and sit on it.
Alliances 
Bomb Squad = Frankie, Caleb, Devin, Cody, Derrick, Zach, Amber, Christine
Sub alliance of the Bomb Squad = Christine, Frankie, Cody, Derrick Zach
Sub alliance of the Bomb Squad = Derrick, Cody, Zach
Double Ds = Devin, Donny
Bed buddies/nicotine = Nicole, Christine
Final 2 Deal Zankie= Frankie, Zach
DC = Derrick and Cody
Where the vote is 
?
[polldaddy poll=8164185]