POV Holder:
?
Next POV
Aug 3rd
POV Used
?
POV Ceremony
Aug 5th
HOH Winner:
GM
Next HOH:
Aug 8th
MVP:
AMERICA
Original Nominations:
Candice and Jessie, AMANDA (MVP = Nom)
Current Nominations:
Last Evicted Houseguest
David, Nick, Jeremy, Kaitlin, Howard
Have Nots
no have nots this week

10:30am – 10:55am The Big Brother 15 live feeds switch to TRIVIA for Big Brother to reveal who America chose as the 3rd NOMINEE and for the house guests to pick VETO PLAYERS! When the live feeds return, we learn that America chose AMANDA as the 3rd MVP Nomination.
THE POWER OF VETO PLAYERS ARE: Candice, Jessie, Gina, Amanda, Spencer, Judd!
HOST of the POV: Aaryn
FASTEN your seatbelts BB FANS this week is going to be a bumpy ride!
SUBSCRIBE to the Big Brother 15 Live Feeds for your: FREE 2 DAY TRIAL!
10:55am Up in the HOH room – Amanda, Jessie, Helen, Andy, McCrae and Gina are talking about the MVP nomination. They all agree that Candice is still the target. They wonder if Candice got MVP. Amanda has been nominated by America as the MVP. Amanda tells the others that Spencer told her that if he wins the Veto he will use it on her to prove his loyalty to her. Amanda wonders why anyone would use it on her. McCrae says because you were going around saying if anyone uses it on me their going up. Amanda says you're really good at consoling people McCrae. Gina tells Amanda that she is okay, you have friends up here and you are good.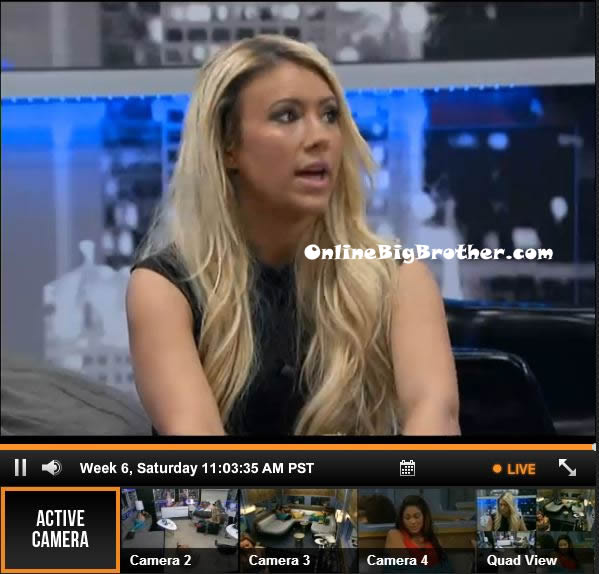 11:15pm Meanwhile in the lounge – Helen, Elissa and Candice are talking. Helen comments that the HOH has gone to Gina's head. Helen says I hope when I was HOH it didn't go to my head. Candice says no. They discuss who they think could be the MVP. Helen says that she thinks whoever got MVP last week got it again this week. Amanda joins them and says that she thinks Judd is the MVP. She says that he even said if he wins it he would use it on me. Which would be just to throw me off from thinking he got it. In the bedroom – Spencer tells Amanda and McCrae that if it's a hold'em and fold'em Veto Competition and he will let her win. Amanda asks do you think I am safe this week? McCrae says I don't know. Spencer tells her that she is fine. They talk about how its only 4 votes to stay this week. Spencer says the best case to win this veto is you, me or Judd. They talk about how who they think MVP is. Spencer says he thinks it America.
11:20am Up in the the HOH bathroom – Helen is talking to Gina about how she can't put Candice up so I need her to go home on your HOH. Helen says that she just wanted to tell Gina that because she told Candice that she wanted her to stay, so just if you hear that know that it's not true. Gina says oh yeah we're good. Aaryn is worried next week she might go up. Helen reassures her that me, Amanda, McCrae, Gina will not vote you out so you are okay. Helen heads downstairs. Gina comments to Aaryn, MAN people want Amanda out! MVP you shaddy f**k!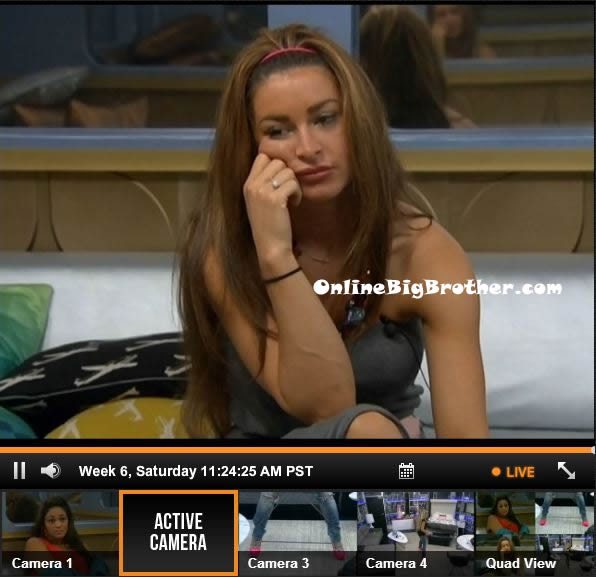 11:25am In the lounge – Elissa and Candice are talking. Candice says that she is tired of being called the sh*t that lives in the sewer. I am not a rat! In the storage room – Andy tells Amanda that if Ginamarie wins the veto you can't ask for her to use it on you because it will piss off Aaryn and we will lose her. We will lose trust in her if you push for her to use it on you. Andy tells Amanda not to tell anyone this. He says that we will lose trust in Aaryn if you push for Gina to use it. She thinks that she will go up if it is used on you. Andy talks to Helen alone next in the storage room. Helen says I think we need to vote out Candice. If we don't we will lose Ginamarie and Aaryn. Andy agrees and says that he thinks we can use Gina and Aaryn more than Candice. Andy thinks that America is the MVP and that Amanda is portrayed as the villain. McCrae joins them. They discuss how no matter what we control the votes to what happens this week. McCrae tells Helen that he isn't sure what Helen and Elissa will do. Helen says I told Candice I would vote to keep her but I will do whatever Gina wants. Helen leaves. Andy tells McCrae not to push for Gina to use the veto if she wins because I am telling you Aaryn is pissed and we will lose her. McCrae says okay exactly.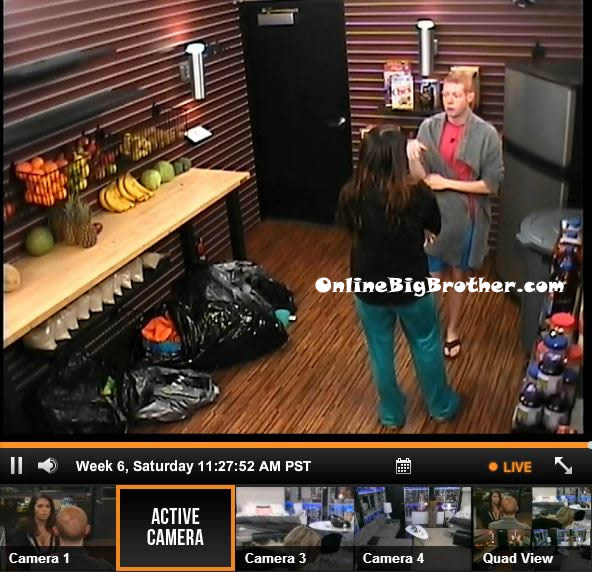 In the bedroom – Spencer tells Judd that for his game he thinks its better for Candice to go this week. Judd says for mine its better if Jessie goes. Judd says re-enacts Ginamarie's nomination speech from yesterday. He says Candice – you's a beautiful girl, but you are a rat and a liar. Jessie people think that you are a floater, I don't think so, you are much worse you're a flip flopper! Judd laughs.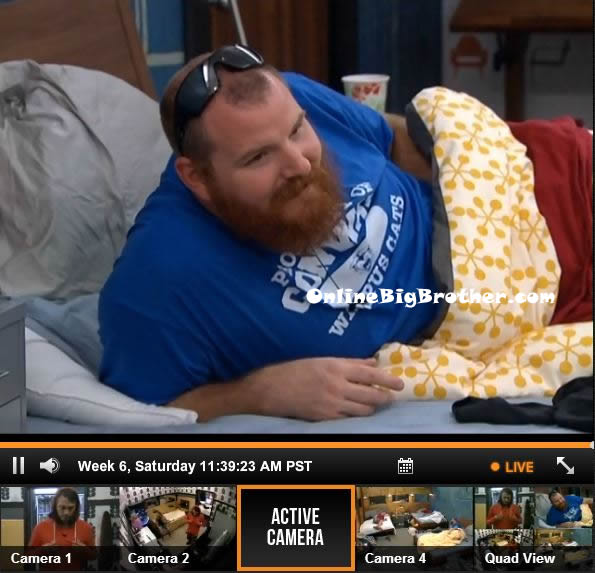 11:45pm Up in the HOH – McCrae talks to Gina about how he thinks we are pretty safe with Amanda on the block. She got zero votes last week. If she comes down I am worried that I will go up. Aaryn says that she will vote out Candice 100%. They talk about how they are only really worried about how Elissa will vote. McCrae says that if she votes Amanda out then Amanda and I will not take that lightly. Aaryn says that she doesn't understand why Amanda is worried. McCrae says because of all the talk last week. Aaryn says well tell her this, the only two people on the block are the two people that tried to flip it last week. Amanda joins them and they tell her she is good. Amanda worries if the votes are spread. Aaryn says that she told Candice she would keep Helen but is really voting her out. Amanda wonders why Aaryn thinks she will go up on the block. Aaryn says that she thinks the MVP is Candice and she will nominate me as the replacement. Amanda gets piss off that McCrae and the others want to keep the nominations the same. She freaks out and storms out and says keep it the same. I will f**king win this sh*t and take myself off the block!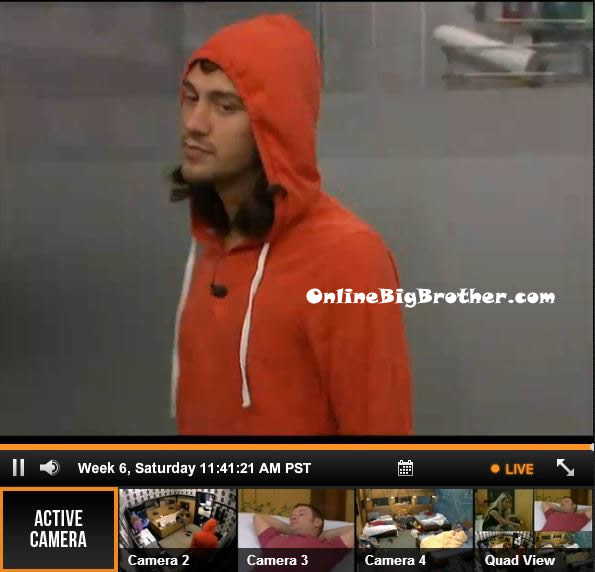 11:50am Judd consoles Amanda who is crying in the havenot room. She is stressed out and worried about being on the block two weeks in a row. She says that she is pissed off at Aaryn who is going around telling people not to use the veto because she is worried about going up on the block. Amanda says she isn't even on the block! Judd tells her that she is okay. If I win it i will take you off the block. Judd wonders who the MVP could be? Amanda says she thinks production might have told the person another time because we were guessing who it was from when they were called into the diary room. Amanda guesses other times when they may have been told. For each time Judd says I wasn't called in then. Judd says if I had gotten it I would have told you. Judd comments that he will never trust Jessie in this game. They wonder who could be that MVP and why they would nominate Amanda. McCrae joins them and asks if they are kissing? Judd says yeah we are making Mcuddies. Then says that doesn't make sense because it includes your name.
12:15pm Amanda starts getting mad at McCrae because he was up in the HOH convincing Aaryn and Gina not to use the Veto. Where does your loyalty lie!? McCrae says if you convince her to use it then you will look like a master schemer. McCrae says you have everyone telling you that they will use it on you. Judd tells Amanda no one will flip on you. Amanda asks McCrae whos side are you on? Amanda says Aaryn is up there acting like a little b*tch stomping around talking about not wanting to go up on the block. Amanda says it solidifies that you are with them that your are up there convincing them not to use it. McCrae says no it doesn't. Judd says no I am worried about using it on you that if I do everyone will be mad at me. Amanda says do you see what you are doing McCrae you are scaring people not to use it. Andy comes in and Judd tells him to wait outside for two minutes. Andy asks really and goes outside. Judd jokes he didnt have anything to say. They bring Andy back in. Amanda tells McCrae that he needs to stop his dictatorship! You need to stop telling people not to use. McCrae says we need to make sure they are solid, if Gina uses it, it will pisses off Aaryn. Amanda says you only need to be worried about me!! I don't need my alliance member up there comforting someone that is not even on the block. McCrae says its politics!!! Amanda tells McCrae to shut the F**K UP! McCrae tells her to SHUT THE F**K UP!!! McCrae says I am playing the game for us, I am trying to secure the votes for us! If she uses it then they could flip and we would be f**ked!! Amanda says its insulting that you are up there consoling her. Amanda tells McCrae the knows how to say the wrong things. It makes me want to find a whale harpoon and shoot it into your eye! Amanda says if it comes down to it you could just throw it to me so that you don't need to use it. Judd says I want to win one though. They speculate on what the veto competition will be like.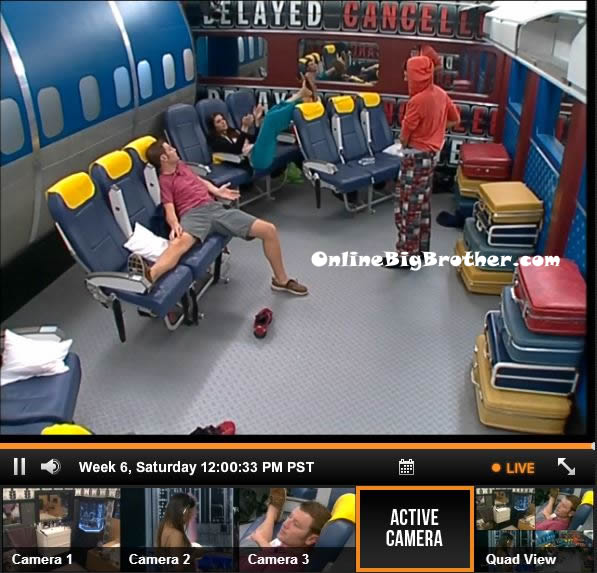 While we wait for the Veto Competition results today. Fire up your Big Brother live feeds and use the FLASHBACK feature to check out the NEW BB15 N!p Sl!ps / N*des

[polldaddy poll=7293412]