POV Holder:
Jessie
Next POV
Aug 10th
POV Used
YES
POV Ceremony
Aug 12th
HOH Winner:
GM
Next HOH:
Aug 8th
MVP:
AMERICA
Original Nominations:
Candice, Jessie and Amanda (MVP Nom)
Current Nominations:
Candice, Spencer and Amanda (MVP Nom)
Last Evicted Houseguest
David, Nick, Jeremy, Kaitlin, Howard
Have Nots
no have nots this week
3:20PM Cockpit Random chit chat
Chatting about past houseguests who do p!rn or have done p*rn. Michelle BB11, Steven BB10, James BB9, Scott BB5, They think Bradon from BB11 may have and Ashley BB14 was involved in something. (Scott BB5 was in playgirl, Bradon had a full frontal scene in a movie and Ashley had relations with some bondage club owner)
Spencer: "What kinda name is Nakomis"
JUDD: "Some type of name she made up"
McCrae says Nakomis means a moon
JUDD: 'She's a lunatic"
3:38pm Spencer and Andy
Spencer: "have you heard anything .. i'm getting paranoid"
Andy whispers that he hasn't heard a thing. He's sure Candice is still going home. They start wondering why they are in lockdown. Andy thinks he should be counting things with McCrae and Amanda. Spencer doesn't think it's worth it.
They are joking about it being a Pandora's box and Ginamarie is upstairs with Nick. Andy laughs say what if Nick is in the backyard and GM is trapped and can't see him while the other players get to spend a hour with him. (We can all agree if this happened GM would chew through the walls to get to him)
4:01pm They have one hour to practice for a competition tomorrow
Aaryn gets the ball in almost every time. Andy, JUDD and McCrae have been calling Aaryn "Poopy" They keep singing "This poopy is on FIRE.. this poopy's on FIRE". Aaryn is considerably better than the rest of them.
Spencer, Andy, Amanda can get a ball in once every two tries
Jessie, JUDD, Elissa, McCrae can get a ball in every 4 tries
Helen, GM and Candice get very few balls in
5:53pm After about a hour of practicing it's clear Aaryn is the best followed by Andy, Amanda, Spencer, Jessie, Elissa and McCrae.
You can re-watch ever second on the feeds using the flashback feature.. It's just like a DVR and is super easy to use. click this link for a Free Trial —> Subscribe to the Big Brother Live Feeds
4:56pm HOH GM and McCrae
Going over votes. GM thinks they are A-OK for getting Candice out. She's going to double check with everyone tonight and Thursday. She says McCrae, Aaryn, Helen, JUDD and Andy are all definite s.
4:58pm Storage Room JUDD and Helen
Talking about the competition and how the one they just practiced may be different than the one they actually use tomorrow. JUDD wonders if it's double eviction tomorrow. Helen isn't sure because that would mean they have reached Jury.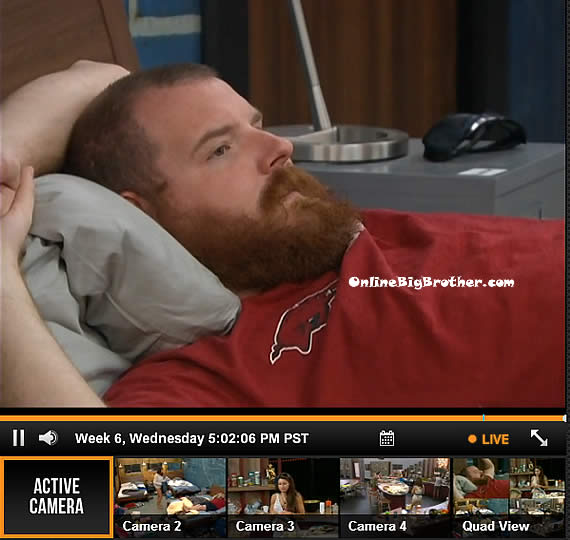 5:01pm bedroom Spencer tells AManda
Spencer whispers If he gets HOH and it's double eviction he wants to Meet with Amanda and McCrae in the cockpit and they will plan out the move.
Amanda: "OK"
Spencer and Amanda agree there is an uneasy calm in the house. Spencer thinks something is about to happen he can feel it.
McCrae joins them, He says there is talk going around the house about next week but he can't think that far ahead because he's on the block. Amanda says Candice is going home.
Andy joins them (Drink)
Amanda says JUDD hates her. McCrae and Spencer haven't heard him say anything.
Spencer: 'My fear is with our checkered past a rumour will start.. to me that would be a easy thing to start"
Amanda isn't worried. MC isn't worried a rumour will harm them still thinks it's possible someone will start it.
MC: 'So are we all in agreements that it's a double"
Spencer, Amanda, Andy "Yeah"
MC: 'Unless it's a food comp.. I doubt it"
Spencer about the comp practice: "It seems vetoish"
5:05pm HOH GM has been calling people up into the HOH to make sure they are voting out Candice. Most houseguests say Candice and chat about the double eviction. Jessie says she won't tell GM her vote tells her she doesn't want to discus it.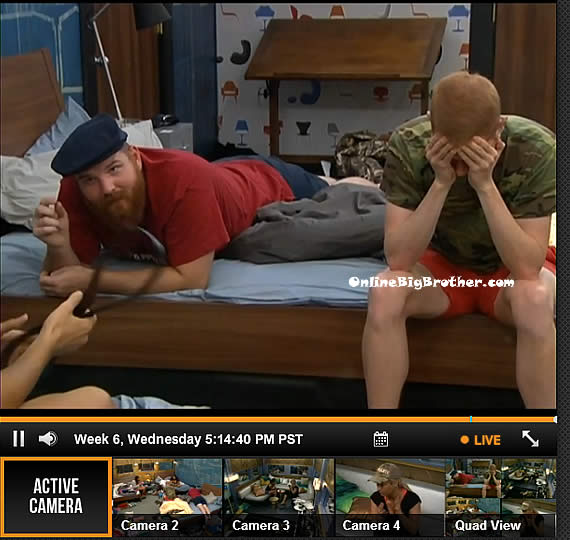 5:15pm BedroomAndy, MC, Amanda and Specner
Andy says he's sick thinking about Double eviction tomorrow. JUDD join them and they start to comment about how it sucks if Candice makes it to jury because so few of them have gotten to know her.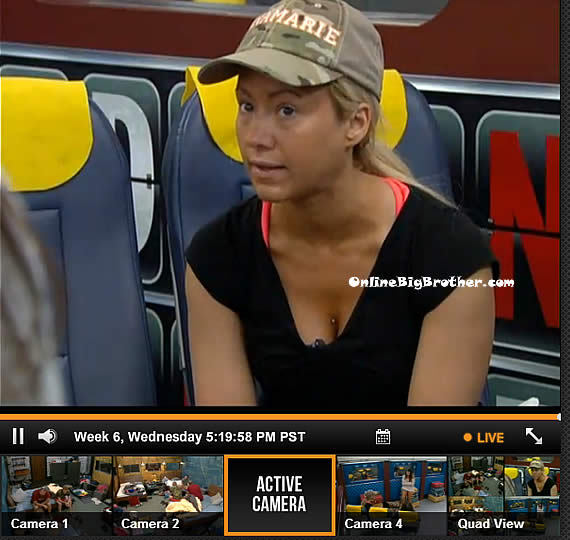 5:19pm Havenots McCrae, Amanda, GM
Amanda: "Someone told me that you hate me"
GM :Who the f**** said that cause I will bash their face in"
Amanda: "Aaryn told me that you say that every day"
GM: "I don't say that every day.. when Candice is in the same room do I hang around or do I leave"
Amanda: "You leave"
Gm explains this is what she does when she doesn't like people. She threw a party for Amanda and she talks to Amanda all the time she likes her.
Amanda: "I don't get it.. why would she go out of her way to tell me that."
GM: "I swear to god I never said I hated you.. I never said I hated you I never said I wanted you out"
Amanda didn't think it was truthful.
GM: "you know how much shit she talked to me about Kaitlin.. she hates everyone"
Amanda adds that Aaryn told her GM wanted to put her up but Aaryn had to talk her out of it.
GM denies it says Aaryn is a sh!t disturber. McCrae and Amanda agree.
Amanda leaves
GM says Aaryn told her to put Amanda and Elissa up.
GM reports back about how her conversations when with the houseguests. GM isn't sure about Jessie but everyone else is locked.
Use the Big Brother Live Feeds to FLASHBACK to SEE what they can't show you on TV: BB15 N!p Sl!ps / N*des