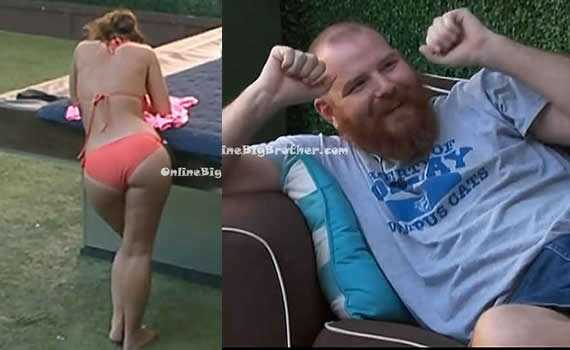 Butterscotch Vs. Jigsaw
Alliance break down – [] Bracket denote real final 2 deals
3AM alliance ([Andy,Aaryn] and [McCrae/Amanda])
Mom Squad [Elissa and Helen]
3 person (McCrae, Helen, Andy)
Boys (Andy, Spencer, McCrae)
Bunnies [GM/Aaryn]
Ginger (Spencer/Andy)
Essentially it's the 3am alliance running the game, they have established side alliances with everyone in the house and have set themselves up nicely going into this new week. They have the numbers, the comp wins and strategy all that stands in their way is Helen and possibly some Pandora's boxes. It'll be interesting to see if Helen and Elissa figure out the 3am alliance before it's too late. One thing holding this back is Andy. Helen trusts him too much and it could be the game for her.
I would not be surprised that Helen wins the HOH tonight, She's strong, Smart and it's a win that will bring drama. If she gets the HOH she will most likely make a move to take out Amanda. On the flip side the 3AM are positioned very nicely with 5 of the 7 HOH players playing on the 3AM side. Regardless of who wins the HOH we're getting to the point where the 4 players that have been running this game are about to get in the hot seat. It's going to be some great fun on the feeds this weekend.
Using the link below you can try out the free Feeds for 2 days for free. Big Brother Live Feeds
My predictions
Jessie goes home with all the votes against
Helen wins HOH
Actual results
Helen votes to evict Jessie
Elissa votes to evict Jessie
McCrae votes to evict Jessie
Amanda votes to evict Jessie
Aaryn votes to evict Jessie
GM votes to evict Jessie
Evicted House guest = Jessie
HOH = Aaryn
New Twist = Next Thursday JUDD, Jessie, Candice and whoever gets evicted compete with the winner coming back into the game
Share it YO!!
Tweet