POV Holder:
Andy
Next POV
Aug 17th
POV Used
NO
POV Ceremony
Aug 19th
HOH Winner:
ANDY
Next HOH:
Aug 15th
Original Nominations:
Jessie and Spencer
Current Nominations:
Jessie and Spencer
Last Evicted Houseguest
David, Nick, Jeremy, Kaitlin, Howard, Candice, JUDD
Have Nots
Aaryn, Helen , GM, Elissa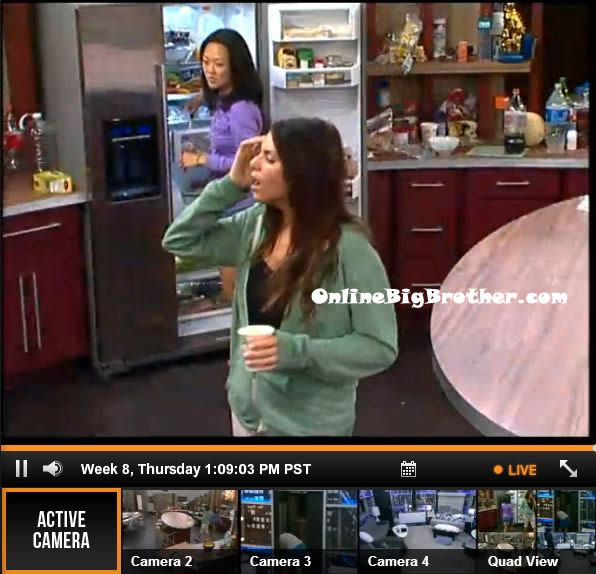 1:10pm The Live Feeds return – Helen is in the kitchen telling Amanda that Jessie is going around telling Aaryn she has to get me out. Amanda says what?! Helen says I am done with her, I can't believe I actually felt bad for her yesterday when she was crying.
Up in the HOH – McCrae is talking to Andy about how they need to get Elissa out of the house. He says that she has never hasn't won a competition (she won the POV). He says that she had a big target on her in the beginning and now she doesn't so much. McCrae is worried about Amanda wanting to take Elissa to the finals because she could win over her. Andy agrees that she has to go but that they need to get past this week. McCrae heads downstairs and Helen takes him into the lounge room to tell him that Jessie is going around tell Aaryn trying to get her (Helen) out. McCrae says that Jessie said that she will never vote for you in the end. Helen can't believe she is doing this after I accepted her apology. McCrae and Helen talk about how Jessie doesn't understand the game. Helen says that she is actually helping me get to the end because people will want to take me knowing she won't vote for me. McCrae says she doesn't understand how close we all are and how we will stick together to the end. They talk about how great it was to keep her out of the knockouts alliance. Helen says that Jessie is hanging out with Aaryn so much she will bring her down. McCrae says that Jessie has teenage girl syndrome. Helen agrees. They think that Dan Gheesling will be mad that Jessie wrote above his name in the bathroom. She is trying to be a big character in the game and she's not. Andy joins them. They continue talking about Jessie's behaviour. Helen worries that Judd won't respect her game and doesn't think she will vote for her either. McCrae says he think he might get over it as he said he doesn't like bitter jurors and would vote for who played the best game. Helen says at this point I am playing for $50,000 at this point. She is helping my game more than hurting it. Andy leaves. Helen says that she really doesn't know what Spencer will do if he wins HOH. McCrae agrees and says that he doesn't know where his head is at. Helen says that if Spencer is in the final two, he might win over her. She says that he can say he has been up on the block 8 times by then and is still standing. Elissa joins them. Helen asks what are you going to do? Elissa says win! Helen asks what are you not going to do? Elissa says get nervous.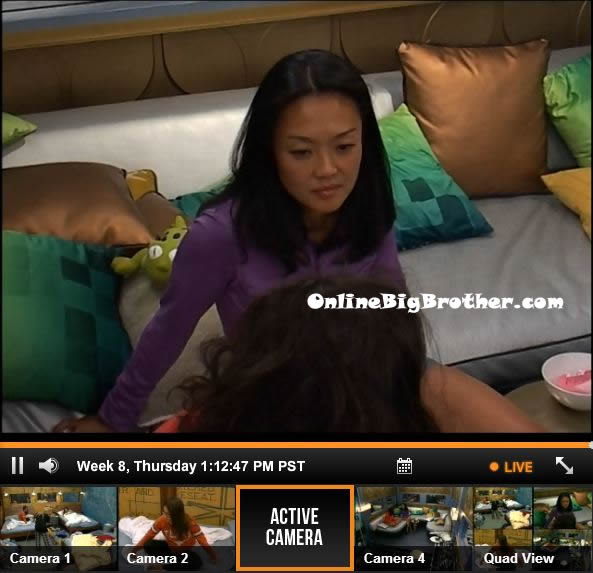 1:30pm – 1:35pm In the storage room – Andy is talking to Spencer about how Jessie is 100% telling the truth about Helen wanting Amanda out and it just show what a good liar Helen is. Andy talks about all the times Helen came to him to get Amanda out. Andy says that he likes if Helen wins HOH this week because she will be going after big targets which aren't you or me. Spencer says that he is worried about Elissa winning because she will go after me. Spencer talks about just laying low. Andy and Spencer leave the storage room. Andy heads to the kitchen and then joins Elissa and McCrae in the lounge room.
1:45pm – 2:10pm In the lounge room – McCrae, Jessie and Andy talk about random things like past seasons / past BB alumni. They discuss how smart Dan was and how he never needed to win an HOH. Amanda raps "Andy loves my pizza boy McCrae but too bad he is not gay. My boy Andy loves boys with a little fruit." Andy comments that Jessie's drama f**ked up his chances of getting Pandora's Box. Amanda says for sure if I get HOH and get Pandora's Box it will for sure be a bad thing. Andy thinks his would have been a good one. Andy says he would love to see Helen getting a bad Pandora's Box. McCrae and Amanda start arguing about which one of them who can rap better.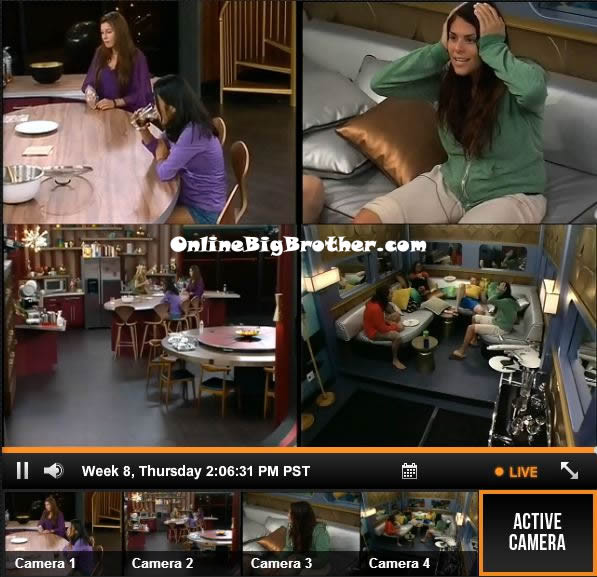 2:15pm – 2:20pm In the bathroom – Jessie asks Amanda can you unclip my mic from my vag!na and clip it to my pants. Amanda says sure just let me wash my hands first I just pooped. Amanda washes her hands and then pulls open Jessie's pants and sticks her hands down to grab Jessie's mic.
Gina starts rapping about Candice. "Like Candice, got crabs up her a$$ because she's dirty like a crack wh*re on a monday morning! Crack a doning, now I'm yawning, bitch got two moms like I got two balls hanging from my mid section. I'm about to c*m on this bit*hes face, no messing around." Jessie says that was good!!! Andy asks Gina if there is anyone she has ever hated more than Candice. Gina says yeah just one person. Andy and Spencer laugh that there's only one person. Spencer says yeah one person that's still alive.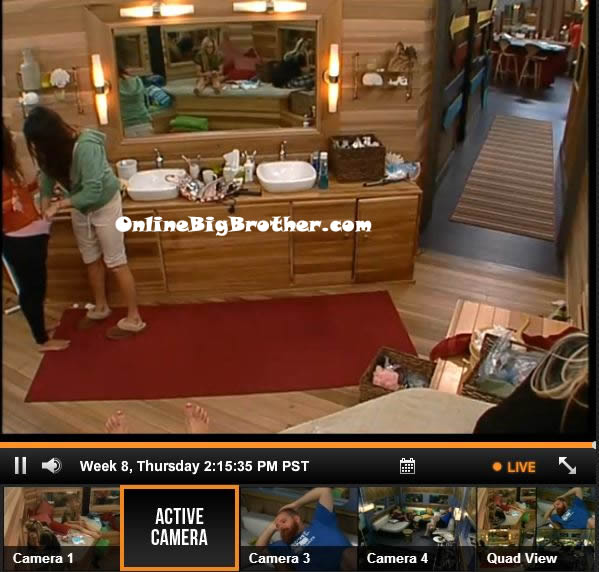 2:20pm – 2:30pm Elissa, Helen and Aaryn are talking in the storage room. Helen continues to complain about what Jessie has done to her after she accepted her apology yesterday. Elissa and Helen worry if Gina will be okay with going on the block. Aaryn says that Gina knows she will keep going up unless she wins something. Aaryn explains how to talk to Gina when she is happy and to avoid her when she is in a bad mood. Aaryn down plays her competition wins and says I am not this big threat.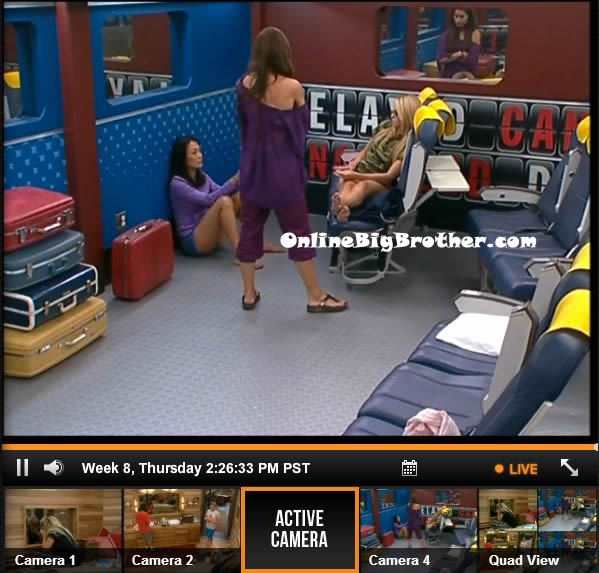 2:40pm – 2:50pm In the havenot room – Aaryn says that they want Spencer to stay because they know he won't go after them. Helen says that Jessie was promising me the world just yesterday but behind my back she is making deals with McCrae and Amanda so I can't believe her. Helen talks about how Amanda told Jessie all about the veto competition strategy. Helen says that McCrae told her about it. Helen says that no one else told her about that but he did. Helen says that Amanda probably threw it on me that it was my plan. Helen says I wonder why Amanda told her about the veto competition. Elissa says to get her jury vote, she is trying to get everyone's jury vote. Andy joins them and the conversation dies. Helen says they're just talking about the veto competition. Andy tells Helen to not take Jessie seriously no one believes her. Andy asks Helen what Elissa would do? Helen says guess. Andy asks Amanda and McCrae. Helen says I tried to advise her not to but she will do what she wants. She might put up Spencer/Ginamarie. Andy says he hopes she doesn't because it will piss off Amanda and McCrae and we will have to convince them that we have no control over Elissa. Helen agrees and says we'll worry about that later. Helen talks about wanting to get Spencer out. Helen says that Spencer is very dangerous. Andy says that if he wins he will try and influence him as best he can. Andy and Helen leave the havenot room.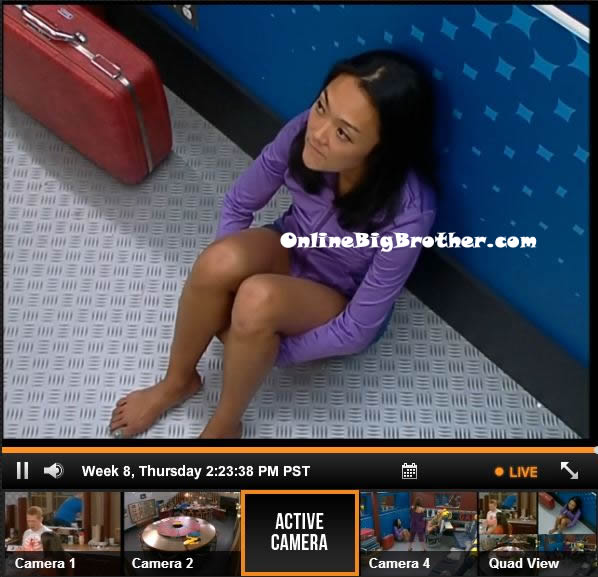 2:50pm – 3:05pm In the bathroom Andy asks if McCrae knows what entertainment they get in jury. Movies? Music? McCrae says he isn't sure. Spencer says po*n. Andy wishes he could bring his mp3 player. They talk about how strict production is. Spencer says yeah like the Nazi regime. Spencer, Andy and McCrae talk and joke around about random things. Spencer jokes that Candice told him that she would damned if she didn't get a chance to ruin Ginamarie's and Nicks wedding to ruin it. Spencer says that Candice wanted to get out and to f**k Nick. Gina says f**k that! He wouldn't touch her with a 10 foot pole. Meanwhile on the other cameras Helen is sleeping in the rainbow room. Spencer and Andy leave the bathroom and head to the bedroom where Jessie, Elissa, Amanda and McCrae are talking about random things.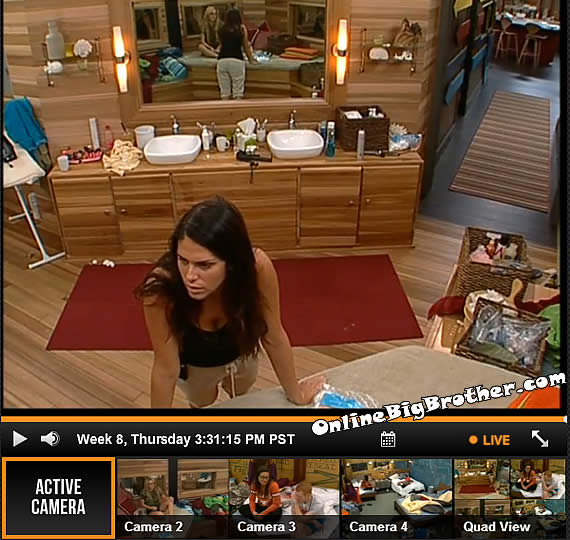 3:06pm Bathroom Aaryn and Amanda
Amanda: "Helen does not want you to go up she thinks she can control you so you are off the radar"
Amanda: "Which is good.. not for me but thats OK.. Helen needs to go"
Amanda says she talked to Elissa yesterday about her and Helen's involvement in Jessie's flip the house plan. Elissa ran straight to Helen and told her she was being questioned by Amanda.
Amanda: "Helen has to go. she is the base to all the problems like JUDD was. once she goes it will get a lot easier"
Amanda: "We have to f*** win this and she has to be backdoored"
Aaryn: 'Spencer told her and Elissa that he's coming after me"
Amanda: "Thats fine .. he talks to Amanda and McCrae and tells them he's going after Helen and Elissa"
Amanda says they need Spencer around for one more week because he's going to put up Elissa.
For amanda she needs Helen gone more than Spencer.
5:03pm trivia
Feeds will probably not come back until after the show
Use the Big Brother Live Feeds to FLASHBACK to SEE what they can't show you on TV:
BB15 N!p Sl!ps / N*des