POV Holder:
Danielle
Next POV:
Aug 11 (Saturday)
POV Used
YES
POV Ceremony
Aug 6 (Monday)
HOH Winner:
Danielle
Next HOH:
Aug 9 (Thursday)
Original Nominations:
Wil and Frank
Current Nominations:
Janelle AND Frank
Have Nots
No Have-Nots for the Week
Last Evicted Houseguest
1:45pm Janelle talks to Dan in the arcade room she tells him that she has Joe, Shane, Wil, Britney and Ashley's vote and that she needs Dan's vote. Dan says that he has to make sure they are all 1000%. Janelle says that Shane said he is voting how Britney votes and she told me I have her vote. Janelle says that she definitely has four votes, maybe five and that you (Dan) would be 6. Janelle says that the only votes for Frank are Ian Jenn and Boogie. Janelle says that if she stays she will go after the person that told the lie about her. Janelle says that she thinks she can work with Joe and that he isn't coming after Dan. Janelle asks when can you let me know how you are voting for? Dan says definitely Wednesday night if you have the votes I can tell you. Janelle says that she is definitely with Dan. Dan says he knows that. Janelle talk about how something isn't right about Wil and that he thinks this game is about lying. Dan says that he can't trust anyone in here. Dan tells Janelle that he trusts her. Janelle asks if he trusts Danielle. Dan says I did but where did that come from? (Nominating Janelle) Janelle says that it is a lock as long as Danielle doesn't want her out for some crazy reason. She says I am a pawn, but I am not pawn material. Big Brother says over the intercom: hello house guests it's going to be hot out today, don't forget your sunscreen. Dan gets up and says he is going to go outside and lay out. He heads outside and says to Ian that he just got caught in the blonde web.
Watch the 24/7 Uncensored Live Feeds of the Big Brother house 3 Day Trial!
2pm Shane and Danielle are up in the HOH room. He tells her that this time he is voting with the majority. Shane tells Danielle his conversation that he had with Janelle and says that she just really doesn't want to be blindsided and have her make-up running because she is crying. Shane says that Janelle thinks she has Wil, Ashley, Joe and she doesn't. Danielle heads downstairs to head outside. Meanwhile out in the backyard, Dan and Ian are playing badminton in the pool.
2:25pm Britney and Danielle are laying out by the pool talking about random things. Wil comes by and asks if he can listen to her cd up in the HOH room. Danielle says yes. Britney tells Danielle that someone asking to listen to your cd is code word for we need to talk. Danielle says that she doesn't even know what to say to Wil though.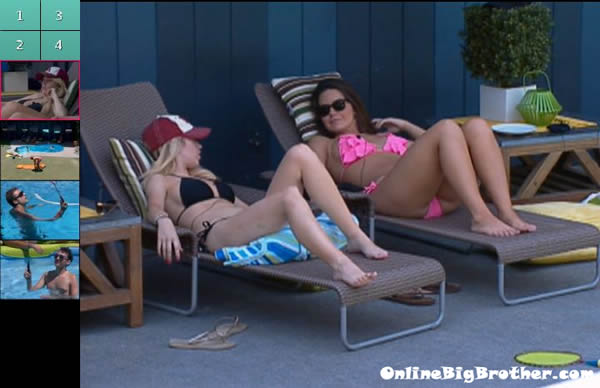 2:30pm – 3pm
Danielle says just be completely honest with me. I had a little friend come up to me this morning and tell me that you went outside and told people after nominations and said Dan and I had to go. Wil says Joe needs to GO! Wil says that Joe and Janelle are running around spreading lies. Wil talks about how Joe was trying to trap him in a lie and was trying to get me to say that I wanted the coaches out. Danielle asks so do you want Janelle out or not. Wil says yes I want Janelle out, I would rather Frank is here. Danielle tells Wil how Joe was coming up here saying that Janelle never talked bad about me. Wil says that Janelle talked bad about you to your face. Janelle is just a two faced bold liar. Wil says that Wil, Janelle and Britney are the center of all these lies. Danielle says that Britney is not a part of it and that she is trying to separate herself from it. Danielle says that Britney was just trying to be nice to you and help you. Wil says that he knows and that he likes her. Wil says that we cannot let Joe go to jury. Danielle agrees but that they need to get Janelle out first. Danielle says that she has Wil, Ashley, Britney, Dan and Shane none of which are voting for her to stay. Wil says that Joe's cooking needs to stop, we have no chicken left. Danielle says we have no food left. Danielle says why is Joe coming up here telling me all these lies, what do you want me to do, go talk to them about! Wil says why is he coming to you, you don't even have a vote. Danielle says I know! Wil says that Janelle is about as real as her tits! Wil says if I win HOH I am getting Joe the fu*k out of this house! Danielle says please don't tell anyone anything about what we talked about, I trust you completely. Wil says that he won't. Britney joins them freaking out about how Janelle is pressuring her to work out. Britney brings up how janelle is spreading lies about her and Wil. Wil says that he will use that to tell Janelle he can't vote for her.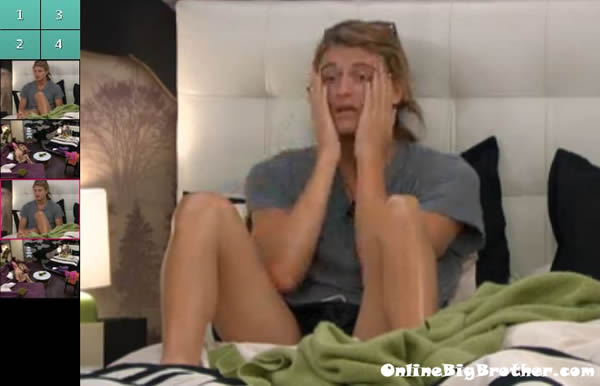 Share it YO!!
Tweet