POV Holder:
Danielle
Next POV:
Aug 11 (Saturday)
POV Used
YES
POV Ceremony
Aug 6 (Monday)
HOH Winner:
Danielle
Next HOH:
Aug 9 (Thursday)
Original Nominations:
Wil and Frank
Current Nominations:
Janelle AND Frank
Have Nots
No Have-Nots for the Week
Last Evicted Houseguest
3:03pm Cam 1-4 HOH Wil, Britney and Danielle Watch with FlashBack FREE TRIAL!
They are talking about the lies sloshing around in the house right now. He places all the blame on Janelle and Joe. Wil mentions that Jenn and himself were in the hot tub with Joe when he was saying they need to go after the Coaches starting with Dan. Wil: "Joe swore on his kids lives that he never said he wanted the coaches gone. " and we were right beside him.
Wil wants Joe gone right after Janelle leaves. Britney: "I cannot handle it anymore.. these people"
Britney :" Joe keeps saying I want to win Chopped and be a celebrity chef"
Wil tells Britney that Janelle has called her 2 face and says You hide behind a man like you did in season 12
Wil: "I actually left a nice part of my diary for her.. I should have just said bitch!"
Britney starts talking about Janelle in earlier season where she only got so far because she kept winning competitions. They both start questioning Janelle's social game and how her fakeness doesn't fool anybody. Wil brings up that Janelle would tell Wil every week to go up to the HOH and suck up. Wil recounts when Shane was HOH Janelle told him to go up to the HOH and tells Shane his smart, Powerful and the best player in the game. Wil: "Thats not how I came in here to play.. "
Wil: "This is how I know she's a total fucking bitch.. "
Wil explains that he told Janelle she should start talking to Jenn because Wil thought Jenn could be useful and Janelle told him "Why would I give Her the time of day… I haven't talked game to her for 2 seconds.. I have nothing in common with her"
Wil: "you stupid ignorant bitch .."
Wil: "I'm not voting for Janelle"
Britney: "Other than Joe I don't think she has any votes"
Britney brings up how week 2 was probably a good thing for her because she found out right away what kind of player Janelle was. Wil: "she give Frank a hard time saying he's 2 different people when he's off / On the block but she's 2 different people depending on if you have power"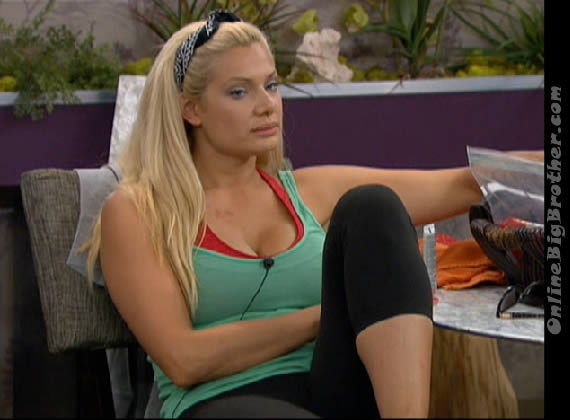 3:25pm Cam 3-4 Janelle, Britney and Wil HOH room
Chit chat a healthy dose of
Janelle is pissed because she's been waiting til 2 to work out. (Danielle keeps dodging her a bit like what Janelle did to her prior to her POV win) Britney leaves.. Followed by Janelle.. at around 3:36pm Wil and Danielle are back in the HOH talking about Janelle
Ashley comes up. Wil tells her that Joe is going around the house saying that Wil is Targeting the coaches. Joe is also saying that Wil is targeting Danielle and Dan.
Ashley: "He needs to simmer down he's putting a target on his back.. Ohh I'm so tired of Jenelle staring a hole through me" Ashley mentions how in the Kitchen janelle came up to her and acted pissed that she's been waiting around all day for Britney and Danielle to work out with her.
Britney barges in grabs Danielle says she is working out with her and Janelle right now Britney it not doing it by herself. Janelle comes up and they all head downstairs to exercise.
3:56pm Working out Danielle, Joe, Britney and Janelle
3:50pm HOH Cam 3-4 Ashley and Wil
Ashley brings up some conversations she's had with Britney.. Ashley: "She's always tryign to fish for information"
Wil: "with all these lies and allegations Janelle is spreading around I told Britney I'm probably voting Janelle out"
Ashley: "Why is she doing this"
Wil: "her social game is really bad"
AShley :Really baaad"
Wil: "I love how now she's reading the bible and has a favorite sentence… Of course the first sentence in the bible is her favorite because it's the only sentence she has read"
Wil: "I'm really surprised with Joe was a deceitful little prick he is"
Ashley brings up how Janelle swore to her that the coaches were not teaming up and they now know that she was the one trying to get the coaches together.
Wil says that it was Danielle's entire plan was to get Janelle out. Wil and Ashley both agree that Dan and Danielle are pair and this HOH was at the very least a 2 person decision. Ashley: "And Shane knows exactly what's going on and so does Britney"
Wil: "Team Tits!"
Wil points out that everyone seems to have side relationships with people, Janelle is with Joe, Shane/Brit, Boogie/Frank, Dan/Danielle. Wil is correct in thinking that nobody is onto Team Tits and nobody has a clue about how close they are to Jenn.
Wil: "Team T!ts"
AShley: "I love it"
(GO Team T!tis)
Wil: "Danielle is so whipped by Dan"
Wil points out how scary HOH is.. everyone starts targeting you. Ashley agrees. she points out how people change so much when they win it and how everyone starts talking about you.
Wil: "I love how apparently it was me that convinced Danielle to put Janelle up"
They talk about how ridiculous this is.
4:14pm Janelle gets her workout with Danielle.. Britney running laps
4:26pm Cam 3-4 Danielle and Boogie
Danielle says it was uncomfortable being around Janelle right now. Danielle says she is glad there is only 2 days left. She wonders why Janelle is swarming her she doesn't have a vote.
They start talking about how Joe seems to be the main target next week. Boogie mentions how Shane now has the veto ticket so he can play for it next week. Boogie doesn't think Joe has much a chance to survive. Danielle points out that once Janelle went on the block that entire side crumbled. Danielle asks him if he's still pissed about being a player. Boogie says he's not, he was for about 24 hours but now he's feeling pretty good he's got a good crew.
4:26pm Cam 1-2 Janelle and Joe
Good ole' Eagle eye talks about his conversation with Danielle. He said she never told him who she is going to vote for all she said was he can vote any way he wants and he's welcome to come up to the HOH room on Wednesday .
Janelle has talked to Dan who's going to talk to Shane it looks like they are receptive. Joe says he went to Dan and told him he's voting to keep Janelle. Janelle asks him what he thinks of Dan. Joe: "seems like he's with us" Janelle thinks in the end a lot of people will votre with the majority.
Joe wants to see if they can get a deal with Danielle and Dan so it's Janelle, Ashley, Danielle, Dan and Joe. (another powerhouse alliance brought to you from Eagle Eye)
Janelle: "wil is so 2 faced.. why is he like that..even if I leave I don't think you should take out Wil.. you need to get a bigger target out"
Janelle: "I don't believe in Backdooring but early in the game it works"
Shout out to Matt Hoffman (@HeadOfHOFFhold) a OBB Super Favorite that I just found out reads this blog. A big honor. Hey Matt whats your take on the season?
Share it YO!!
Tweet