POV Holder:
Shane
Next POV:
July 13 (Friday)
POV Used
?
POV Ceremony
July ???
HOH Winner:
Willie
Next HOH:
July 19 (Thurs)
Original Nominations:
??? and ???
Current Nominations:
Frank and Kara
Have Nots /Slop
Danielle, Shane, Ashley
Coach Competition Winner
Boogie, Ian is safe
5:40pm Kara and Dan Dan that right now it looks bad for them but what if next week lightning strikes and Ian wins HOH, "You'll see all those people scatter like rats" Kara is nervous that Willie is flip flopping and she knows that Janelle and Brintey are a team. Dan thinks if Willie wanted Kara gone he would have a tough time convincing people that Frank was less of a target than Kara.
Dan says if the nominations stay the same and he thinks it will they need to not get cocky they need to lock in those votes. Dan advises Kara that after dinner she needs to grab Willie and talk to him. Dan wants Kara to offer Willie a deal if she stay then Kara will return the favor, "say if you can guarantee my safety I (Kara) will never put you up" . Kara warns dan that the girls all talk whatever he tells Britney will go to Janelle. dan wonders when the POV ceremony is, Kara was told by production that the POV Ceremony is Sunday afternoon.
Get The Live Feeds for your iPhone or Android Phone! Comes with a regular subscription to the Live Feeds Subscription Link
5:40pm Arcade room Boogie and Ian
Boogie is worried that Ian could be next he needs to step up his social game. Ian understands, he's trying. Boogie tells him they both need to play down their abilities in Physical and mental competitions. Boogie points out that people are talking about Ian and he's not too popular in the house.
Boogie says there is no doubt that Ian would of been nominated if Boogie had not won the Coaches Challenge. Ian says that he loves Shane he thinks he's a great guy but Shane told him he was safe. Boogie disagrees says Ian is a HUGE target. Boogie stresses that Ian needs to step it up or he's gone and they don't want that. Boogie coaches that Ian needs to do a little bit everyday build relationship with the other players.. Boogie: "treat it like a paper or homework 1 day inside this house is like 3 days on the outside.. Its a marathon not a sprint.. if they have kids ask about the kids if they are married than ask them about their spouses.. ask them about their jobs".. Ian nods says the problem he has is that he likes everyone in the house and doesn't want to be fake with them. Boogie understand but says an has to dig deep inside and pull out his dark side.
Boogie: "If you don't win HOH you have a 99% chance of going up.. in the beginning of the game people want to nominate players that are no stress.. you are not close with anyone and if you go home next week nobody will be mad" Ian understand. Boogie tells him that this is a fun game at first you leave your real world problem at the door, "it's like summer camp but this all ends very quickly.. this is for 1/2 a million dollars this is a gangster game". Ian doesn't care about the money he only cares about the title.. he wants to go to Wikipedia and seeing his name under winner of Big Brother 14. Boogie: "Fine good if that's what you want.. you need to step it up because if you wait it's gone"
Boogie says that 90% of what comes out of his mouth is to help Ian.. tells Ian not to be defensive about what boogie says he just wants to help him. boogie: "I'm not at Defcon 5 we're at Defcon 3… we're having this conversation now becuase in 12 days you could be nominated up against someone popular with no POV"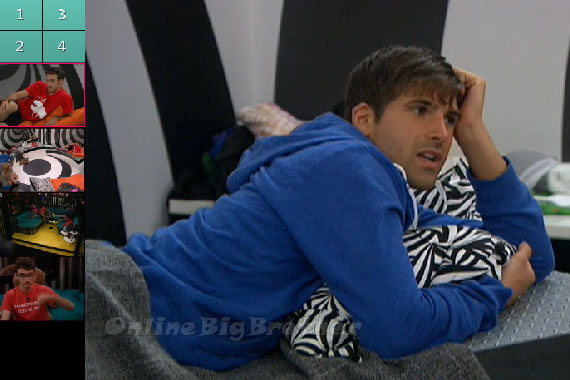 Sign-up for the Big Brother Live Feeds and get the MOBILE Feeds for FREE!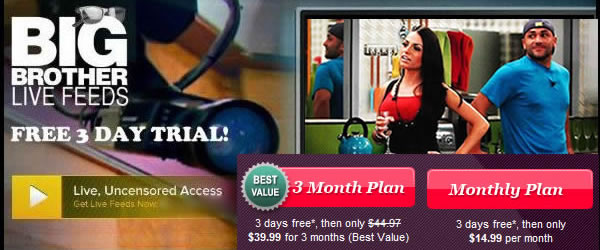 6:00pm Shane, Dan and Kara
Dan and Kara are warning Shane that they he is going to get bombarded these next couple days. Shane knows he thinks he's ready for it. Dan tells him that in this game the 2 biggest physical threats are Frank and Shane, Dan wants to know if they can band together to take out Boogie's "Squad".
Shane: "YES I want Mike out he's my biggest competition… " Shane tells them that the votes are all on Kara's side nobody is going to keep Frank.
Dan tells him that he doesn't play like boogie, if Shane is solid with Dan and his crew than they will ride to the end. Dan stresses that he is not with boogie and by "default" everyone things that they are together because they are not up int he HOH every day scheming.
Kara: "I want Boogie out he is BAD energy.." Shane agrees he knows that Frank and Boogie are after him next week. They start to count the votes, Shane thinks they have Danielle, himself, JOJO, and wil to vote against Frank. They all agree that the common targets are Frank than ian.
Dan really presses the strength of frank and how he's the biggest threat in the house. Kara says she wants to offer Shane a deal, "maybe I will offer Danielle up?" Dan and Shane laugh. (there's a joke that Shane likes danielle) Talk drifts to speculation that the coaches will be allowed to swap players later in the game.
(ohh man there is so much going on in the house, Dan is trying to get people on his side to take out Boogie, shane appears to be with him)
6:40pm dinner time

Share it YO!
Tweet