POV Holder:
?
Next POV:
Aug 25 (Saturday)
POV Used
POV Ceremony
Aug 27 (Monday)
HOH Winner:
Frank
Next HOH:
Aug 30 (Thursday)
Original Nominations:
Current Nominations:
Have Nots
Dan
Last Evicted Houseguest
Boogie and Ashley
Pandora's Box POwer
Ian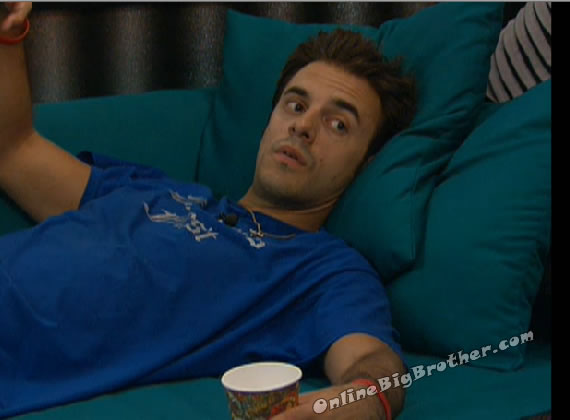 3:05pm Cam 3-4 Dan and Danielle
Danielle thinks Frank will put Ian up and try to backdoor Dan.
Dan wants Danielle and himself up on the block
Dan: "Ian said if the perfect scenario came up he would use the POV… sometimes things work this way.. like if you won it or I won it was a waste of a veto.. "
Dan :"Something Bad For Frank"
Danielle: "Ya it was good for use"
Dan: "That wasn't good for him because 2 people can be protected"
Dan: "Ohh my god I'm so glad I didn't rat him out.. "
Danielle: "You now have to get close to him again"
Dan: "We can keep 4 out of the 5 safe this week.. perfect scenario"
Dan: "I'm embarrassed.. I've never acted like that in this game…"
3:10pm Cam 1-2 Brintey, Frank and Ian Watch with FlashBack FREE TRIAL!
They tell Ian to use the "power" he won during a Pandora's Box Competition on Britney or she will be put up on the block. Ian agrees. Ian is a bit upset from the compeition.. says it was really getting ugly. Frank tells him not to worry the object was to make sure Dan didn't win.
(Ian's Power allows him to take one person off the block but he is not allowed to play for Tomorrow's Power of Veto)
3:20pm cam 1-2 Arcade Room
Shane: "Me or Brit have to win POV"
Danielle: "We went from no hope to keeping the 4 back in to a slim chance"
Dan: "as long as he doesn't put Ian up as a nomination we got a shot.. "
Shane and Danielle say they can't put Ian up.
Dan explains that Ian can get put up but it will waste his veto.
Dan: "I think this was bad for him… "
Shane: 'He still got money" (3grand)
Dan: "Ya but it was still Bad because 2 people are safe this week"
Dan tells them there is no way Frank has a power not with the 2nd veto in the game.
Britney joins them.. says that Ian feel like the scumbag and the salt of the earth..
Britney says Ian won't get nominated.. it going to be Dan and Danielle. Frank is pushing Ian not to use the veto. Dan says that the perfect scenario is for Shane or Britney to win POV. Dan asks Britney if the perfect scenario happens will Ian us the power. Britney thinks so but it'll take some work.. She pitched the idea to Ian in the storage room and he got that really scared look on his face.
(Dan's perfect scenario is this A) Danielle and Da go up b) Shane or Brit win POV use it to save Danielle C) Ian uses the power to save Dan d) one of Joe/Jenn and Shane/Brintey gets put on the block )
3:45pm Cam 1-2 Dan and Danielle Arcade Room
Danielle thinking that counting on Ian to use the power is a little risky. Danielle is not liking Ian too much right now.. she points out how he gets so cocky when he has power his head explodes. Dan brings up if he wins the POV teks himself down and Shane goes up. Dan adds that Ian will use the power to save Britney. Dan thinks they have the votes to keep Danielle over Shane. Dan says that starting today they are going to get really buddy buddy with Joe until votes are cast then it's back to normal.
4:02pm Bathroom BRitney and Daniele
Danielle is freaking out about everything.. (lol) Danielle is worried that Ian won't use the power. Britney explains that unless the right person wins the POV Ian will not use it.
Britney: 'First things first.. one of us have to win the veto.. Dan was being so mean"
Danielle: "I don't think he meant to he's just
Britney says Dan wasn't very good at the competition and he kept "Using up the quarters" and preventing Danielle and Britney from playing. Britney: "One of us could have won that power"
Britney says it's pretty evident that Dan is only playing for himself.. she thinks Dan should have given Danielle some of his quarters.
Shane joins them says that he needs to get pumped up and win the POV.. and Ian has to use the power.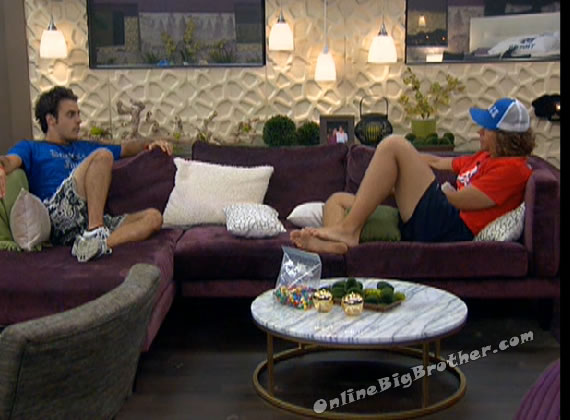 4:07pm Cam 3-4 Dan and Frank HOH

Dan I know you got to take your shot and for some reason I survive this week don't necessarily think I'm coming after you"
Dan explains that he knows what's going down this week and he's cool about it he took his shot at Frank and missed.. I knew I would have to win Veto.
Dan: "If you miss and don't get me out it's not necessarily vengeance for me.. all i want to ask is if I get through this you are open"
Dan: "I know regardless of who I go up against I'm going home.. If you still want to hang out and play salsa Ball i'm cool" Dan explains that this is a game and if he stays this week it won't be all "Fire and brimstone". Dan mentions he feels bad for losing his temper "With Franks Boy" Frank laughs says that Ian was Dan's boy yesterday.
Frank tells Dna coming into this game he was big fans of Boogie and Dan. Frank really liked how Dan played Big BRother 10. Dan brings up how when you look back at how Boogie played Big Brother 14 its very evident that he played a straight up clean game. Frank says that is because earlier in the game Boogie realized Frank would not lie so Boogie had to change his tactic.
Dan says that depending on how he leaves he will be voting to the person that played the game he's not going vote based on personal relationships. Dan points out if he survives it would be valuable for Frank and him to perhaps work together because no one will expect it. Dam adds that Frank has built an incredible resume and has done a lot in the game.
Frank seems receptive to the possibility of working with Dan.. Frank is still going to try his best to get Dan out this week though. Dan leaves tells Frank good luck with Nominations.
4:22pm Dan and Britney in the bathroom
Dan is telling her about his conversation in the HOH with Frank. Dan says he's trying to cement that Frank puts him and Danielle up because that is their only chance. Britney: 'If we can pull this off.. OH MY GOD"
4:27pm HOH Britney and Frank
Britney:"Danielle is acting so weird towards me.. "
Britney makes it sound like she had a argument with Danielle in the bathroom about Dan hogging all the quarters for the competition and playing for himself.. Britney says that Danielle was trying to defend Dan's actions.
Frank: "I'm thinking about giving you a gift Britney… it's nothing physical.. it'll help you in the game.. now that Mike's gone I have no one to talk game to.. It means that you will have to wake up early"
Britney: "OK"
Frank: "What if I put up Dan and Joe"
Britney: "Here's how i see it.. everytime I want to get rid of a person I put up 2 people I want gone.. just incase that person wins the veto then it's not a waste of a HOH"
Britney: "Ian will not use his power if it means I go up.. he won't do it"
Britney clears up the rules for the POV if Ian is nominated then there will be only 5 people playing for the veto Because regardless if Ian is nominated he does not get to play in the veto competition.
Britney points out the cons of putting Ian and Dan up. She says that Ian's power gets played right before the votes on thursday. She runs through all the scenarios and says she doesn't feel comfortable if Ian gets put up because using the threat that if Ian uses the power Britney goes up will keep the power out of the game and keep britney safe. If Ian uses the power and Danielle wins the POV her and Shane will go up and she's certain she doesn't have the votes to stay.
Frank thinks she has the votes. Britney disagrees says she knows she doesn't.
Frank: Lets talk about Votes"
Britney: 'Jenn will never vote against Danielle" She makes it very clear that Ian and Dan are not speaking to each other and she's spoken with Ian and he's not too keen on Dan anymore.
They start talking about the competition.. she says it felt like the hungry games.
Britney: "Who are you going to pick if you get houseguest choice"
Frank: "Shane"
Britney: 'Ahh the veto king"
Frank: "Whatever.. we're tied now"
Frank: "I can't keep winning all these Competitions… you and Shane will need to win a few"
Britney: "I really have noticed Dan and Danielle isolating themselves downstairs"
(Britney has wedged herself into a good spot.. I believe she still loyal to the quack pack however a lot of things have to go right for them all to survive this week.. In case they don't she's got a backup plan with Frank)
5:58pm Nomination Ceremony Happening