POV Holder:
?
Next POV:
Aug 25 (Saturday)
POV Used
POV Ceremony
Aug 27 (Monday)
HOH Winner:
Frank
Next HOH:
Aug 30 (Thursday)
Original Nominations:
Current Nominations:
Have Nots
Dan
Last Evicted Houseguest
Boogie and Ashley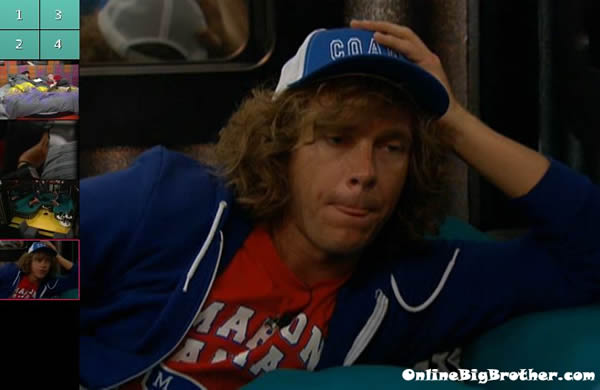 10:30am – 10:50am When the feeds finally come back.. Frank and Joe are in the arcade room talking. Frank tells Joe that wants Dan out. Frank says that he will give him the vote to vote out Dan. Frank says that Dan is the double crosser, he is the one that got Danielle, Shane and Ian to put him on the block. Frank says that he was hurt, that Boogie deserved at least a 4-3 vote. Frank says that Dan was pretty much threatening Ian, and that Ian couldn't even see that or understand that. Frank says that hopefully moving for I can find people to work with. Joe says that when the time is right, let me know and I can do what I can to help. Joe says he is in a tough spot and if he can help he will. It will be in our best interest to help each other. Joe says can I ask what Dan did? Frank says that it started off as the week Frank was up against Joe and Dan said all week that he was working getting me the votes. He told us 100% that it was rock solid that I had Danielle vote. Then right before the reset, he told Boogie that he had to push it, your boy was going home. Then after the reset he told Boogie that two company, three's a crowd. So that was why he was trying to get Danielle vote me out. Frank continues to give other reasons why he can't trust Dan and how Dan manipulated people. Frank says that everyone was cheering for me when I won the POV because everyone at home sees how bad Dan is and that they want him out. Joe says that one of the reasons why he voted Boogie out was because he owed Shane a vote. I told him he could pick when that was. I have now paid my debt back. I am honest and I paid him back with one vote. In the grand scheme of things I look good and the way I played this game. Frank says that I am still here and I've got lots of moves to make. Joe says that Frank is the top person to win this thing and if I go to jury I will work for you. Frank leaves for the diary room.
10:50am – 11am
Britney and Joe go into the diary room to talk. Britney asks who Frank is putting up. Joe says that we didn't even get to that, he just mentioned Dan. Joe tells Britney that the whole conversation he just had with Frank. He wants Dan hurt in some way. Joe says that Frank wants Dan out and gave 5 reasons why he hates him. He was pretty convincing. Britney says that there is no saving Dan. Joe says that Frank thinks he has Ian and that he thinks he can get Jenn back. Joe says that Frank thinks he can win with the three. All Frank requested was my vote. It is inevitable; the only chance he has is to win POV and if he did that would mean Danielle would go. Joe tells Britney to try and prepare Danielle, she will be devastated.
11:05am – 11:35am In the kitchen, Joe and Jenn are sitting at the bar talking. She is eating while he picks at his toes. They are looking at the memory wall and talking about how they are still here. Meanwhile out in the backyard Britney and Ian are laying out on the hammock. Frank is in the pool and then gets out and is talking to them. They are talking about the possibility of Pandora's Box and what punishment they might get. Britney says maybe they will take away out cutlery. Frank gets Britney and Ian to get out of the hammock so that he can fix the squeak. Frank put olive oil on the hammock and it fixes the squeak. Frank heads inside. Ian says that he feels bad he sent Ashley home. Britney says oh god Ian, she is not dead, she is like a half hour from here. Britney tells Ian to make sure Frank trusts her and tells him to tell Frank that I am solid and won't lie. Ian says that he sees that, he saw your season. Joe joins them to sun tan. Britney tells Joe that we are getting a Pandora's today… Frank is locked out of his HOH room! Britney says that she hasn't won anything yet and would kill someone for $100. Ian talks about how Boogie probably hates him. Britney disagrees and says if she can be friends with Rachel after I said STD's were air born with she wore a skirt …then Boogie won't hate you. Britney heads inside. Britney asks Frank if he is still locked out of his room. He says he hasn't tried it.. Big Brother cuts the feeds.
11:45am – 11:50am Frank is in the kitchen making breakfast. Frank tells BB that they just fu*ked up his breakfast and that he is probably going to get sick from the expired ham. Joe is sun tanning by the pool. Ian reads his letter in the stereo room where Jenn is sleeping. Ian then heads back out to backyard to swing on the hammock. Big Brother then puts the house guests on another indoor lock down.
12:25pm – 12:35pm Dan and Britney are talking in the kicks room. Britney is talking to Dan about how Dan is going up on the block. Dan wonders if he should talk to Frank. Dan says that Ian threw the veto, he got the first one in 30 seconds. Britney says that Ian looked at her during the veto and she was like go! Danielle says that she is so sick of Ian. Dan wonders if he should go to Frank and tell that it was Ian's idea for the quack pack alliance to try and save himself. Dan asks was the quack pack before or after the silent 6. Britney says that the quack pack was the day after the rest. Dan tells them that he wants one of the three of them (Britney, Shane, Danielle) to win. Britney says that it will be impossible to get Frank out. Dan says that next week will be endurance and it will be a cake walk for you. Dan wonders why they would lock us inside. Britney says because they are setting something up outside. They wonder if they might get a power. Dan says that he will wait to talk to Frank until after something (Pandora' Box) happens just there's a power. Britney leaves. Dan tells Danielle that he hopes Frank opens pandora's box. Britney comes back and lays in bed with Danielle and Dan. Britney tells Danielle that she can't cry all week. Danielle says that she hasn't cried today. Britney says that she looks like she has. Danielle says its just from crying last night. Dan asks what Bozo was laughing about out there. Britney says he was talking about opening pandora's box. Big Brother cuts the feeds. Britney says I wish they would just give us our stipend and let us go home, this kid is gonna win it all. Dan says that it is 6 against 1. Do you think Ian made a deal with him? Britney says hell ya he is skipping all over the house. Britney says one of us is for sure going home. She says that Frank is making everyone promise their votes or they are going on the block. Dan says that he doesn't think Frank is smart enough to figure out what happened. Britney says that he thinks we took Ian's brain and brain washed him. Joe come in the room. Dan asks are they building something in the backyard. Joe says yeah sounds like it to me.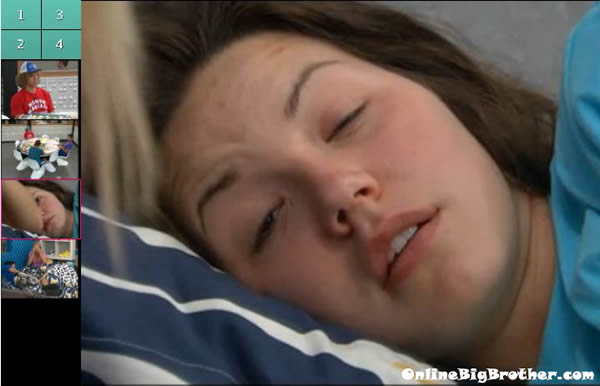 12:40pm – 12:50pm Britney needs to stop saying that there is something coming for us. She says she wanted to reach across the table and strangle him, just shut up. Joe says whatever it is we want Frank to open it. Meanwhile Frank and Shane are in the arcade room talking. Frank says that if he can't get Dan out this week I need to cut him off at the knees. Shane agrees and says that if he wins POV he won't use it. Frank says that if Dan pulls off the POV I would want you to vote out Danielle. And if you and Britney are serious about working with me then I need you to do that. Shane says and agrees and says that would prove it to you. Frank tells Dan that the first name out of Dan's mouth was always yours. Frank explains why Britney's name came out of their mouth and that he wants Shane and her as allies. Frank says that if he gets HG's choice I am going to pick you. Shane says that he will try and win it too. Frank tells Shane that he won't put him up as a replacement. Shane says that he is getting all teary eyed. I will make a final two deal with you. I won't put you up ever, unless it is final 3. I will fight as hard as I will for myself as I will for you. Frank says if we get Dan out, then there is a manipulator out that we won't have to deal with. Then get a couple floaters out and we are in the final 5. I will swear on my dog, for what I have done to you, to show me this kind of respect. Frank says that he knows that Shane put him up because of Dan. Shane says maybe you will get a diamond power or a coup d'tat and if someone tries to back stab you then you can use it. Some people don't think about that. Shane wonders if he wants them to keep it on the down low that we are working together or if you want me to shout it from the roof tops. Shane says no one here deserves to win but you and I. Shane says that he will go home now and see that Boogie wanted to work with me … but you know I was brainwashed. Frank says yeah.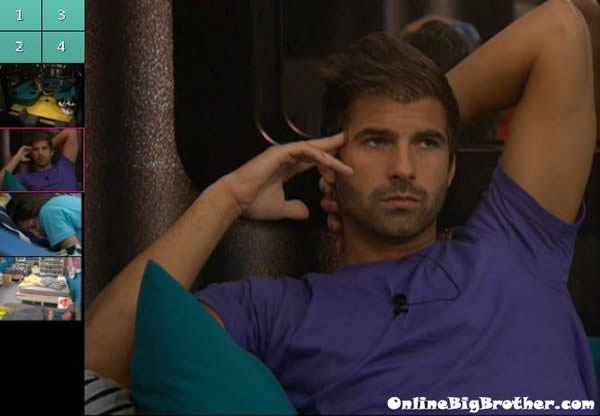 1pm Ian says that if it is pandora's box you should just be like yeah I will! Shane says that if he got one last week he was thinking he wouldn't open it. Ian says that it can reallf fu*k things up. Danielle says that she would absolutely open it. Shane then says but if there was like a picture of $10,000, then I would open it.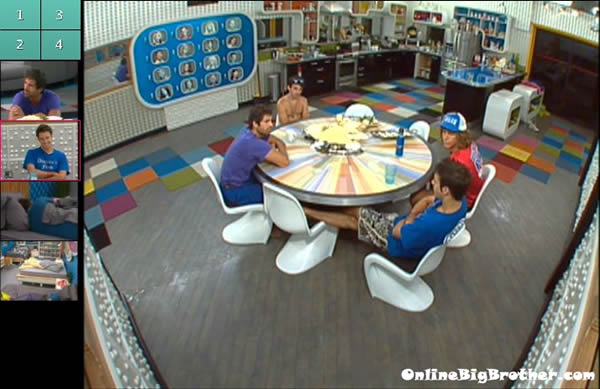 1:10pm The Live Feeds switch to TRIVIA.. Pandora's Box? Have-Nots Competition? Luxury Competition?
1:40pm TRIVIA..
2pm STILL TRIVIA..
3pm TRIVIA Continues
If its Pandora's Box, you aren't going to want to miss it!
Try the Live Feeds, FREE for 3 DAYS!
NEW Big Brother Commercial about Pandora's Box! IS it GOOD or EVIL?!
https://youtu.be/tn6rtGqqK4w
Share it YO!!
Tweet