POV Holder:
?
Next POV:
Aug 25 (Saturday)
POV Used
POV Ceremony
Aug 27 (Monday)
HOH Winner:
Frank
Next HOH:
Aug 30 (Thursday)
Original Nominations:
Dan And Danielle
Current Nominations:
Have Nots
Dan
Last Evicted Houseguest
Boogie and Ashley
Pandora's Box POwer
Ian -> Has a veto power
6:37pm Kitchen.. BRitney, Shane, Joe, Dan, Danielle and Jenn
They are screaming in their microphones "We can hear the DR.. PEOPLE we can hear the DR"
Danielle: "Oh my god that 4 times this year"
Shane: "As least we can't hear the responses"
Jenn: "Still those Questions.. "
(It's Ian's Diary Room they can hear.. Frank was in the HOH at the time.. )
You can see on the memory wall that Dan and Danielle are nominated for Eviction this week. Ian is back from the Diary Roommm. Just random chit chat..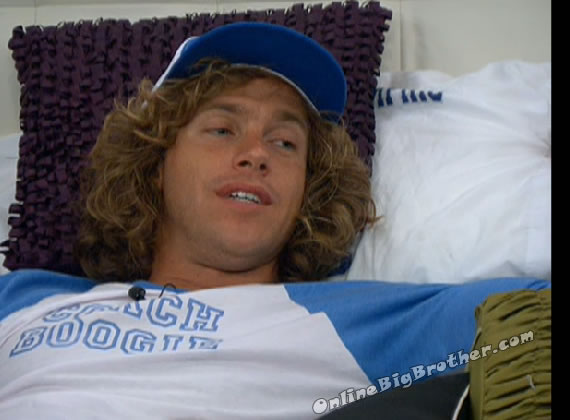 6:47pm Cam 1-2 Shane and Frank HOH
Frank: "Don't start secretly working with Dan now"
Shane: "I won't.. I'll even bring you information about what is going on down there"
Shane says he's going to fight for the POV he'll fight "His balls off" Frank says if he pulls houseguest choice he will pick Shane. Frank doesn't want the POV to be used. Shane says that once Dan is gone they can get Danielle on their side.
Shane saying he wants to stick with Frank they have Britney and maybe Frank can grab Ian.
Shane says if he wins HOH next week he'll put up Jenn and JOe up. Frank: "I was hoping if we don't get Dan out that you nominate Dan and Joe" Shane: "oh ya ya "
Frank goes on to talk about being on Big Brother is a Dream of his Dan was Sh!tting on Franks Dream.
Frank mentions that he thought the only thing that can go wrong is Danielle wins the POV takes Dan off the block and Ian uses the power to save Daneille. Shane doesn't think that will happen.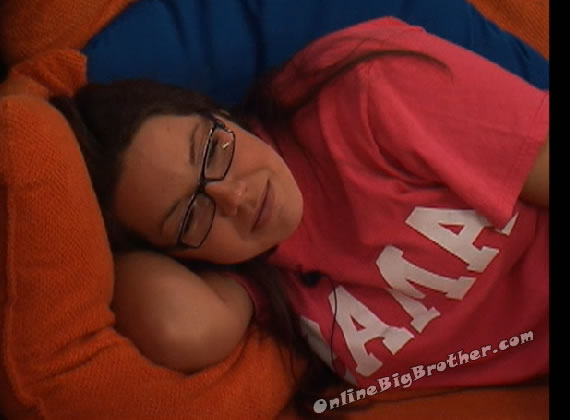 6:50pm Cam 3-4 Dan, Britney and Danielle
Britney asking Dan if he's started to work on Ian. Dan says he thinks the best chance for them is if Britney is the one that spearheads it. He'll do what he can but Britney is the closest. dan will start to covertly work on Ian and if he's not getting anywhere he'll start to threaten Ian with his Jury vote. Dan says if Ian doesn't use his power he'll never vote of Ian to win the money.
Dan thinks the best thing for them is Britney wins the POV because then Ian will not worry about Britney going up. Dan wonders if Ian is 50/50 about using the power. Britney doesn't know she thinks that it all depends on who wins the POV. Britney: "He did give us his word.."
7:16pm Cam 1-4 Everyone eating
7:42pm Hammock Dan and Ian
Ian: "For you it's a really good thing that I won it.. thats all I will say"
Dan says that after he calmed down he realized the same thing.. Dan says if the perfect scenario happens and you use the power you are going to be guaranteed 4 votes in Jury. Dan says that if he makes 2 Huge moves that are for the Quack Pack they will vote for him.
Dan: "The second he put up Me and Danielle I was like OHH God.. I thought he would flush your power out"
Ian and Dan are getting pretty excited about Ian's power. Ian: "this opportunity has never happened in the game.. "
Ian: 'I want to be straight up.. If one of those two doesn't win the Veto I will not use the power.. I cannot rock the boat" (Britney or Shane needs to win the POV)
Dan understands.
Ian says If Shane gets the POV I'm going to try and push for getting a floater out. Say something like "I came here to play with the best.. battle royale"
Dan: "If Frank wins the Veto will he use it"
Ian: "there is a 98% chance he won't.. I'm really not going to rock the boat anymore.."
Dan: "If I win POV and came down and he puts Britney up would you use the power?"
Ian doesn't know about the actual mechanics of the power he's asked them in the DR and they are getting a supervisor in the answer it.
They start talking about tomorrow's POV being how bad do you want it. Ian explains to Dan how to win the POV if you accept all the punishments.. Ian says that Jen from Season 8 took a pay cut if she wins. She was only playing for 250K. Ian adds that he will lose up to 400K of the grand prize because he more in the house for the title.
7:53pm HOH Britney and Frank
Britney says the POV is probably going to be "How bad do you want it".. Britney: "and Ian can't play do you have any idea how devastating that will be for him"
Frank doesn't think that is going to happen.
Britney says that 2 people sits out on the veto this week Ian plus one person.
Britney: "They usually do that competition.. when there is only 7 people left in the house"
Summary of conversation 8:30pm Cam 1-2
a) Frank doesn't trust Ian
b) Frank questions why Ian wants to save Britney so bad
c) Dan Sh!t on Frank's Dream
d) Frank will not shave his head for Veto if the comp is "How bad to you want it"
e) Frank plans to threaten Jenn to vote his way or he'll put her up
Watch the last month on the Feeds – FREE TRIAL –
Share it YO!!
Tweet