POV Holder:
Shane
Next POV:
July 13 (Friday)
POV Used
?
POV Ceremony
July ???
HOH Winner:
Willie
Next HOH:
July 19 (Thurs)
Original Nominations:
??? and ???
Current Nominations:
Frank and Kara
Have Nots /Slop
Danielle, Shane, Ashley
Coach Competition Winner
Boogie, Ian is safe
10:01pm Hammock Wil, Britney and Janelle They are talking about JOJO and how she's so out there. Wil has a problem with her being such a hypocrite. he points out that she's out in the backyard hanging out with the guys giving them massages. Britney points out how how Dan is
Wil mentions that during dinner Dan brought up religion and birth control. Dan was telling them that Birth control is not supported by the church. Britney jumps in says that Dan and his wife do not us birth control. janelle says she doesn't either. Wil says that dan was asking him what his religious background is, wil says his father is agnostic and mother was catholic. Wil's father is a surgeon and was very scientific, Wil wonders why Dan was talking about religion when he was so strict about religion being private earlier in the game. Wil felt like Dan was be degrading to him. Wil wonders if Big Brother after dark is watching him. Janelle and Britney are certain the cameras is on them.
Sign-up for the Big Brother Live Feeds and get the MOBILE Feeds for FREE!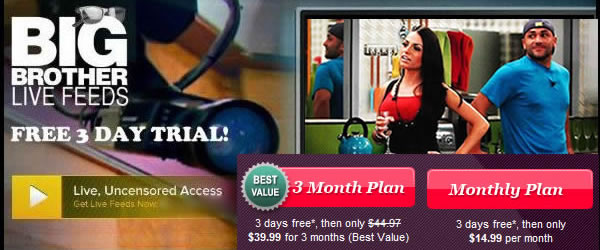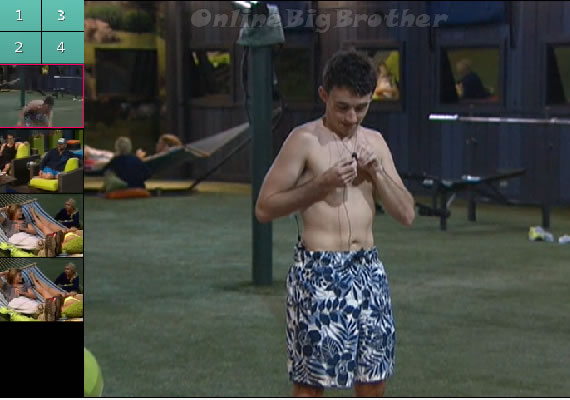 10:28pm Backyard Ian working on his Social game shows the other players a trick and kicks himself in the face. Everyone laughs calls it useless talent number 1, Boogie asks him where he learnt the trick. Ian learnt it from Jackass. They start chatting the guys are having drinks talking about midget tossing. Willie asks them if they say the one show where there was a "Pack of them".. Dan and Joe are laughing about Willie's use of the word "Pack" to explain group of Little People. Joe goes on about the midget tossing bars near his hometown…
10:46pm Backyard JOJO and Jen joking around about a prank jojo and Shane pulled on the other players. They took chocolate and made smeared it all over the toilet. When Jen saw it in the morning she was freaked out because the fake sh!t was all over the toilet, Jen: "I thought who Craps Upwards.. that person needs to see s doctor" JoJO laughing like crazy saying it was smeared all up and down the toilet.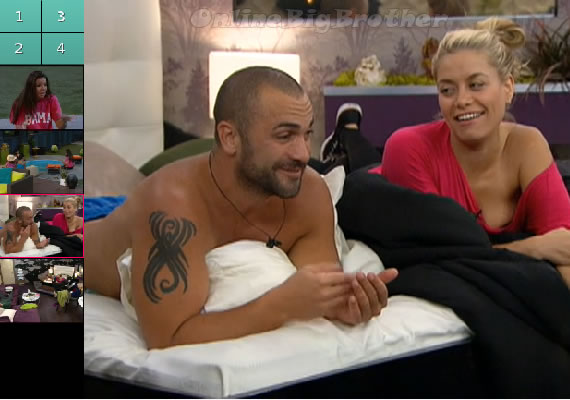 10:55pm Head of Household Bedroom Shane, Willie and Janelle General Chit Chat. Shane is saying that he's hurt but should be in good shape for the next HOH. Willie is concerned that Shane is lifting too much weight he doesn't want Shane to get hurt. Shane reassures him he is taking it easy. Janelle leaves and Britney with Ashley show up. They start talking about muscle relaxants and Ashley brings up how messed up she was. Ashely: "I love the BB doctor.. he's the man".. Talk moves to Joe and how awesome he is at cooking, they all joke that they need to keep Joe in the house as long as they can for his cooking. Britney starts making wise cracks about Joe, she says if you don't eat what he makes you he'll give you the evil eye.
Feeds cut for a bit
11:30pm Chess Board Frank and Janelle they are continuing a game they started earlier. Janelle is destroying Frank and beats him. They laugh about every time they come back to finish a Chess game Janelle beats Frank in 2 moves. Frank wants to play again and they set up their boards.
11:34pm Arcade Room Joe, Kara, and Wil They are telling Kara that they will vote for whoever the majority is voting for. Kara gets up tells them she's done having this conversation and storms out. Joe is surprised that she did that. They both don't think that Kara is much of a game player. Wil also points out that Kara is having a bad day. Joe: "If that conversation stresses her out than she's not going to win the game"
11:42pm Backyard Kara and Willie
Kara wants them to work with her not against her she wants to take out Boogie. She brings up that Frank is gunning for them he tells her that every night. Kara wants to make a deal.
Willie says if Danielle wins HOH she will nominate him. Kara says Daniele would never do that, "She loves you". Willie asks her who she would nominate. Kara would target Jen and Ian.
Kara gives Willie her word that she will not put him up if she wins HOH. Willie says he does believe her. He will get back to her about the deal, What he can say is he wants the nominations to be the same. Kara keeps pounding it into Willie that she wants to work with him. Willie tells her she is the strongest of the female players.
Willie: "are Dan and Boogie working together"
Kara: "No No I swear on my life"
Willie: "I really wish you would be honest with me"
Kara: "I am.. as far as I know Dan and Boogie are working together"
Kara: "Are Janelle and Britney working together"
Willie: "Not as far as I know"
Willie tells her he believes her when she says if she stays safe this week she won't mess with him. Kara reiterates that as far as she knows they Boogie and Will are not working together. She adds that Dan really wants to work with them.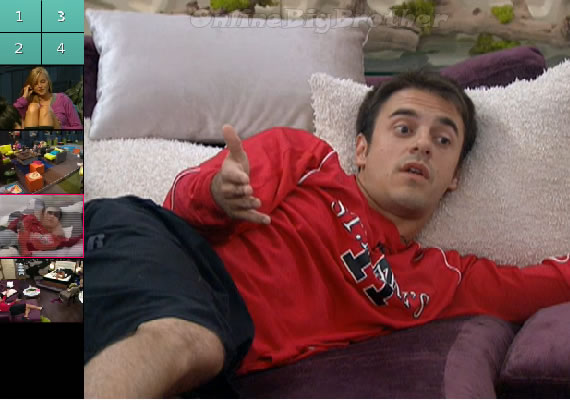 12:15pm HOH Dan, Willie and Britney Dan is swearing to them that he is not working with Boogie. Willie doesn't believe him, Dan goes on about how he has not been working with Boogie and he never would be allied with with a person like that. Dan calls Boogie a liar and says that Boogie was cut throat in BB7 he's going to be cut throat in bb14.
Share it YO!
Tweet