POV Holder:
?
Next POV:
July 14 (Friday)
POV Used
?
POV Ceremony
July ??? (Mon)
HOH Winner:
Willie
Next HOH:
July 19 (Thurs)
Original Nominations:
??? and ???
Current Nominations:
Frank and Kara
Have Nots /Slop
Ian, Ashley
Coach Competition Winner
Boogie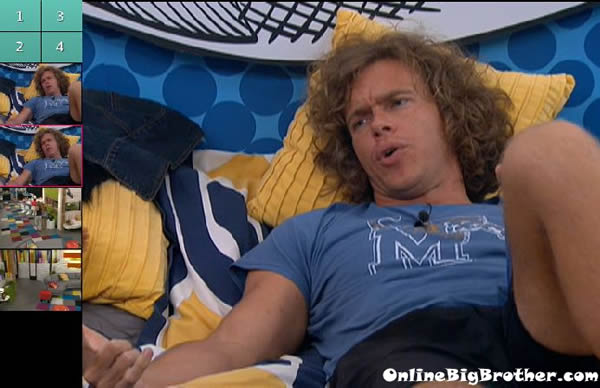 12:10am Frank and Jenn are talking in the kick's room. Frank says that it could be you and I up there together and common sense would mean I go home. Frank says that he has been trying to drop Joes name here and there. Frank says that he thinks he can rally the votes. Frank starts talking about Ian, ..that he's a sweet kid just here to collect his stipend check and for the experience. Jenn says yeah this is one of his favourite tv shows. Frank says that he is having trouble thinking that they would want to get me out over Kara.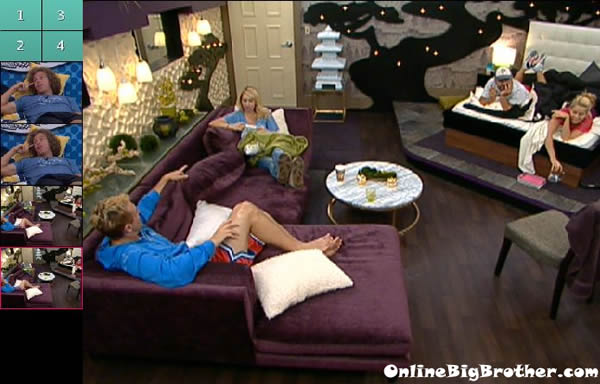 12:20am Mike, Britney, Ashley and Willie are up in the HOH room chatting about what a great twist this was and with having the team win HOH. Mike says because it gets lonely up here some times. Willie asks Britney what would you rather unlimited amount of liquor or to be a have not for the entire season. Ian joins them and they ask him if he made another pot of coffee. Ian says no just water, I was running around like a howler monkey. Dan joins them.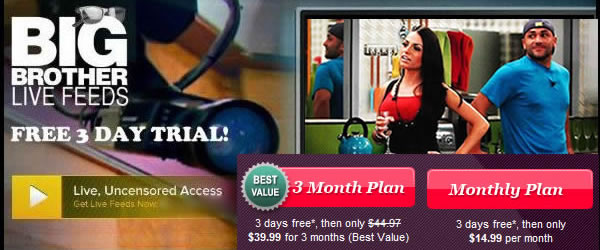 12:30am Frank, Wil and Jenn are whispering while sitting at the kitchen table. Frank tells Jenn that she might be better off just throwing the POV competition. Willie joins them at the table. The conversation turns to random stories.
In the arcade room, Shane and Jojo are talking as he gives her a massage. Jojo says that she isn't used to this, she is used to guys throwing themselves are her. She feels like the girls are intimidated by me. Shane says that she is a strong person. Jojo says that if she wants something she goes for it.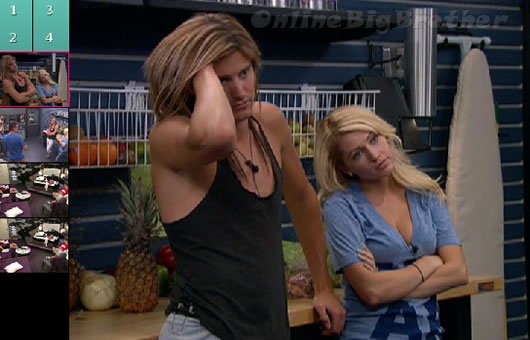 12:40am Wil, Janelle, and Joe in Storage Room
Janelle is telling Joe that Boogie has started playing the game and he's trying to be a Will Kirby. Joe wants to know what Boogie is doing with Willie all the time, it's making him nervous. Janelle says he's trying to get Joe and Kara on the block. And he's trying to get you (Joe) evicted. Janelle tells him that Dan's team will be easy to manipulate. They are all worried about Boogie and Willie. Janelle: "I'm sick of boogie upstairs talking to Willie… he's so easily manipulated"
Joe: "Boogie is working Willie… I know" Joe thinks that Willie is playing "All Shucks" Janelle doesn't think it's an act. They all agree that Willie is easily manipulated and Boogie is starting to get to him. Joe asks who they will be taking out if the nominations stay the same. They all agree that Frank is the target because a) he's going to be tougher to bed in competitions b) Dan's team will be easy to beat. Janelle tells them she is going to stay with Willie all evening they need to keep booger away from him. (Janelle is calling boogie booger now lol)
Britney joins them is getting pissed she's sick of "BOOGER" hanging out with Willie. Britney agrees she thinks they need to head up to the Head of Household room and get break up Willie and Booger.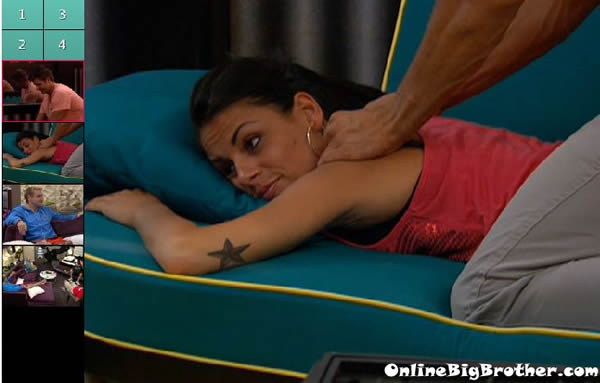 12:35am – 12:50am Frank and Willie are in the have-not room talking. Willie says that it would be stupid for me to not keep you in the game. It would be stupid for you to not keep me in the game. Boogie keeps saying put Joe up. He just needs to worry about keeping you here. Frank says that he isn't trying to get Joe up. He's just thinking that if Kara came off, he has a better chance of leaving… if I come off, I will vote how you want me to. Willie says that Boogie has no power, he doesn't vote. I have to worry about getting further in the game. I can work with you, I can't work with Kara. If you come off, they are going to think that you can't trust me. Frank asks if Britney is trying to change his mind about sending me home. Willie says no. Willie says that if you win HOH, or if anyone on your team wins, you cannot put me up. He says that it doesn't benefit you any to put me up. I know Boogie will try to tell you guys to put me up. That's how he plays, I've seen his seasons. Danielle walks and the conversation stops until she leaves. Willie says I promise you I am not gunning for you to go home. Willie says that he has no problem voting for one of his people if he thinks they will come after him later on. Willie and Frank leave the Have-not room.
Watch the first 3 days of the Big Brother 14 Live Feeds for FREE: Superpass Trial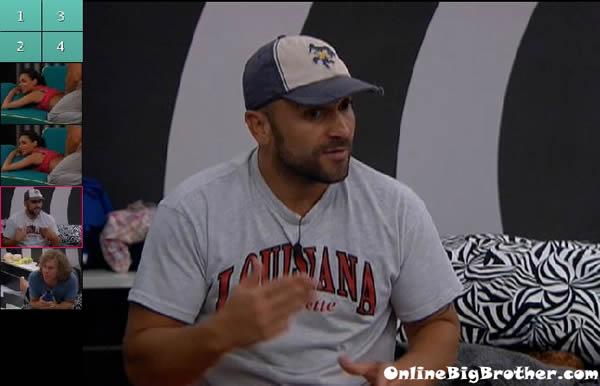 1:08am
Dan and kara. Kara is crying telling she's getting the feeling that she's going home if Frank is taken off the block. Dan asks her if she's talked to Britney. Kara says she hasn't, Kara tells Dan she doesn't feel safe that she can't trust anyone (Kara is crying)
Dan: "do you trust me"
Kara: "Ya"
Dan: "Well i'm not going to lie to you"
Dan warns her that the game will play tricks with her head. He tries to comfort her tells her If she needs help out in the house then come to her.. if you need space take space.. "let me be the person to talk for you if you feel like you can't handle it". Kara thanks him tells him she's only going to talk game with him. Kara thinks that Dan has been spending a lot of time with Danielle and she sees Danielle talking to all the other girls. Dan tells her she needs to know that they need Danielle . Kara feels like the whole house is gunning for them. Dan Agrees says that right now all the people in the house are happy because they are not on the block. Dan points out that the other players are not thinking about all the possible permutations of what could happen. Kara cries saying that she's making a fool of herself. Dan warns here "If Boogie gets to talk to you One on One he'll have you putting a noose around your neck" kara knows she's going to stay away from Boogie.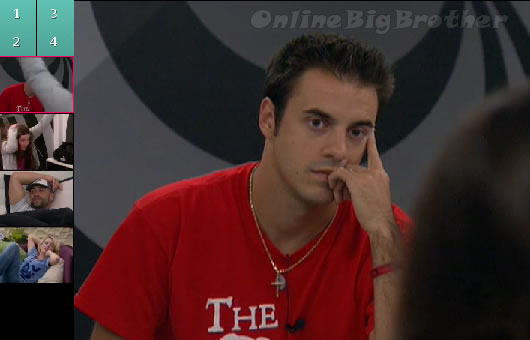 Dan asks her if Frank gets taken off the block and Jenn goes up does she think she has a chance. Kara doesn't know she thinks that people want to get rid of her except instead of Jenn because they see her as the bigger threat.
Dan says if Frank gets POV he's going to go to go talk to Britney. Dan tells her he picked Kara first because he know that she would give her the best chance to win 100K. Kara is feeling much better.
Britney, Janelle, Ashley, Willie and Joe are up in the HOH talking. Both Britney and Janelle confront Willie about how Boogie has been up here talking to him for hours. Ashley is just lying there saying nothing. Britney and Janelle are really grilling Willie about how bad Boogie is. They ask him what Boogie asked him. Willie didn't say much only that Mike was asking what he was doing. As Danielle heads up to the HOH room, everyone scrambles to make it look like they're going to bed. They shut off the lights. When she comes in, Ashley gets up off the bed and is all out of it. Willie goes to help her but she complains that she can't walk. She thinks it just because she's been lying there for too long. Janelle tells her that it's probably the meds that she's been taking. (Big Brother cuts the feeds)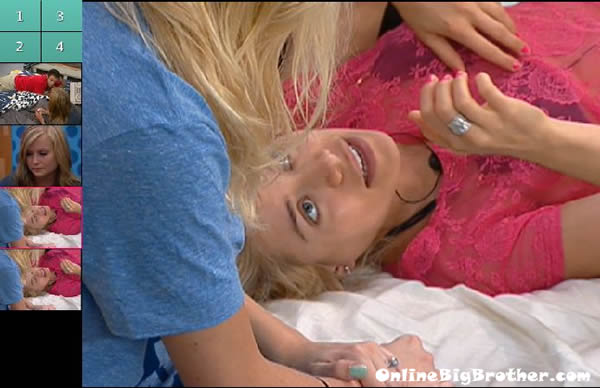 1:30am When the feeds come back, Janelle, Joe, Wil, and Willie are in the HOH bathroom. They all talk about how they need to stick together. Willie says that we are all a family and will make decisions together. Willie leaves the bathroom and goes to help Ashley out of the HOH bed. He helps walk her down stairs. After she leaves the other talk about how she is probably faking it so that she doesn't have to sleep in the have-not bed.
Watch the first 3 days of the Big Brother 14 Live Feeds for FREE: Superpass Trial

Share it YO!
Tweet